Shimane Prefecture's local dish "Izumo soba" is counted as one of the three major soba noodles Japan. The noodles are dark-skinned, chewy and fragrant, and have excellent nutritional value because the skin is ground when the buckwheat fruit is grinded. There are many Izumo soba restaurants in the prefecture. From long-established traditional flavors to new sensations, please enjoy different tastes for each store by taking a look at our article.
What is Izumo Soba?
Izumo soba is a traditional food in Japan that is a local favorite in the Izumo region of Shimane prefecture. It is a traditional soba noodle of Izumo. People used emergency foods to invent this unique dish. The soba noodles undergo a unique method called "hikigurumi". This method grinds soba seeds together with the husk. Resulting to a rich aroma of soba, blackish color, and chewy texture. Eventually, this becomes the original flavor of soba noodles.
Izumo Soba's Historical Background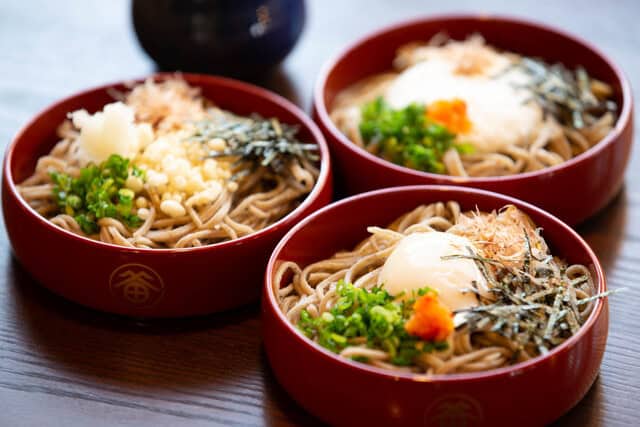 In Oku Izumo region (Yunnan City), people cultivated soba because it is resistant to colt. It's harvest time is also short. This is the reason why Izumo became a soba restaurant. Matsue's clan first lord handed down Izumo Soba. That lord's name is Naomasa Matsudaira, and he transferred from Shinshu Matsumoto. Consequently, there is a change in the territory of the daimyo to another.
Some buckwheat craftsmen from Shinano established the buckwheat diet. This was during the late Edo Period. People said that soba was a treat for the common people. Because of its rich taste, it spread even to the upper samurai.
Matsudaira Jigo "Fumaiko" is the famous 7th Matsue feudal lord. He promoted the industry in the area. Fumaiko stated, "Noble people do not eat soba." Despite the fact that he said that, Fumaiko talks about how he ate soba that he goes to one at the street at night, and as a tea person, he also eats soba noodles on tea kaiseki. People said that it played a role in improving its status. Many also believe that he was the person who improved the status of soba. He used soba as a dish of tea banquet dishes and writing haiku with the theme of soba.
Does Izumo regiod produce buckwheat?
The answer is yes. In fact, there are many buckwheat fields in the area. Despite not being easy to take care of during wet season, many farmers in Izumo region continue to plant buckwheat. According to them, buckwheat grows well in dry land. This is why it is sort of difficult to grow during rainy season.
Ideally, it's best to have soba during soba season. It is when freshly-milled flour and freshly-kneaded noodles are produced. Great aroma lingers from locally-produced buckwheat. Every year, during soba season, residents look forward to getting freshly-made soba.
How is Izumo Soba Made?
The Process of Making Izumo Soba
About the blackness appearance of Izumo soba, generally, the buckwheat uses Sarashina flour made from the central part. In the case of Izumo soba, the fruit of buckwheat with buckwheat husks is ground as it is. There are four layers of flour in the noodles, the first flour, the second flour, the third flour from the center, and the fourth flour near the skin. The color is white, but it becomes blacker gradually. People make it by using a flour milling method. As a result, the color becomes darker, but the soba is nutritious and fragrant. In addition, the soba has a good flavor and texture. It is also characterized by having 100% buckwheat noodles composed of generally, 20% of the binder (wheat flour) and 80% of the buckwheat noodles. One can enjoy a firm texture when it is eaten.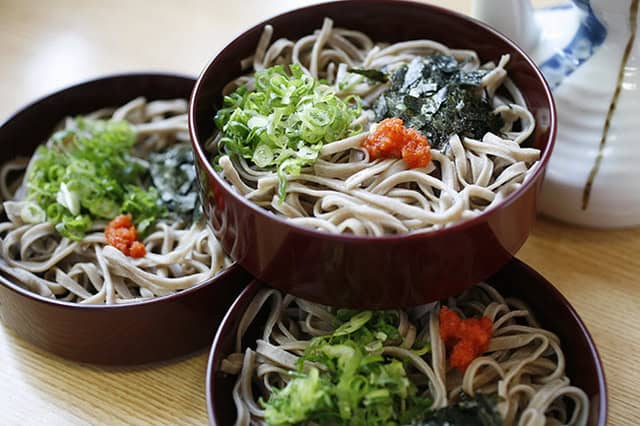 There is also a characteristic on how to eat it. In other regions, people put soba in the soup stock. But people put the soup stock itself in a bowl. For this reason, it narrows the mouth of the inoguchi where the soup stock is. Green onions, seaweed, radish, and some condiments are also some of the ingredients. They usually serve soba noodles in three tiers. After eating the soba in the first tier, they they transfer to the second. Lastly, they move to the third tier. Soba-to is delicious as it is, or with the remaining condiments and dashi stock.
What is so unique about it?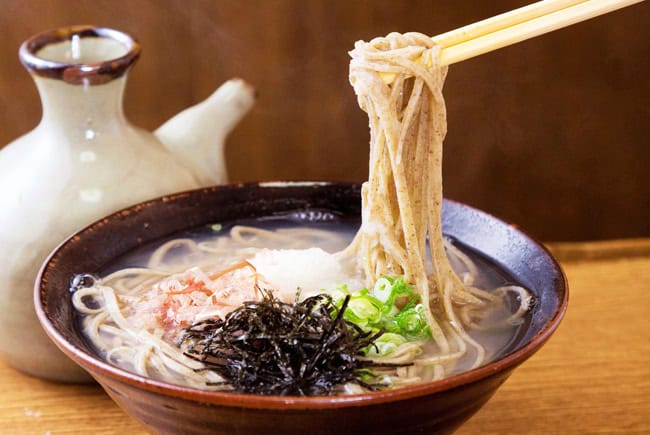 The unique characteristic of Izumo soba is that the color of the soba is blackish and the aroma is high. This is because the buckwheat nuts are ground to the cuticles. Locals eat Izumo soba in two unique ways. First is by Wariko Soba. While the secone one is by Kamaage Soba.
Wariko Soba
They sprinkle soup on the soba noodles in a round bowl called Wariko. Then that's the time they will eat it. In addition, people stack boiled soba noodles on a round lacquerware. Generally, they stacked soba noodles in three layers. On the other hand, people used separate container for the condiments.
People gave the name Wariko Soba to the container. Wariko started in the Edo period when people called Ren (a group of people beyond their status) thought of it as a lunch box to bring soba to the outdoors. At that time, the shape was rectangular, but in the Meiji era. Is rectangular, oval from the Meiji to Taisho era, and then changed to the current round shape from 1945.  
Kamaage Soba
The second way of eating Izumo soba is by making it into Kamaage soba. The method of eating it is by transferring the boiled soba to a bowl as it is. Then, they would pour hot soba water and dashi into it. Finally, they add condiments for seasoning. Its nutritional value is outstanding because of the dissolved vitamins and minerals in the hot soba water. At first glance, it looks like kake soba. But upon looking closer, the boiled noodles are not tightened with water.
Is it Izumo Soba healthy?
Some soba noodles may be healthier than others. For example, Izumo Soba's main ingredient is buckwheat flour. This component is rich in dietary fiber. Apart from this, it is also a good source of amino acid called "lysine". This makes buckwheat great for vegans.
Is it a good source of protein?
In comparison with wheat spaghetti noodles, these two noodles are almost similar in nutrition. Although buckwheat soba has higher protein value than wheat spaghetti noodles. The higher the protein content, the better your body can function.
Does it lower cholesterol and blood sugar level?
Buckwheat soba has cholesterol-lowering effect. Thanks to it having "rutin" in its components. Aside from that, Izumo Soba has a low glycemic index which means that it affects your blood sugar less. This is beneficial especially for those who have diabetes. Buckwheat is also good for people who have higher heart risk.
Where to Eat Izumo Soba?
Now that we've learned more about Izumo soba, I'll introduce you to the restaurants in Izumo City, Shimane Prefecture, where you can eat delicious Izumo soba.
Soba Tanakaya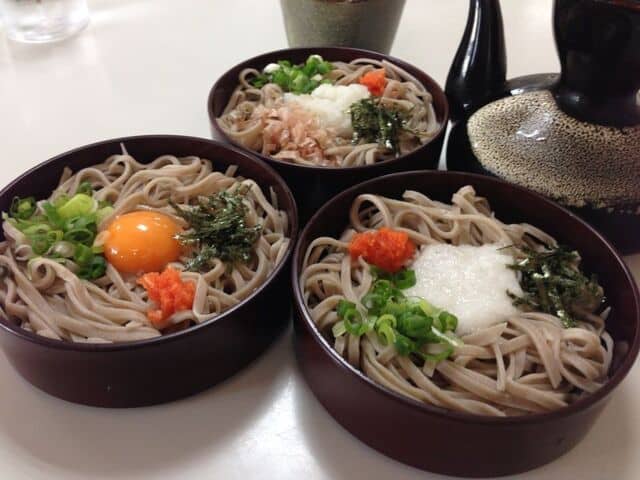 It is located near Izumo Taisha Shrine and is quite a popular shop that locals often visit.The shop is located in front of the main gate of the national treasure "Izumo Taisha". Several generations inherited the store that is formerly a candy store. However, the owner changed it to "Soba Tanakaya" in 1997. They started serving Izumo Soba since then. It reopened in 2013 to coincide with the Heisei sengū of Izumo Taisha, so it has a brand new interior with beautiful grain. You can enjoy Izumo soba with a refreshing feeling due to the open interior with high ceilings.
Kaneya Restaurant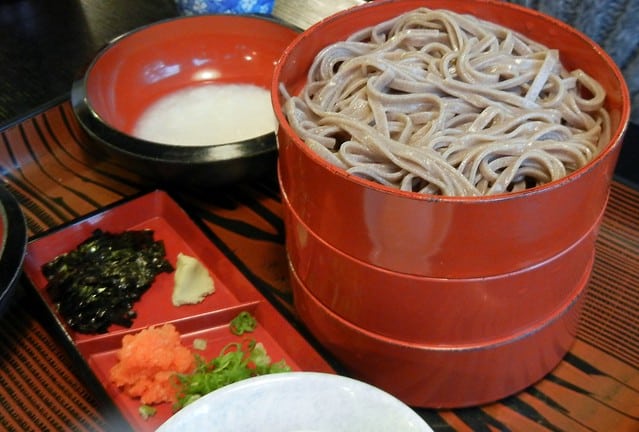 A long-established soba restaurant that has been in Izumo for many years, the green curtain is a landmark. There are two types of seats, table seats and tatami mat seats. The tatami mat seats are spacious and can be used by people with children. You can enjoy the three types of Izumo soba with different condiments here.The first tier is raw eggs, the second tier is tororo, and the third tier is seaweed green onions, all of which are unique condiments of Izumo soba . In addition, you can also combine the rich "soba-yu" that is particular to the shop, so be sure to ask for "three-colored wariko 3 dan".
Yakumo Main Store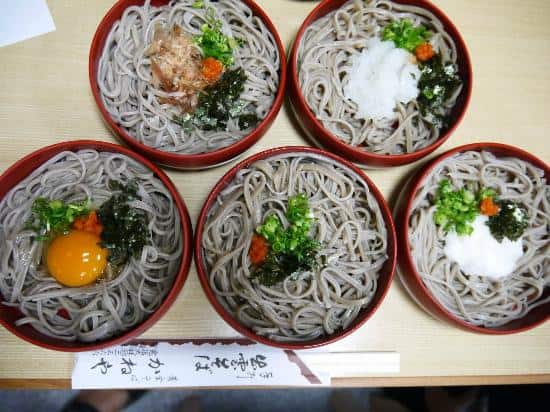 The interior is small and has a slightly retro atmosphere, and there are plenty of table seats. The recommended menu at "Yakumo Main Store" is "Sanshoku Wariko". You can enjoy 3 types of Izumo soba with 3 types of toppings: fried egg, egg, and yam. The photo shows "Goshiki Wariko", and you can enjoy radish and bonito toppings in addition to "Sanshoku Wariko". There is also a "Yakumo East Branch" in the immediate vicinity
Haneya Main Store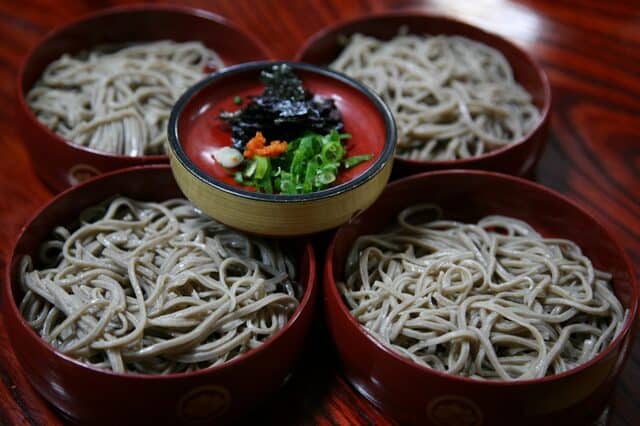 This shop is a long-established soba restaurant that has been open since the end of the Edo period, and is a famous Izumo soba restaurant with a deep history, such as offering meals to the imperial family as "Kenjo Soba". It is about a 5-minute walk from Izumo Station and is a station. Although it is a long-established restaurant with a long history, it is offered at a relatively reasonable price, so you can easily enjoy your meal.
Arakiya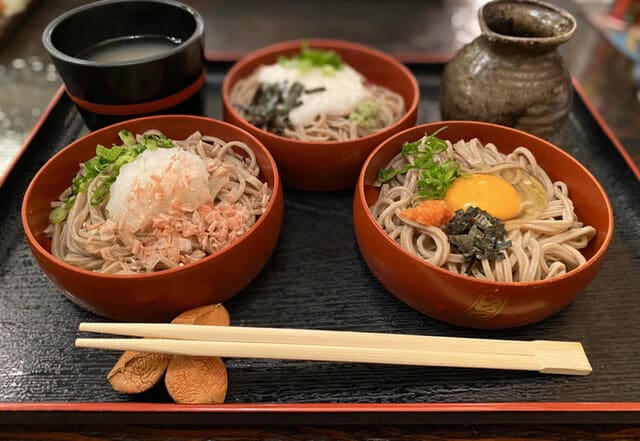 This shop has been around for over 200 years since the late Edo period and is said to be the oldest long-established shop for Izumo soba. It has tatami rooms/table seats, so it is safe for children and the elderly. At this shop, you can eat "wariko soba (3 dan)" for less than 1,000 yen (excluding tax). There is also a set called "Matching set", which is a set of soba noodles (2 steps), zenzai, sack, and fortune. This set is unique to a soba shop near Izumo Taisha, and is a popular menu for women returning from sightseeing.
Another Soba in Japan
In addition to Izumo soba, there are many other types of soba available in various regions of Japan.
If you're curious about what kind of soba is available, check out this page.