Fish is an essential part of Japanese cuisine. In fact, it is safe to say that they eat a lot of fish in a week. The fact that Japan is a huge island means they have a variety of fish available. Thus, they created dishes that use fish as the main ingredient. One of these dishes is Katsuo no Tataki.
What is Katsuo no Tataki?
Katsuo no Tataki is a type of sashimi using bonito or skipjack tuna from Kōchi. They only broil or bake the surface of the bonito fish before sprinkling it with sauce or condiments. They also serve it with green onions, garlic, and ginger on the side. Meanwhile, the sauce that they often use is either vinegar or soy sauce. Of course, these are the popular options but they also use other types of condiments.
Why bake the surface only?
Of course, cooking entirely the fish meat avoids food poisoning. However, baking the bonito makes the skin soft and easy to eat. It also eliminates the fishy odor which makes it even more appetizing. Leaving the inside of the fish raw while the surface is slightly burnt is what makes the Katsuo no Tataki a delight to one's taste buds.
They also use straws with a small amount of oil instead of woods because it creates stronger heat. Since the heat is high, the baking time also becomes short. It's also perfect for making tataki which requires a slightly burnt surface and raw center.
On the other hand, the taste of the dish also becomes better because it removes the excess water from the fish.
History of Katsuo no Tataki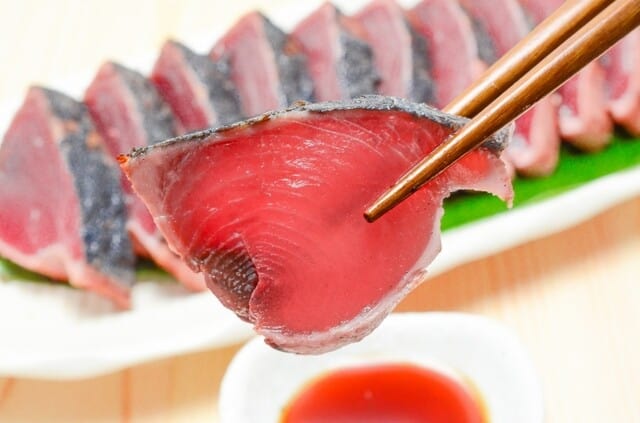 Bonito is a favorite fish of the people from Kochi Prefecture. As a matter of fact, they have the highest consumption of bonito in Japan. Like other cultural dishes in Japan, Katsuo no Tataki has a long history. In fact, there are also various theories on how this Kochi local dish began.
In addition to that, they believe that Katsuo no Tataki has over four hundred years (400 years) of history.
For example, some people say that Katsuo no Tataki started as a fisherman's meal while on board. Also, the fishermen used to eat freshly caught bonito with salt. However, bonito tataki tastes good only when it's fresh. Because the dish is so simple, it's difficult to cheat the taste. Hence, they only eat skipjack tuna tataki when it's freshly caught.
During the sixth year of Keicho in 1601, Kazutoyo Yamauchi became the feudal lord of Tosa. He learned that the fishermen of the area were eating raw bonito. Yamauchi was afraid of food poisoning from eating raw fish meat, so he banned it. Then, he instructed them to bake the bonito instead of sashimi.
How does the process of broiling the surface only begin?
The fishermen followed it when the feudal lord of Tosa instructed them to bake the bonito before eating. Even so, there were some parts of the fish meat that remained raw. When they cut and ate the fish meat, it was very delicious. They also added garlic to the condiments which made it extra flavorful.
Not only does garlic gives more flavor but it also has a good antibacterial effect.
On the other hand, some people believe that a warring lord by the name of Chosokabe Motochika, contributed to the Katsuo no Tataki that we know today. While he was settling in Shikoku, he prepared fresh bonito by cutting, skewing, and baking it.
Lastly, another theory is that the people adapted the cooking method of roasting whale meat into steak. Eventually, Katsuo no Tataki became one of the traditional dishes in Kochi Prefecture just like Nabeyaki Ramen.
What are the most common condiments used for Katsuo no Tataki?
While bonito fish meat alone already tastes divine, the Japanese also highly recommend the use of Yakumi. So, what is Yakumi? It's the Japanese word for condiments which are mostly flavored vegetables and spices. These condiments often accompany dishes to make them even more flavorful.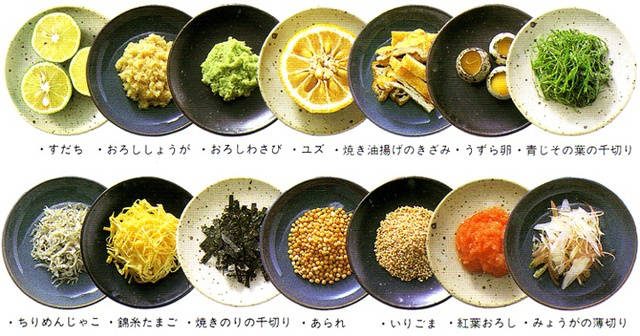 | | |
| --- | --- |
| Yakumi | Characteristics |
| | |
| | |
| | |
| | |
| | |
| | |
| | |
| | |
| | |
| | |
Katsuo no Tataki Recipe
In addition to its delicious taste, Katsuo no Tataki is also easy to make. While the traditional method is to cook it in an iron grill over straws, you can use a frying pan instead. Of course, it's more convenient or more common to have nowadays.
Katsuo no Tataki ingredients
These are arguably the most basic ingredients of Katsuo no Tataki. You can also add other condiments according to your preference.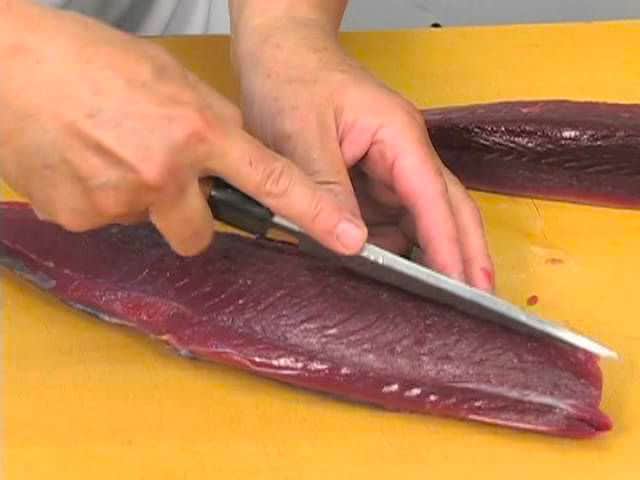 | | |
| --- | --- |
| Good for 1-2 persons | |
| bonito (skipjack tuna) | 300 g |
| perilla leaves (large) | 5 pcs. |
| garlic | 2 cloves |
| scallions | 1 pc. |
| myoga (Japanese ginger) | 2 pcs. |
| salt | a pinch |
| ponzu | appropriate amount |
How to make Katsuo no Tataki?
Before anything else, rinse the ingredients thoroughly and pat dry after. This process is important in making sure that the ingredients are clean and ready to use.
After that, cut the perilla leaves and myoga or Japanese ginger into Julienne or long and thin strips. Then, chop the scallions and garlic.
Meanwhile, remove the excess water from the bonito fish meat and sprinkle it with the right amount of salt on the skin.
Place the frying pan over high heat. When the pan is hot enough, place the bonito fish with the skin down. Press the bonito while baking in high heat.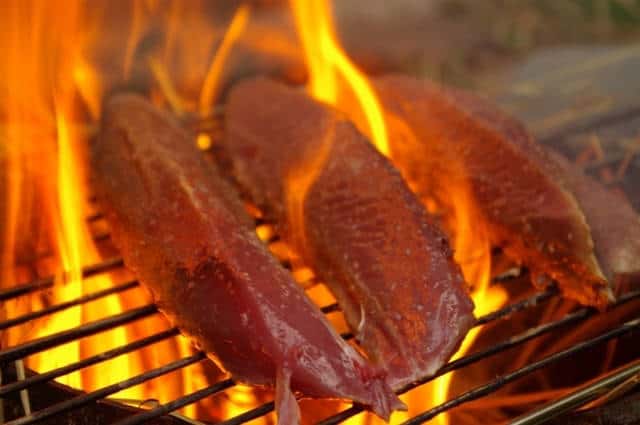 When the skin turns brown, flip the bonito to cook the meat. Bake it for a few minutes. Take it out of the pan when as soon as the color of the meat changes.
Then, cut the bonito into pieces about 1 cm wide (Tataki style). Add the Yakumi (condiments) such as perilla leaves, myoga, garlic, and chopped scallions.
Finally, serve it with ponzu sauce while it's hot.
Tips
You can also put the bonito in a ziplock storage bag after baking. This step will stop the cooking and leaves the center of the fish meat raw.
Adding other Yakumi is also great, especially if you love to add more flavors.
While using a frying pan is acceptable, it's still best to use an iron grill when baking the Katsuo no Tataki.
Where to eat Katsuo no Tataki?
The following list consists of the most famous restaurants that serve the best Katsuo no Tataki. Since it's one of the local dishes in the area, a visit to Kōchi will never be complete without a taste of Katsuo no Tataki.
Sakura (咲くら)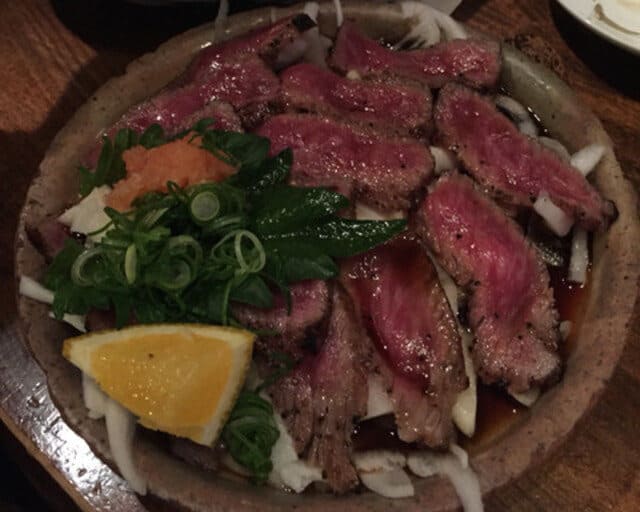 Sakura is a small Ikazaya with only twenty-seven (27) seats in Ohashi-dori. The store is founded by a married couple who sells soba noodles during the day and fish dishes at night. Sakura is just a minute away from the Ohashi-dori station.
Fujinoya (藤のや)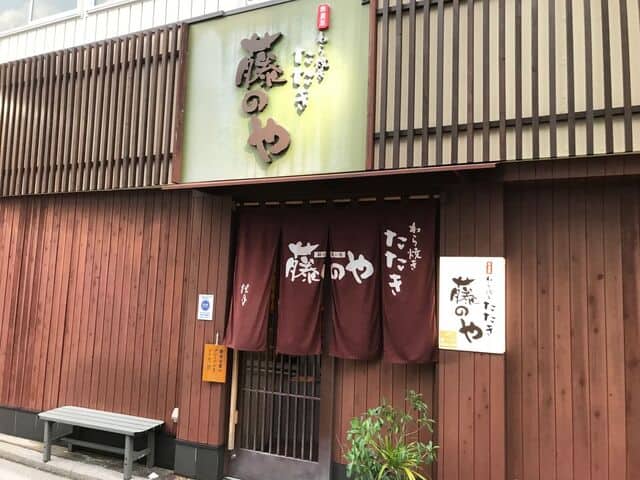 Fujinoya recently transferred to a new location. It's an Izakaya where you can enjoy one of the finest straw-grilled Katsuo no Tataki. The owner of the shop also claims to buy the freshest bonito in the market during the morning and bakes it only after an order has been placed. Fujinoya serves great quality sake and cocktails as well.
Kuroson (黒尊)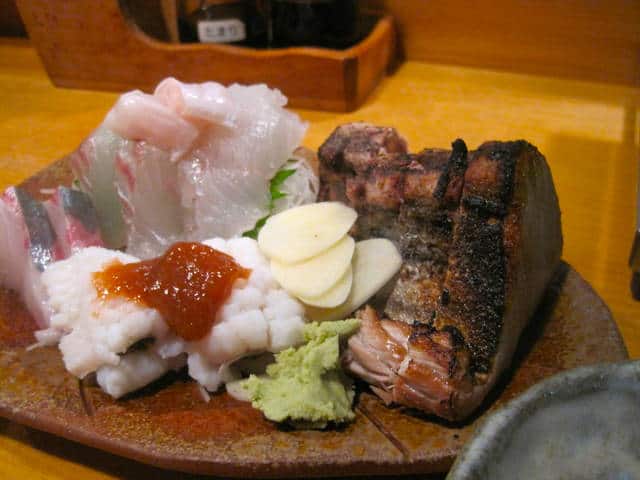 This restaurant serves excellent Katsuo no Tataki. It's also conveniently located in a back alley which is just a minute away from the Ohashi-dori station. In addition to that, Kuroson is a long-established Izakaya that served different generations.
Conclusion
Katsuo no tataki is a local sashimi dish in Kochi Prefecture. It's a slightly baked bonito tataki that comes with condiments. It's also often served with ponzu sauce. Katsuo no Tataki is a traditional Japanese cuisine with a long history.
If you love Katsuo no Tataki, check out other local dishes from Kōchi Prefecture.