WHAT IS KATSUO?
Katsuo, a prefectural fish in Kochi prefecture, is an ingredient that is eaten daily. Generally, Katsuo has a total length of about 40 to 60 cm, and when they grow, it will grow up to a total length of 1 m and a weight of about 20 kg. Katsuo is a type of sashimi that is cut into knots where the surface or the outer part is boiled. The most popular menu using Katsuo is the "Katsuo no Tataki", also known as Bonito Tataki. Katsuo no Tataki is a nationwide menu, but in Kochi prefecture, the ingredients and recipes differ slightly depending on the region and village.
ORIGIN OF KATSUO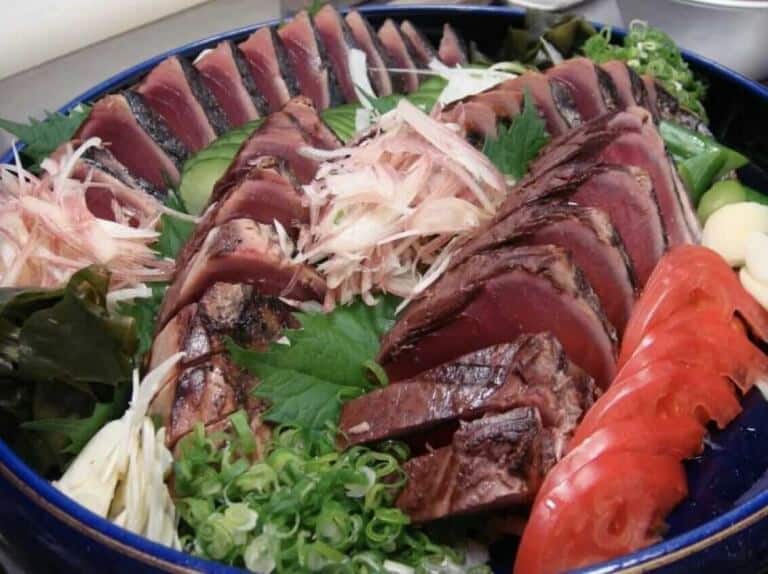 Kochi Prefecture boasts the highest consumption of katsuo in Japan. Katsuo was designated as a "prefectural fish" on June 21, 1988. Katsuo is known to be a fierce fighter when they are hooked.
Katsuo usually schools off the coast with other pelagic fish like tuna and albacore and fishing for bonito occurs offshore in 300-600 feet of water. There is a theory that said that the dish katsuo no tataki generally came from the fishermen who had eaten the caught fish called katsuo on board.
At that time, there was no preservation technology and that resulted in the development of a cooking method called "tataki" to make use of the katsuo that had lost its freshness on board. They first skewered the fish and then grilled the surface or the skin of the fish because they believed that the parasites under the skin of the fish are easily killed and can be eaten afterward. Before katsuo no tataki was named in Kochi prefecture, the 12th feudal lord, Toyosuke Yamauchi, named it first as "salted bonito" and "shutou". 
HOW IS KATSUO MADE?
Process of Making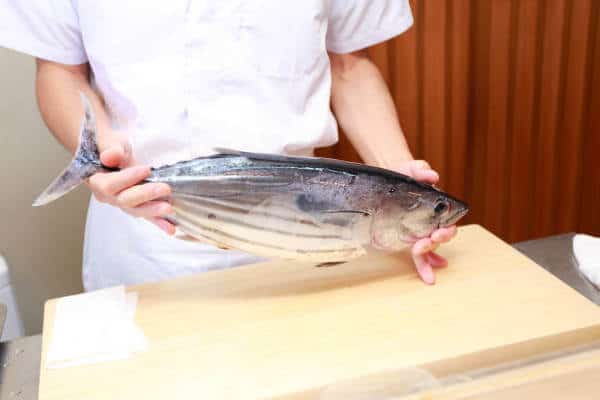 Kochi's traditional fishing method has continued since the Edo period. The taste of katsuo is much better when doing the traditional single fishing rather than the net fishing where the fish struggles so much that might affect its meat. The katsuo season comes twice a year, in spring and autumn. Spring katsuo is called "first katsuo" and autumn is called "return katsuo". During these seasons, many colorful katsuo are all lined up at supermarkets and fishmongers. 
There are many ways to eat it, but among them, katsuo no tataki is much more known to many Japanese locals. It is made by grilling the surface of the katsuo because ideally, only the surface should be burnt and the inside should be almost raw. The advantages of roasting the surface are that it has a fragrance similar to smoked food, that excess water in the body is reduced, the texture is improved and the taste is rich, and the thin fat that is attached between the skin and the body. Adding plenty of condiments such as onions and Japanese ginger depends on one's taste.
The condiments and sauce differ depending on the store and region. By having this menu called Katsuo no Tataki, it makes the fishy odor peculiar to katsuo reduced. Also recently, "salt tataki", which is eaten by sprinkling salt on baked bonito while it is warm, is very popular. 
The Uniqueness of katsuo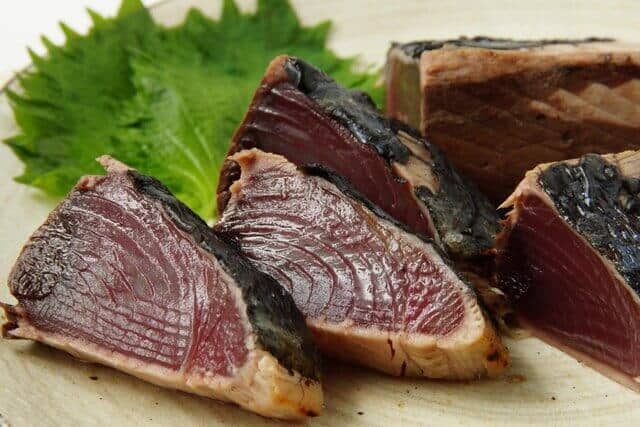 In the average year, the amount of katsuo consumed per household in Kochi City was 5,163g, which is far behind the others and is the highest in Japan. Katsuo no tataki is a popular menu on the table. Not only sashimi but also the nationally famous katsuo no tataki is a popular menu on the table.
The essential thing in distinguishing delicious katsuo is the color of the meat. The brighter the red color is, the more it is fresh. If the meat looks dark and cloudy, it already oxidizes and has lost its freshness. For those who want to try it with fat, it is recommended to pick the katsuo with light pink fat between the meat. Clear eyes and clean red gills are also proof of freshness. it also has taken root as a dietary habit throughout the prefecture and is also a standard dish of "dish bowl dishes" that are indispensable for ceremonial occasions and Shinto rituals.
How is katsuo used?
Katsuo is a type of fish, generally a type of sashimi, that can be used as the main ingredient or can be found in other dishes. Katsuo no tataki is the most popular and most known dish but other dishes also used katsuo as part of their ingredients such as, katsuobushi or dried katsuo flakes which you can usually sprinkle on top of okonomiyaki, another is the katsuo dashi which is a katsuo stock used in miso soup, tosa-maki which is sushi rolled in seaweed containing seared bonito, raw garlic, and perilla and last one is shutou with fermented a katsuo entrails.
RECOMMENDED RESTAURANTS OF KATSUO
Kochi prefecture is the birthplace of many dishes that used katsuo as their main ingredients. There are many shops where you can enjoy the freshest katsuo and enjoy its deliciousness, at the same time, feel the richness of the seafood.
Myojin Maru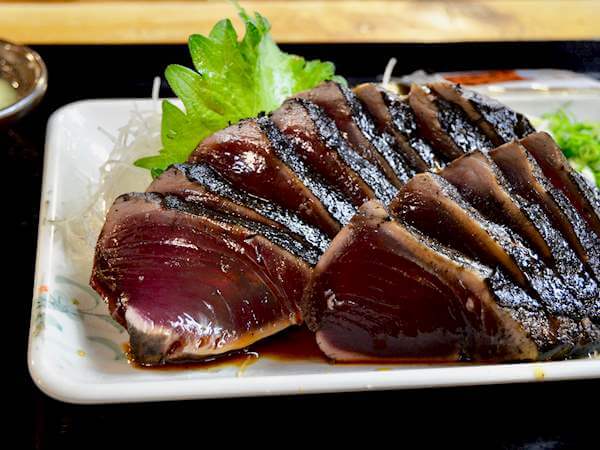 The shop is one of the popular restaurants where you can eat katsuo. It is recommended to make a reservation as it will be crowded during meal times. Myojin Maru offers a wide variety of katsuo menus, including "straw-grilled tataki" unique to Kochi and standard sashimi. The shop was clean and easy for anyone to enter. This is a recommended spot for those who come to Kochi for the first time and are looking for a restaurant where you can eat bonito 
Kuroshio Kobo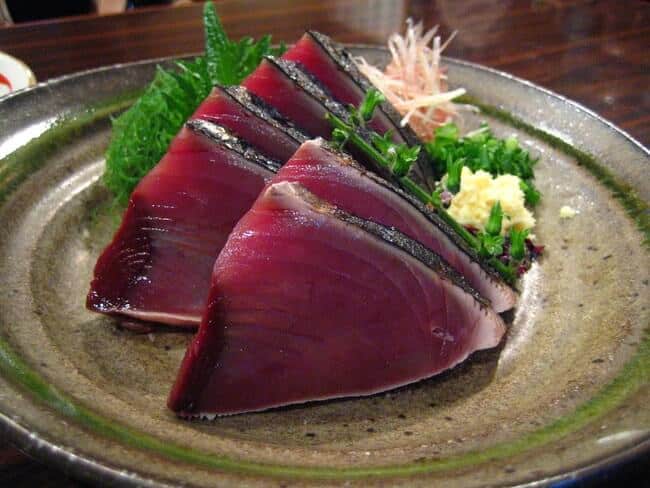 This restaurant is a popular dining room where customers can experience making authentic straw-grilled katsuo no tataki and eat it on the spot. The katsuo no tataki has a fluffy texture because it is baked with the heat of only straw. It doubles as a restaurant and you can enjoy a set meal that incorporates seafood. In Kuroshio Kobo, customers can experience a facility built on a hill overlooking the Pacific Ocean. There are about 5 types of set meals featuring katsuo no tataki and dried fish. Customers can also experience katsuo straw grilling for a limited time, and the tataki they made themselves will be exceptionally delicious. Also, the sauce blended with Kochi's yuzu juice further enhances the taste of the katsuo.
Asagi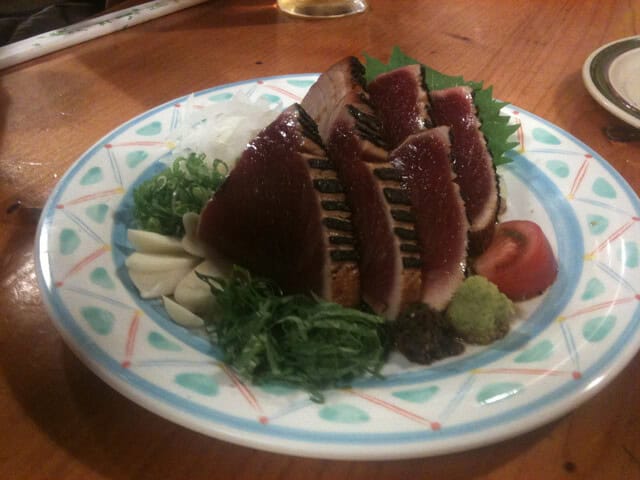 The next restaurant in Kochi where you can eat delicious katsuo is Asagi. Asagi is about a 1-minute walk from Hasuikemachidori Station and is recommended for those who want to enjoy cooking slowly in a calm atmosphere of a completely private room. There is also a counter seat, so customers can safely come to the store by themselves.  In addition to the katsuo dishes they serve, the restaurant is also recommended for steamed dishes with plenty of vegetables. It is healthy and very delicious and is popular with women. There is a wide selection of alcoholic drinks, mainly local sake, which is perfect for an adult Japanese dinner.
Live / Ikesu Cuisine Izakaya Makotoya
There is a wide selection of menus using fresh ingredients unique to Kochi, such as seasonal fish, spiny lobster, and Chotaro shellfish that the owner purchases. Yuzu salt tataki is extremely popular with tourists and can be eaten for ¥1296. In addition to Yuzu salt tataki, customers can also enjoy Tosa cuisine and pirate grilled dishes. The shop has a tatami room and has a very intricate interior with a calm ambiance.
Tosa Tataki Dojo
Another shop in Kochi prefecture offers a katsuo no tataki make-it-yourself style.  A dining room where you can enjoy the experience of grilling bonito straw. Bake the katsuo with straw and top it with condiments depending on one's taste. Customers are recommended to tap it with salt, then add some homemade ponzu sauce. The menu is the only tataki baked by yourself, and customers can choose from a set meal with rice and miso soup or a single item. The freshly baked katsuo here has an exceptional aroma