When you say Japanese food, Katsu Don may be one of the first ones to come to your mind. In fact, it is so famous that many shops abroad sell this too. But, what is it about Katsu Don that makes it a favorite among many?
What is Katsu Don?
Katsu Don is a Japanese rice bowl with deep-fried and breaded pork cutlet, egg, and vegetables on top. It's not just famous in Japan, but in other countries as well. It's also fulfilling and full of flavors! Katsu Don takes its name from two popular dishes which are Tonkatsu and Donburi.
| | |
| --- | --- |
| Tonkatsu | Donburi |
| | |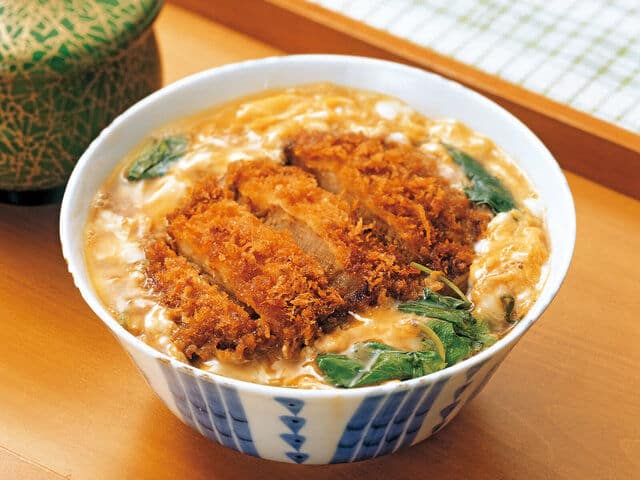 Donburi
Donburi is a common Japanese cooking style that consists of rice and side dishes in a bowl. In fact, it can be considered two dishes in one. Since the main ingredient of Donburi is usually a standalone dish, it's sure to be fulfilling!
So, how to eat Donburi? Since the early times, the meals of the upper class of Japan focus on staple food. The rice and side dishes are, of course, served separately. As a matter of fact, this tradition is still very common nowadays.
However, the manner of placing the side dishes on top of the rice became popular as this is quick and simple to eat. It's a food culture of the townspeople during the Edo period which eventually, became an identity of Japanese food worldwide. And this tradition gave birth to several Donburi dishes like Katsu Don, Ikura Don, Gyu Don, and Uni Don.
Since it is undeniably a hit, they began improvising and creating other kinds of Katsu Don. In addition to that, even Tonkatsu specialty stores are also selling this.
Katsu Don History
While there are many theories about the origin of Katsu Don, a local newspaper back in 1995 said that it began in a restaurant near Kōfu. Okumura Main Store, a long-established store, began offering deep-fried pork cutlet donburi in the late 1890s. Also, another article said that Katsudon was already existing even during the Meiji era. For this reason, the Kofu theory is the oldest confirmed information at this time.
Aside from the one above, here are other theories about the history of Katsu Don:
Waseda Theory
– After returning from Germany, Masutaro Takahata opened a store in front of Waseda University. He sold Katsudon to university students which became a word of mouth.
Osaka Theory
– Meanwhile, another theory says that a student of Waseda High School by the name of Keijiro Nakanishi invented egg-bound Katsu Don. It also says that he sold the dish in Osaka first.
Sancho-an Theory
– Lastly, some people believe that it was Nakanishi of now closed Sancho-an who created this worldwide famous rice bowl dish. They believe that his store, Sancho-an, is the first soba restaurant to offer Katsudon.
Even so, there are still other theories about the origin of Katsu Don. For example, there's a belief that worcestershire sauce was used instead of egg binding. Nevertheless, the oldest one is the Kōfu theory.
Which part of the pork is best for Katsu Don?
Of course, the texture and taste of the deep-fried pork cutlet depend on which part of the pork you will use. Since pork cuts have their own characteristics, it is easier to determine which parts are good for Katsu Don. Out of the seven parts of pork, fillet and loin are the most suitable ones. Thus, restaurants use them more often in making Katsudon.
Fillet
Not only does the fillet part of the pork has less fat, but it also has more lean meat. In addition, the fillet is the finest and softest part of the pork. So, they often use it in Tonkatsu and other pork dishes.
Meanwhile, the price of the fillet can be high too. Since there is only about 1 kilogram (1 kg) of fillet in one pig, it can really be expensive at times. They also consider it a valuable part of the pig due to its elegant taste.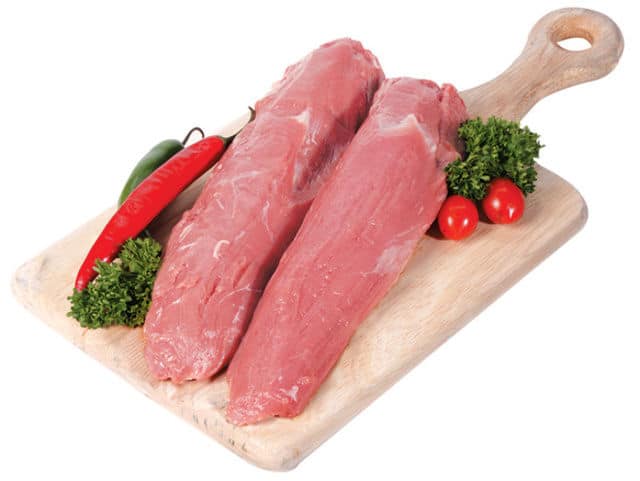 Loin
Another part of the pork that they often use in making Katsudon is the loin. It is the meat on the back of the pork or the shoulder area. Pork loin also has a lot of fat outside. With this in mind, the fat attached to it has a sweet and distinct taste. Therefore, the deep-fried pork cutlet becomes juicy when they use pork loin.
On the other hand, the pork cutlet made from pork loin can have as much as 344 kcal for every 100 grams (100 g). Hence, it may not be a popular choice among those who have strict meal plans.
In short, the biggest difference between the fillet and loin is the amount of fat.
What are the different types of Katsu Don?
Because of its growing popularity, several types of Katsu Don are now available in the market. As a matter of fact, its characteristic of being a simple dish makes it easier to develop a variety.
Egg Binding
In order to cook the egg, you need to use a Katsudon pot or Oyakodon. Boil the pork cutlet with soup stock, sugar, soy sauce, and eggs. When it's ready, it appears like beaten eggs. This type of Katsu Don often comes with soba. Before they serve it, they would sprinkle green peas, chopped seaweed, and mitsuba (honeywort) on top.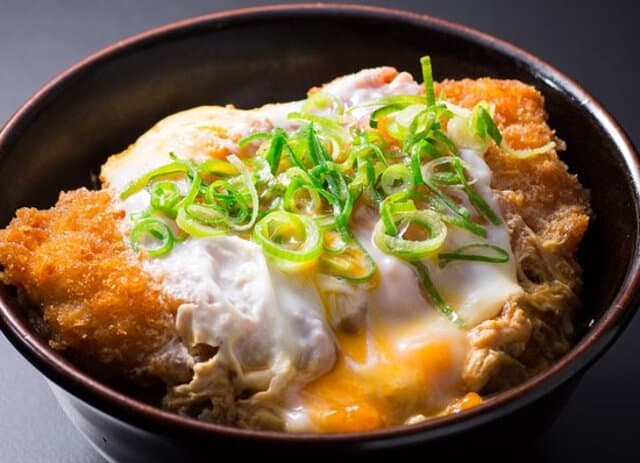 Boiled Katsudon
It is almost similar to egg binding, but the simmering time is a little longer. In addition to that, the pork cutlet batter is also slightly melted. It has a strong soy sauce flavor, the same as general Katsu Don. This kind is popular in Yamanashi and Niigata Prefecture.
Stewed Sauce Cutlet Bowl
Meanwhile, a store in Fukushima Prefecture offers pork cutlets in a simmered sauce bowl. Of course, the cutlet is stewed in sauce to give it a rich flavor. Eventually, this Katsudon type became available commercially.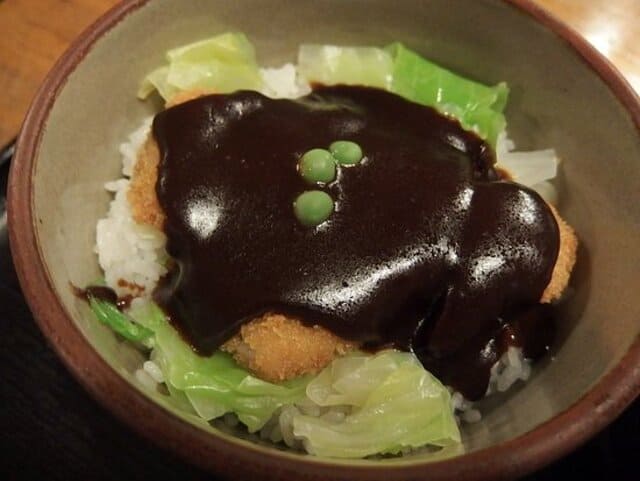 Cutlet Weight
It comes in heavy, square plastic containers. This type of Katsu Don is commonly sold in convenience stores, bento shops, and supermarkets.
Boiled Cutlet, Cutlet Binding, Cutlet Plate
However, this Katsu Don type is usually offered in a set meal. They serve rice separately unlike the usual. This one has different names depending on the restaurant.
Why does Katsudon from soba restaurants taste so good?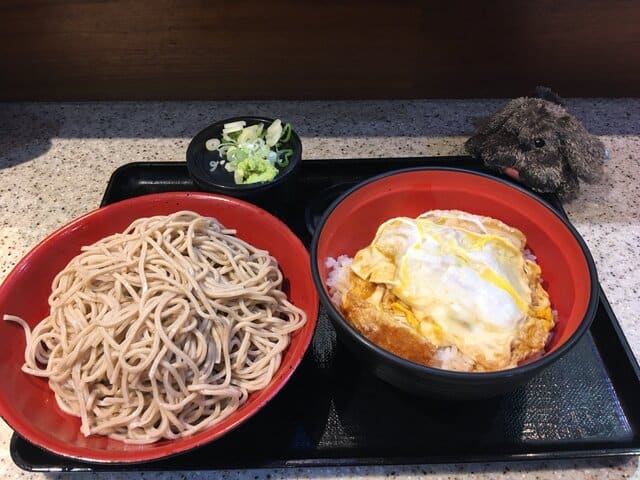 Soba or buckwheat noodles restaurants supported the spread of Katsudon all over Japan. Long before they started serving Katsu Don, they were already serving Tempura with soba noodles. Since both the dipping sauce and the soup of soba noodles comes from dashi, it is easy for them to sell Tempura as well. With this in mind, they could sell Katsu Don the same way.
On the other hand, the umami of both the pork meat and the sauce both taste so good together. While pork is the standard choice of meat, many soba restaurants use other kinds of meat too. For example, they use beef for Gyu Katsudon and chicken for Oyako Katsudon. Even so, using pork meat is still the best option!
Katsudon Recipe
Katsu Don is selected as one of the 47 Special Yamanashi Food. As a matter of fact, you can eat it at restaurants all over Yamanashi. But, if you want to make your own, here's how to make Katsudon in just a few steps.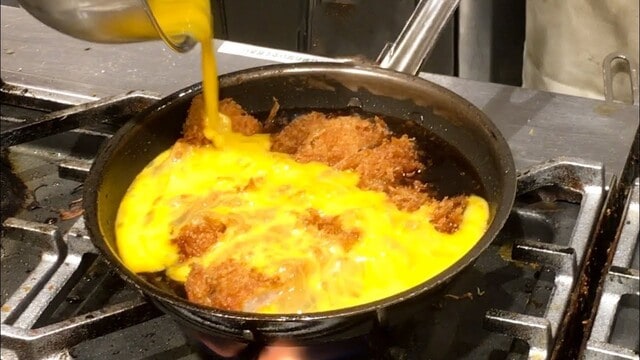 Katsu Don Ingredients
| | |
| --- | --- |
| Good for 1 person | |
| pork loin | 100 g |
| white rice | 200 g |
| bread crumbs | 15 g |
| frying oil | appropriate amount |
| flour | 1 tbsp. |
| shredded cabbage | 20 g |
| lemon | 1 slice |
| eggs (large) | 2 pcs. |
| mustard | just a little |
| salt | a pinch |
| pepper | a pinch |
| Tonkatsu sauce | appropriate amount |
How to make Katsu Don?
Season the pork cutlet with salt and pepper, to begin with. Then, put the flour and bread crumbs in separate bowls.
Meanwhile, beat one egg in another bowl. Pour oil into a pan and heat it.
Roll the pork cutlet into the bowl of flour before dipping it in the beaten egg bowl. After that, cover it with bread crumbs and shake off all excess.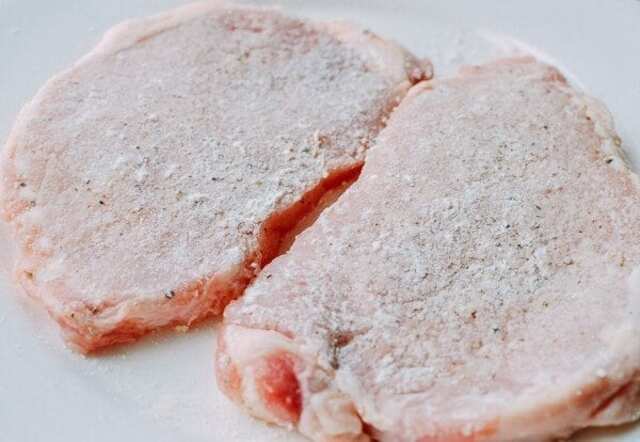 As soon as the oil is hot enough, fry the pork cutlet until it's golden brown. When it's ready, scoop the white rice and put it in a bowl.
Place the pork cutlet on top of the rice together with shredded cabbage. Then, sprinkle with Tonkatsu sauce and mustard. Finish it off with a lemon garnish and serve.
Katsu Don Restaurants
Where to eat Katsudon? Here are some restaurants where you enjoy this famous dish.
Ginza Bairin Main Store Tokyo (銀座梅林 本店)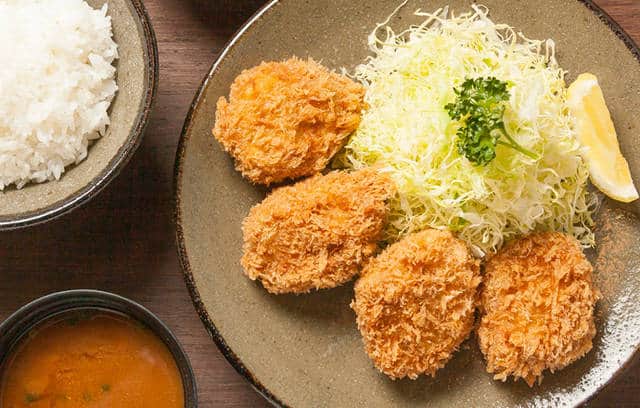 Ginza Bairin is a well-known Katsudon restaurant that has been operating since 1945. The store is famous for its special Katsu Don which is a pork fillet gently fried in cottonseed oil. The pork cutlet rice bowl is then topped with a soft-boiled egg and sweet tuyu.
Niigata Katsudon Tarekatsu Honten (新潟カツ丼タレカツ 本店)
Tarekatsu is popular for its thinly-sliced pork cutlet and pickled soy sauce. Their Katsu Don has a nice texture and the taste is truly exceptional. In addition to that, the store is the pioneer of Katsudon in Niigata.
Kitchen Flypan (キッチンフライパン)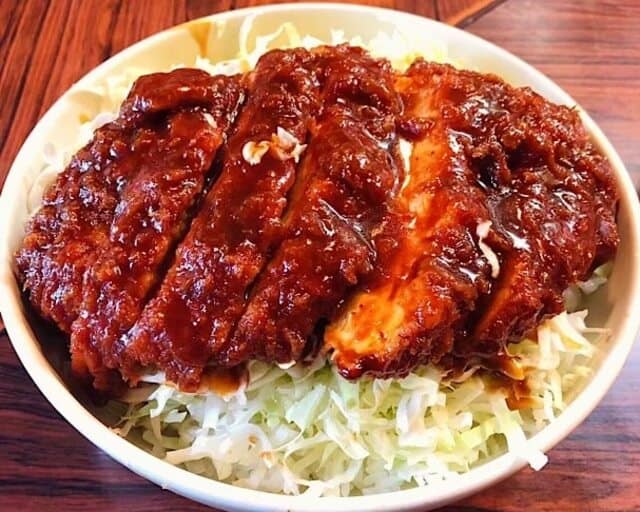 This Western-style Izakaya is known for its demi-glace sauce Katsudon. They prepare the sauce for over two weeks which makes the flavor of beef and vegetables come out. Kitchen Flypan also sells chicken katsu which is also a favorite next to pork Katsu Don.
Takeaway
Katsudon is a worldwide famous deep-fried pork cutlet rice bowl dish. It's a simple dish yet so delicious. It's also a surefire hit among adults and children.
Did you like Katsu Don? Check out other flavorful dishes from Yamanashi as well. Don't forget to like us on Facebook to stay updated with our latest food recommendations from Japan!