INTRODUCTION TO IMO YOKAN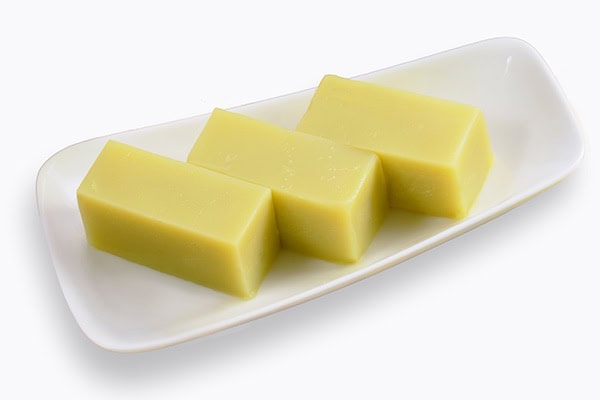 Imo Yokan is a traditional Japanese jelly dessert that has an ingredient of sweet potato and sugar. Additionally, this wagashi is famous in the autumn season. You can get a lot of sweet potatoes, pumpkins, persimmons, and chestnuts during the fall season. Imo Yokan is usually served in rectangular bite-size slices. Also, it has a normal shelf life of 7 days.
Although it is called a "yokan", the ingredients used are completely different from the regular yokan. It is made from whole sweet potatoes, kneaded with sugar, and then shaped using a mold. Because the sugar content of imo yokan is much lower than that of ordinary yokan, it spoils quickly. While the shelf life of a typical yokan is more than a month, the shelf life of imo yokan is only a couple of days.
In addition, most people usually pair this with green tea.
ETYMOLOGY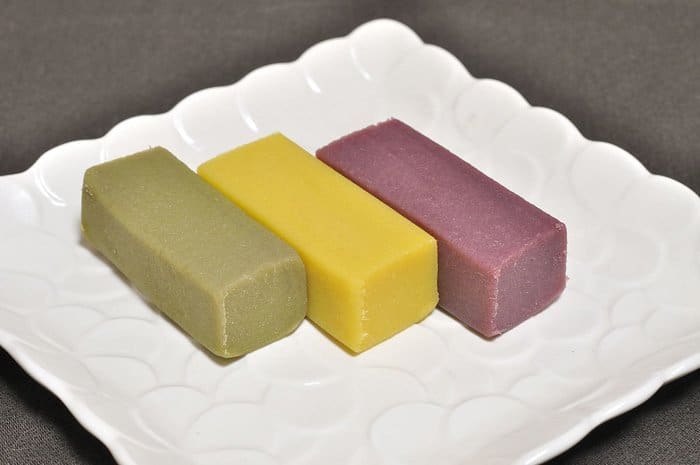 Since we already have Youkan on our previous post, the word Youkan is 羊羹 in Chinese/Japanese Kanji which contains both the Chinese character for "sheep" (羊) and "broth" (羹). It was called 'sheep soup'. Imou/Imo in Kanji is 芋. It means potato or sweet potato. That is why it is called as sweet potato yokan.
WHAT IS THE HISTORY OF IMO YOKAN?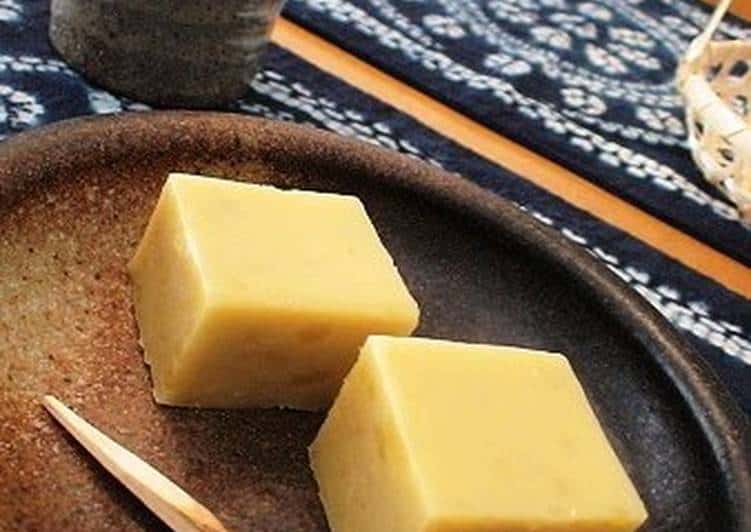 During the period from 1897 to 1902, Wasuke Kobayashi was a potato wholesaler in Asakusa Kotobuki-cho (present-day Kotobuki, Taito Ward, Tokyo). To make good use of the waste potatoes that were difficult to dispose, he tried to make Yokan with different taste from bean jelly made with agar and sugar. He approached to Sadakichi, the second generation of Japanese sweet shop 'Funasada' in Asakusa. Then Imo Yokan was completed by joint development.
Afterwards, Wasuke learned from Sadakichi how to make Imo Yokan. Wasuke founded 'Funawa' in Asakusa, the name of which was made by taking one character from each of 'Funasada' and 'Wasuke.' In addition, Sadakichi and Wasuke used a character of 'Fune' because two came from Funabashi-cho (the current Funabashi City, Chiba Prefecture). Then, Sadakichi moved to Ashikaga-cho (present-day Ashikaga City, Tochigi Prefecture) with his family, and thus 'Funasada' moved to Ashikaga.
Nowadays, Imo Yokan has spread all over Japan and is familiar as a special product of sweet potato production areas such as Kawagoe City, Saitama Prefecture.
IS IMO YOKAN SUITABLE FOR DIET?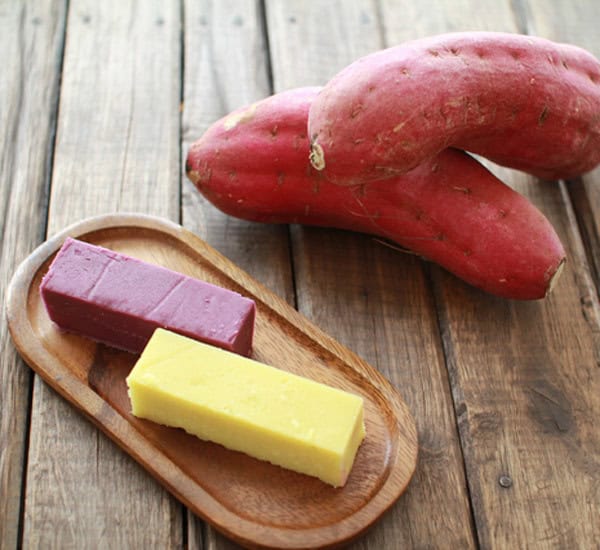 Generally, Imo yokan has low sugar and calorie content than in regular Yokan and in other Japanese sweets. But it is not so low in sugar that it can be for sugar restriction. If you are on a low-carbohydrate diet, try not to overeat, such as by cutting it thinly even if you eat it.
Imo yokan is about an estimated 18.3g of sugar per slice (50g). It has an ingredients such as sweet potatoes, sugar, and salt. Sugar and sweet potatoes are high in sugar, so Imo yokan inevitably has high sugar.
Calories are about 79 kcal per slice. Sweet potatoes weigh 132 kcal per 100g, which is high in calories among vegetables. However, it is moderate when viewed as whole food. Depending on the amount of sugar used, the calories will not be that high.
Of course, if you eat too much, you may be over-calorie, but it's much easier to eat than if you're on a low-carb diet. Moreover, eating moderately must apply for a proper diet as it is not much recommended for dieting.
WHAT ARE THE INGREDIENTS OF IMO YOKAN?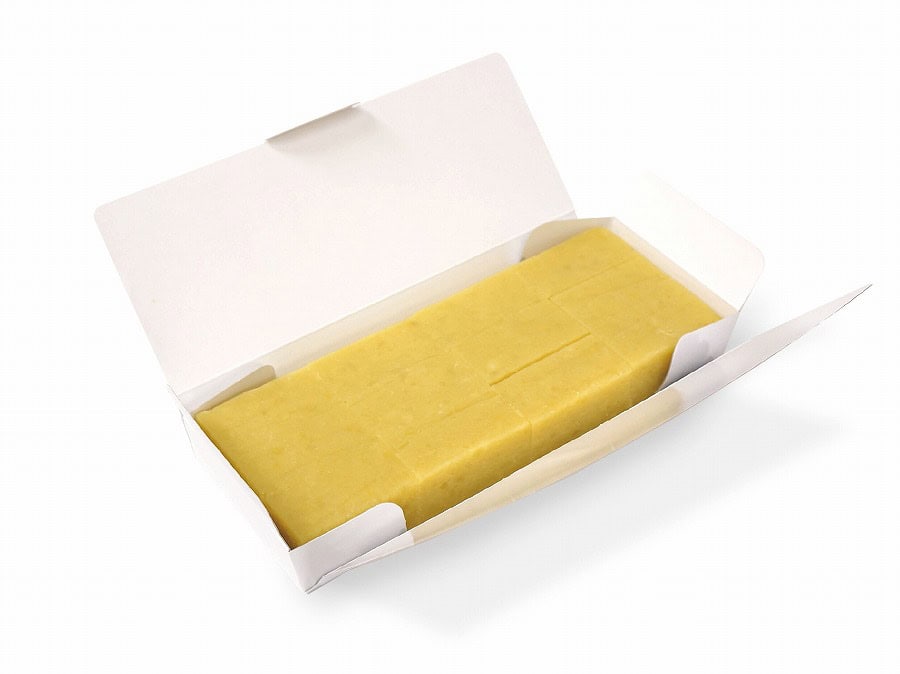 Making this sweet potato yokan is actually easy. You can also find the ingredients almost everywhere and is usually available in the supermarkets. Here are ingredients for Imo Yokan:
| | |
| --- | --- |
| Sweet potato | 500 g |
| Sugar | 120 g |
| Powder agar | 2.3 tsp |
| Water | 250 ml |
WHAT IS THE RECIPE OF IMO YOKAN?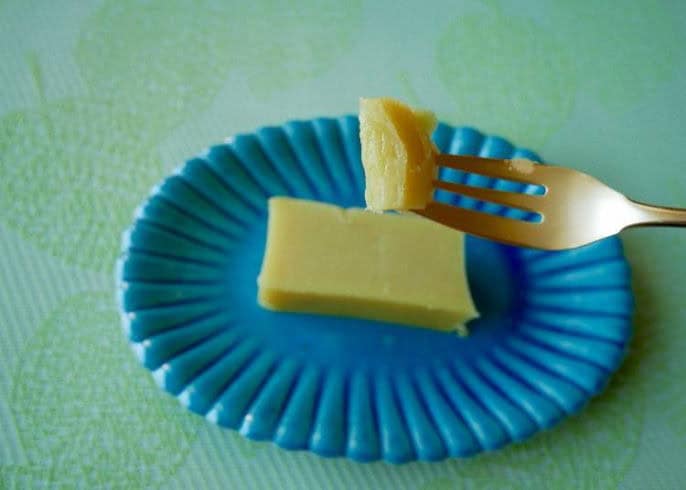 Slice sweet potatoes
Firstly, cut the sweet potatoes into 2cm thick slices, peel the skin thickly, expose them to water.
Boil
Put sweet potato in plenty of water, when it boils, throw away the water again. Then, put water again, boil it softly, raise it to the zaru (draining basket made from bamboo), and quickly put it back while it is hot.
Put Agar
Next is put the Agar and water in a saucepan. Dissolve then add sugar.
Mix together
Add the sweet potato and dissolved agar and mix. Cool, harden it, and cut it into rectangle sizes.
You're done!
Finally! Now you've made sweet potato yokan, don't forget it share it with your family and friends!
WHAT ARE THE RECOMMENDED SHOPS OF IMO YOKAN?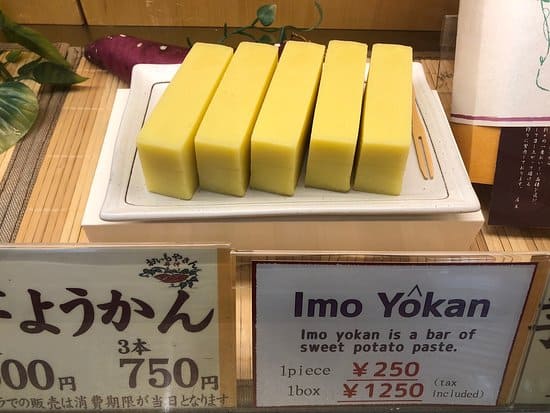 Funawa
Funawa is an old Japanese yokan shop that specializes in imo yokan. It was established in 1902 and continues to serve the delicious sweet potato dessert in many branches around Tokyo and other parts of Japan.
Nishi-Sugamo Tosaya
This store was founded in Nishi-Sugamo, Tokyo in 1938. It is famous for its sweet potato yokan made using the old-fashioned manufacturing method. Additionally, the signature product, which is Imo Yokan is crushed and used without breaking the sweet potato's original taste of the potato.
Imoya's First Senjiro
The shop's specialty store of creative potato confectionery near kawagoe's symbol "toki no kane". Imo Yokan is a dish made by straining a selection of sweet potatoes and finishing with only a little sugar and salt. You can enjoy two flavors of plain and moist purple potato with a hokuhoku texture.
Ikashi Matsuya
It is a long-established japanese confectionery shop in Joyo city, Kyoto. Ikashi Matsuya prospered as a post town in the Edo period. Matsuya's specialty which is Imo yokan is a traditional dish that is carefully piled up and finished in a moist and smooth texture.
CONCLUSION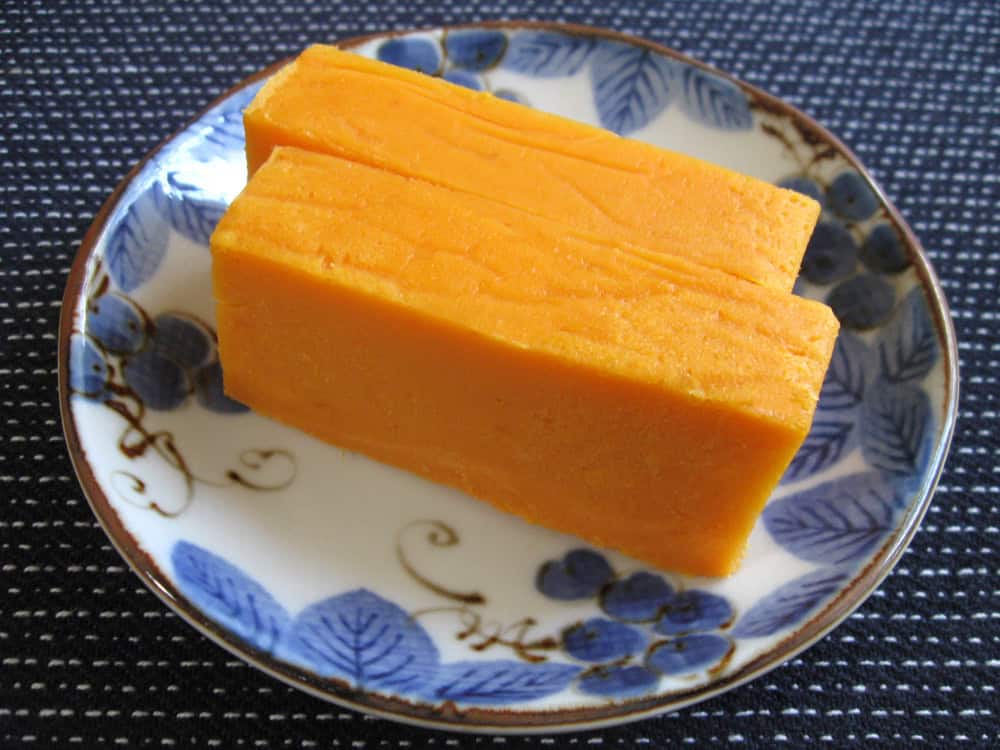 In conclusion, Imo Yokan was not in the mouth of common people before. However, Imo yokan was commercialized because people thought it would be a waste to throw away the surplus of sweet potatoes. If you love to eat Japanese sweets with a low count of sugar compared to other wagashi, this may be a good option. Also, who doesn't love Sweet Potatoes right? If you're a fan of potatoes, generally, you would love to have Imo Yokan. Funawa Imo Yokan is indeed one of the famous Imo Yokan that is loved by many. No wonder why it is also one of most favorite souvenirs of tourists. The quality is really high and the manufacturing method is also well-done. They also have the impression that they carefully selected the sweet potatoes since there's no unpleasant taste.
Additionally, you can also try to bake in the oven to add some roasted potato taste. You can also try to fry Imo Yokan in to make a Western-style taste.