Introduction to Gyudon
Gyudon is a traditional food in the Kanto region of Japan. It is a dish in which locals boiled the sliced ​​beef, onions, etc. in soy sauce and placed on top of rice served in a bowl. Other types of rice dishes in Tokyo prefecture are Negima Nabe, Chanko Nabe, Fukagawa-meshi, and Shinagawa-meshi.
Although these days Japan is famous for its Wagyu beef, using cattle for food is a relatively new concept. It dates back to the latter half of the 19th century when Japan opened its doors to foreign trade. One of the first areas to welcome foreigners was Tokyo, which is it's no big surprise that Gyudon starts there.
Etymology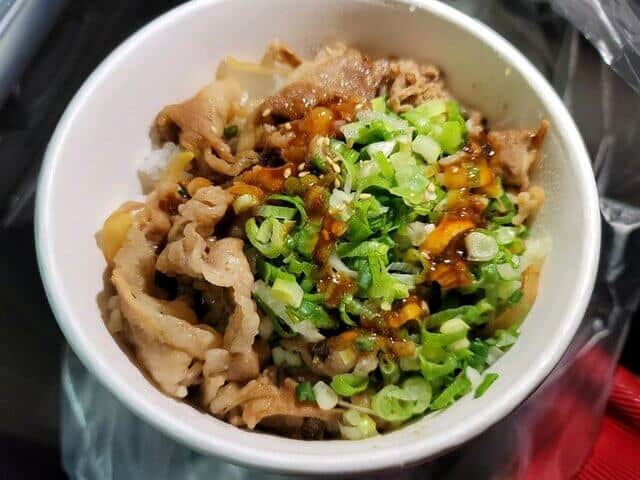 Eikichi Matsuda, owner of the famous "Yoshinoya" beef bowl chain in the late 1800s gave the name "Gyudon." In literal translation, "Gyu (牛)" means beef, and "Don (丼)" means a bowl of rice.
The donburi is a staple dish of Japanese cuisine. The name, sometimes abbreviated as don, literally means "big bowl" in Japanese. The principle is simple: a bowl filled with steamed white rice, or Gohan, crowned with a topping (often a soft omelet with onions accompanied by meat or fish). 
What is Gyudon?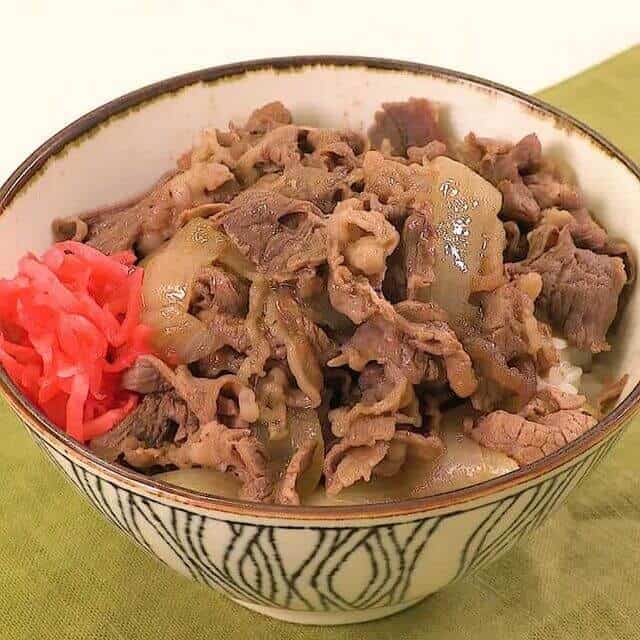 Gyudon is a Japanese food that consists of only beef and onions. It is a traditional dish from Tokyo in the Kanto region with most stores with red ginger and shichimi pepper as their toppings. Locals sliced the beef, onions, and other ingredients, and then they boiled sweetly and spicy in soy sauce and placed them on top of rice served in a bowl.
Locals considered the Sukiyaki rice bowl to be similar to Gyudon. However, in many major beef bowl chains, only beef and onions make up the dish. In addition, depending on the taste of the eater, you can add red pickled ginger, shichimi pepper, raw egg, etc. as a garnish. You can enjoy the taste of the beef bowl even more because the taste is in the rice at the bottom.
Gyudon Origin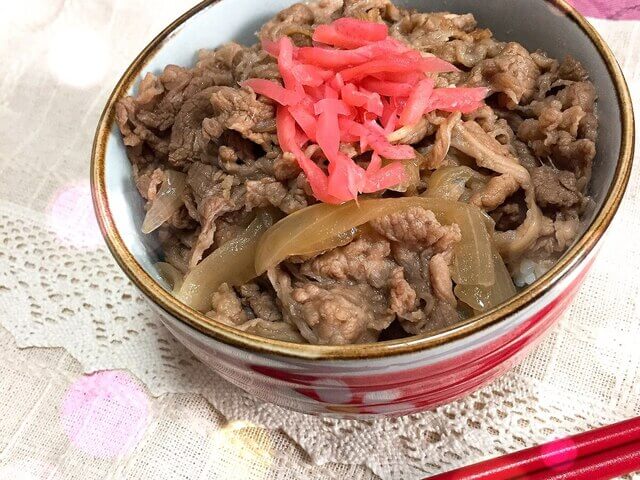 As with most new ingredients that work their way into a culinary culture, beef was initially in a way that was familiar to Japanese people: as a hotpot (鍋 – nabé). If you go back to the history of gyudon, you will find Gyunabe. It was the precursor to modern-day Sukiyaki, as well as Shabu Shabu, and Gyudon. 
Beef hot pot is a Japanese-style beef hot pot dish born at the end of the Edo period. Beef pots appeared in 1862. The owner of an izakaya called "Ise Bear" in Yokohama Ibune-cho (now near Tokiwa-cho and Onoue-cho, Naka-ku, Yokohama) overcame his wife's opposition and sold stewed beef.
In the latter part of the 19th century, enterprising vendors started selling Gyunabe on top of a bowl of rice, as a kind of fast food, and it was called Gyumeshi (牛めし – "beef rice").
One of those vendors was Eikichi Matsuda who was from "Yoshino" town near Osaka. He opened a small stall at Nihonbashi Fish Market in 1899 selling a hearty meal called Gyunabé Bukkake (牛鍋ぶっかけ – "covered in gyunabe") to the workers at the market. After the Nihonbashi market was destroyed during the Great Kanto Earthquake, Matsuda moved Yoshinoya to the new market located in Tsukiji in 1926. Gyudon remained a specialty of the Tokyo area until the mid 20th century when Yoshinoya started expanding outside of Tokyo.
Top 5 Major Chains of Gyudon
Yoshinoya
This is the first restaurant to chain beef bowls. The reason why the owner named it "Yoshinoya" is because the founder was born in Yoshino, Osaka. Founded in 1899, it has the longest history of any of the three major chains.
Sukiya
It is no exaggeration to say that it is leading the beef bowl industry. Sukiya's unique strategy, such as the discount commuter pass "Suki Pass," was successful, and around 2009, it overtook the Yoshinoya, which had been the largest in the industry until then, and became the largest in the industry. The beef bowl has tender meat, and Sukiya's unique slightly sweet, and sour sauce matches the meat. After eating about half, you can enjoy another taste by adding red pickled ginger to make it a refreshing taste.
Matsuya
The biggest feature of this third chain is that it comes with miso soup without exception. It is a simple miso soup with wakame seaweed and fried tofu, but it goes well with a slightly thick beef bowl. 
Nakau
A gyudon chain store from Osaka has been focusing on menus other than gyudon such as udon and oyakodon from early on, and the ratio is relatively high. In 2006, it became a consolidated subsidiary of Zensho Co., Ltd. (currently Zensho Holdings Co., Ltd.). At that time, there were rumors that the group's Sukiya will absorb this in the future. However, Zensho highly valued the high profile and uniqueness of the menu in Kansai, and the brand was in parallel with Sukiya. It will continue to exist, and there are no plans to absorb or integrate it in the future. The sale of the beef bowl discontinued once in 2014, but it revived in 2015.
Tokyo Chikara Meshi
Lastly, Sanko Marketing Foods Co., Ltd. opened its first store on June 9, 2011. It operated more than 130 stores at its peak. However, the maturity of know-how could not keep up with the rapid expansion, and customers left. Consequently, they reduced and reorganized the store network. In April 2014, 68 of the 88 stores will be split and transfer to the new company "Chikara Meshi Co., Ltd". The company changed the format of its stores, and the number of stores offering beef bowls decreased to less than 20 in Japan. 
Gyudon Recipe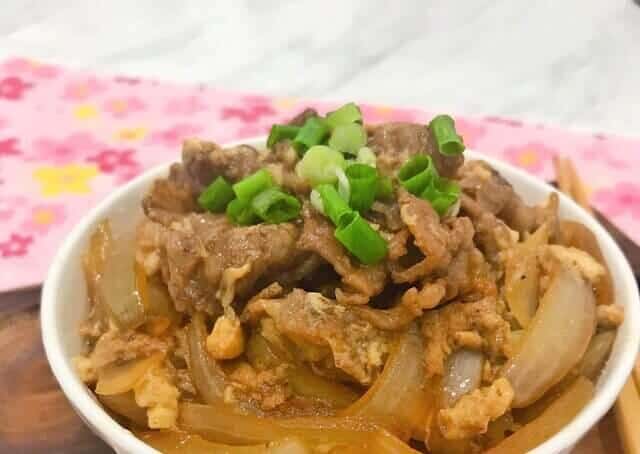 Gyudon recipes include warm rice, beef, onion, shiitake mushrooms, Dashi soup, red pickled ginger, and Shichimi pepper. You can make Dashi soup by mixing salt, sweet sake, and soy sauce. The red ginger and Shichimi pepper can be as a condiment or as a topping on Gyudon.
How to Make Gyudon?
Boiling the beef
Gently boil water in a pan, add beef, loosen it lightly with chopsticks, and fry it in a colander when the color changes.
Preparing the mushroom
Cut the onion in half lengthwise and 2 to 3 mm wide to loosen it. Remove the stone wall from the shiitake mushrooms, tear the stems into small pieces, and slice the caps into thin slices.
Boiling all the ingredients
Put soup stock, salt, mirin, and salty sauce in a pan and heat. After boiling, add beef, onions, and shiitake mushrooms. After boiling again, cover and simmer on low medium heat for 7-8 minutes.
Making Gyudon
Put rice in a bowl, sprinkle it with the ingredients and broth, and put red pickled ginger on it. Serve with shichimi pepper if you like.
Gyudon vs Yakiniku Don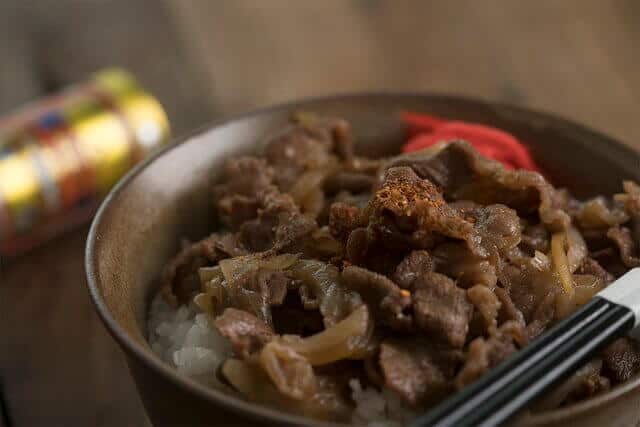 Yakiniku-Don is a Japanese dish consisting of a bowl of steamed plain rice topped with grilled Yakiniku meat. You can prepare the meat for Yakiniku Don that is usually thinly-sliced beef or pork that is not greasy. Although, they chopped small pieces of beef and they also used the pork in Yakiniku Don. Unlike Gyudon, the meat for Yakiniku Don is first-grilled or pan-fried. Then, dressed with the sauce called "Yakiniku no Tare" and placed on a bowl of rice. Supermarkets in Japan usually stock various kinds of ready-made Yakiniku no Tare sauces, so the donburi dish, Yakiniku Don, is very easy to prepare.
Unlike Yakiniku Don, the meat locals prepared for Gyudon is limited to beef as the word "牛 (Gyu)". Hence, before locals placed the beef on a hot bowl of rice, they simmered with onions and other ingredients, such as Shirataki, in a mildly sweet sauce typically made from soy sauce, dashi stock, and mirin. In Japan, Gyudon is a more casual, common dish than Yakiniku Don. Gyudon restaurant chains offered this as fast food.
What is the Gyudon beef cut?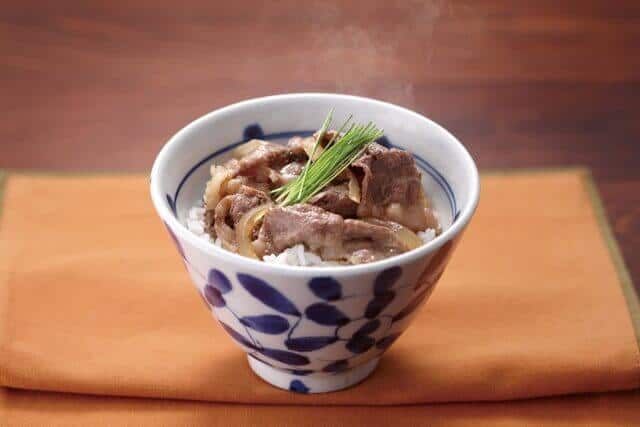 When it comes to Gyudon's beef cut, it typically comes with ribeye or chuck that's shave extra thin on a meat slicer. You'll be able to find good meat for gyudon in Japanese supermarkets.
What kind of beef used for Gyudon?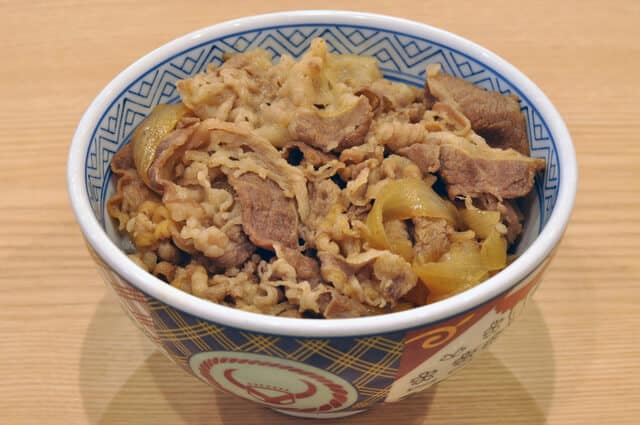 The beef that is ideally used for Gyudon is Wagyu beef. This Wagyu beef has the top three brands including Matsusaka Beef, Kobe Beef, and Omi Gyu (Omi beef). You can also use Iga beef, Saga beef, Shiraoi beef, Shinshu beef, or even Hida Gyu (Hida beef). However, locals recommended using the Wagyu ribeye steak by slicing it into a thinly-shaved slice.
How many calories does Gyudon have?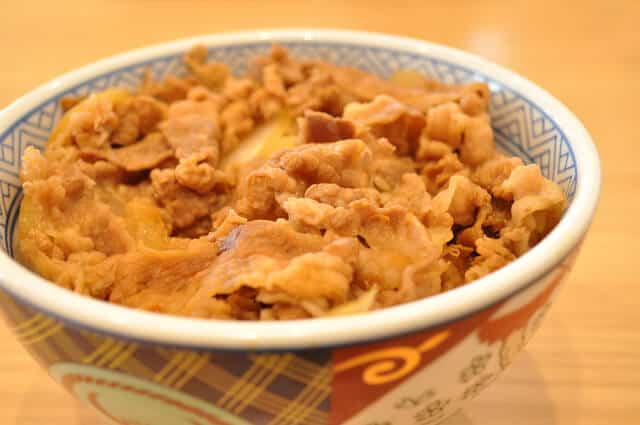 The calories in Gyudon per 416.5g(1 serving) can be up to 771 calories. It has  185Cal per 100 grams making 80Cal equivalent to 43.24g with 112.7g of mostly carbohydrate, 23.87g of fat, 18.03g of protein in 416.5g. While being rich in vitamins and minerals such as Molybdenum and Copper.
Recommended Gyudon Restaurants
Nandokiya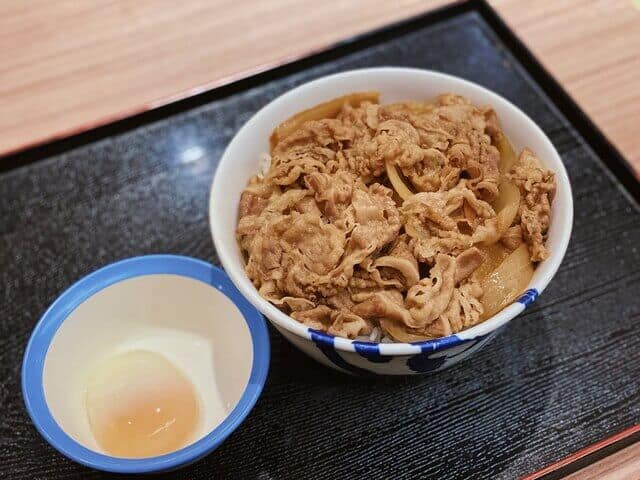 This restaurant has carefully arrange the beef bowl or Gyudon with time and effort. They topped it with Konjac and yaki-dofu in front of plenty of beef and onions. It is a visual you can't find in chain stores. It has a slightly sweet sukiyaki-style taste. The taste of the sauce is firmly absorbed in the shredded konnyaku and yaki-dofu.
Beef Meshi Fuku-chan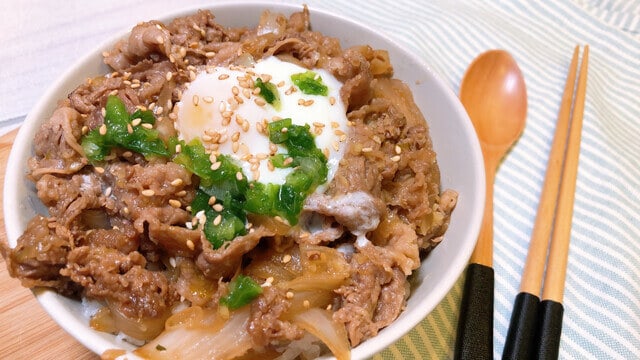 Secondly, this shop's Gyumeshi is around ¥600. Hence, the dish is in a large rice bowl. Beef tendon, silken tofu, diced konjac, and kimchi are on top of the rice. Some recommended having it with kimchi instead of pickled ginger. Additionally, the beef tendon is well-simmered and soaked in a salty taste. The elasticity of the diced konjac, the softness of the tofu, and the acidity of the kimchi create a wonderful harmony.
Beef Bowl Specialty Sambo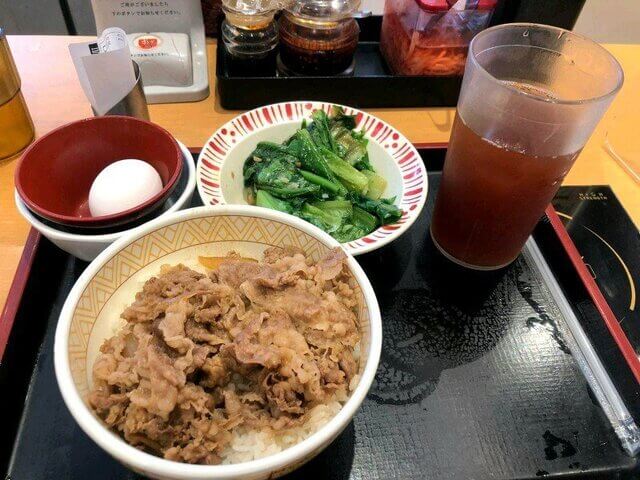 The restaurant's Gyudon with miso soup is around ¥500. Consequently, many customers say that not only the size of the donburi but also the beef is thick and voluminous when you try to look at it from the side. Additionally, the amount of beef ribs is different from that of major chains. The seasoning is full of handmade feeling, and it mainly consists of soy sauce and is moist and soft.
Hyoutan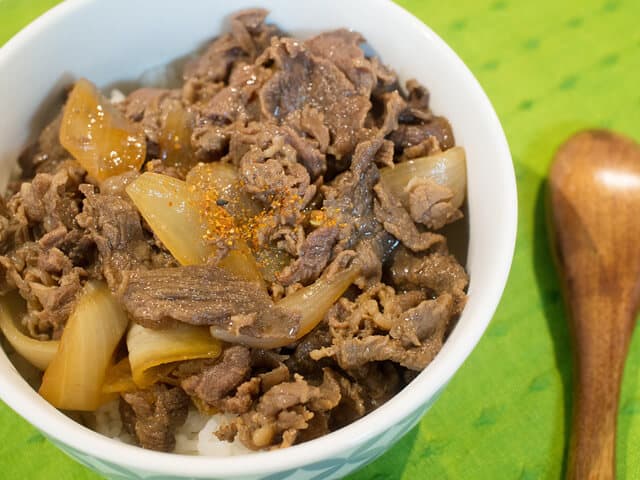 In this next restaurant, you can choose to have your Gyudon with soup. Hence, it costs only ¥440. Moreover, the shop decided to add bright red pickled ginger and green onions as a topping in the center of the dish. They also shredded the beef between the Yoshinoya-style and the soboro. Additionally, you can actually see the onions and konnyaku simmered until they turn amber. The seasoning is strong and sweet, and it tastes like sukiyaki with plenty of sugar. 
Tatsuya Shinjuku store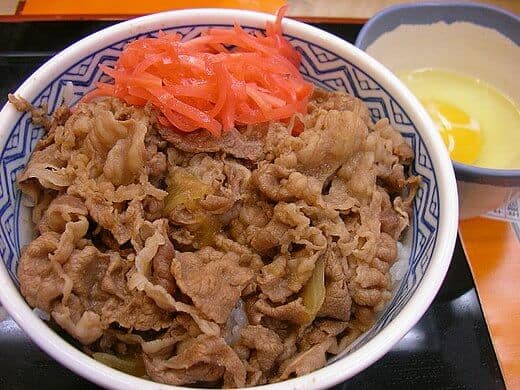 A simple beef bowl with the umami of moist and tender beef. It's delicious because the shop soaks it in a lot of sauce made from specially selected natural soy sauce. It has a delicious taste that is not too sweet like Matsuya's while having a stronger flavor than the Yoshinoya. The amount of beef is much greater than that of Sukiya. The decisive factor is the sauce, and the fact that it contains tofu is also a high point.
Conclusion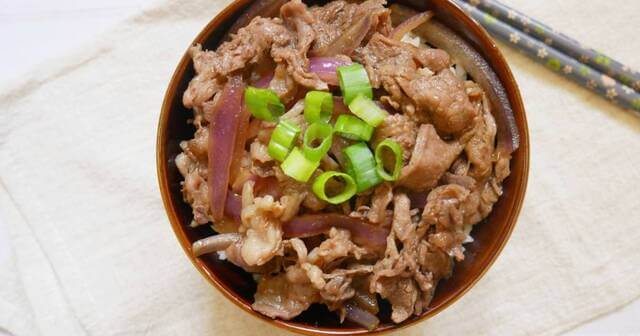 Many say that Gyudon was the food of the lower classes, but its image has changed drastically after the Great Kanto Earthquake. Shortly after the earthquake, it emerged on a large number of stalls and open-air to satisfy the hunger of citizens. If ramen is like the hamburger of Japan, Gyudon is the country's hot dog: a quick, easy meal that's equally at home at the food court or on your kitchen table.
Many people enjoy eating gyudon at famous chain stores in the city. "Sukiya," "Yoshinoya," and "Matsuya" are so famous that the Japanese–especially men–are all familiar, and many of them have at least eaten once in these eateries. Amazingly, you can enjoy a standard gyudon for about 400 yen.