Shichimi Togarashi presence in Japan signifies its importance as a flavor enhancer deeply rooted in culinary traditions, adding complexity, depth, and a touch of spice to the diverse tapestry of Japanese cuisine. It holds a significant place in Japanese cuisine. Join us as we uncover the secrets behind this captivating spice blend and discover how it elevates the taste and aroma of traditional Japanese dishes. 
What is Shichimi togarashi?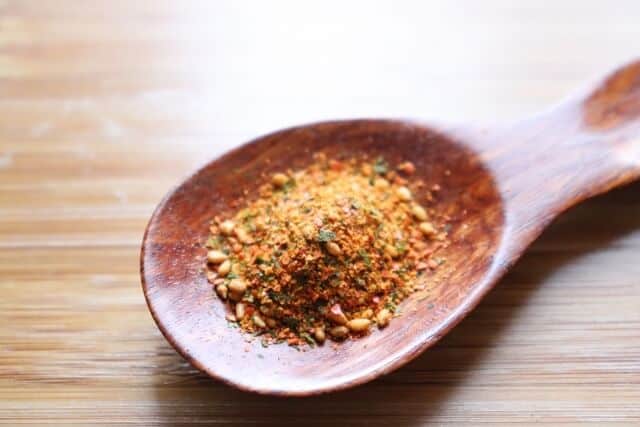 Shichimi togarashi, also known as simply shichimi, is a popular Japanese seasoning. Locals often referred to as "seven-spice blend" in English, as "shichi" means "seven" in Japanese. Shichimi togarashi is known for its unique combination of seven different spices, which give it a distinctive flavor and aroma. It typically consists of a delightful combination of various ingredients. Pepper, both black and white, adds a distinct spicy kick to the blend. Ginger contribute a pungent taste and refreshing aroma, while perilla leaves bring a unique herbal note. Japanese pepper, also known as Sansho, offers a citrusy and numbing sensation. Chenpi, or dried tangerine peel, imparts a tangy and aromatic element. Sesame seeds, both black and white, introduce a nutty taste and add texture to the blend. Lastly, hemp seeds contribute their own unique nutty flavor, completing the diverse composition of the Japanese spice.
Shichimi togarashi is commonly used as a condiment to sprinkle over various Japanese dishes, including noodles, rice, soups, grilled meats, and tempura. It adds a flavorful kick to the dish and enhances its overall taste.
Shichimi togarashi History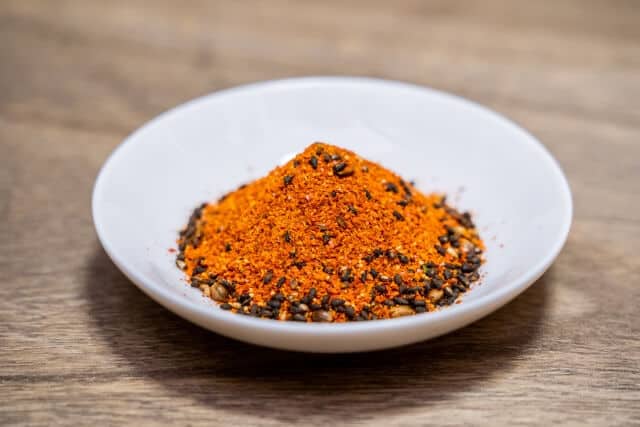 Chili peppers have their origins in the Amazon basin of South America and have been utilized as a food source in Central and South America since ancient times. Many believed that Christopher Columbus introduced chili peppers to Europe, subsequently bringing them to the East via Nanban ships. There are theories suggesting that the seeds were brought to Japan in 1592 during Hideyoshi's military expedition to Korea, while another theory proposes that Portuguese missionaries introduced them even earlier.
Nihonbashi Yagenbori-cho in Edo, the birthplace of "Shichimi Togarashi" (seven-colored pepper), earned the nickname "Doctor's Town" due to its abundance of doctors and pharmaceutical wholesalers. In 1625 (Kanei's 2nd year), a merchant named Karashiya Tokuemon combined various herbal medicines and began selling shichimi chili peppers, spreading their popularity throughout Edo. During that time, these peppers believed to possess medicinal properties and sold in front of temples and shrines.
The seven spices and their health fact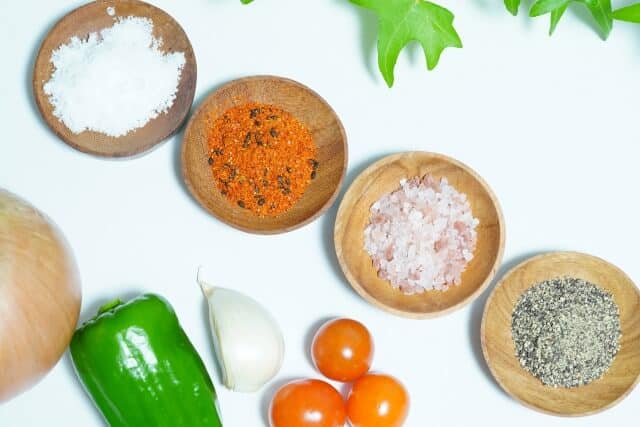 Chili peppers
Roasting these chili peppers enhances their spiciness and flavor. Chili peppers are rich in vitamin E, which has a strong antioxidant effect. These nutrients are not only good for preventing lifestyle-related diseases such as arteriosclerosis and myocardial infarction, but they are also important nutrients for maintaining beautiful skin.
Ginger
The pungent taste and refreshing aroma of ginger are indispensable. This is known to have medicinal effects, such as in the early stages of a cold, due to its ability to improve blood circulation and warm the body.
Perilla or Shiso leaves
The flavor and aroma of shiso goes well with fish, meat, vegetables, and grains, and enhances the flavor of the ingredients themselves. Shiso leaves contain a large amount of vitamin C, minerals, iron, and calcium.
Japanese pepper
The sansho pepper undergoes a meticulous process where the fruit is hand-harvested while still green, carefully dried, and the seeds are extracted, leaving only the skin. Local communities utilize it in soups and alongside fatty foods like meat dishes and grilled fish. This pepper is known for its ability to enhance stomach condition, stimulate appetite, and alleviate indigestion.
Chenpi
Chenpi refers to the dried mature fruit of unshiu mandarin oranges. In traditional Chinese medicine, they used this to suppress cough and alleviate phlegm. Moreover, it aids in regulating gastrointestinal issues such as anorexia, nausea, and indigestion. Believed to also be effective for symptoms related to hyperacidity and diarrhea.
Sesame
Sesame is a versatile ingredient known for its protein content, boasting a balanced profile of essential amino acids and unsaturated fatty acids. Additionally, it contains vitamin B, dietary fiber, vitamin E, calcium, iron, and more, making it a valuable addition to any diet.
Cuisines where Shichimi Togarashi used
Oyakodon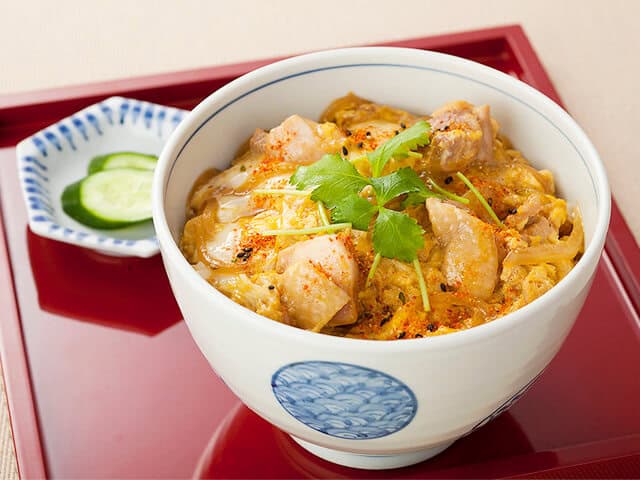 A delicious oyakodon with a sweet soup and a creamy egg. Sprinkle shichimi chili peppers with a good balance of aroma and spiciness to accent the taste.
Kinpira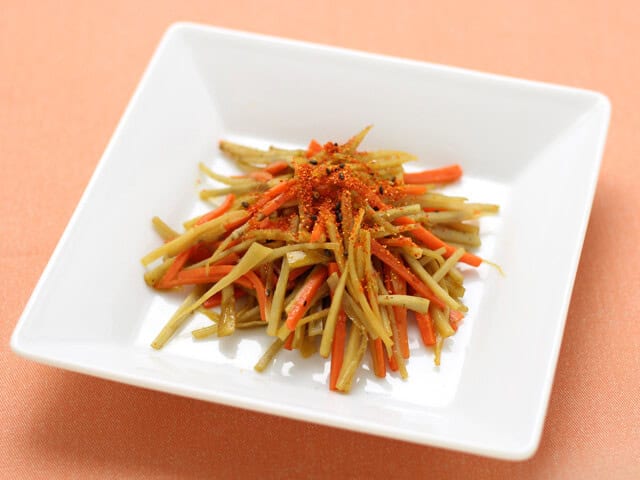 Even the usual side dishes that are easy to make. You can use shichimi togarashi in Kinpira by sprinkling the aroma and spiciness of shichimi pepper. Recommended for accenting Japanese cuisine.
Pork soup or miso soup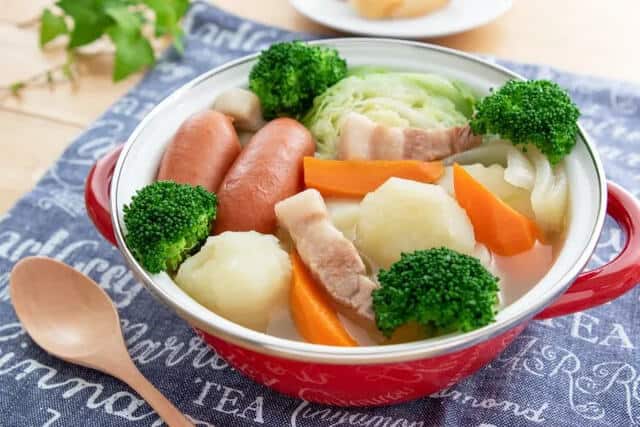 When it comes to soups that go well with shichimi, the classics are pork soup, udon, and soba, but there are other ideas, too. The Okra soup and mozuku soup are popular among women who are on a diet.
Shichimi togarashi FAQ
Can Shichimi Togarashi be customized or adjusted to personal preferences?

Shichimi Togarashi can be personalized to suit individual preferences. While it has a traditional recipe, people can modify the blend by adjusting spiciness, experimenting with different chili pepper types, and adding extra ingredients. For instance, more dried orange peel can enhance the citrusy flavor, increasing sesame seeds can intensify the nuttiness.

How does Shichimi Togarashi compare to other spice blends in Japanese cuisine?

Shichimi Togarashi stands out in Japanese cuisine for its unique flavors and versatility. Unlike other spice blends, Shichimi Togarashi combines chili peppers, Sansho pepper, sesame seeds, dried orange peel, and more to create a balanced mix of heat, citrus, nuttiness, and umami. While other blends may focus on specific flavors, Shichimi Togarashi's broad profile allows it to enhance various dishes as a table condiment.
Shichimi togarashi Recipe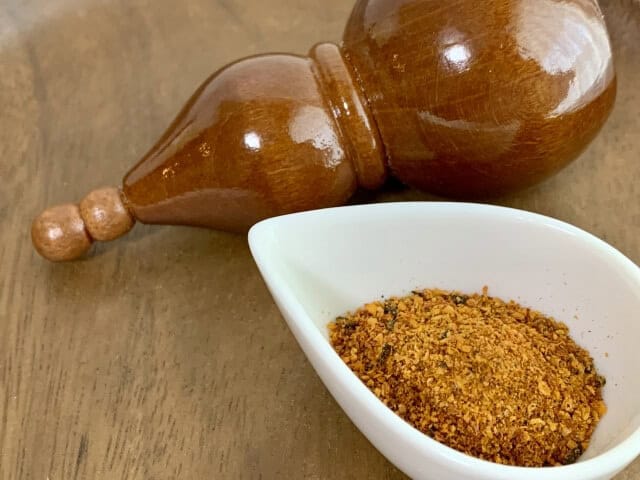 Shichimi togarashi Ingredients
| Ingredients of Shichimi togarashi for 10 persons | Measurements |
| --- | --- |
| Chili pepper | 1g |
| Chenpi | 1g |
| Pepper | 1g |
| Black sesame seeds | 1g |
| Poppy seed (poppy seed) | 0.5g |
| Hemp seed | 0.5g |
| Aonori | 0.5g |
How to make Shichimi togarashi?
Toast the chili peppers
Begin by toasting the dried red chili peppers in a dry skillet over medium heat for a few minutes until they become fragrant. Be careful not to burn them.
Grind the toasted chili peppers
Remove the stems from the toasted chili peppers and grind them into a fine powder using a spice grinder or mortar and pestle.
Grind the other spices
In a separate bowl, combine the ground Sansho pepper, white sesame seeds, black sesame seeds, dried orange peel, aonori, poppy seed, and hemp seeds.
Mix them all
Add the ground chili pepper powder to the bowl and mix all the ingredients together until well combined.
Taste and complete
Taste the mixture and adjust the proportions according to your desired level of spiciness or flavor. You can add more chili peppers for extra heat or adjust other ingredients to suit your preferences.
Where to buy Shichimi togarashi?
Yamataya Isogoro (八幡屋礒五郎 本店)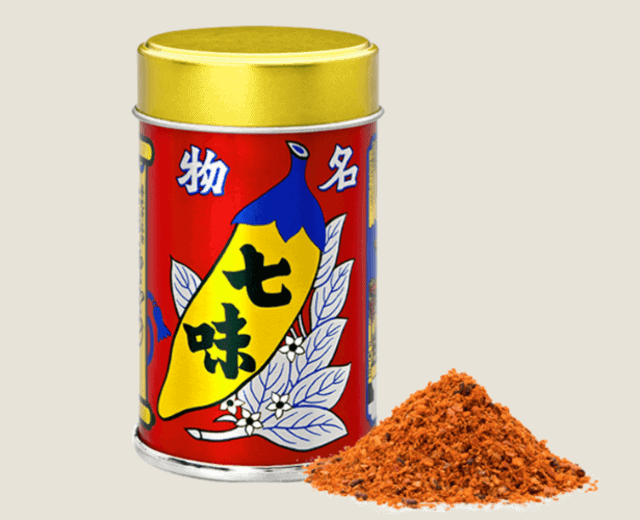 This shop sells and manufactures carefully selected ingredients for the shichimi togarashi. They made this by adding white ginseng (byakukyo, ginger), perilla, Japanese pepper, chenpi, sesame, and hemp seed (Otane) as condiments. After carefully examining these ingredients, they seasoned them using a unique method that has remained unchanged since ancient times.
Yagenbori (やげん堀 メトロ店)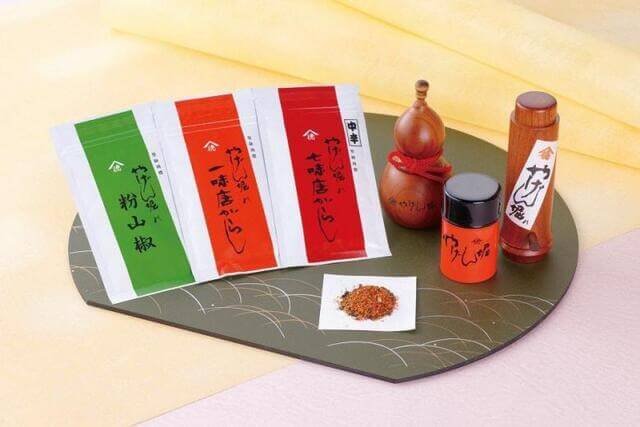 Here, the shop can adjust the shichimi according to the taste of the customer. There are 7 kinds of condiments in the store: "fresh red pepper", "roasted red pepper", "kosansho", "black sesame", "mustap seed", "hemp seed", and "chenpi". The shop staff puts it together with a smooth and familiar hand and puts it in a standard shichimi can. 
Shichimiya Honpo (七味家本舗)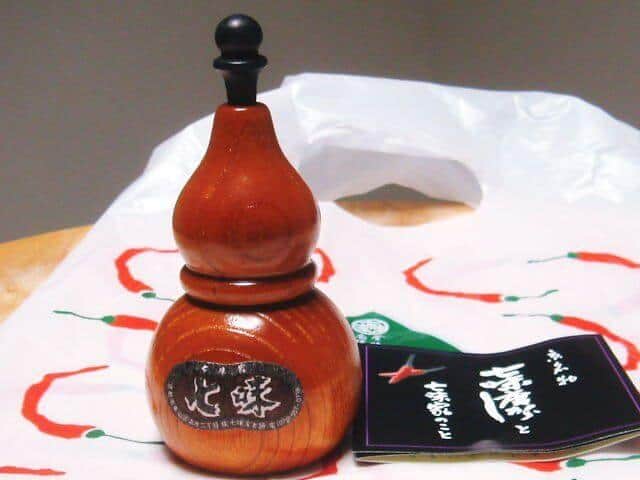 Shichimiya Honten uses seven ingredients: red pepper, Japanese pepper, white sesame, black sesame, green perilla, green seaweed, and hemp seeds. Interestingly, this shop introduces to the public the fragrant composition such as green seaweed and green perilla. This store that sells this has blossomed even more in Kyoto and become a standard condiment. 
For Online Shopping
For those who want to order or buy Shichimi togarashi in Japan, you can mail it to your home via online on Rakuten. Just click here to see some shops that sell Shichimi togarashi. And for those who want to order or buy but live away from Japan. You can ship them from Rakuten. Rakuten offers International Shipping Service so do not worry about how to receive your items. Rakuten Global Express is an online shopping service that allows users to shop at stores in Japan.
Sign up

First, you need a Rakuten ID. If you are already a Rakuten member, you can start using Rakuten Global Express. If you have not registered yet, click here.
Get your personal RGX address

After signing up, you will get a Japanese address: a Rakuten Global Express address.
Shop at stores in Japan

Now that you get yourself a personal RGX address (Rakuten Global Express address). You can shop online in Japan, click here to shop for Shichimi togarashi (not only Rakuten but other online stores are also included).

 When you have decided on your items, set the delivery address to your Rakuten Global Express address.
Confirm items

After items are shipped to the RGX address, they will be packed into one package. You also receive an email upon confirming these items and payment.

Once the payment is confirmed, your package will be delivered within a designated time period depending on your shipping choice.
Final Thoughts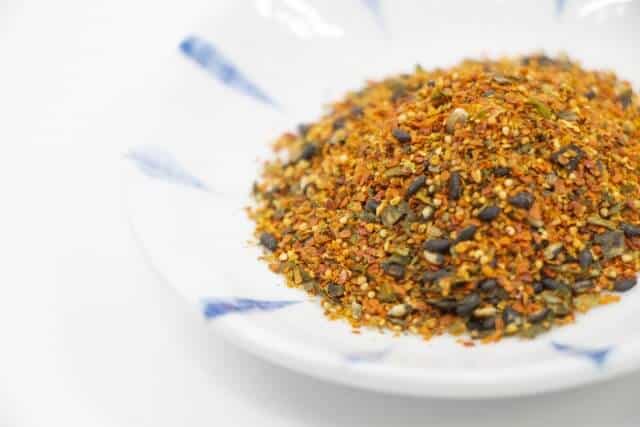 By exploring the captivating world of Shichimi Togarashi, we have delved into the unique flavors and versatility of this popular spice blend in Japanese cuisine. From its origins and traditional ingredients to the possibility of customization, Shichimi Togarashi offers a delightful journey for culinary enthusiasts and flavor explorers alike. We hope this article has provided you with valuable knowledge about Shichimi Togarashi and inspired you to try this remarkable seasoning in your culinary adventures. 
You can check some Japanese dishes below that we know you would like to try too.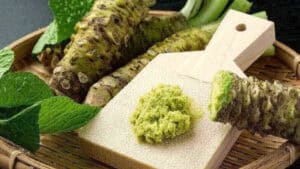 Wasabi (わさび)
Are you curious about the intriguing world of Japanese cuisine? Have you ever wondered about the unique condiment known as wasabi? If so, then this article i…