When it comes to the cold season, a lot of Japanese will think of the sweets "zenzai" and "oshiruko". The harmony between the fragrant baked mochi and the gentle sweetness of red beans will warm your mind and body. By the way, what is the difference between "zenzai" and "oshiruko"? I think there are many people who think that.
In fact, there are various ways of calling and making it different depending on the region. This time, we will introduce the difference between the two desserts and how to make it.
What is Zenzai?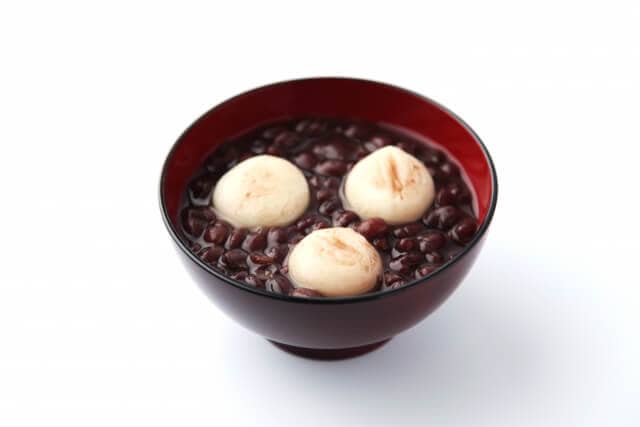 If you've never had azuki, or sweet red bean before, the idea of beans in a dessert might sound a little strange but it is a widespread item to taste in Asian desserts. A type of shiruko or oshiruko (お汁粉), a traditional Japanese dessert, zenzai is a simple dish that can be enjoyed hot or cold, depending on the region and the season. Zenzai (ぜんざい) is a traditional Japanese sweet composed of azuki beans and glutinous rice cake. 
Texturally, the Japanese usually boil the azuki beans until totally soft and gently sweetened. It goes well with the chewy, bouncy mochi texture, served with a sweet "soup", shiratama dumplings, and sweetened chestnuts. You can enjoy this either hot or cold, and there are a variety of ways you can approach making this dish. In the Kanto region, locals call their soup bean paste itself zenzai, but in the Kansai region, warm soup made from grained bean paste is called zenzai, and soup made from strained bean paste is called "oshiruko."
Etymology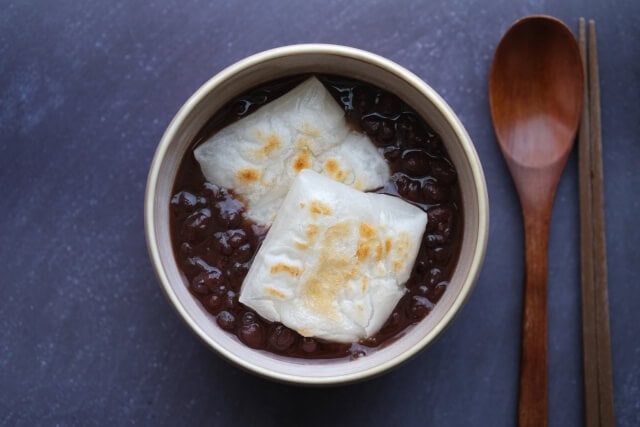 There are two theories about what is the meaning of the name of this traditional dessert. One is the theory derived from the Buddhist term " Zenzai / Yokikana ". Ikkyu Sojun was the first to eat it, and the name came from the fact that he shouted "Zenzai" for the deliciousness of this food. "Zenzai" is a word used by the Buddha to praise his disciples, and is a Chinese translation of "sadhu," which means "wonderful" in Sanskrit.
The other is the theory derived from the "Kannazuki mochi" that locals performed at the "Kannazuki festival", a Shinto ritual in the Izumo region. The origin of Izumo Zenzai comes from "Jinzai (神在)" which means "deity exists". 
Zenzai History
Zenzai originated in Izumo and is now eaten all over Japan. Locals believe that people used to offer Zenzai to Kami (deities) when they gathered in Izumo. It originally began as jinzai mochi, which means mochi of the gods. However, with the pronunciation of the Izumo dialect, it sounded like they said zunzai mochi. When visitors came, they often mistook the word for zenzai. And that's the name that spread alongside the dish to the rest of Japan. Getting its start as food fit for celebration, making its way to a post-holiday snack, and now warming up the bellies of the cold, zenzai and oshiruko are tasty and unique Japanese desserts that can be found just about anywhere during the winter season.
Zenzai Recipe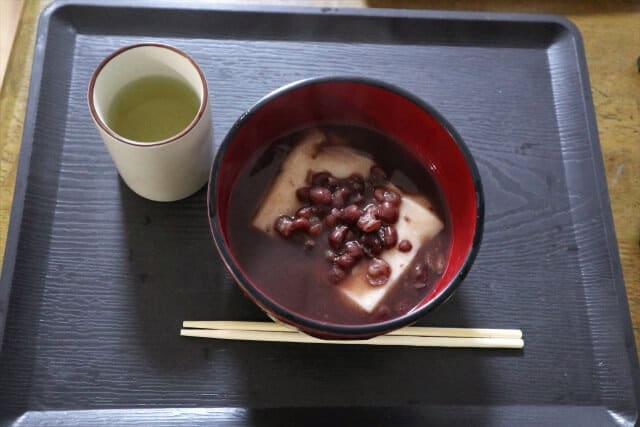 Zenzai Ingredients
| | |
| --- | --- |
| Ingredients of Zenzai for 6 people | |
| Azuki | 250g |
| sugar | 200g |
| salt | 4g |
| Shiratamako | 160g |
| water | 140g |
How to make Zenzai
Cook red beans
You don't have to put it like soybeans. Wash the red beans, put them in a pan with plenty of water, and bring to a boil.
Remove the lye, discard all the hot water
After removing the lye, add water again. Enough for azuki beans and simmer over low heat for about 1 hour. Add water each time the water level drops so that the beans do not come out of the water.
 Adding condiments
After boiling for about an hour, the beans will soften. Add sugar and salt when it's crushed with your fingers, and turn off the heat when it melts.
Make the dumplings
Add water little by little to Shiratamako and adjust to make it so-called "earlobe-like hardness".
Serving
Heat the pan and add the dumplings in a bite-sized piece. When the dumplings come to the surface, it is done.
Difference between zenzai and oshiruko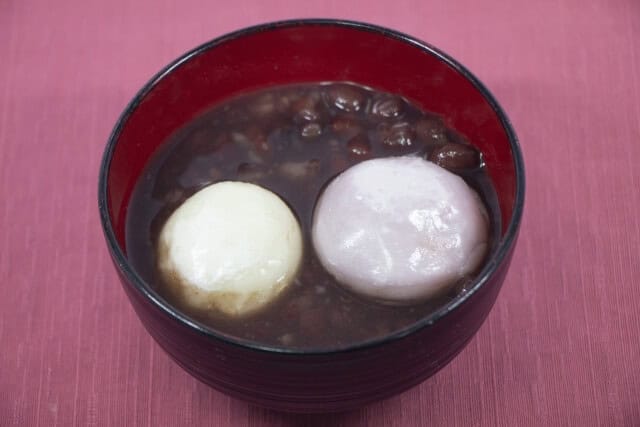 Basically, "Oshiruko" has a soup and "Zenzai" has no soup. A dish of "red bean soup" made from moist koshian or bean paste with mochi or shiratama dumplings is called "shiruko". "Oshiruko" seems to have existed since the Edo period. At first, it wasn't sweet, locals had seasoned it with salt, and served it as a snack with sake, so it seems that it wasn't as sweet as it is today. While Zenzai mainly consists of boiling azuki beans sweetly with sugar and adding rice cakes, shiratama dumplings, and chestnuts in Kanro-ni.
Differences between "Oshiruko" and "Zenzai" by region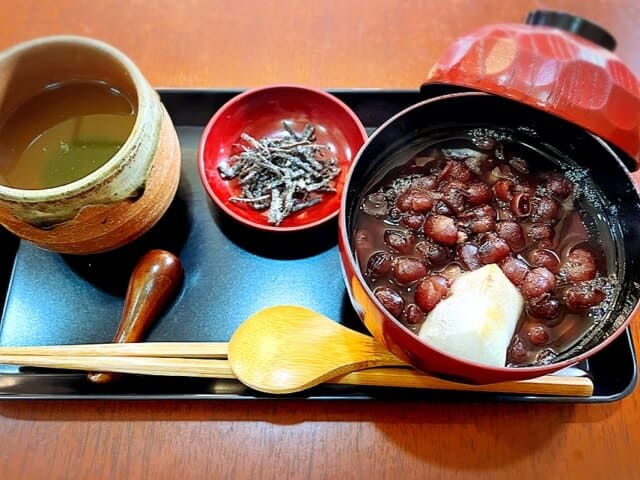 Kanto
In the Kanto region, they call the whole soup of red bean paste "shiruko". Among them, those with grains are from countryside soup powder, and those without grains are from Gozenjiruko (ごぜんじるこ).
Kansai / Kyushu
In Kansai, locals call the soup with red bean paste and grains "Oshiruko", and call the soup with red bean paste and grains "Zenzai". While they call the mochi with red bean paste Kameyama or Kintoki. Kyushu has the same difference and name as Kansai, but it seems that there are some areas where rice cakes they classified it as "Oshiruko" and milt dumplings as "Zenzai".
Hokkaido
In Hokkaido, there is no notable difference between "Oshiruko" and "Zenzai". However, like Kyushu, there are some areas in Hokkaido that have special ways of eating. That is to put pumpkin in "Oshiruko" instead of Shiratama dumplings. The origin of how to eat it is that the "Japanese used pumpkin as a substitute for rice cake when it was difficult to harvest rice."
When do Japanese eat Zenzai?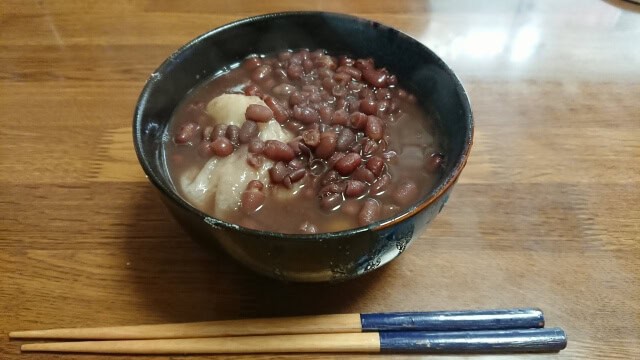 Even though this traditional dessert is available year-round, zenzai is most popular in the cold winter months. Many Japanese families will cook it after celebrating Kigami Biraki (鏡開き) on January 11st in Japan. It is a traditional Japanese ceremony to break the ornamental mochi and eat it for good health and fortune for the New Year. 
Where to buy Zenzai?
Okuni Jaya (おくに茶や)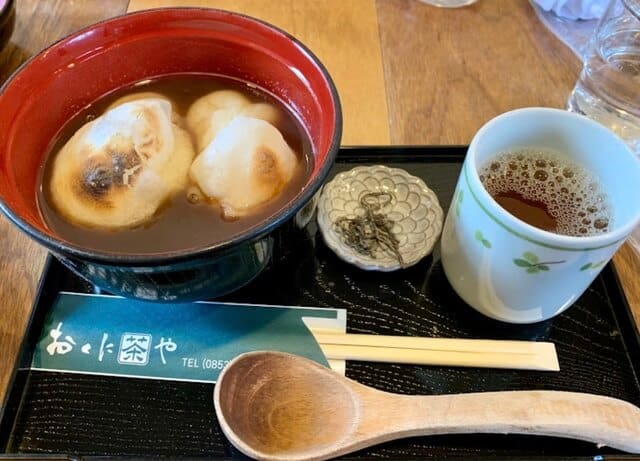 "Okuni Jaya" in front of the second torii has a big sign of "Izumo soba" in front of the store. There are two types of zenzai menus, "Izumo Zenzai" and "Matcha Zenzai", but many people dare to order Matcha Zenzai. The two rice cakes mentioned Izumo brand rice "Nita rice". The owner simmered these two with Sanon Tou and sweetly made from Hokkaido Dainagon Azuki. Both types have a "Zenzai set" with coffee or matcha, but please note that if you order the set menu, you will only have one mochi.
Izumo Michikusa (出雲 みちくさ)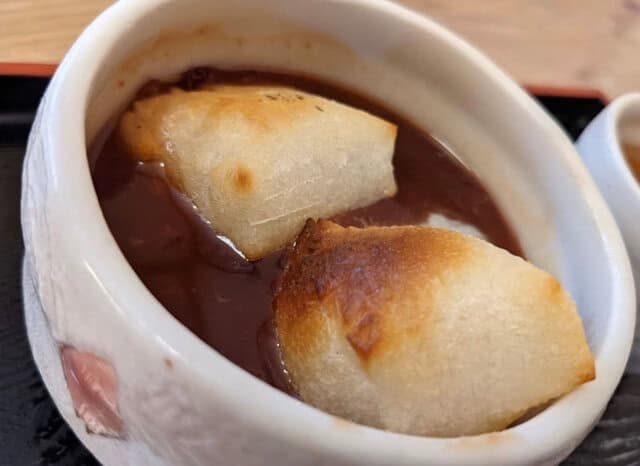 Go south on Shinmon Street, pass the entrance to Shinmon Square, and you will see "Michikusa" on your right. You can also get Izumo soba and rice bowls, but there is also a rich menu of Izumo zenzai such as handmade zenzai, matcha zenzai, and milk zenzai. It's a strange menu, but the owner recommends the "Aisumonaka". As the name suggests, it is a sweet menu that contains various things in the middle of the heart-shaped pink, as if they stored "love" there.
Okame Kojimachi (おかめ 麹町本店)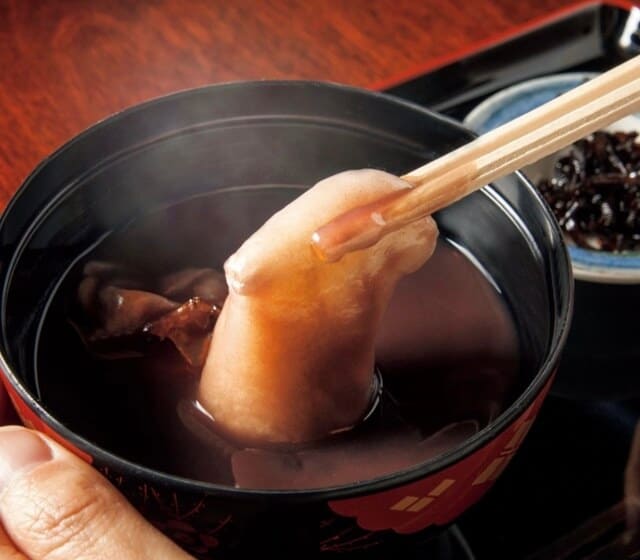 The set meal made from red beans from Tokachi, Hokkaido has a firm sweetness, but it has a smooth taste on the tongue. The owner gently entwined it with freshly baked mochi. The twice-roughened sushi is just smooth and has a good chubby feeling. It is a cup that you want to eat while feeling the polite bean paste work with the tsukudani of leaf tang kelp resting on chopsticks.
Tenmame (天まめ)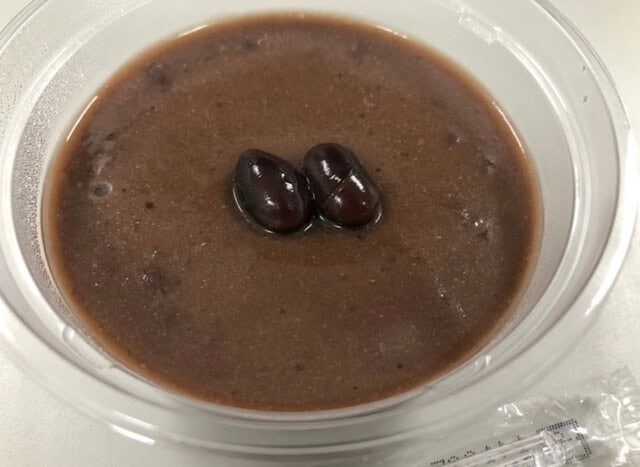 A shop that specializes in menus that use beans and agar with plenty of dietary fiber. The base of the soup powder is a slightly sweet taste that makes the body energetic by combining the simmered black soybean paste with the bean paste that left with the azuki bean skin. The owner make it in the traditional homely way.
Final thoughts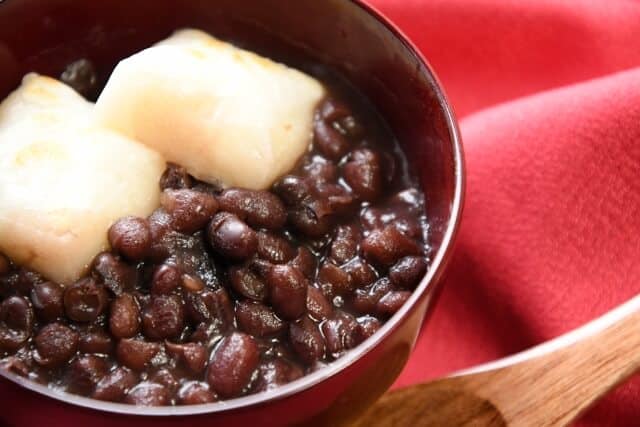 Zenzai is a Japanese sweet Azuki red bean soup with baked Mochi or Dango in it. It is a traditional Japanese snack. Although you can find it all year round at Japanese sweet shops in Japan, warm Zenzai is especially popular during cold seasons. Zenzai is soup made from Anko. Anko (sweet red bean paste) is the crucial ingredient for traditional Japanese confectioneries. If you are into Japanese sweets, there are a whole lot of specialties from Japan like Mochi, Ichigo Daifuku, and Youkan.