INTRODUCTION TO IMONI
Heading somewhere north eastern part of Japan this fall? Why not try this traditional cuisine of Yamagata City! Imoni is a hearty Japanese meat stew which includes a type of taro and meat soup. It is eaten traditionally in the autumn in Yamagata Prefecture, Tohoku region in Japan. In the Yamagata prefecture, Imoni is usually prepared with beef and various vegetables. It has a slightly sweet broth made with soy sauce, sake, and sugar. Imoni is eaten like any soup, primarily during the late summer and early autumn. However, it is most famous as an outdoor food. Let us learn more about Imoni!
ETYMOLOGY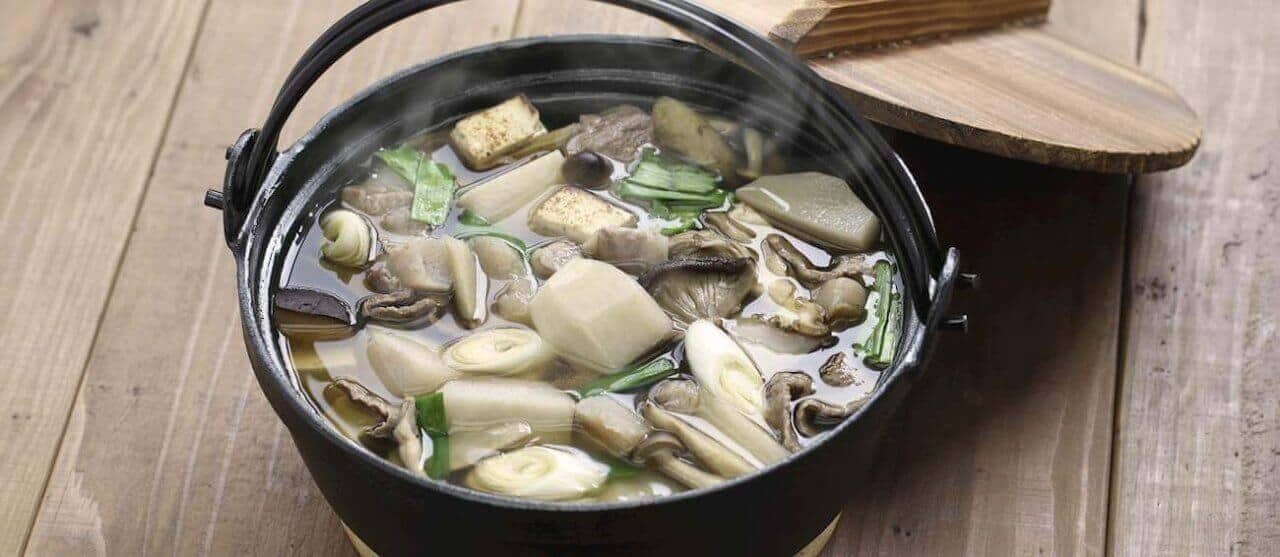 The word "imoni" comes from the main ingredient "satoimo" (芋), which is also called taro root in English. And from the word imoni, it gets from the name "ni" (煮) refers to a simmered dish. Taro is the main ingredient for imoni, and its texture is stickier and denser than white potato. Since the taro harvesting stage is usually October, the traditional party is tend to held in fall. Read down below to know more about the cultural event called "Imonikai"
WHAT IS HISTORY OF IMONI?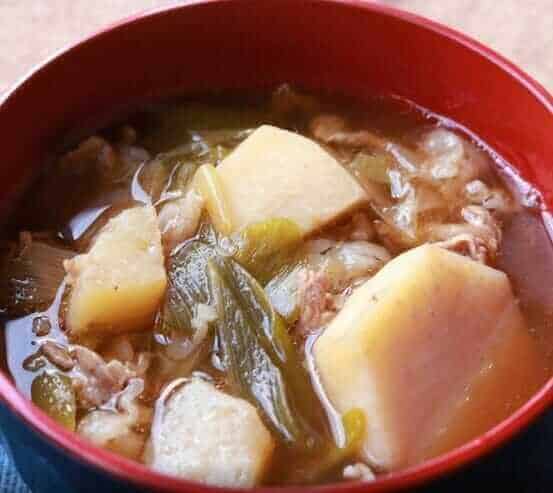 This dish was originated in the Edo Period. It has roots in cuisines from Kyoto which came in through a cultural exchange in the Edo Period. However, Yamagata once prospered by boating with Kyoto. In the Edo period, the boatmen who carried luggage from Kyoto reaches Mogami River. Boiled and ate local taro and the sticks that they carried on the riverbank, and it is said that Kyoto's local cuisine.
Imoni is said to have originated from "Imobo". It is a New Year's dish of boiled taro and sticks. In Yamagata, there is a culture of gathering in the riverside with friends and family in the fall and surrounding the Imoni pot. Also, every September, at the Mamigasaki Riverbed in Yamagata City, Japan's No. 1 Imo-boiled Festival is held to make 30,000 meals. It uses a large pot and back pho with a diameter of 6.5 meters. It is an autumn tradition in Yamagata.
A traditional event called "Imonikai" has a long history already for more than 300 years.
WHAT ARE THE IMONI VARIETIES FROM OTHER PREFECTURES?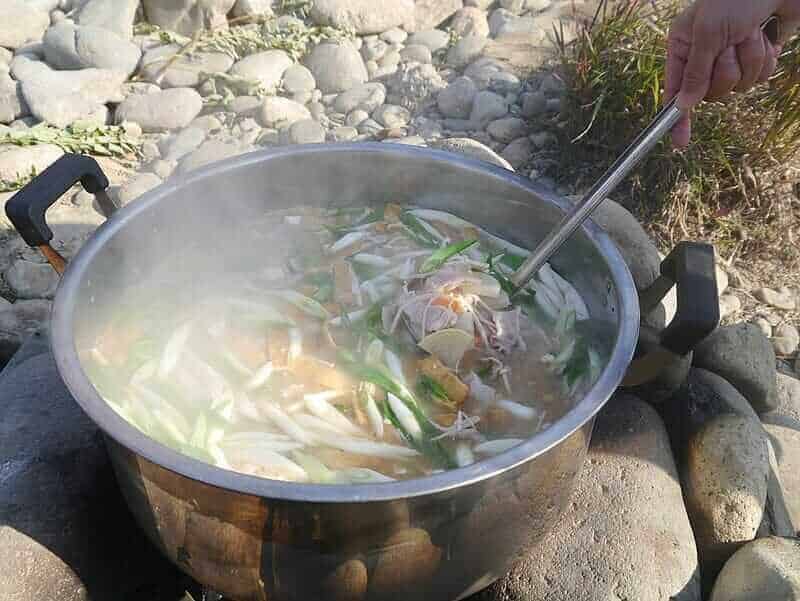 Did you know? Other regions also have their own different varieties! Let us enumerate and learn more about it.
Imoni in Yamagata includes taro, konjac, beef, and green onions. It is seasoned with soy sauce with sake and sugar to make it mellow. In Okitama region, it has been famous for producing and adding authentic Yonezawa beef and Iida beef to the Imoni. The seasoning from this region is soy sauce. Also, a little miso is added. Additionally, in this area, they put a lot of ingredients including carrots, radishes and konnyaku.
The Imoni standard of Murayama region is a sweet soy sauce with taro, beef, green onions and konjac. People also add udon and curry in their Imoni. For Mogami region, it's quite similar to Shonai region and Murayama region. It also has seasoning of soy sauce and pork. But, there's a plenty of mushroom added. Such as beech and maitake mushrooms. Those mushrooms were specialties of the region. In Shonai region, it is usually seasoned with miso and pork. Additionally, there are also ingredients added like green onions, shimeji mushrooms and fried tofu.
Above all, most imoni versions include sweet taro roots and a variety of different vegetables such as konnyaku, long onion, cabbage, or mushrooms. Imoni is a seasonal dish, typically prepared during the colder seasons, and it is culturally significant for many citizens.
WHAT IS IMONIKAI?
In Yamagata Prefecture, there's a cultural event called "imonikai". Generally, it is "imoni party". It is an an important autumn tradition. Tourists flock to Yamagata for the autumn imoni festival. People usually join the locals on the banks of the Mamigasaki river on the first Sunday in September to eat imoni from the giant iron kettle.
Did you know? In 2009, the festival served imoni to 30,000 guests. Many schools and organizations that work in Northern Japan organized for their students or employees. In September and October it is common to see groups on the banks of rivers, even near major highways.
It is one of the ancient and important traditions in Yamagata where friends and family gather. So, If you happen to visit Yamagata in autumn don't forget to join local cultural event and try imoni on a huge pot together with other people!
WHERE IS YAMAGATA CITY?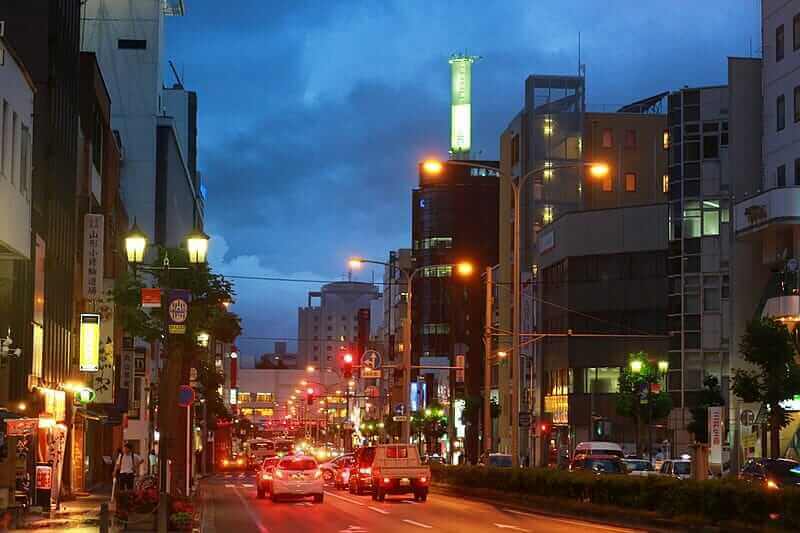 Ever been to Yamagata City? This is where the Imoni dish originated! Yamagata is a large prefecture along the Sea of Japan coast in the southern Tohoku Region. The capital is Yamagata City. The prefecture is known for its agricultural products, especially cherries, hot springs, rural flair and natural beauty. Yamagata is known for snow monsters, impressive ski fields and hot springs.
Yamagata Prefecture is accessible via bullet train from Tokyo. Alternatively, you can fly to Sendai Airport in nearby Miyagi Prefecture and take local trains into the area.
If you happen to be in the Yamagata area, don't miss out on this comfort food called Imoni!
WHAT IS THE RECIPE OF IMONI?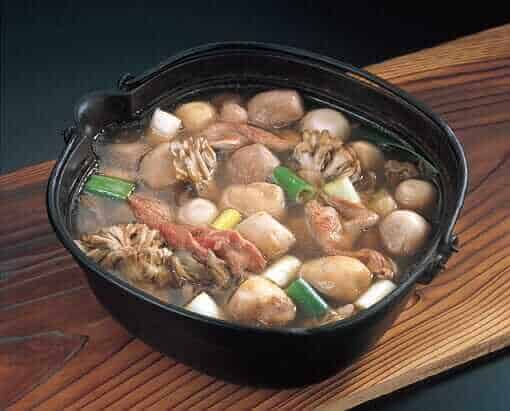 Been craving for imoni? Here's a sample recipe with ingredients that you can make in your home kitchen! Please be reminded that this is basic version of the recipe. For meat and vegetables, prepare the following: beef, taro, konnyaku, konjac and leeks. For broth, prepare dashi stock, sugar, sake, and soy sauce. Other additional optional ingredients are mushroom, eggs or mochi rice cake.
HOW TO MAKE IMONI?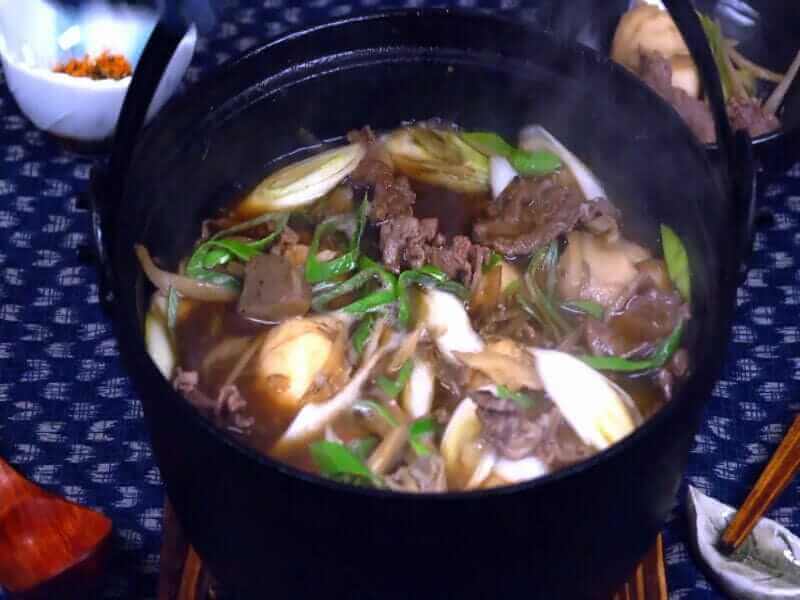 Prepare the ingredients.
First, start with washing and cutting the taro into large bite-size pieces. Tear the konjac into bite-size pieces as well.
Simmer the konjac in a pot for 1 to 2 minutes.
For this will reduce its distinctive smell and help it absorb the stock later.
Thinly slice the leeks.
After then, cut the konnyaku into bite-size pieces.
Boil water
For about 6 cups water in a large cast iron pot. Add the taro and cook until tender, then add the beef.
Pierce the taro
Don't forget to check the taro with a bamboo stick. If you think the inside is a bit firm, it is ready.
Add the broth ingredients
Add sugar, sake, and soy sauce to the boiling water. Then, add the leek and konnyaku.
Cook until tender

Until leeks and konnyaku are tender. Adjust to taste and enjoy!
Note: you can also add the other optional ingredients like mushroom. This is a great way to enjoy the hot pot and you can also drop in eggs or add mochi rice cake.
WHAT ARE THE RECOMMENDED RESTAURANTS?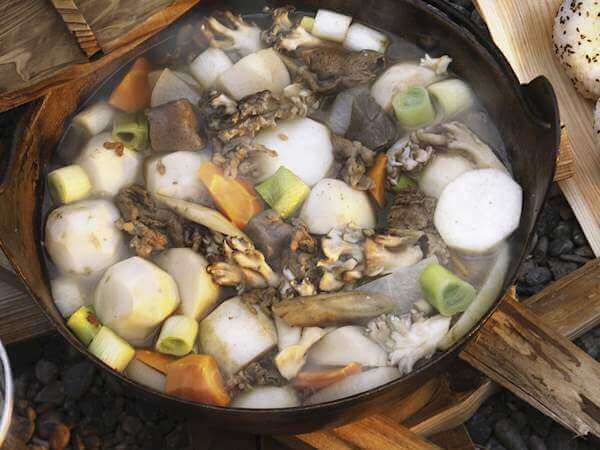 Upon arriving in City of Yamagata, you will have a lot of restaurant options serving Imoni. Here are the top recommended restaurants from Yamagata that is worth to try if you want to taste the authenticity of Imoni.
Yamagata Nagaya Sakaba
The first thing in the recommendation is "Yamagata Nagaya Sakaba". It is a restaurant specializing in local cuisine with a good location in front of JR Yamagata Station. There are traditional dishes and various courses using local ingredients, and the main Imoni is Yamagata's classic style with plenty of beef.
Kappo Iide
The second one is "Kappo Iide". A 5-minute walk from JR Yamagata Station. In this restaurant, there are two types of Imoni. The regular one and the "Milk Imoni". The mellow taste is popular. Also, there are various all-you-can-drink plans depending on the number of people and time.
Hanazen
This restaurant is a 5-minute walk from JR Yamagata Station. It has an estimated count of about 60 seats. Hanazen also has an option of eat all you can, so please better check it out and contact them for more details!
Inokoya Yamagata
"Inokoya Yamagata" is a 2-minute walk from JR Yamagata Station. This restaurant is conveniently located directly connected to the station. Also, the interior of the store has the image of a mansion. It has a large and has a unique sense of luxury. Additionally, this restaurant mainly serves shabu-shabu and sukiyaki, Yonezawa beef, and Yamagata beef. But, they also have a wide variety of Yamagata local dishes.
Chitosekan
It is a long-established Japanese restaurant in Nanukamachi, Yamagata city. A prestigious shop that has been around since 1876. Additionally, this restaurant has a very good atmosphere. Chitosekan has also options for set meals and eat all you can choices.
Imoni is a local dish from Yamagata in Tohoku region. However, there are also restaurants in Tokyo where you can enjoy Imoni and spend a relaxing time. Below here are the list of top recommended restaurants in Tokyo. This is a good thing if you're in Tokyo and craving to try authentic Imoni.
Koala
Koala restaurant mainly serves Yamagata's local cuisine. It is located near Nakano Shimbashi Station. This restaurant serves soy-sauce flavoured delicious Imoni! Also, the interior of the store has a cozy atmosphere.
Northern Bar
This restaurant is just 1-minute walk from Shinjuku Sanchome Station. This restaurant serves authentic Imoni with delicious stocks and a plenty of ingredients. They mainly focuses with Tohoku local dishes. Also, there's other Tohoku local food in this restaurant such as Kiritanpo, Iburi, Hinai chicken and more.
CONCLUSION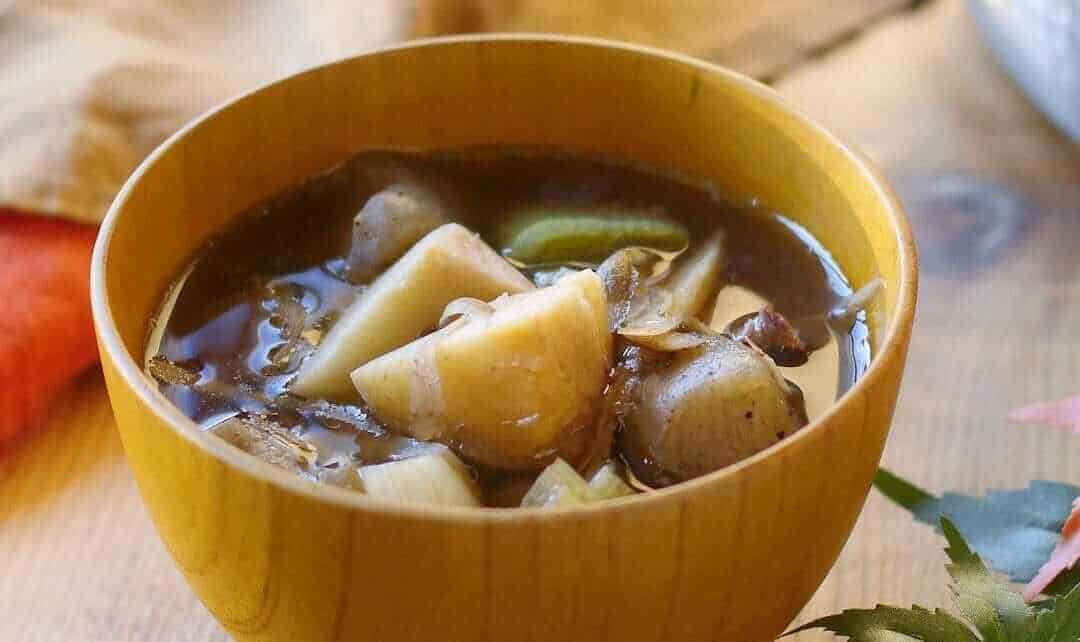 In conclusion, it is so good to see culture preservation for years to years. There may be lots of varieties of Imoni from other regions. But it has same way of celebrating together once a year, gathering people together. Imoni is indeed a hidden, delicious cultural gem of northern Japan. It is eaten like any soup, primarily during the late summer and early autumn. But, it is most famous as an outdoor food. It is indeed a wholesome dish that makes eaters feel like they're back in their hometowns in the countryside. This hearty soup makes people unite as one. So, if you happen to visit Japan someday in autumn please try to join the imonikai and try imoni!