Have you ever heard of Yokote Yakisoba? It is popular as one of the three major yakisoba noodles Japan along with "Fujinomiya Yakisoba" in Fujinomiya (Shizuoka Prefecture) and "Ota Yakisoba" in Ota City (Gunma Prefecture). In this article, we will explain what makes this local cuisine of Akita Prefecture so different from other yakisoba.
What is Yokote Yakisoba?
Yokote yakisoba (横手やきそば) is a local Japanese food called yakisoba which locals sold around Yokote City, Akita Prefecture. It has a one-sided fried egg added as a topping. The taste of the dish is relatively sweet because they season it with Worcester sauce, which is unique to each restaurant, so it contains a little more moisture. It also is one of the Japanese foods selected by the Ministry of Agriculture, Forestry and Fisheries as one of the "100 Local Cuisines of Agriculture, Forestry and Fishing Villages. Generally, its ingredients contain cabbage and minced pork. In addition to this, locals use thick and straight square noodles for this dish. The Yokote style is to break the yolk of the fried egg and eat it with a little more sauce.
Etymology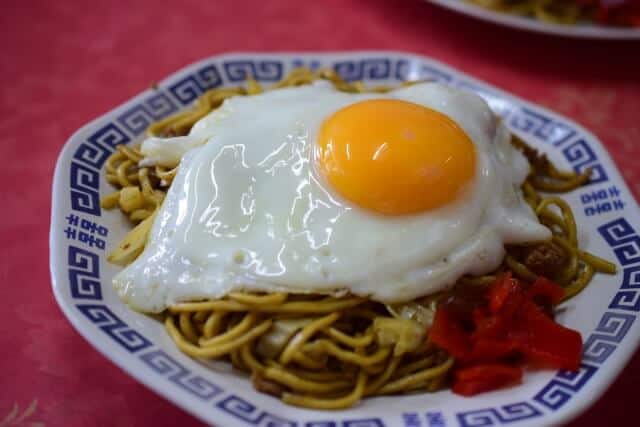 The name "Yokote Yakisoba" is when starting a town revitalization with Yakisoba, (1) to differentiate it from other areas, and (2) to help people remember the place's name. The notation is in "Yokote (横手) Kanji" + Yakisoba (やきそば) Hiragana." Since the name of the area stands out more than the description "Yokote Yakisoba (横手焼きそば)" locals try to unify all the banners and websites of the "Yokote yakisoba (横手やきそば)".
Yokote Yakisoba History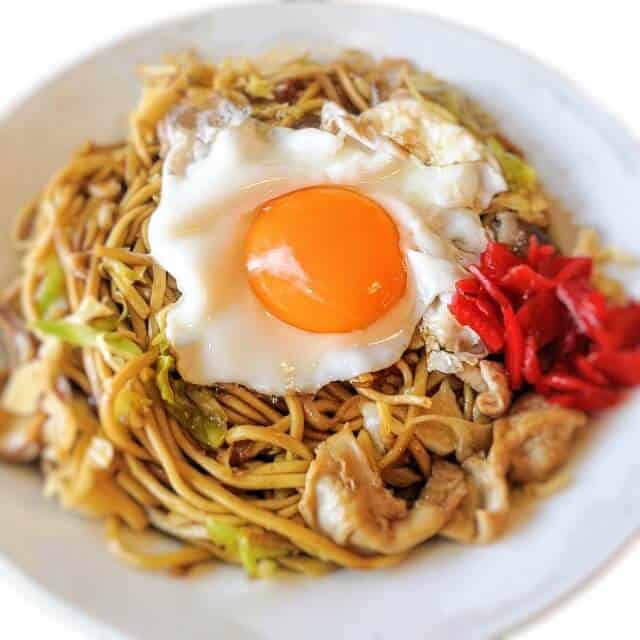 The roots of Yokote Yakisoba date back to just after World War II. Immediately after the end of the war, a man who ran an okonomiyaki stall in Yokote City sought a new menu using iron plates for okonomiyaki. At that time, many sold Okonomiyaki in the city and they ate this by baking flour dough into thin crepes then wrapping it around disposable chopsticks. Thus, the unit price was low, and it was one of the few snacks for children.
Then, some locals considered Yokote Yakisoba as an alternative to this okonomiyaki. And with noodle vendors, they repeated a lot of trial and error in the city to make yakisoba noodles. After the okonomiyaki stand closed, he had a few years of struggling with yakisoba noodles while exchanging discussions in the noodle factory. Then, finally around 1958, the current noodles completed. They initially sold this Yokote Yakisoba at an izakaya, but it has become an explosively popular product due to its reasonable price and deliciousness, and sold at stores.
Connection between Yokote Yakisoba and B-1 Grand Prix
One of the local gourmet's objectives is to win the "B-1 Grand Prix." At this Grand Prix, there are several local gourmet dishes whose names are well-known across the country. Yokote Yakisoba is no exception, having competed since the first tournament (2006) and winning the long-awaited first victory at the fourth tournament (2009), establishing it as a national district.
What is the B-1 Grand Prix?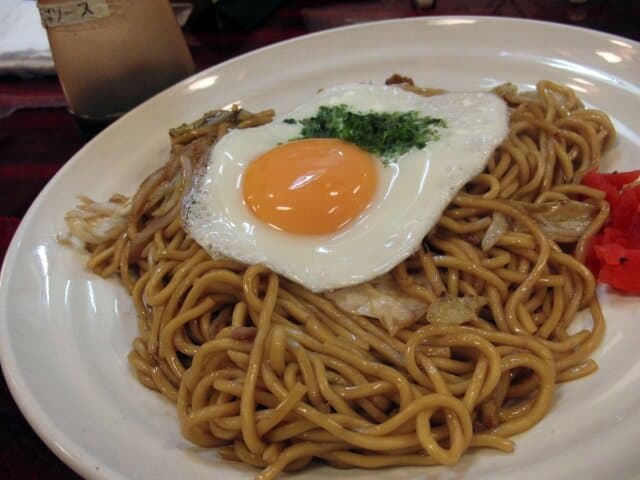 The "B" of the B-1 Grand Prix is ​​the "B" of the regional BRAND (brand) and is an annual joint PR event of a community revitalization group that works daily to liven up the city and establish a regional brand. Hence, it is an event to spread cheap and delicious local gourmet foods loved by locals to the world. It will lead to the enhancement of local brands, with the hope that hot friends who love their town will gather and come to the local area with local gourmet as an opportunity.
Yokote Yakisoba Recipe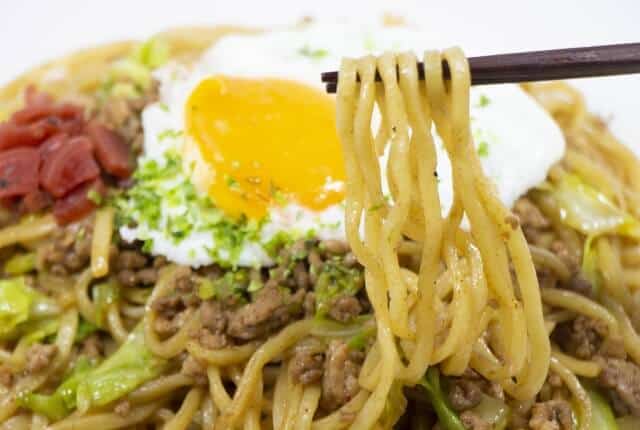 Yokote Yakisoba Ingredients
| | |
| --- | --- |
| Ingredients of Yokote Yakisoba for 1 person | |
| Boiled noodles | 150g |
| Mince pork | 25g |
| Cabbage | 50g |
| Egg | 23g |
| Fukujinzuke | 10g |
| Salad oil | 14g |
| Worcestershire sauce | 45g |
| Tonkatsu sauce | 20g |
| Dashi soup | 20-30g |
How to make Yokote Yakisoba
Making the yakisoba sauce
Mix Worcestershire sauce, pork cutlet sauce, and dashi stock to make yakisoba sauce. Then, put the noodles in a bowl of water and loosen the noodles. Next, cut the minced pork into small pieces and the cabbage into pieces that are easy to eat.
Fry all the fried ingredients
Secondly, add vegetable oil to a frying pan and fry the minced pork and cabbage over low heat for about 30 seconds. Make a fried egg in another frying pan.
Mixing the yakisoba sauce, the ingredients, and the noodles
Next, in a frying pan with minced pork and cabbage, put the loosened noodles and the yakisoba sauce and fry on high heat for about 30 seconds.
Serving
Lastly, put the Yokote yakisoba in a bowl and put the fried egg. Finished it with Fukujinzuke.
What does Yokote yakisoba taste like?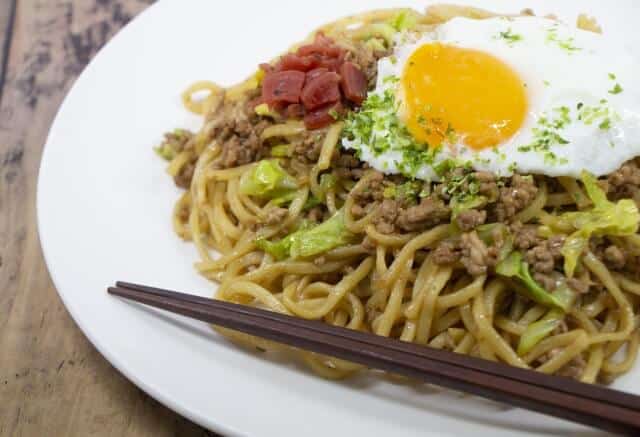 Comparatively, sweet yakisoba uses straight thick noodles, cabbage, minced pork, and, depending on the shop, offal. One of its big unique characteristics is that it comes with a fried egg on top and is eaten with sweet fukujinzuke pickles.
How to eat Yokote yakisoba?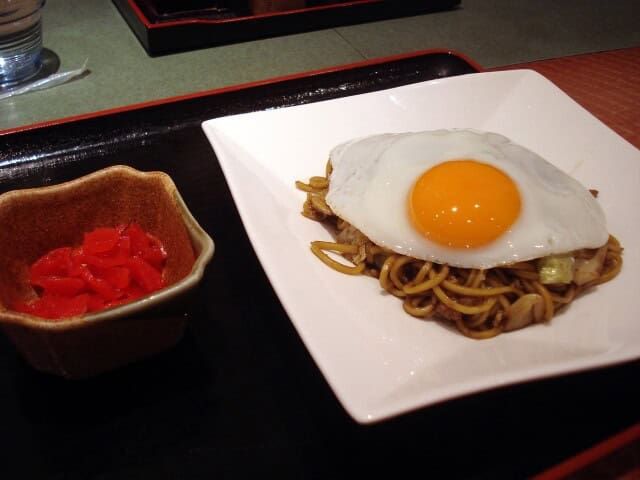 To be called Yokote Yakisoba, it must be with a sunny-side-up egg and served with Fukujinzuke pickled vegetables. Hence, you can eat it as you like. You can entangle everything and flatten it all at once. Additionally, you can have it slowly while breaking the eggs. Yokote city locals loved the taste now as a local gourmet that fans visited not only from the locals but also from all over the country.
Where to eat Yokote Yakisoba
Idehaya Debataya (旨味処 出端屋)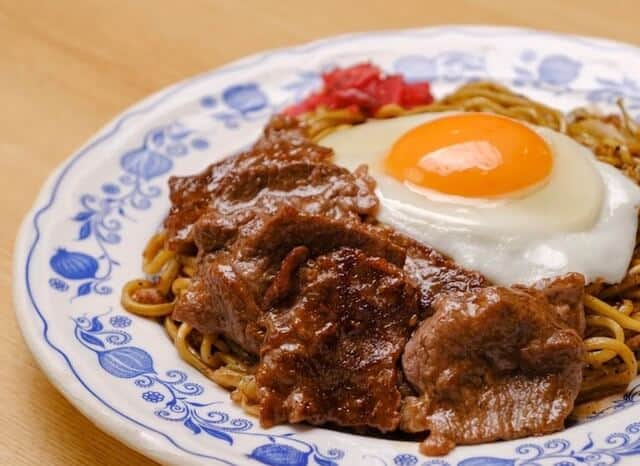 The reason why "Yokote Kuroge Wagyu Yakisoba" from "Debataya", which is also the four heavenly kings in 2014, is so popular is that you can fully enjoy the solid meat. The owner smashes the moist noodles with half-boiled fried eggs and entwined them with Japanese black beef with chopsticks. 
Kudoraku Main Store (食い道楽本店)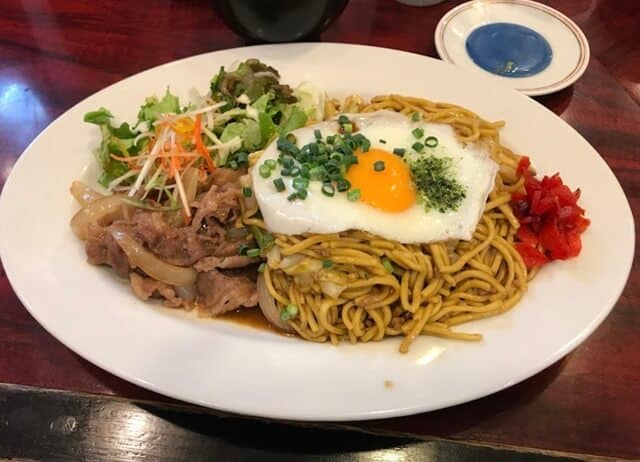 "Kudoraku Main Store" won the "Kudoraku" where two stores, the main store and the Yokote Ekimae branch, played. The main store's specialty, "Beef Rose Yakisoba," boasts a rich taste of beef roses. So that's why no wonder there are many fans of this dish and this store.
Sfida Steak House (ステーキハウス Sfida)
"Chicken Curry Yokote Yakisoba" from "Sfida Steak House" is very delicious with curry stewed with original spices firmly entwined with thick noodles. The collaboration of plenty of chicken, curry and thick noodles is not only luxurious but also fascinating with its sense of unity.
Fujiharu Shokudo (藤春食堂)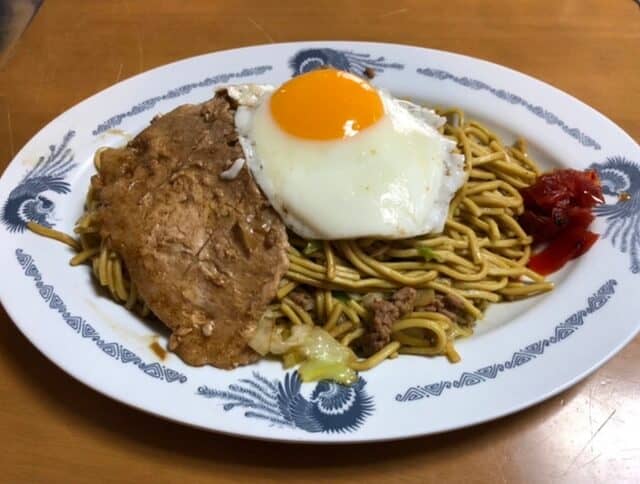 The special yakisoba from "Fujiharu Shokudo", a regular of the four heavenly kings, is made by entwining a sweet sauce with thick noodles that have absorbed plenty of water. One plate, the royal road of Yokote Yakisoba, is a dignity unique to a long-established store.
Final thoughts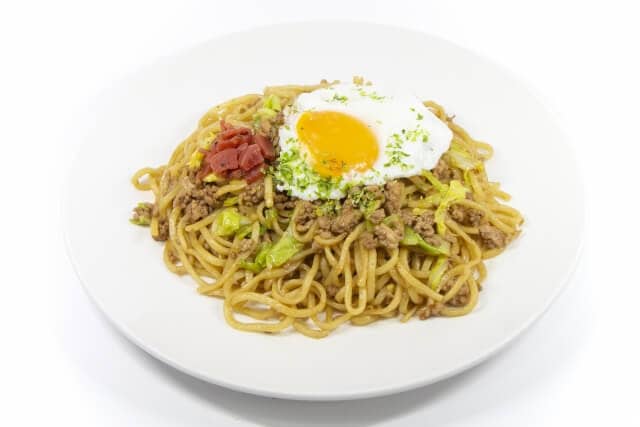 To promote Yokote Yakisoba and revitalize the region, a group of local restaurants developed the "Yokote Yakisoba Norenkai" campaign. And so, the group has successfully launched the noodles at many events throughout Japan, gaining recognition and popularity for this dish. Moreover, it is a well-known Yokota, Akita's local delicacy and one of Japan's three major yakisoba dishes.
Not getting enough of Akita prefecture's delicacy? You can also try their Kiritanpo, Inaniwa Udon, and Babahera Ice.