INTRODUCTION TO BABAHERA ICE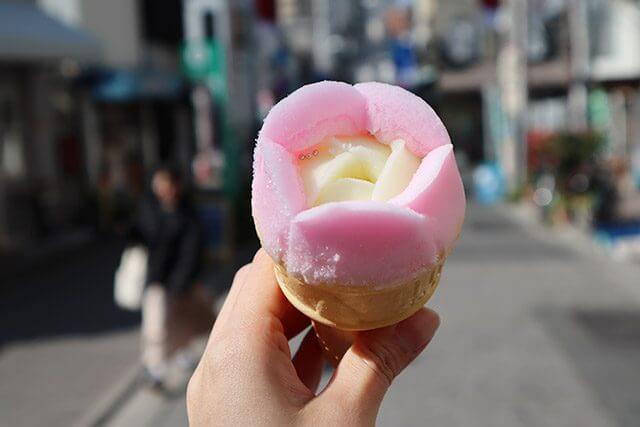 Babahera Ice is a type of ice cream that is a local gourmet of Akita in Tohoku prefecture. It is a local cold sweets that is popular with Akita residents and tourists visiting Akita, especially children. It is famous in the summertime. The colors symbolizing Babahera are pink and yellow. If you go to Akita during summertime, you will find umbrellas with pink and yellow colors everywhere. If you are able to see the umbrellas, it is where you can buy Babahera ice cream.
Additionally, under the umbrella, a person in a pink and yellow apron and hat is always waiting for customers to buy Babahera ice cream. They scoop ice cream from a silver can and put it on a cone in the shape of flower petals. Sounds good, right? Its refreshing strawberry and banana flavors are popular among both children and adults. This local gourmet is famous during hot weather, it's sweet and beautiful! Let's know more about Babahera down below!
ETYMOLOGY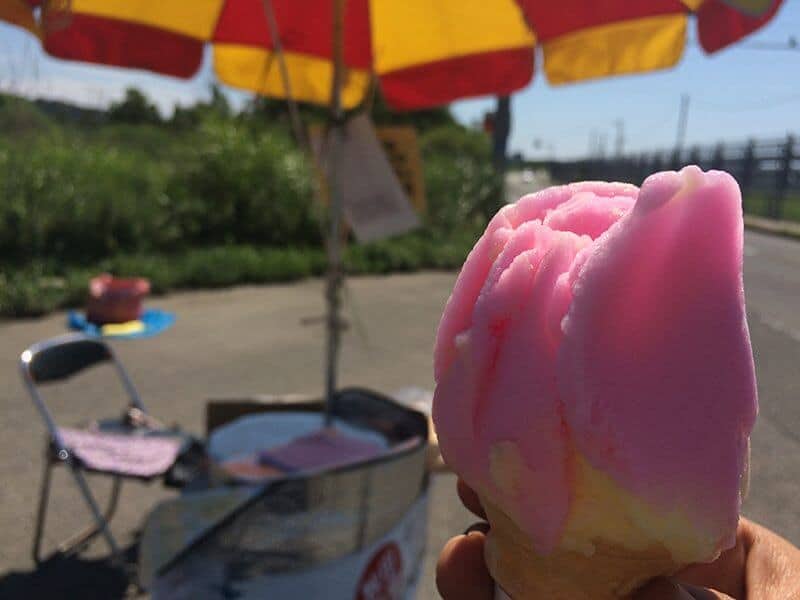 Ever wondered where the Babahera ice cream word came from? The name, "babahera" in Japanese Katakana is ババヘラ. It comes from a nickname for older women or auntie in Japanese which is called "baba". The spatulas they use to spread the ice cream are called "hera." This ice cream is an Akita street food special! The baba uses their hera to make adorably beautiful rose-shaped cones with delicious strawberry and banana flavors!
WHAT IS THE HISTORY OF BABAHERA ICE CREAM?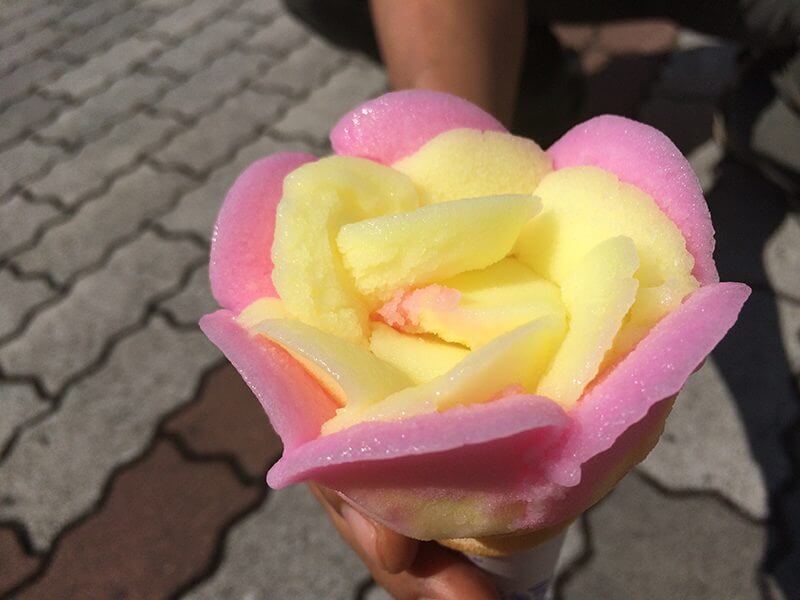 Babahera Ice began in Akita Prefecture around 1948. It is said that there are various theories about the origin of Babahera ice cream. One theory said that the company that opened the popsicles outsourced the sale to a fish shop that knows how to sell popsicles before they get worse. It is Originally, it was sold with styrofoam filled with ice cream, but a few years later, the current cold cans are being used.
At the beginning of the sale of Babahera ice cream, the color of the ice cream was not pink and yellow as it is now, but white. The pink and yellow Babahera ice cream was born around 1969 and has inherited the strawberry and banana flavors since that time. Nowadays, different colors of Babahera ice such as blue and white are also appearing, and Babahera ice may be taking the next step again.
WHERE IS AKITA CITY?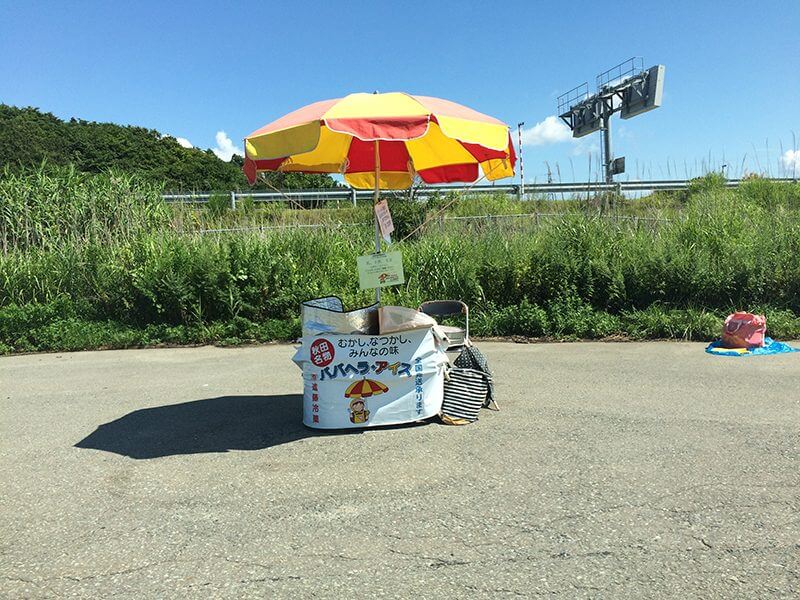 Akita, the origin place of Babahera, is a large prefecture at the Sea of Japan coast in the northern Tohoku Region. Akita's main attractions are its natural beauty of mountains, the sea, and its hot springs. Akita Prefecture is a large prefecture located along the Japan Sea coast of Japan. Akita is also known for cultivating some of the best rice in Japan. There are also many restaurants in the center of Akita City that serve local cuisine and sake. Akita can be reached by the Akita Shinkansen. It is a good choice for JR Pass users and even faster and cheaper than the domestic flight. Additionally, Akita Prefecture has two airports. These are the Akita Airport and Odate-Noshiro Airport.
HOW DOES BABAHERA ICE CREAM TASTES LIKE?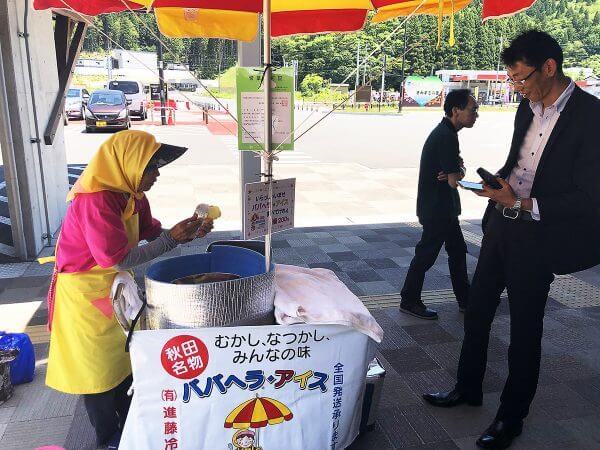 Many children and adults are interested in eating Babahera ice cream, especially during summertime. But the taste of this ice cream is actually the usual one. Pink and Yellow have different tastes. The Pink one is strawberry and the yellow one is banana. However, it actually depends on the ice cream company, sometimes yellow is lemon-flavored instead of banana. Babahera's texture has sherbet-like and it's indeed soft.
Nowadays, there are not only strawberry flavor and banana flavor, but also there are melon flavor and grape flavor. Those flavors were from the local specialties, and it is continuing to evolve further. Melon flavor using melon juice is a specialty of Oga City. Grape flavor using grapes is a specialty of Yokote City, Akita Prefecture.
WHICH STORE TO TRY BABAHERA ICE CREAM?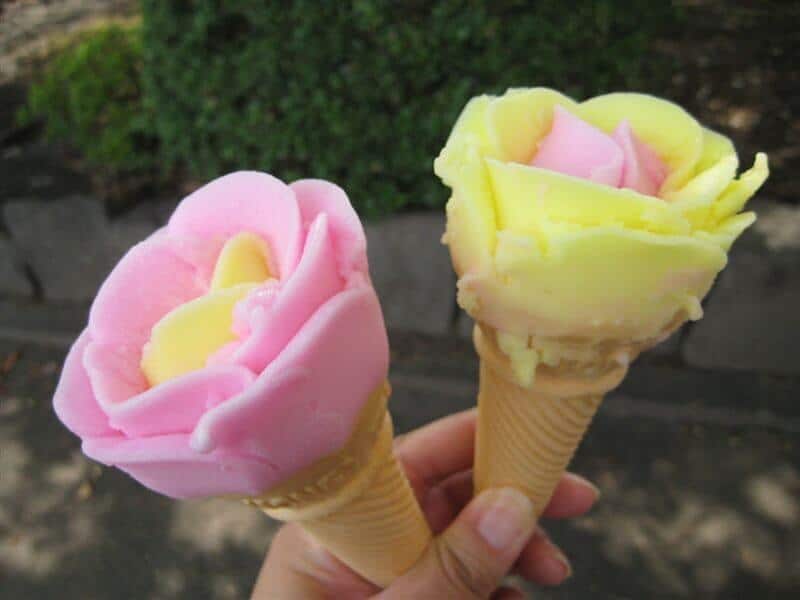 AKITA DINING Namahage Ginza
It is a restaurant in Tokyo where you can eat Akita's specialty, Babahera ice cream. Namahage is an izakaya where you can enjoy Akita's local cuisine. It has full of Akita elements, such as a Kamakura-style private room that imitates Yokote's Kamakura, and Namahage appearing at banquet seats.
Babahera Ice (Shindo Cold Confectionery)
It is a local business in Akita that has been present for 70 years. Shindo Cold Confectionery offers Babahera ice cream in Akita, and also they have an online shop where you can buy Babahera ice cream on set!
Kodama Cold Confectionery
Babahera ice cream of Kodama Cold Confectionery is sold along major national and prefectural roads in Akita Prefecture. The sweetness of their version of Babahera is fine and refreshing, and very delicious.
FINAL THOUGHTS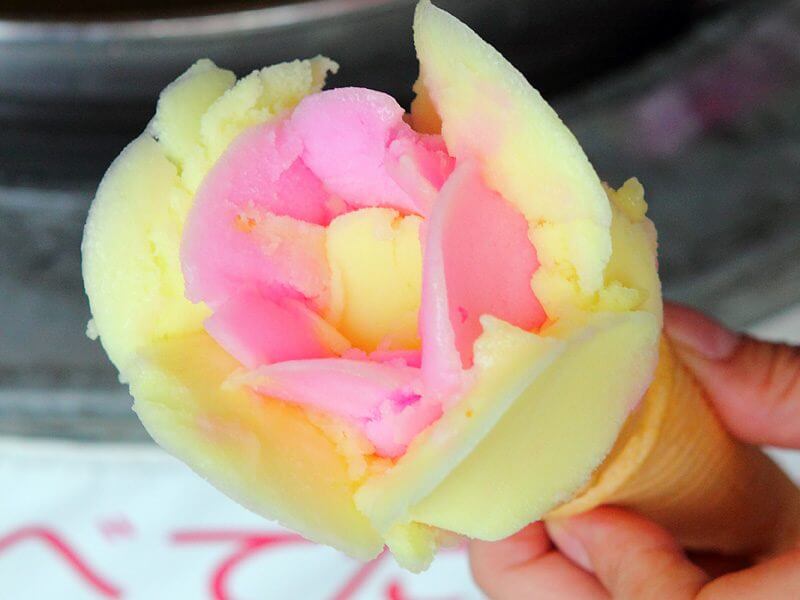 In conclusion, sweets are indeed liked by many people and children in Japan. When you drive along the national highway in Akita Prefecture in the summer, you will see a woman sitting under a colorful umbrella. It says "Babahera ice" and this ice cream is the soul food of Akita that has surprisingly low calories. Usually, the regular ice cream would have around 200 kcal. However, in Babahera ice, there's around 120kcal. There are also other local cuisines of Akita, such as Mugimaki, Tonburi, and more. Babahera is a beautiful dessert that looks like a flower and is very pleasing to the eyes that is why many people have been into it, especially in the summertime. If you happen to visit Akita prefecture, you will be able to see many Babas on the road selling the ice cream so don't forget to try to taste it!