Yaki curry is a comforting and satisfying dish that can be found in many restaurants, from casual eateries to more upscale establishments, throughout Japan. It's a fusion of Japanese and Western culinary influences and is enjoyed by people of all ages. Now, as we go through this article, you will get to know about this amazing Japanese dish.
What is Yaki curry?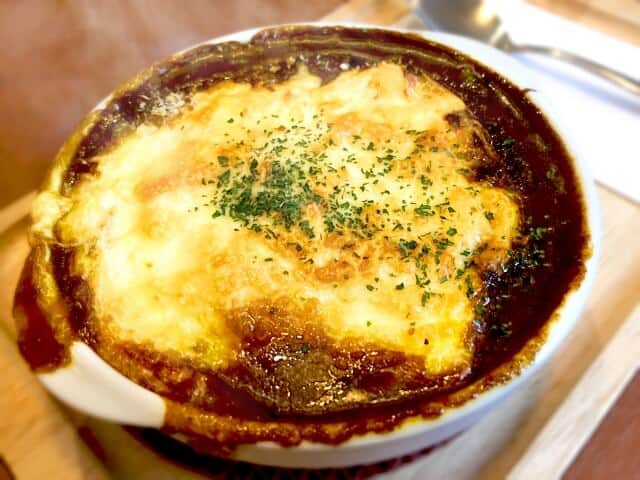 Yaki curry or baked curry is a type of curry rice in a heat-resistant dish, adding cheese, raw eggs, etc., and baking it in an oven or toaster. Basically, the minimum requirements for grilled curry are covered with curry and cheese, and grilled. It's a unique and delicious way to enjoy curry, and it's quite popular in Japan, especially in households and casual restaurants.
Yaki curry History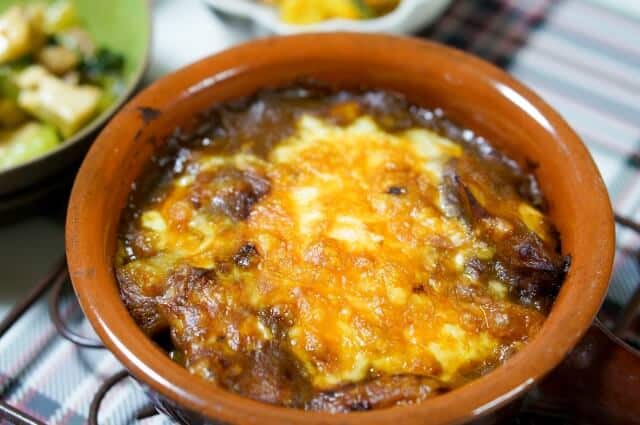 Yaki curry, a tasty dish we enjoy today, has an interesting history. One story suggests that it all began in the 1950s at a coffee shop in Mojiko, Kitakyushu City, Fukuoka Prefecture. The cafe's owner decided to experiment by putting cheese and eggs on top of curry rice and baking it in the oven like a Doria-style dish. To everyone's surprise, it turned out to be incredibly delicious. People loved it so much that it became a regular menu item at the cafe, and customers couldn't get enough of it. This mouthwatering creation became so popular that other restaurants soon started making their own grilled curry dishes. Nowadays, you can find this beloved dish not only in restaurants but also made at home by many people.
Ingredients of Yaki curry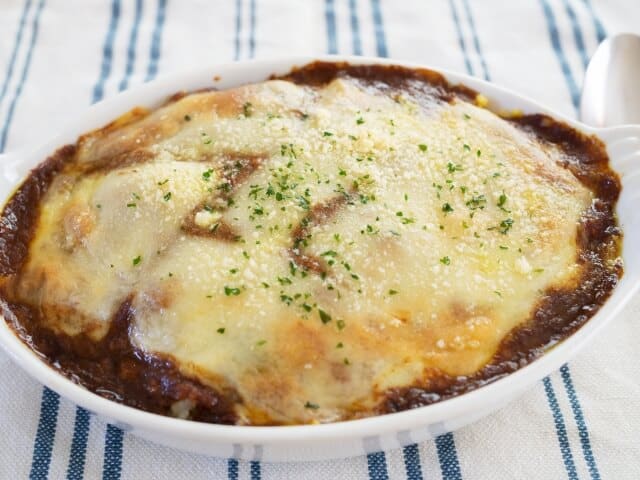 Yaki curry in Mojiko doesn't have a strict definition, but the classic version involves pouring curry over rice, adding cheese and eggs, and baking it in the oven. However, in some places, they might skip the eggs. As long as it has curry and cheese, and baked, they consider it grilled curry. The yaki curry can vary a lot from one restaurant to another. They served it with different types of rice, like white or butter rice, or even as a dry curry. The curry sauce can also differ, with variations in its base (beef or seafood), thickness, spiciness, and whether it includes eggs. On top of that, the amount and type of cheese can vary. Some places get creative by adding unique toppings like blowfish or octopus. 
About Cheese used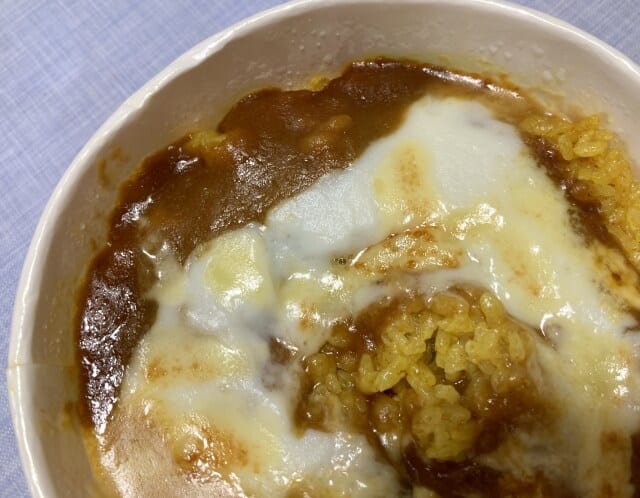 Basically, that cheese is made by covering egg yolks to prevent them from bursting. So baking curry and covering it with cheese are two different issues. Older ovens had poor performance compared to today's ovens, and could only reach temperatures of around 280 degrees Celsius, requiring long baking times. This causes the egg to explode. In order to suppress this phenomenon, the solution was to cover the egg yolk with cheese. If you add too much cheese, it will taste like cheese. The original flavor of the curry will be lost. That's why you should only put a little bit of it on top of the egg yolk in my baked curry.
Where is Mojikou?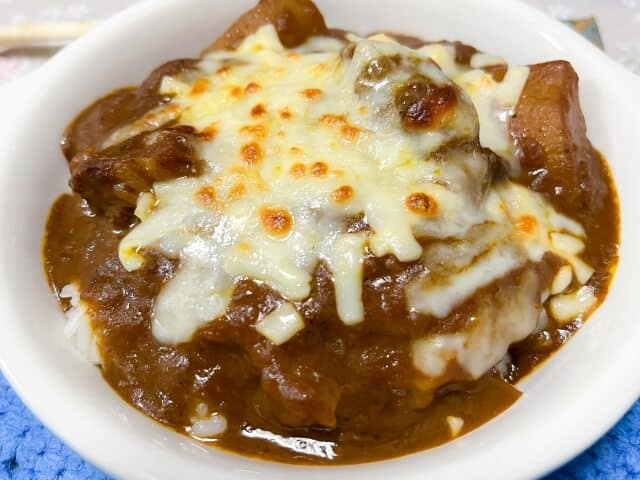 Mojiko Retro is a charming area, just 90 minutes away from Hakata and a quick 5-minute ferry ride from Shimonoseki. It's known for its Taisho Romantic retro townscape, delicious local cuisine like grilled curry, and cultural attractions like art galleries and museums. During the Meiji and early Showa periods, Moji Port thrived as a trading hub with foreign countries, hosting many Western-style restaurants that fused Western cuisine. Among these culinary innovations, the creation of "grilled curry" is believed to have originated in a Moji Port coffee shop in the 1950s, although there are various theories about its exact origins.
Yaki curry Dishes
Yaki curry natto doria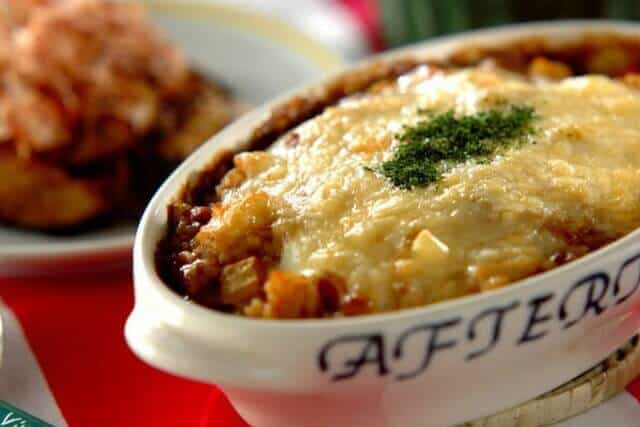 A uniquely flavored grilled curry doria that combines curry with natto and rice. The recipe calls for making beef curry with ground beef and vegetables, but you can also use retort instead. 
Yaki curry seafood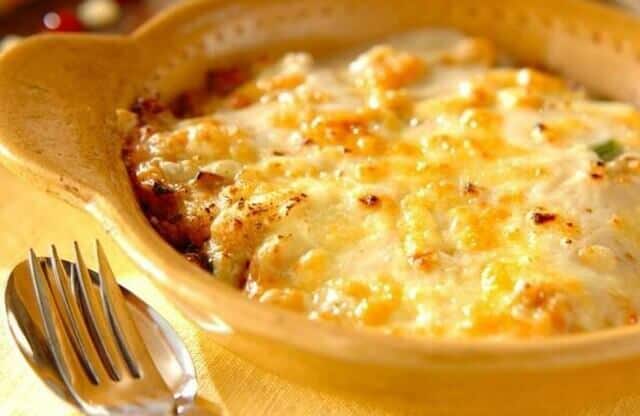 You can make curry fried rice as a base, but the main ingredients other than vegetables are frozen seafood mix.
Yaki curry chicken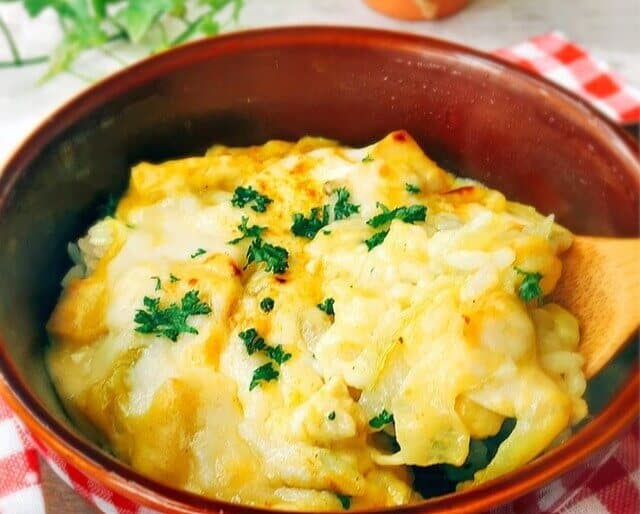 This rice doesn't have any special seasoning, but the curry-flavored doria sauce poured on top gives it an exquisite taste. An authentic recipe for making a white sauce using flour and milk, using chicken breast, onions, and king king mushrooms as ingredients.
Yaki curry FAQ
Can you find vegetarian or vegan options for yaki curry?

Yes, it is possible to find vegetarian or vegan options for yaki curry in Japan, especially in restaurants that cater to dietary preferences and have diverse menus. In vegetarian yaki curry, they replaced the traditional meat cutlet with a plant-based alternative. Common choices include tofu cutlets, seitan (wheat gluten) cutlets, or vegetable-based cutlets made from ingredients like mushrooms or eggplant. 

What side dishes are good with yaki curry?

When serving yaki curry in Japan, a variety of side dishes complement the dish and create a balanced meal. Common accompaniments include Japanese pickled vegetables (tsukemono) for a tangy contrast, miso soup to balance flavours, a light green salad for freshness, and the option of plain steamed rice. Some restaurants serve gyoza (pan-fried dumplings) or tempura for added texture and flavor contrast.
Yaki curry Recipe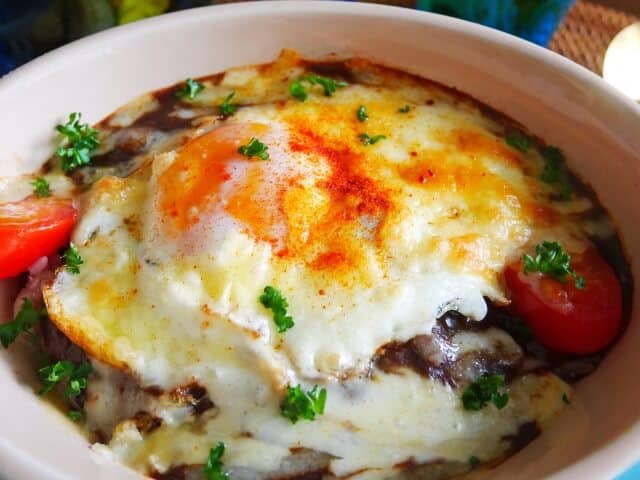 Yaki curry Ingredients
| Ingredients of Yaki curry for 1 person | Measuremments |
| --- | --- |
| Rice | 150-200g |
| Leftover curry | 50g |
| Egg | 23g |
| Melted cheese | 20g |
How to make Yaki curry?
Prepare the rice
Place the rice in a heat-resistant container. At this time, if you spread a little butter on the bottom, it will add flavor and prevent it from burning.
Pour curry, put egg, and cheese
Pour the remaining curry on top. Spread the center a little with a spoon and drop the egg in. Chop the melted sliced ​​cheese and sprinkle with it.
Bake and serve
Bake in the oven or toaster to complete. Crush a half-boiled egg, mix and enjoy. Combined with melted cheese, it becomes a unique dish.
Where to buy Yaki curry?
Honeybee Curry Mojiko main store (ミツバチカレー 門司港本店)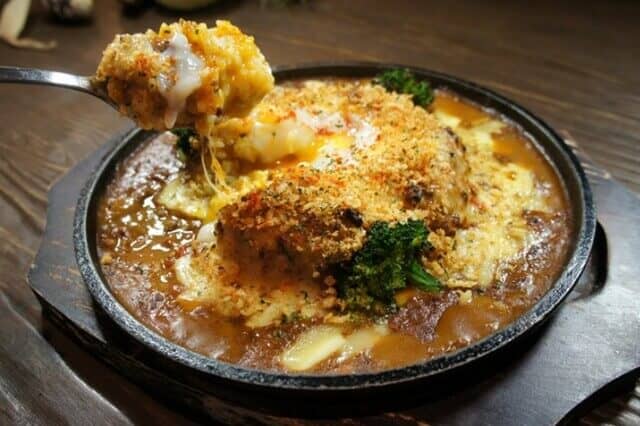 More than 10 kinds of spices, honey-cooked apples and vegetables, and plenty of red wine are used luxuriously. European-style curry is simmered for a long time to add a rich flavor and aroma, giving it an authentic taste that is spicy but not too spicy. Lunch includes salad and detox sparkling water.
Kaya Honpo Mojiko Retro Store (伽哩本舗 門司港レトロ店)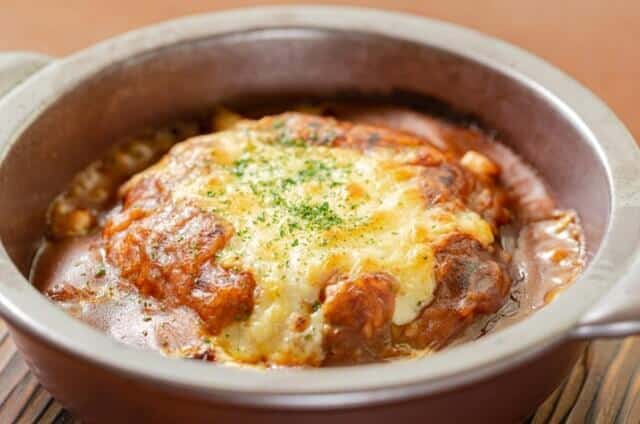 It is one of the restaurants that sparked the grilled curry boom and is a grilled curry specialty store whose method of baking it in a custom-built oven was patented over 20 years ago. Because they are baked all at once at a high temperature of 320 degrees Celsius, the curry sauce is sticky but the eggs are runny.
Mojiko M's Cafe Tokidoki Karii Honpo (門司港エムズカフェ トキドキ カリイ本舗)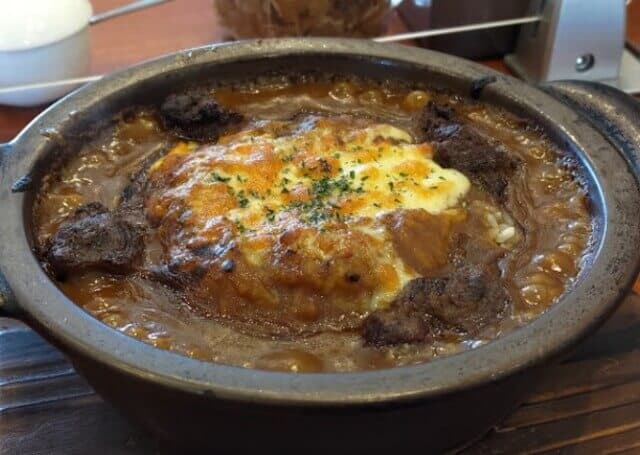 It is a sister store to Kaya Honpo Mojiko Retro Store, which has long lines of customers even before it opens on holidays, and is located on the first floor of the same building. In fact, the grilled curry has the exact same recipe and taste as the one at Kaya Honpo Mojiko Retro Branch on the second floor. The variations are almost the same, and you can also enjoy banana soft-serve ice cream and juice that are not on the menu on the second floor.
Final Thoughts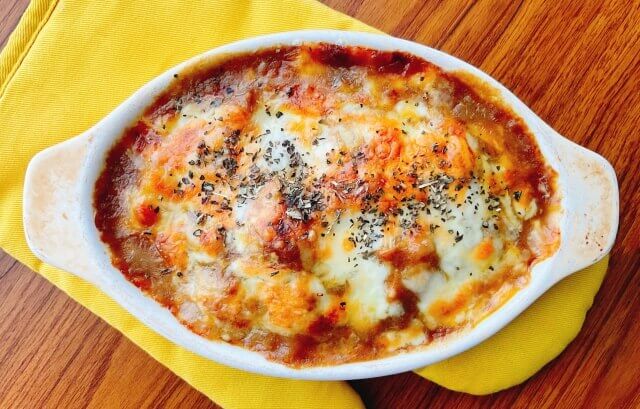 Yaki curry is a delightful fusion of Japanese and Western culinary influences that has become a beloved dish in Japan. Whether you savor the crispy cutlet and creamy curry sauce in a restaurant or try your hand at making it at home, yaki curry offers a comforting and flavorful experience. We hope this article has provided you with valuable insights into the world of yaki curry, allowing you to appreciate its unique blend of flavors and perhaps even inspire you to try making it yourself. 
You can check some Japanese dishes below that we know you would like to try too.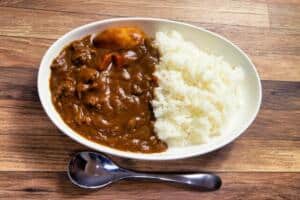 Curry rice (カレーライス)
【Introduction to Curry Rice】 Did you know that curry is just as popular in Japan as ramen? Furthermore, when most people think of curry, they think of Indi…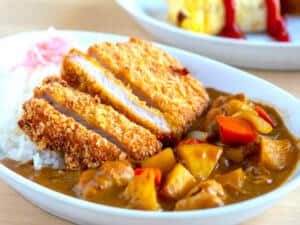 Katsu Curry (カツカレー)
Curry is one of the famous dishes in Japan. As a matter of fact, they often serve it in three different ways. These are curry rice, curry bread, and curry ud…