What is Mentaiko?
Tarako and mentaiko are traditional Japanese seafood ingredients, consisting of pollock roe from the Alaskan pollock, of the cod family. The Alaskan pollock is not a pollock in itself, but a cod; thus, tarako and mentaiko are also referred to as cod roe. However, in modern times, Mentaiko often refers to what is somewhat different from Tarako or cod roe. 
Mentaiko (明太子) is the preferred name in Fukuoka Prefecture, where salted cod roe is especially popular. Despite this, many Japanese people think of "Karashi Mentaiko (辛子明太子)," a traditional Korean dish made from the roe of walleye (Alaska) pollack, a species of the cod family Gadidae. In 1949, a Japanese businessperson altered the flavor of the original Korean Karashi Mentaiko to suit Japanese tastes and invented the Japanese-style. Mentaiko is frequently marinated in a variety of spices and seasonings. The uncooked ones normally come in a variety of colors due to the numerous food colorings used, as well as the marinating ingredients in certain cases. 
Etymology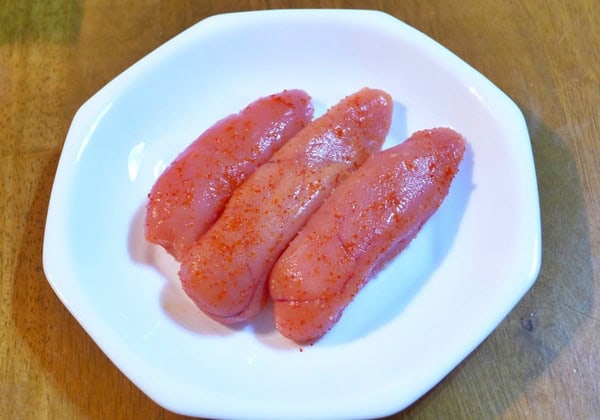 Mentaiko (明太子) means "child of mentai," and the word "mentai" comes from the Korean myeongtae (명태) which is the Korean name for Alaska pollock, a type of cod. Hence, in the Kanto region, it is called "tarako (たらこ)", in the Koshinetsu region "momijiko", and in Hakata "mentaiko".
Mentaiko History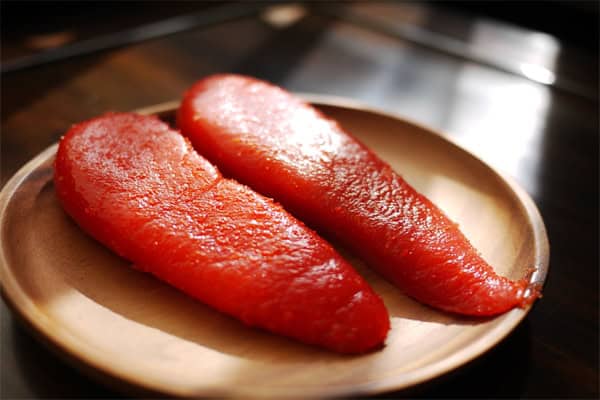 Origin and history of salted cod roe
Fish has been an important source of protein since ancient times in Japan, surrounded on all sides by the sea. If a boiled or grilled fish had an egg inside, the Japanese also eat it with the meat. However, it is not known when cod roe began to be salted. What already existed in the Edo period can be seen in some literature. Hokkaido, which has long been well landed in northern Japan, is a big production area of ​​cod roe, especially where locals often caught pollack roe.
In the Meiji period, the catch of pollack increased further, which led to the spread of processed fish egg products nationwide.  The reason is that they tried to make effective use of walleye pollock, which tastes inferior to that of Pacific cod. On the other hand, there are Chinese and Russian theories, but it is certain that Korea had a prototype of spicy cod roe called mentaiko pickles for a long time. Locals believe that the founder of "Fukuya" who ate it in Busan arranged it for Japanese people and sold it as spicy cod roe. However, nowadays, the spicy cod roe, which has been seasoned and made in this Japanese style, has been imported back into Korea and is becoming popular.
Mentaiko / Tarako Recipe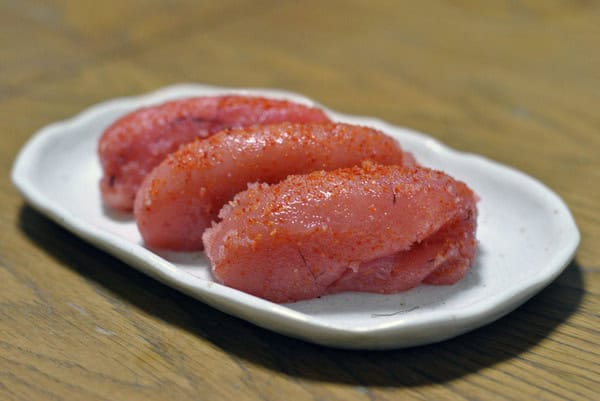 Mentaiko Onigiri Ingredients
| | |
| --- | --- |
| Ingredients of Mentaiko Onigiri for 1 person | |
| Rice | 195g |
| Cod roe | 40g |
| Perilla | 14g |
| White sesame | 1.5g |
| Salt | 1.5g |
How to make Mentaiko Onigiri?
Frying the cod roe
Cut the cod roe into pieces about 2 cm wide and bake in a lightly oiled frying pan over high heat. When it gets brown, turn it over and cook it from all sides. When the heat is removed, loosen it roughly and cut the perilla into julienne.
Putting it sesame seeds and salt
Mix all the ingredients and put white sesame seeds in the rice, salt it with your hands, and squeeze.
Molding the onigiri
Lastly, mold the onigiri using your hands and serve it.
If you add miso soup to the rice balls, you will have a rice ball set meal that is perfect for breakfast or lunch. And thus, Mentaiko Onigiri is popular and every convenience store has it.
Other Japanese dishes that use Mentaiko / Tarako as ingredients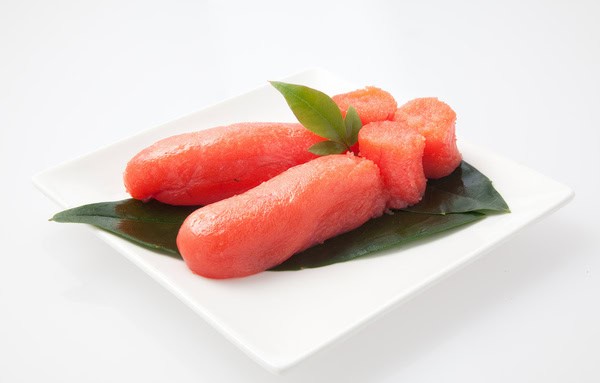 Currently, the cod roe that they generally distributed is a salted Alaska pollack ovaries. Locals eat it as it is or baked it, but recently it has become popular as an ingredient for rice balls at convenience stores and is also in Western-style dishes such as pizza and pasta. Other dishes are boiled food-using unsalted raw cod roe, Shirataki Noodles with Masago- Fry the cod roe loosened in Shirataki noodles, Grilled cod roe, Chazuke, Tarako spaghetti, Tarako Yakisoba, Tarama Salad
Tarako vs Mentaiko vs Karashi Mentaiko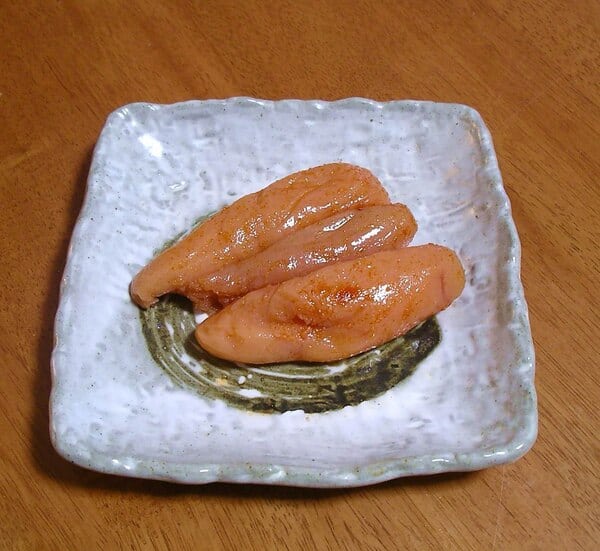 In the Kanto region, it is called "tarako (たらこ)", in the Koshinetsu region "momijiko", and in Kyushu "mentaiko". Actually, both Tarako and Mentaiko refer to cod roe. However, "Tarako (たらこ or 鱈子)" literally means cod roe in Japanese, but when Japanese people just say "Tarako" in daily life, that usually refers to salted cod roe with the sac intact. Apart from the fact that they are salted, they're plain, free from the usual fishy aftertaste that's associated with seafood.
While Mentaiko is the preferred name in Fukuoka Prefecture, where salted cod roe is especially popular. Locals usually marinated it in different seasonings and spices, thus they're more flavorful than tarako. On the other hand, Karashi Mentaiko is a type of Mentaiko and is usually mistook for Mentaiko. Hence correctly, the main ingredient of Karashi Mentaiko isn't cod roe, but walleye pollack roe. Besides, in its name, the word "Karashi (辛子)" means "spicy", and unlike Tarako, locals make Karashi Mentaiko using red chili pepper.
What are the points for selecting raw cod roe?
Most of the cod roe raw materials they caught are from Alaska and Russia. And the raw materials are those that they collected onboard and deep-frozen and imported from the United States, Russia, and South Korea. Until a while ago, the quality of raw materials varied due to the performance of freezers, but in recent years it has been in a state close to that of inshore raw materials due to the development of freezing technology. In addition, the number of resources in the fishing area, catch allocation, and catch trends greatly affected the quality and price of it.
How is mentaiko used in cooking?
Classic cod roe potato salad
This recipe introduces an easy way to make using a microwave oven. The rich cod roe mayonnaise is firm with mashed potatoes, and it is delicious that you can stretch your hands unintentionally. 
Burdock salad
Introducing a salad with crispy burdock, cucumber, and mayonnaise. The flavors of ground sesame and sesame oil are appetizing. Boil the burdock so that it remains chewy and enjoy the crispy texture.
Spicy Enoki Tarako
It is a spicy seasoning that goes well with the side dishes made with enoki and cod roe. The enoki stir-fried with falcon's claws is a spicy taste for adults.
Tarako fluffy omelet
 The fluffy omelet with dashi stock and this excellent compatibility make it a perfect dish for rice and sake.
Tarakoimo mochi
This is a cod roe mochi made from potatoes with a chewy texture. They mix the potato with starch to create a chewy texture.
Chicken meatballs
Locals make this by adding plenty of cod roe to minced chicken, it has a refreshing taste and a delicious finish. The flavors of sesame oil and grated ginger are appetizing. You can enjoy it refreshingly with egg yolk, mayonnaise, shichimi pepper, or ponzu sauce if you like.
Tarako spaghetti
Spaghetti made with cod roe is a popular menu that you can't miss. If you have tarako and butter, you can make it quickly, so it is also for lunch. Butter enhances the richness and umami of the cod.
Cod roe udon
The soft buttery scent enhances the richness of the cod. You can make it quickly using frozen udon or raw udon.
What do Tarako and Mentaiko taste like?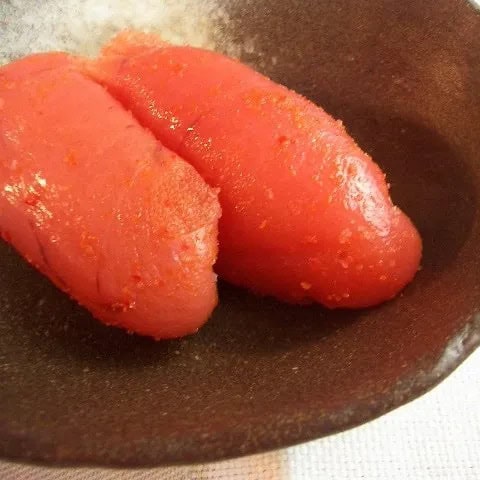 Tarako and mentaiko are jam-packed with sea flavors. Tarako is plainer in flavor because they salted it, but mentaiko has a bite and a complex umami flavor because locals utilized the brine and marinades in its preparation.
Where to buy Mentaiko?
Both tarako and mentaiko are readily available at Japanese grocery stores, as well as other Asian (Chinese and Korean) supermarkets in the refrigerated and frozen sections.
Tara Tara Tarakko (タラタラ・タラッコ)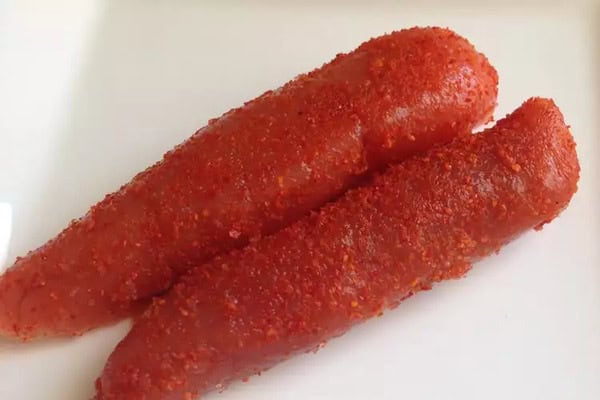 It is a charming shop name, but this shop is a shop where you can get more than 100 kinds of tarako pasta. If you like cod roe and mentaiko, you will be very interested in the restaurant. You can choose 4 types of bases and combine toppings to get your favorite pasta.
Ganso Mentainikomi Tsukemen (元祖めんたい煮こみつけ麺)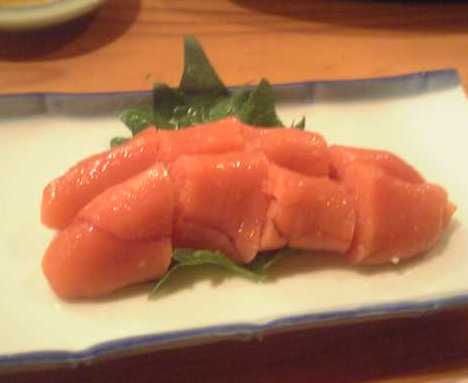 This shop is a shop where you can enjoy tsukemen with plenty of mentaiko in the soup. You can also enjoy the bubble wrap texture peculiar to mentaiko, the taste of seafood, and the rich soup of mentaiko is with the noodles. And the feature of this shop is that you can order your favorite spiciness. You can choose from 6 levels of spiciness.
Hakata Motsunabe Yamaya (博多もつ鍋やまや 丸の内店)
The most popular menu at this restaurant is "motsunabe", but this time we will introduce a set meal that you can enjoy at lunchtime from 11:00 to 14:00. This set meal is not just a set meal, but a set meal that is very exciting for Mentai Holic. There are so many side dishes, and the deliciousness of mentaiko makes you feel like you're going for another cup.
Mentai Park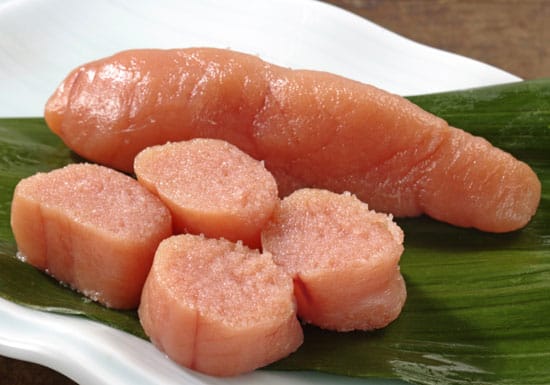 Mentai Park is a theme park specializing in mentaiko run by Kanefuku, a long-established store of mentaiko. There is a factory that you can visit for free, a freshly made mentaiko shop, crushed land, a food corner, and so on. Even families and couples can enjoy it from adults to children. Kanefuku carries out everything, from the selection of raw fish roe to aging, under its hygienic management.
Getaway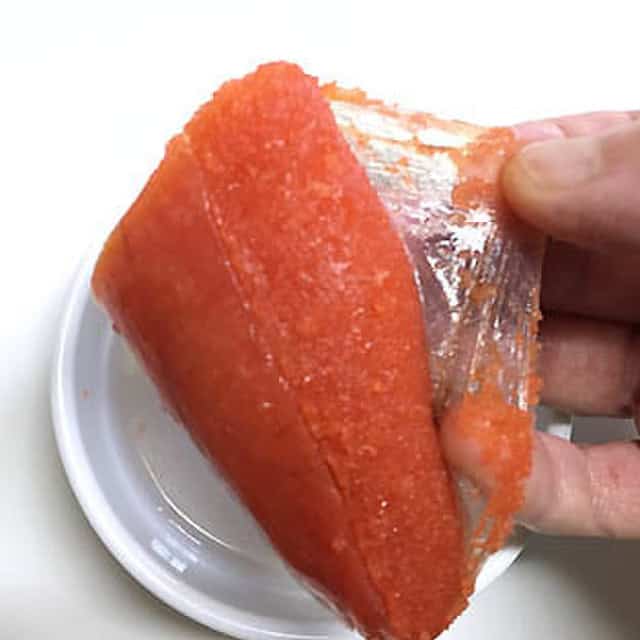 Though these Japanese fish eggs are more common in Japanese cuisine, they really originated in Korea and have been a component of Korean cuisine since 1392, when the Joseon dynasty began. It arrived in Japan at the conclusion of WWII, several decades after Koreans had been enjoying this meal for decades. So the salted pollock roe (or salted cod roe) or the mentaiko or tarako is the most frequent way to eat roe and widely used in Japanese cuisine. This pollock roe is also present in Korean, Russian, and a few French preparations. There are other Japanese cuisines that is special to the hearts of those from Fukuoka prefecture, you can look them up here.