Fujiyoshida's specialty is Yoshida's udon. This udon, which is tasted with a special soup stock based on soy sauce and miso, is an exquisite local dish that can only be eaten here. The biggest feature is the hardness of the noodles, and their deliciousness is such that some fans have udon meisters who have conquered all udon restaurants in the city. If you visit Fujiyoshida, we will introduce the charm of Yoshida's udon noodles, which you should definitely eat, the restaurants you can eat, and how to enjoy them.
Fujiyoshida's famous specialty udon – Yoshida Udon
At the base of Mt. Fuji you will find this blessing of a bowl. It can certainly be hot and filling, perfect for the cold mountain air. Characterized by its unique firm and thick flour noodles. Made with a broth of a miso or soy sauce blend and typically with boiled cabbage. You can also find carrots, meat, tofu, and/or tempura in the bowl. It is also normal to add a variety of spices to it. From a spicy flavor that will clear up your sinuses, to a saltiness that will fulfill your cravings. The ingredients and flavor of the soup really get into the chewy noodles. It is a versatile yoshida udon dish, but the noodles are like nothing else. Its chewy texture makes every bite satisfying and comforting. Considered as a soul food for the Yamanashi prefecture.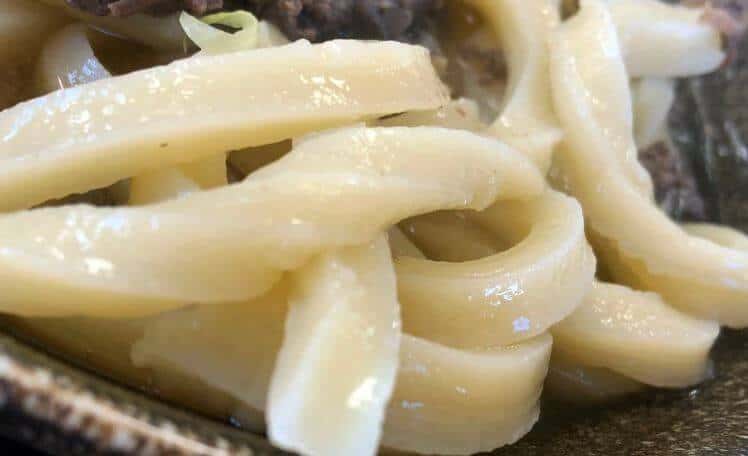 Here is an up close look at the delicious and chewy signature noodles.
These thick noodles can be used in a variety of ways. The most common variations of this udon are; niku Udon, which uses horse meat, chilled tanuki udon, which has grated daikon radish in it and uses deep-fried flour dough, Yumori udon, where the customer has the say in how they season it, and Nabeyaki udon, which is delivered in a hot vegetable stew.
The main condiment that is typically used with Yoshida udon is called suridane, which consists of spices like chilli pepper, sesame, and other peppers and then fried with oil. It is a spicy condiment, but how spicy it is varies with each shop.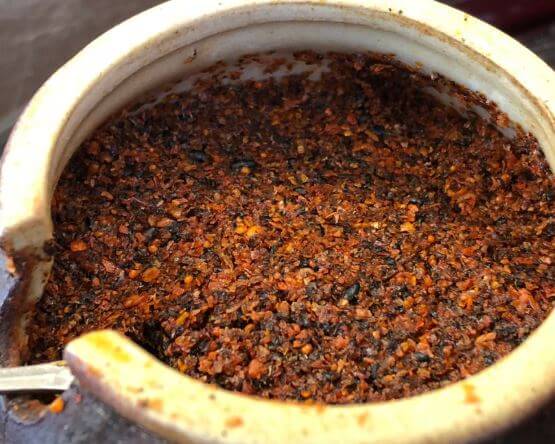 Here is an up close example of suridane, which is very common to have along side yoshida udon. Some would apply it after a couple bites of the udon to change up the taste.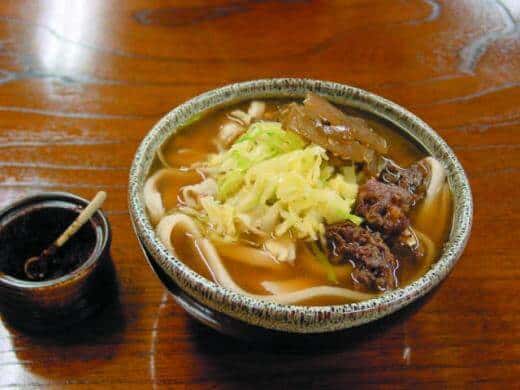 Yoshida udon can range from a bowl of soup with a lot of liquid to having very little liquid. It all depends on the shop or what the customer feels like.
History of Yoshida Udon
The regional climate at the northern foot of Mt. Fuji was the cause behind yoshida udon. The cool climate and volcanic soil in that area, made it difficult for rice cultivation. Instead, these foothills grew barley and wheat. Flour foods ended up being the staple food for them. Back in the day, udon was sold to the worshipers near the mountain. Back then, the main industry was the textile industry. The woman would be doing all the weaving while the men would peddle to other lands to make a living. The men would also do the cooking so the woman could focus on their craft and protect their hands. It is said that the firmness and thickness of the noodles were made from these strong men kneading them. They wanted to feel satisfied when eating.
Try a bowl of this yummy yoshida udon
You can enjoy this udon bowl in more than 60 different udon shops throughout Fujiyoshida city. Each one with their own flare. Most are small and just a renovated room in their house. Most are also only open for lunch. For yoshida udon, the noodles are usually handmade. They give it that strong and elasticity texture. This just adds to how amazing yoshida udon really is. Any udon lover, or Japanese food in general, has to try this dish. Here are some great shops you can try it at.
Restaurants of Yoshida Udon
Kurechi udon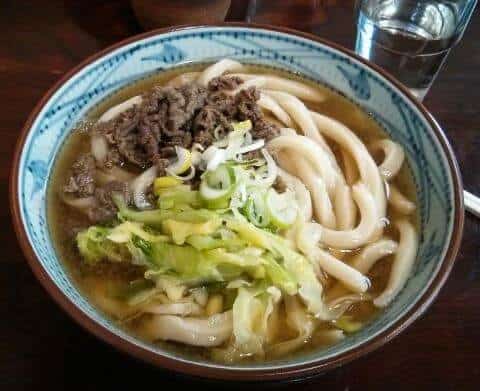 Enjoy a nice handmade bowl of Yoshida Udon here at this first Fujiyoshida location. It is the classic and old fashioned taste. There are many varieties of toppings that can be added. A popular and typical bowl here would have soup with miso and soy sauce, horse meat, and boiled cabbage. They also include the must try suridane side condiment in the meal. Rated high for its great taste and a reasonable price. Some say it is the best udon experience. It is a true yoshida udon bowl, perfect for people trying the noodles for the first time.
Sky Blue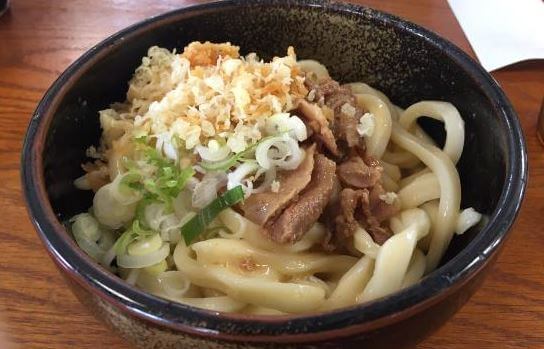 Here is a shop that has the Fujiyoshida famous noodles, but is located in Minamitsuru-gun instead. Still close to Mt. Fuji, this is like a trademark to yoshida udon. It has a nice and lovely environment, seating 46 people. Many people who are in search for Yoshida udon will come here. Can also be considered a hidden gem. They make the traditional hand made Yoshida udon noodles and present it in various forms. It can be warm or chilled. Also, do not forget about adding the spicy side of suridane. Enjoy beautiful sightseeing of the Fuji Five Lakes than have a nice lunch here.
Togawa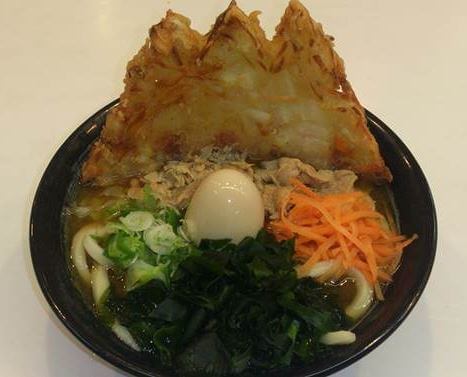 This place definitely wins the best presentation for the yoshida udon award. Enjoy the udon bowl named after Mt. Fuji, the Mt. Fuji udon. It has a mountain shaped tempura, a seasoned soft-boiled egg, and other vegetables along side the famous thick noodles. It is conveniently located in the Fujisan Station Shopping Center's food court. Opened for longer hours than your usual shop makes it easier to grab a yoshida udon. It is delicious and will certainly fill you up.
Miyaki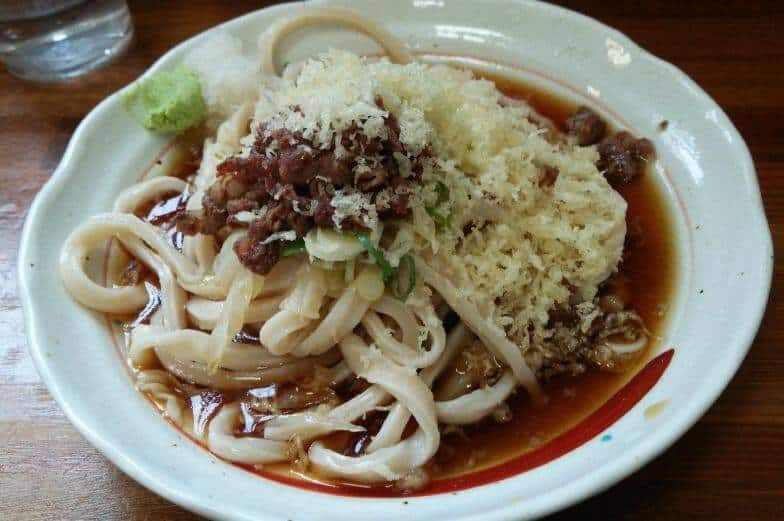 This last one is said to be the best restaurant in all of Fujiyoshida. With its many good reviews, it is extremely popular. As yoshida udon is the famous dish for this city, it is also the big money maker for this shop. There is a reason the rating for this shop is number one, try a bowl of yoshida udon here in whatever style you want, along with the suridane condiment. Even English speakers get around having no English menu by simply showing them a picture of what they want. It may be busy and sadly still limited to lunch hours, but it is delicious and affordable.
There are many type of udon in Japan. Check here to see other udon in Japan!