Curry is one of the famous dishes in Japan. As a matter of fact, they often serve it in three different ways. These are curry rice, curry bread, and curry udon. In addition to that, they developed new dishes that go well with curry. For example, Katsu Curry is a popular dish that comes from curry rice.
What is Katsu Curry?
Katsu Curry is a combination of curry rice and Tonkatsu (deep-fried pork cutlet). While pork cutlet may be the most known choice, they use other kinds of meat as well. For instance, they replace pork with beef, chicken, or even ham cutlet. Also, it is a dish that is full of flavors from turmeric, curry powder, and even coconut milk.
It is not just common in Japan, but it's also well-known in other countries. These countries include the UK, USA, Australia, and France. Even other Asian countries love the addicting taste of this dish. For example, chicken Katsu Curry is quite rampant both in the UK and Australia. While vegans replace the meat with fried tofu cutlet or plant-based artificial meat.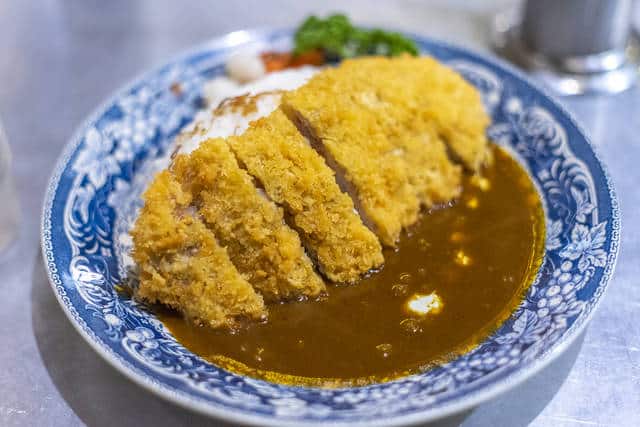 Gennkatugi
Genbashigi means "to carry on one's good deeds". So, eating Katsudon the night before an examination or a match has become a modern tradition in Japan. This is because "katsu" also means "to win" or "to be successful". With this in mind, they eat Katsu Curry with the belief of winning a match or passing an exam just like Katsudon.
Arrangement
Another key characteristic of Katsu Curry is that they slice the pork cutlet in advance. With this in mind, it will be easier to eat using a spoon. The arrangement also varies. Some like to pour the curry sauce on top of the pork cutlet, while some likes to put the pork on top. Nevertheless, curry sauce and fried pork katsu are a delicious and satisfying combination.
What's the best spoon to use?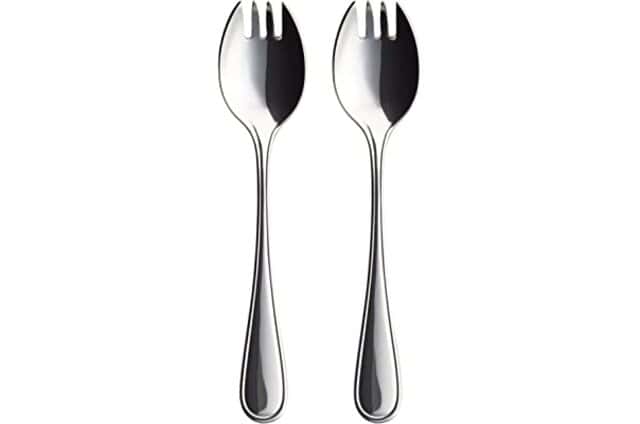 Because of how common this dish has become today, a Katsu Curry spoon was also made available in the market. It resembles a "spork" which is like a combination of a spoon and fork in one. Since eating Katsu Curry should be quick and easy, this type of spoon is perfect.
It's often made of stainless steel and has a wider handle than usual spoons. Aside from stainless steel, it is also available in plastic for bento meals.
What is the origin of this famous Japanese katsu dish?
According to some experts, Katsu Curry, in fact, celebrated its 100th anniversary in 2018. Just like other famous Japanese dishes, there are also several theories about its origin.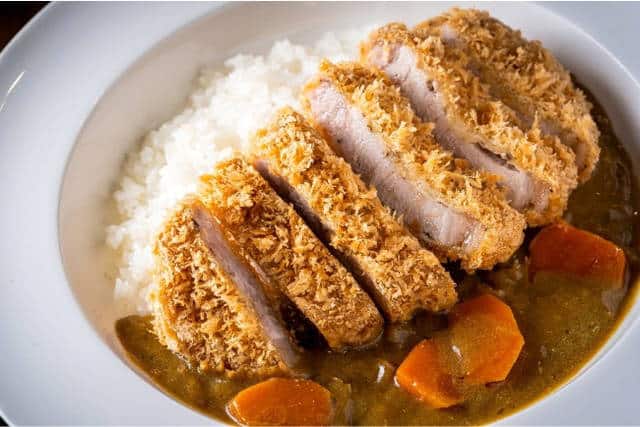 "Kawakin Theory"
During the Taisho era in 1918, a shop in Asakusa was selling fried pork cutlet and curry together. The name of the shop is Kawakin. Even so, the owner of the shop built it as a Western-style food stall. Later on, they introduced their new specialty food. But, it was only after a loyal customer asked to put curry on the fried pork cutlet. Of course, they named this dish "Kawakin Don".
In order to make Kawakin Don, they put the fried pork cutlet and curry together. Aside from these, they also put sliced cabbage and place it on top of steamed rice. The customers love the dish so much that it eventually became their specialty food. Thus, Kawakin Don is the oldest Katsu Curry in Japan according to records.
"Ginza Switzerland Theory"
Even though Kawakin is the oldest recorded history, it was Ginza Switzerland that introduced the current style of the dish. As a matter of fact, the style of putting katsu and curry rice together is so popular when they launched it in 1948.
Meanwhile, other stores start copying this style including pork cutlet and soba restaurants. Also, it was during the 1950s when deep-fried pork katsu in curry sauce began to spread nationwide.
Since then, they continuously improved the dish including the spicy Katsu Curry in 1990. It was such a hit that it was even popular in other countries also. Until now, different versions of deep-fried pork katsu in curry sauce are available in the market.
Why is Katsu Curry so popular in UK?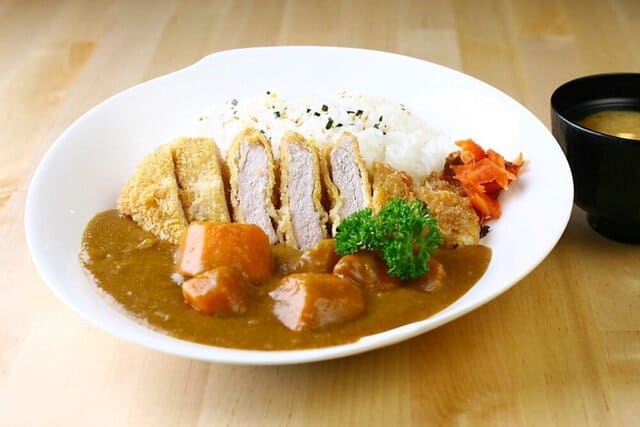 During the past few years, the popularity of Katsu Curry in the United Kingdom is very evident. In fact, many people in the UK enjoyed it as much as they loved sushi and tempura. But, how did it become so famous in this country?
Similarly, the Indian-stye curry is already a thing in Europe. While they loved it, the arrival of Japanese-style curry has taken them by storm. As a matter of fact, British people enjoy chewy food. So, meals like fish and chips, chicken nuggets, and deep-fried battered meat are common snacks in the UK. With this in mind, it is not surprising that they embraced this popular pork katsu dish since then.
Since many people avoid pork for religious reasons, the Katsu Curry in the UK is almost 100% chicken. They also developed a vegetarian-friendly version of deep-fried pork katsu in curry sauce. Of course, it uses plant-based meat substitutes which is perfect for vegans.
In addition to that, it's so popular in the UK that they can easily understand and use the word Katsu Curry.
Katsu Curry Recipe
Katsu Curry tastes good, is fast to cook, and cheap in price. This recipe is easy and delicious!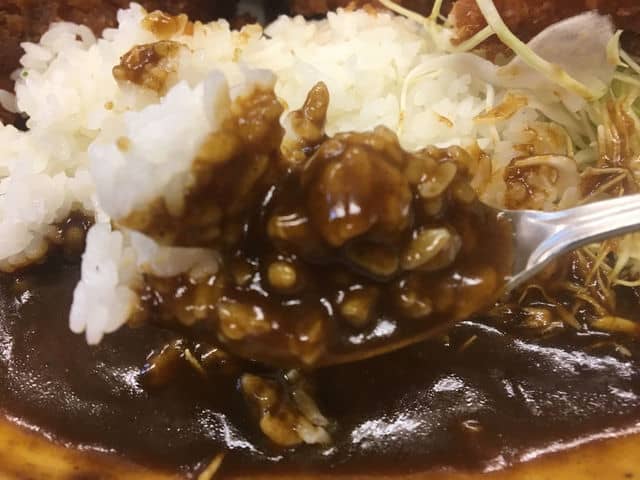 | | |
| --- | --- |
| Good for 4 persons | |
| sliced pork thigh | 150 g |
| salt | a little |
| pepper | a little |
| grated ginger | 1 tsp. |
| grated garlic | 1 tsp. |
| onion | 200 g |
| cumin powder | 1/4 tsp. |
| coriander powder | 1/4 tsp. |
| turmeric powder | 1/2 tsp. |
| S&B powder | 2 tsp. |
| canned tomatoes | 1 can |
| plain yogurt | 1/2 cup |
| salad oil | 2 tbsp. |
| sliced cabbage | 1 whole pc. |
| white rice | 600 g |
| boiled eggs | 2 pcs. |
| Fukujinzuke | 1 bag |
| scallions | appropriate amount |
| soft roast pork cutlet | 4 pcs. |
How to make Katsu Curry?
Initially, cut the pork thighs into bite-size pieces. While heating the salad oil in a frying pan, season the pork thighs with salt and pepper. Then, fry the bite-size pork thighs until it's slightly brown. Set aside after.
After that, stir-fry onions, garlic, and grated ginger. Add canned tomatoes and plain yogurt before putting the pork thighs back. Let it simmer for about twenty minutes (20 minutes) in low heat. Then, mix it once every five minutes (5 minutes) to avoid burning the bottom.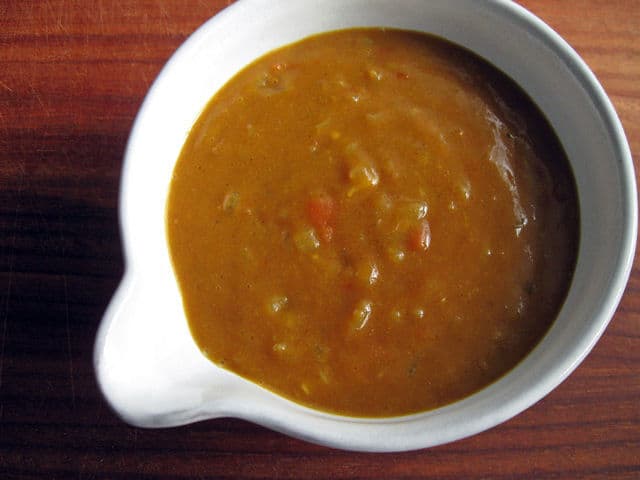 Before removing from the heat, put all other condiments except Fukujinzuke and scallions. Then, set it aside to cool. While waiting for it to cool down, heat the soft roast pork katsu and steam the white rice.
On a clean plate, place one scoop of rice and one piece of soft roast pork katsu. Next, put some sliced cabbage on the side and half of one boiled egg. Then, sprinkle the pork katsu with the curry sauce and Fukujinzuke. Serve while it's hot.
Where to eat Katsu Curry?
In order to have the best taste experience of this world-famous Japanese dish, we listed down some of the famous restaurants wherein you can enjoy it. Treat your taste buds with the umami of pork katsu and the curry sauce that is rich in flavor.
Asano (リッチなカレーの店 アサノ)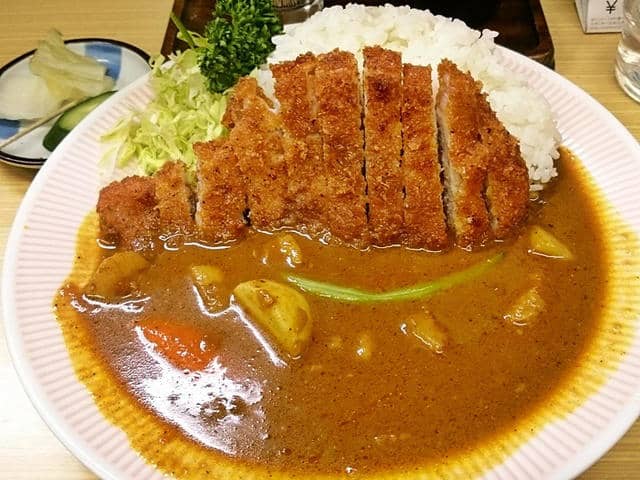 Asano is a well-known Japanese curry restaurant that is located in Tokyo. It has been serving curry dishes since 1987. Their pork katsu has a classic taste which is also similar to Takaza Pork which is a Kanagawa's specialty. Of course, it is more delicious after combining it with their own version of curry. Aside from that, it also comes with boiled potatoes and carrots.
Masamune (とんかつ まさむね)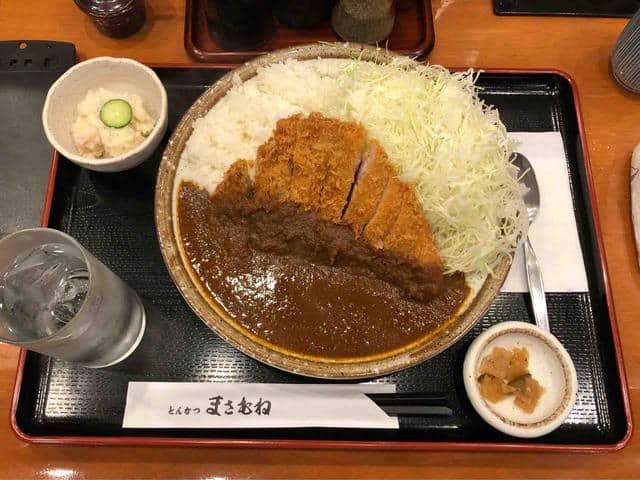 Meanwhile, the fried pork cutlet in Masamune is famous for being soft inside yet crispy outside. Their curry sauce is also an original recipe of the store owner. One thing that makes their Tonkatsu outstanding is that they drain the oil as much as they can. They also serve Menchi Katsu Curry with cheese.
Curry Ippekoppe (とんかつ檍のカレー屋いっぺこっぺ 蒲田店)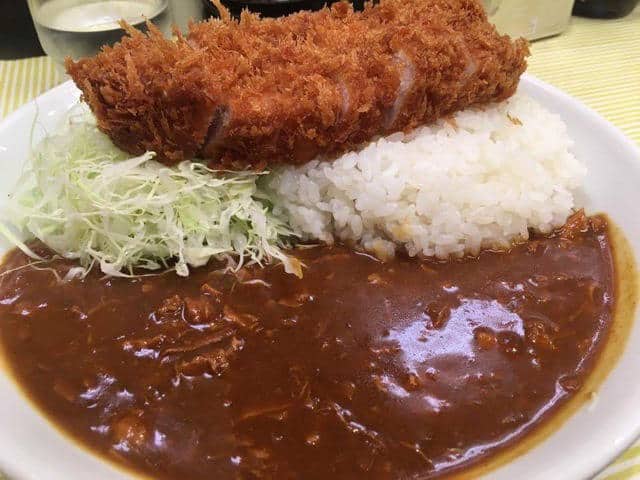 This blockbuster restaurant in Kamata uses fine meat for its Tonkatsu. As a matter of fact, they only use Hayashi SPF pork which is managed safely. These odorless and healthy pigs are raised on safe feed only. Thus, making their fried pork cutlet odorless and has the sweetness of its excellent fats.
Curry Ippekoppe is so popular that people line up outside the store even before they open.
Takeaway
Katsu Curry is a dish made from two standalone dishes. Putting deep-fried pork cutlet and curry resulted in a worldwide famous dish that is rich in flavor and umami. It's so delicious that it's hard not to like it.
If you love this, check out other amazing curry dishes and katsu favorites as well!