In each Japan region, there is a "local cuisine" that represents food culture of that region. Kiritanpo in Akita, miso katsu in Aichi City, Seri hot pot in Miyagi Prefecture … and so on. Of course, even in the big city of Tokyo, there are special local dishes that have been handed down since the Edo period. One of them is Fukagawa Meshi, a rice cooked using clams. It is also selected as one of the five major rice Japan. This time, we will introduce the history and types of Fukagawa Meshi. 
MEANING OF FUKAGAWA MESHI
The name Fukagawa (深川) comes from a town in Koto-Ku, a ward in eastern Tokyo. And meshi (めし) means cooked rice as well as a meal. It can also mean food in addition to rice. In literal translation, Fukagawa-meshi is rice cooked with clams. The caught clams are put in miso soup or boiled in soy sauce and paired with rice.
WHAT IS FUKAGAWA MESHI?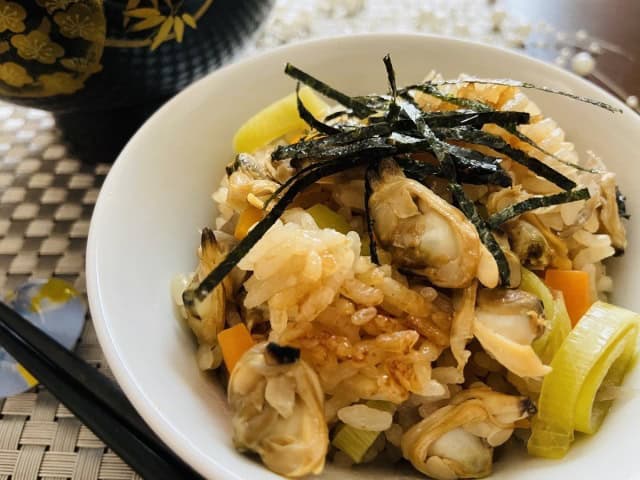 Fukagawa-meshi is a traditional food in Japan, mainly in Tokyo prefecture. Its main ingredients are short-neck clams and cooked rice. It is one of the five significant rice dishes in Japan. This dish is a popular cooking method in shellfish-producing areas, but it is a representative dish of Fukagawa, Tokyo. There are two types of fukagawa-meshi that you can enjoy. One is the "bukkake" style in which boiled clams are sprinkled on rice. The other one is "takikomi" wherein the rice is cooked with clams. Fukagawa-meshi is a hearty dish with roots in a meal that local fishers have eaten for hundreds of years. The dish is as easy to prepare as it is delicious and nutritious. For the locals, this bowl of clams and rice was a daily treat—a kind of "fast food" for busy fishermen who enjoyed a quick bowl before casting off.
ORIGIN OF FUKAGAWA MESHI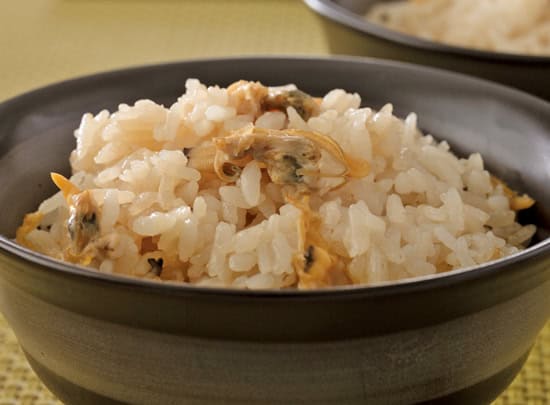 During the Edo period (1603-1867), Fukagawa was a prosperous fishing town where many earned a living catching fish and clams or gathering laver. The clams were caught on the tidal flats in front of Edomae and they are sold in downtown Tokyo until 1965. Fukagawa-meshi became a popular dish that fishermen in Fukagawa could eat easily onboard during the Edo period.  They have used clams as an ingredient around the Meiji and Taisho eras. Fukagawa-meshi was a low-class meal that was not on par with the middle-class dining table at that time. 
"Bukkake Meshi," which was a meal that Fukagawa fishermen eat between work, is the root of Fukagawa Meshi today. At those time, the seawater was diluted with fresh water and boiled on board. Then, clams and green onions are simmered. They eat the tofu and salt-boiled mactra Chinensis (blue goat) over cold rice. After that, "bukkake rice" came close to the current bukkake type made with miso and soy sauce.  These days there is another type of Fukagawa meshi in which clams are cooked with rice. Both types, however, remain familiar favorites and count among Tokyo's culinary stars.
FUKAGAWA MESHI RECIPE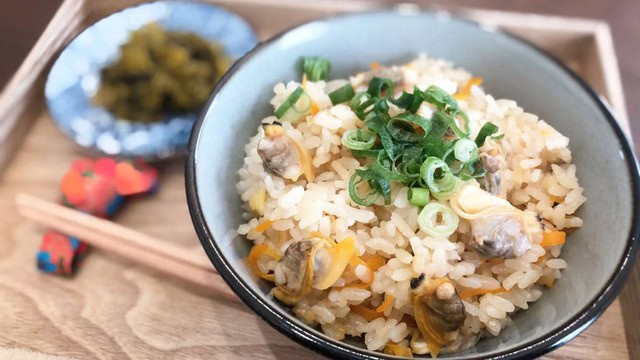 Short-neck clams, Aoyagi shellfish, green onions, vegetables stewed, miso soup, and cooked rice are the recipes of Fukagawa meshi. In the past, the fishermen in Fukagawa ate salt-boiled blue goats (mactra Chinensis). At those times, this dish matched with rice and you can also top it with sprinkled soup clams, green onions, and tofu. The combination of shellfish and rice has evolved, and gradually they added the miso-based or soy sauce-based dashi stock on the shellfish to bring out the flavor.
HOW TO MAKE FUKAGAWA MESHI?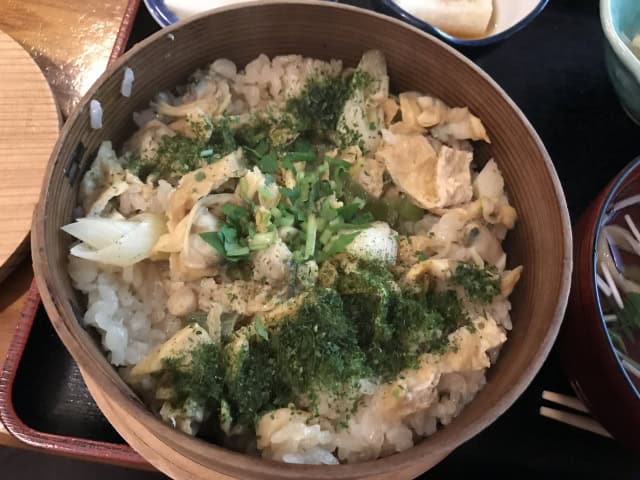 First, prepare the rice and let it absorb water for 30 minutes before draining it. Remove the sand from the clams. Peel the carrots and ginger. Drain the oil from the fried tofu. Second, cut the core of the green onions into small pieces. Cut the white part into thin strips along the fibers and soak it in water for about 5 minutes before draining it. 
Third, Cut the carrots and ginger into small pieces. Cut the fried tofu into strips. Then, put the clams and cooking liquor in a frying pan, heat it over medium heat. Heat it until the clam's mouth opens, then remove it from heat. Remove the shell and set aside the extracted juice. Lastly, put the rice, the extracted juice, and water in a rice cooker up to the 2nd scale. Top it with tofu and the clams. 
WHAT ARE THE TWO WAYS OF ENJOYING FUKAGAWA-MESHI?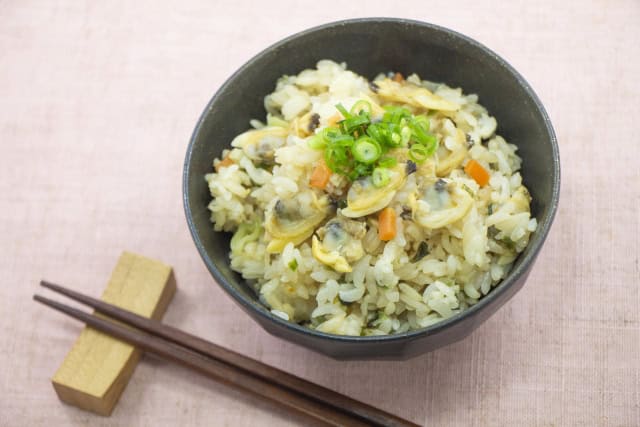 The two ways of enjoying fukagawa-meshi have their roots in Ryoshi-meshi. One of them is Bukkake-style. Bukkake style uses fresh clams into the miso or soy sauce-based soup and boiled it for a while. The basic concept of Ryoshi-meshi is to cook fresh seafood quickly and eat it on board. Another is the Takikomi style which cooks clams with rice.
HOW MUCH DOES FUKAGAWA-MESHI COSTS?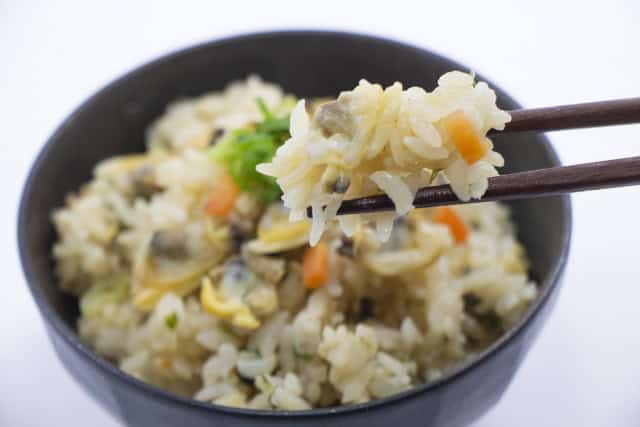 Fukagawa-meshi price depends on how the restaurant or the shop prepares the dish. Its price starts from ¥1,000 which is around $10. So, having a ¥1,000- ¥4,000 budget is enough to eat a lot of dishes.
WHAT ARE THE HEALTH BENEFITS OF EATING CLAMS?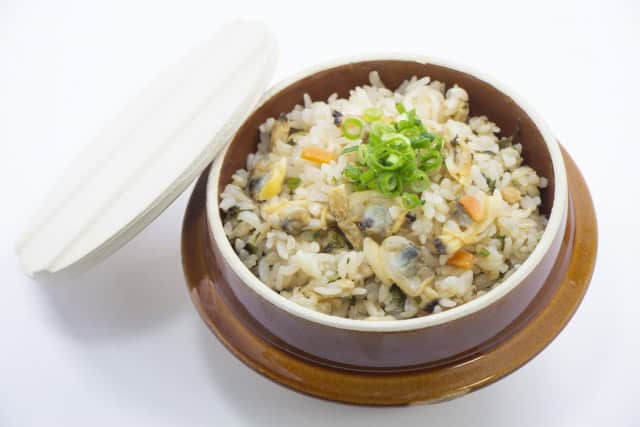 Clams, which are indispensable for Fukagawa-meshi, contain plenty of taurine and vitamin B12, which enhance liver function and promote metabolism. Welsh onion also has the effect of warming the body, as Negi-to has long been known as good medicine for colds. Fukagawa-meshi is a traditional healthy food that originated in Fukagawa. 
WHAT ARE THE FIVE MAJOR JAPANESE RICE MEALS?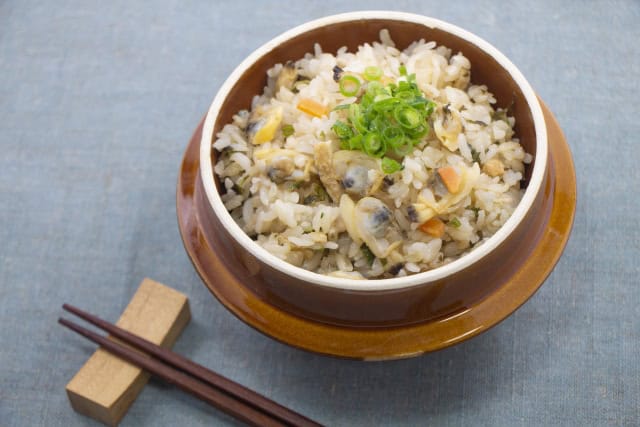 The Imperial Household Agency in 1939 selected the five major rice dishes in Japan. They are all typical rice dishes among the historical local dishes of Japan. They are the "Japan's Five Great Meals Rice". These five major rice dishes are Chushichimeshi in Saitama prefecture, Sayori Meshi in Gifu prefecture, Kayakumeshi in Osaka prefecture. The fourth one is the Uzumemeshi in Shimane prefecture, and lastly, the Fukagawa-meshi in Tokyo prefecture.
WHAT HAPPENS IF YOU EAT TOO MANY CLAMS?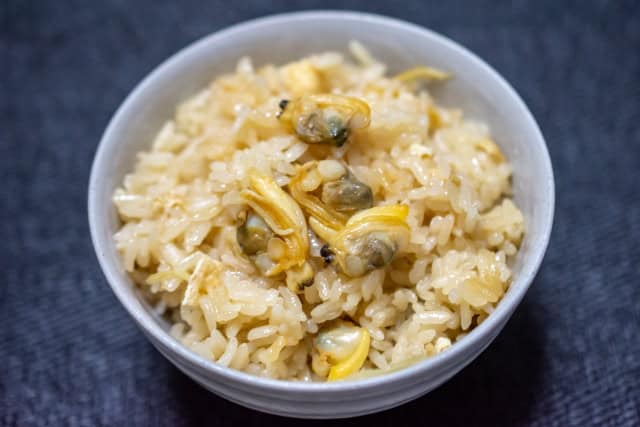 Eating such "bad" clams can produce a spectrum of food poisoning symptoms ranging from vomiting and diarrhea to memory loss to even paralysis and death. Shellfish can sometimes produce unwanted results later after the meal. This can happen if the contaminated animals are with food poison.
RECOMMENDED FUKAGAWA MESHI RESTAURANTS
Fukagawajuku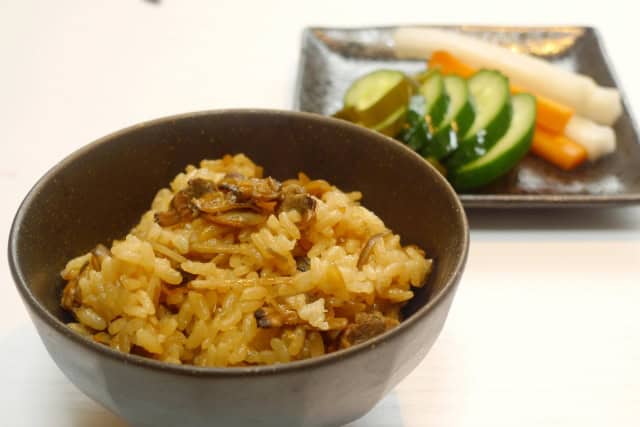 Fukagawajuku is a popular store in Tokyo Metropolis. It is a famous Fukagawa-meshi store with two stores, the "main store" in Miyoshi, Koto-ku, and the "Tomioka Hachiman store". If you are visiting the Tomioka Hachiman store for the first time, it might be confusing to know its location. It is the store behind the statue of Ino Tadataka right after entering the Tomioka Hachimangu Shrine. This shop offers two ways of eating the fukugawa-meshi. One is the bukkake-style and the cooked type is "Hamamatsu style". They also offered a set where you can eat both of them.
Monzen Chaya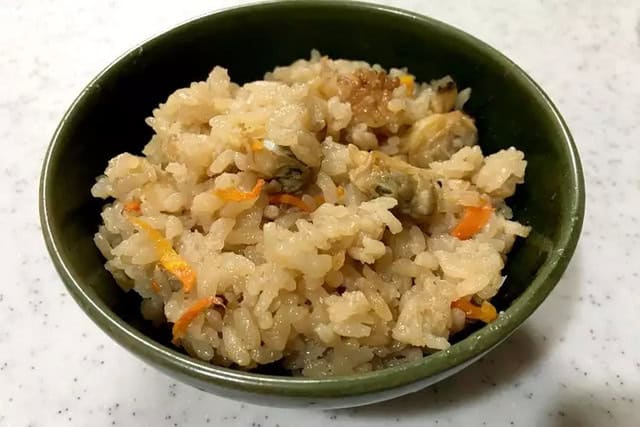 If you want to eat lunch at a reasonable price, Monzen Chaya is the one. Monzen Chaya offers "Fukagawa Asari Steamed Rice". They improved the cooked rice type of Fukagawa-meshi a little. The clams are fluffy and don't have a strange hard-texture on them. The shop serves the dish while the cooked rice with the clams soup stock is still hot. The seaweed sprinkle on top added a very nice accent to the dish.
Fukagawa Kamasho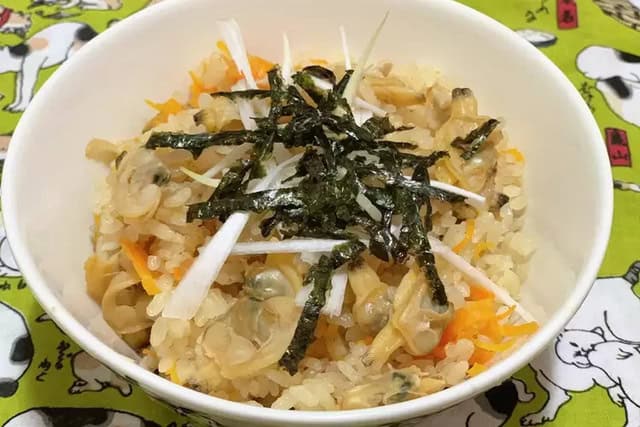 If you are near the Kiyosumi Shirakawa station and you are craving for fukagawa-meshi, Fukagawa Kamasho is nearby. The store is about a 2-minute walk from Exit B2 of Kiyosumi Shirakawa Station. It has a deep blue outer wall. Fukagawa Kamasho offers three options for the fukagawa-meshi. It ranges from ¥1,070 with the flavor of clams and shimeji mushrooms to a full set of ¥1,880 with dessert included.
Kappo Miyako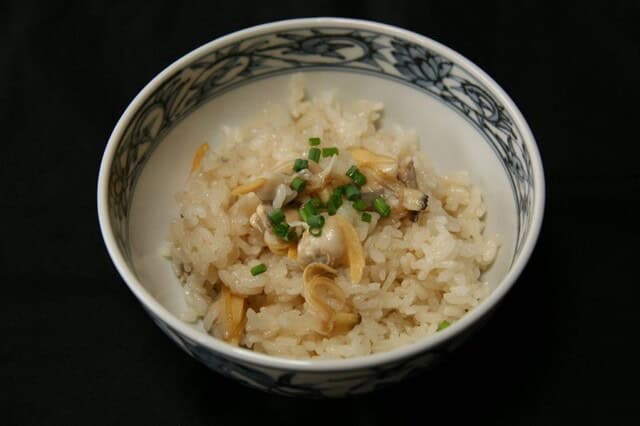 This store was established and founded in 1918. It has a long history with fukagawa-meshi.  Kappo Miyako is a 5-minute walk from the A3 exit of Morishita Station and a 9-minute walk from the A2 exit of Kiyosumi Shirakawa Station. The inside of the store is a tatami room where you can take off your shoes and relax. The price they offer for the Fukagawa-meshi set is ¥1,500. Many of their customers recommend trying this because the clam soup stock has a unique fluffy taste.
Mitsugi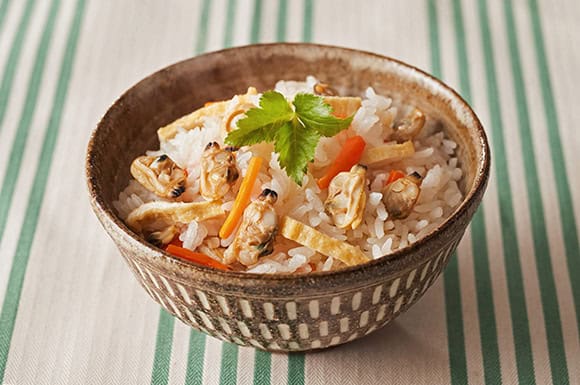 Mitsugi is where you can taste the originality of Fukagawa-meshi. The shop is a sushi restaurant that serves Fukagawa-meshi only at lunchtime from 11:30 to 14:00. Mitsugi offers a unique type of fukagawa-meshi where it has quick-cooked clams, tenkasu, and seaweed on top of vinegar rice. This menu costs about ¥1,100 and the ¥1,600 set has an included sashimi.
CONCLUSION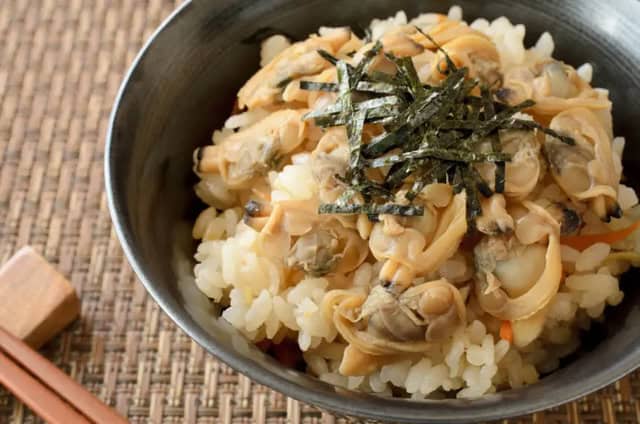 With all things considered, Fukagawa-meshi came from a long history and deserves to be as significant as it is now. Japanese do like to invent or develop many dishes that somehow there are a lot of improvements they make in just one original dish.  The diet of ancient Japan was heavily influenced by its geography as an archipelago, foodstuffs and eating habits imported from mainland Asia, religious beliefs. They also have an appreciation for the aesthetic appearance of dishes, not just the taste and it's not a wonder.