"Namerou" is so family in Japanese tables as it often appear as a side dish or snack for rice (gohan). This dish is also a perfect accompaniment to alcohol, so it has become a standard on the menu of izakaya and other restaurants. However, do you know in detail what kind of dish it actually is? This time, I would like to introduce what kind of namerou is, along with its history and origin of the name. We will also introduce local restaurants serving good namerou so please take a look.
The famous seafood dish in Chiba – Namerou
This is a fisherman's dish that is fresh and loved in Chiba. It is such a satisfying meal that you will lick the plate clean, hence the name namerou which means to lick. It is a seafood dish that consists of multiple kinds of fresh fish minced up together. Then some leaves and miso are mixed in. All diced up together, needing only a knife and a cutting board to make. They focus on it being filled with great taste and being hearty instead of looking good. The fisherman could use their catch of the day and make it right on their boat. This is what makes it deserving of being a fisherman's dish.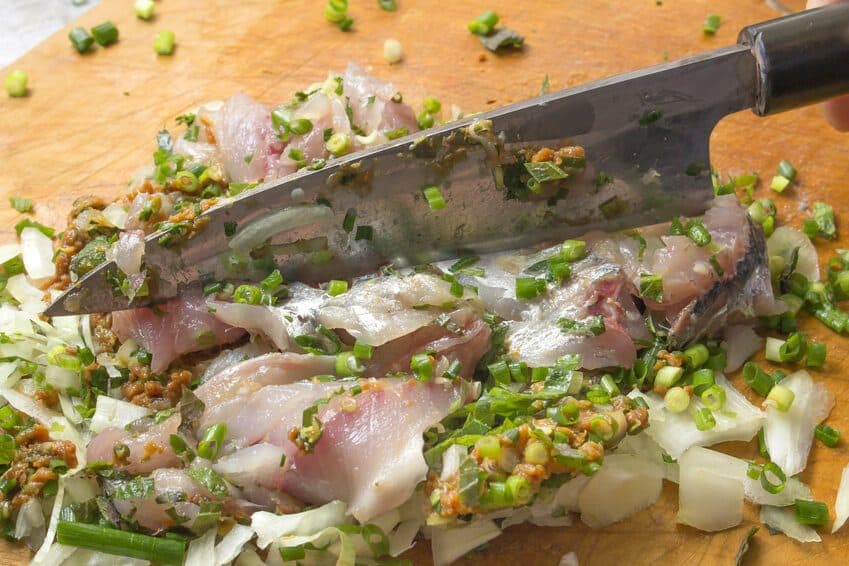 How is namerou made
People are a fan of how simple and easy it is to make Nameou. You can choose from many different types of fish, such as mackerel, horse mackerel, sardines, pacific saury, and flying fish. Select your fish and cut them with a knife into small pieces. After that you add in your other ingredients like the miso and leaves, specifically perilla leaves are often used. Leek, green onions, and ginger are also typically used after being peeled and grated, as they help take the fishy smell away. Now that they are all together, you mash them all up with quick strikes with the knife. You know it is done when it is fine enough to look like a paste and it starts sticking to the cutting board. It is also ideal to eat it with soy sauce as it is a Japan staple condiment.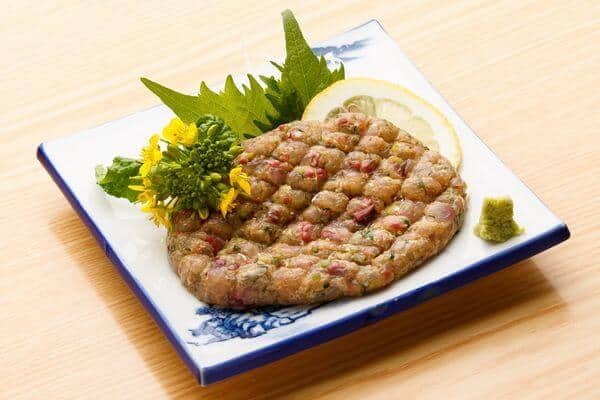 Variety of ways to use namerou
It is such a versatile dish that can be used in many different ways. If you roast namerou then it becomes what is known as sanga-yaki. If you mix namerou with vinegar, then it becomes what is known su-namerou. Then there is the bowl of rice that has namerou on it then green tea is poured on it and it is called soncha. There are so many styles that give this dish a fresh look and keeps its popularity going.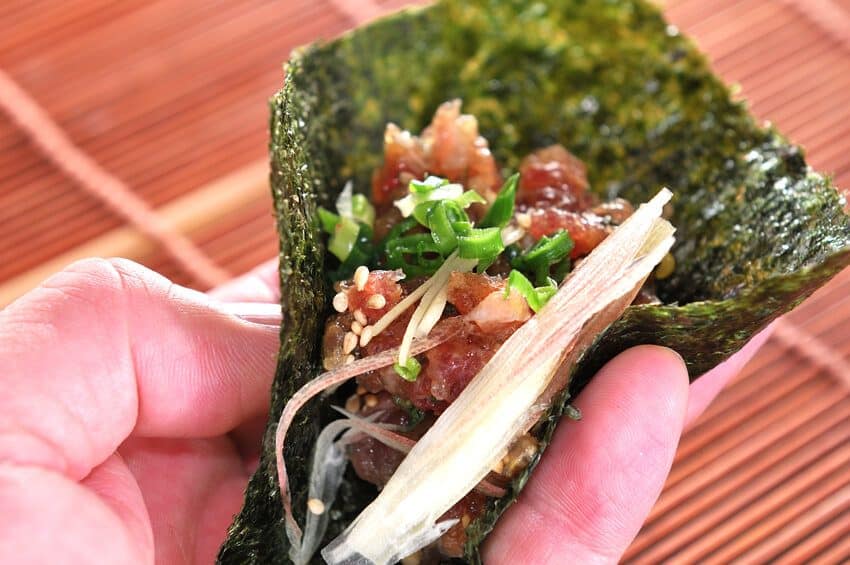 History of namerou
Namero is said to have originated in the Minamiboso region of Chiba Prefecture. Namero was originally enjoyed as fisherman's rice on the sea. On a fishing boat, there is a lot of rocking and not much space, so only simple dishes can be cooked. Therefore, Namero, which is simply made by pounding the caught fish and combining the seasonings, has been loved as a valuable dish on the boat. Incidentally, Namero is popular not only in Chiba Prefecture but also in Mie Prefecture in some areas.
Now where can I eat namerou ?
This is a Chiba prefecture dish, so of course you will find the best restaurants there serving namerou. It is most famous in the southern Boso peninsula area of Chiba. You also want to make sure that the fish is always fresh, so restaurants that have a great source of seasonal fresh fish or are closer to the water will tend to be better. These days, you will find nameou invading most places and all households as a typical dish.
Daitokuya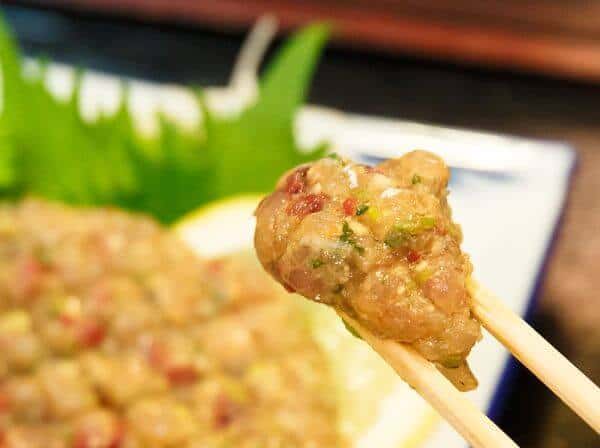 Daitokuya ,it is a great sushi and local fish store in the fisherman town of Minamiboso. Highly rated and a must go to place for the quest to eat good namerou. They are a restaurant with 150 years under their belt and have access to wonderfully fresh fish. They make a variety of sushi and other dishes, but the namerou is still their popular item. They also have great sake to enjoy along with your meal. The value you get here is also amazing. The traditional namerou recipe has served this restaurant well over its long history. They will genuinely make you want to lick the plate clean of all its sticky goodness.
Takenawa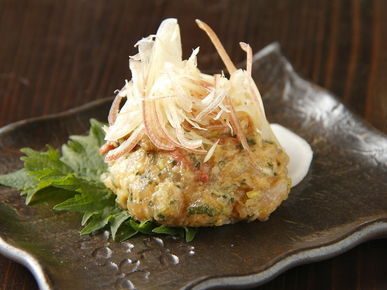 The Chiba prefecture is not the only place you will find this dish. As it is a common dish found throughout japan, here is a nice restaurant (Takenawa) in the Tokyo prefecture. Another great place with a fine selection of sake to enjoy with your namerou. They have a namerou made with red sea bream that they added green onion, perilla, ginger, and then some white miso. This namerou recipe really makes the sea bream flavorful. It is a great seafood restaurant with a chef that specializes in enjoying a great drink with tasty food.
Nakamura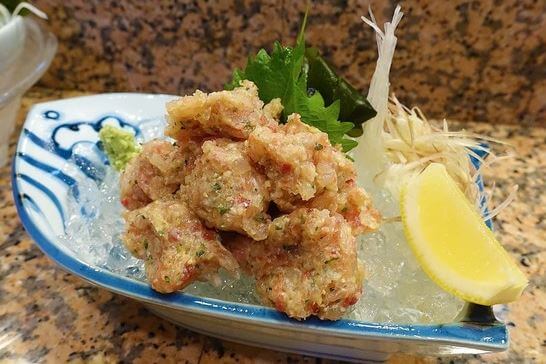 Try the namerou set meal at this nice and stylish restaurant. Enjoy the fish of the day, which could have you tasting horse mackerel, bonito and sardines. They get their fresh fish from the nearby port and deliver beautiful dishes with them. Their namerou is finely made with care, fresh with no odor.
Pman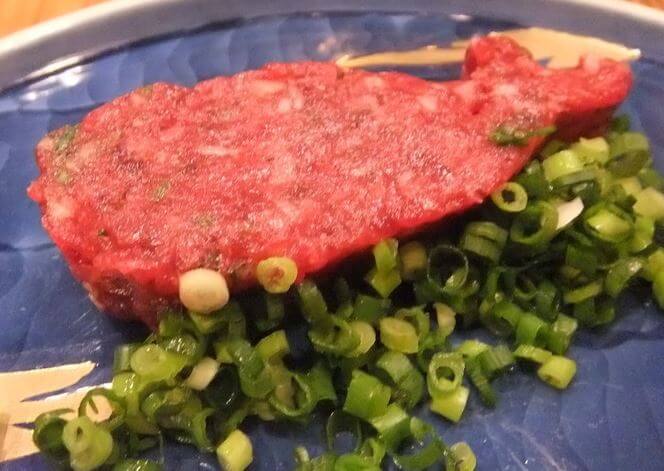 Look at their unique whale shaped namerou. Well, their namerou is actually made from whale. A unique and hard to come by delicacy that will truly make you lick your plate fully clean to not waste one bit of it. The shape, the beautiful red color, and the lack of odor makes this a must try namerou dish. It is thoroughly beaten together with the condiments to achieve the better smell. A unique experience you will not have anywhere else.
Sushi Yamato Tateyama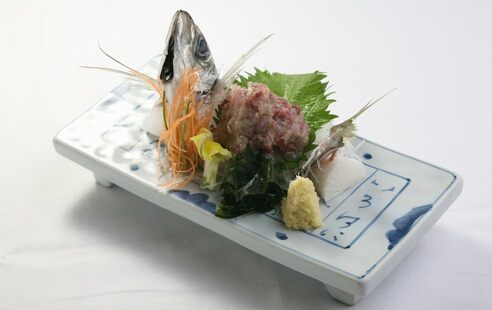 Want a unique dining experience? A conveyor belt sushi restaurant is a must try. Here, you first order on a tablet and then the sushi will come down through the moving lane. It is all fresh and, of course, they serve a tasty namerou sushi. The menu is affordable with a focus on fish that are caught in Chiba. It is a popular place to eat and may even be considered the best Japanese restaurant in Tateyama.