When summer comes, there are hundreds of matsuri (Japanese festival) celebrated in every part of Japan. Food stalls are indispensable for festivals and fireworks displays! Among them, the standard is definitely "takoyaki". Today, let us find out about the history of this traditional snack and if you want to try making it at home, follow our recipes below!
INTRODUCTION TO TAKOYAKI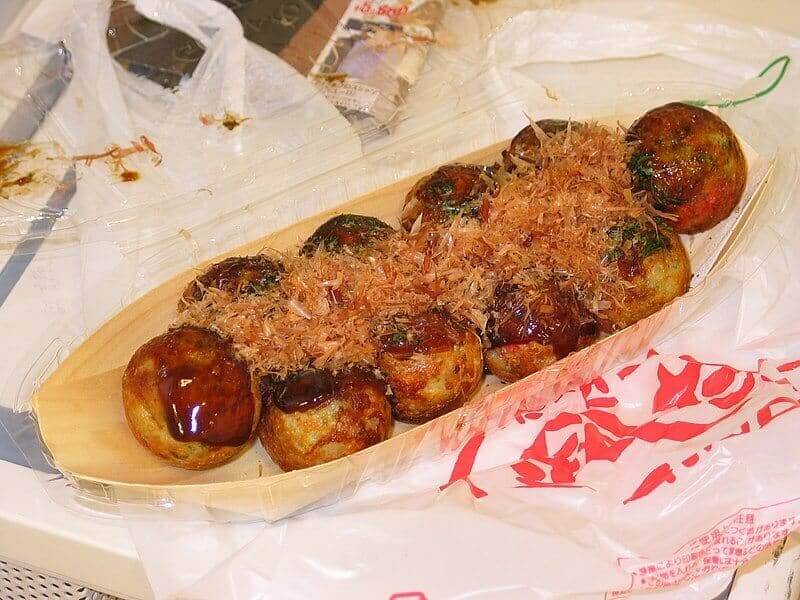 What is Takoyaki? This Japanese snack is made of wheat flour in the shape of a ball with octopus inside is rather one of the famous Japanese food all over the world! Even outside Japan, this has been a comfort food for everyone that is becoming a staple of home party menus. Takoyaki is commonly known in English as Japanese octopus balls and is a specialty of the Kansai region. Another specialty of the Kansai region that is close to Takoyaki is Akashiyaki. It actually looks like Takoyaki but in different methods of cooking as well as the ingredients.
Takoyaki is round balls of fluffy dough made of wheat flour batter that is made in a special pan. It is typically filled with diced octopus inside and tenkasu (tempura scraps), pickled ginger, and green onion. It is usually made with Takoyaki sauce that has a similar taste to Worcestershire sauce and Japanese mayo as well. On the toppings, it usually has a generous amount of aonori (green laver) and shavings of katsuobushi (dried bonito flakes). Moreover, if you are one of the people who like this dish, let's read the whole article down below to know more about it!
ETYMOLOGY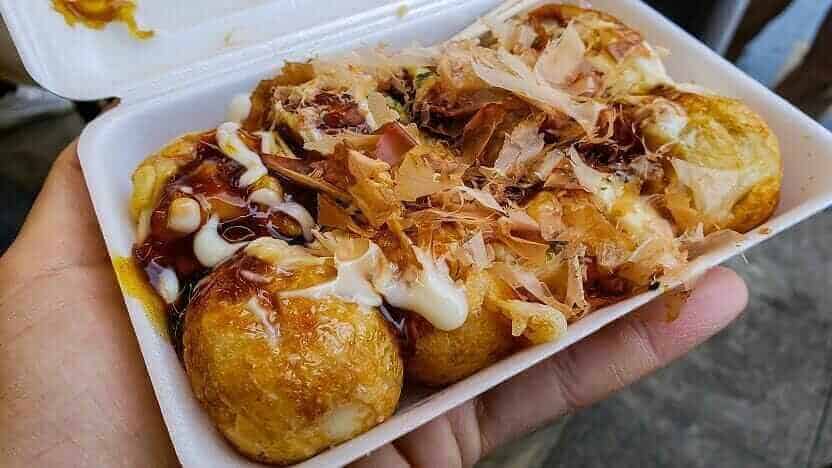 Takoyaki is one of the famous Japanese food in Japan and in other countries as well. The characters in Japanese is "たこ焼き". It comes from the word 'Otako' which means octopus or big octopus. Thus, 'Yaki' is derived from 'yaku' which is one of the cooking methods in Japanese cuisine. It means "to fry or grill". It can be found in the names of other Japanese cuisine items such as teppanyaki, yakitori, teriyaki, and sukiyaki. Apparently, this is where the name Takoyaki comes from.
WHAT IS THE HISTORY OF TAKOYAKI?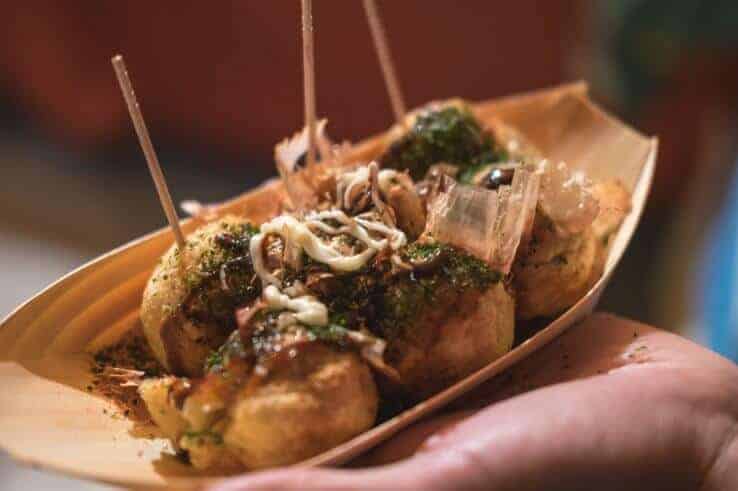 Osaka is where Takoyaki originates. Tomekichi Endo, a street vendor has the invention of Takoyaki in 1935. Takoyaki was inspired by Akashiyaki, a small round dumpling from the city of Akashi in Hyogo Prefecture. It is made of an egg-rich batter and octopus. Takoyaki was initially popular in the Kansai region but later spread to the Kanto region and other areas of Japan. Takoyaki is also a famous Japanese street food where you can find it anywhere. Ever since then, the dish has conquered the taste buds of Japan by storm. It is a staple food of Japanese festivals, sold in stalls called yatai, and can also be found in shops and restaurants all around the country. Takoyaki is now available to buy at commercial outlets, such as supermarkets and 24-hour convenience stores.
However, it wasn't an invention out of the blue. There are previous versions before it finally became a Takoyaki. The oldest known takoyaki store is Aizuya in Osaka. Founded by Tomakichi Endo. It has been open since the 1930s. Before, it was Choboyaki. It's similar to Takoyaki that we know today. It has similar ingredients but in a flat rectangular shape. After choboyaki, raijoyaki became next. The ball shape is the characteristic of Raijoyaki. It has generally had fillings of beef and konjac. It was later then switched to the now traditional octopus and added flavor to the batter. Then, Takoyaki was born. It goes along well with brown sauce, similar to Worcestershire sauce. The food, known as "octopus balls", quickly became popular throughout Japan.
WHAT ARE THE INGREDIENTS OF TAKOYAKI?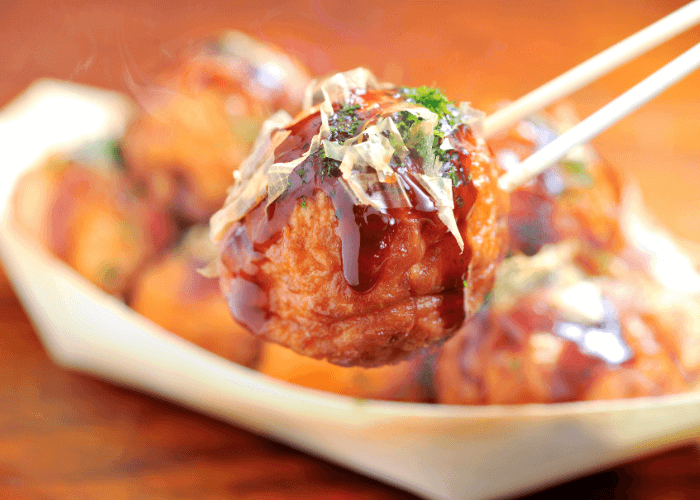 Batter
One of the main ingredients of Takoyaki is flour. Plain flour or cake flour would do for the batter. Next is a simple hint of dashi stock, milk, and eggs to put on a batter mixture.
Fillings
For the fillings, traditional ingredients include octopus, spring onion, pickled ginger, and tenkasu (tempura bits).
Toppings and sauces
For the toppings, the ingredients are Takoyaki Sauce, Japanese Mayo, Aonori (green laver), Katsuobushi (dried bonito flakes). Nowadays, you can purchase Takoyaki powder, sauce, and Japanese mayo in many grocery stores all over Japan. In fact, you can all buy these ingredients conveniently in stores almost everywhere. So, now that you already have the ingredients, it's time to find the types of equipment needed for making Takoyaki!
WHAT ARE THE TYPES OF EQUIPMENT NEEDED?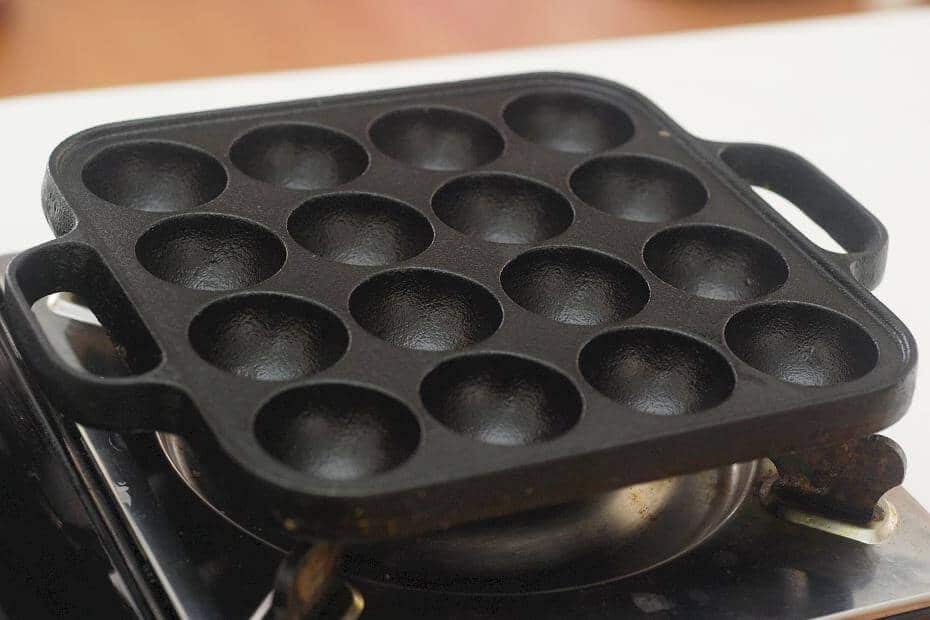 Special Takoyaki Pan
To make a Takoyaki at home you'll need a special pan. They come in all shapes and sizes. You can cook it on the cast-iron skillet and also, you can use an electric takoyaki pan. The pan itself is the mold maker for the round shape of Takoyaki.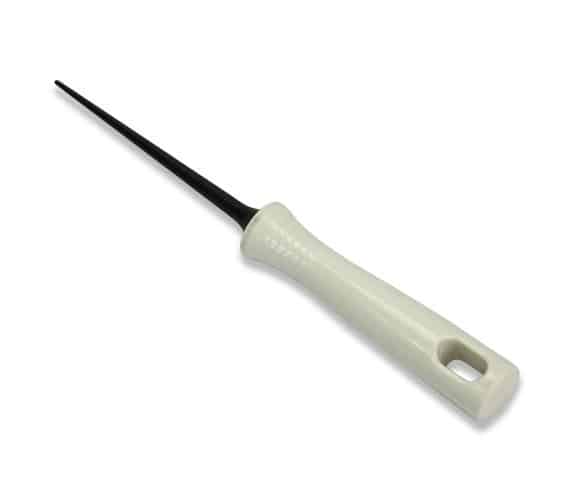 Pick or Turning Spike
You'll also need a takoyaki pick or chopstick to flick the takoyaki into shape while grilling. Additionally, you will be also needing an oil brush for the pan to add some oil but this is just optional.
HOW TO MAKE TAKOYAKI?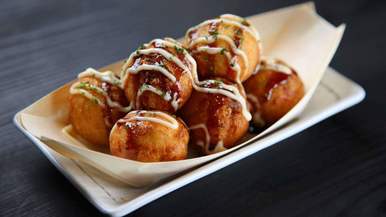 Slice and cut the ingredients
Firstly, cut off the root of the onion and cut it into small pieces. Then cut the octopus into small pieces or in the size you prefer.
Make a batter
Next is gently put the dough ingredients in a bowl. These are flour, milk, and eggs. Also, add a small amount of dashi. Mix well with a whisk until there are no lumps.
Heat the pan
Heat the special Takoyaki pan. If you can adjust the temperature, set it to a medium temperature of about 180°C. Brush off the vegetable oil all over to the small round cups of the pan.
Adding the fillings
Pour the batter gently. Then, add the octopus bits gently, add the green onions and Tenkasu, and then add the pickled ginger. Bake and wait for about 1 minute of 30 seconds each and turn over with a pick or skewer while inserting the protruding dough.
Rolling
Turn it and roll to shape and bake until it becomes round and brown. Please note that if you return it with a bamboo skewer many times, holes will open in the dough and it may not be evenly cooked.
Add the toppings
Finally, add the special sauce, Japanese mayo, and sprinkle some aonori and a generous amount of Katsuobushi or dried bonito flakes on top. Serve and enjoy! Don't forget to share it with your family and friends as well!
WHAT ARE THE OTHER ALTERNATIVE FILLINGS?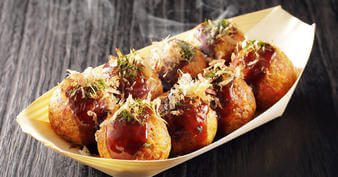 If you don't like octopus, feel free to substitute your own favorite fillings. Here we will introduce some alternative variants of fillings that you can put inside the Takoyaki balls.
Seafood – you can also replace Octopus with other seafood such as shrimp, squid, and scallops. Shrimp is very popular from children to adults. The crispy texture is also popular as a takoyaki arrangement ingredient. It will be easier to handle if you cook it quickly and cut it into bite-sized pieces. Squid has the same texture as octopus so you can replace it if you can't find an octopus. To remove its odor, heat it quickly and prepare it, then cut it into bite-sized pieces. Scallops are also good to mix with octopuses.
Cheese – this is relatively compatible with any ingredient. The creamy mouthfeel and rich umami are very popular with men and women of all ages.
Bacon bits – crispy fried bacon pieces are one of the most popular alternatives as fillings and also compatible for the taste!
Sweets – you can also try to add chocolate! The combination of slightly salty takoyaki dough and sweet chocolate is a surprising match. In this case, milk chocolate, which is sweeter than bitter chocolate, will give a more dessert-like finish. A banana is also a good addition to chocolate and it will taste like chocolate banana. A mashmallow and mochi are good as well since it will melt when heated and it gives a good taste.
WHAT SAUCE OF TAKOYAKI IS POPULAR IN JAPAN?
Takoyaki sauce is usually used for takoyaki, but other sauces are also used. What sauces are popular in Japan for takoyaki?
The most popular is takoyaki sauce, while the second most popular is mayonnaise. These two are often served together poured over takoyaki. Other popular choices include soy sauce, ponzu, and salt. Many different sauces go well with takoyaki, so try them all and you may discover something new.
WHAT ARE THE RECOMMENDED RESTAURANTS OF TAKOYAKI?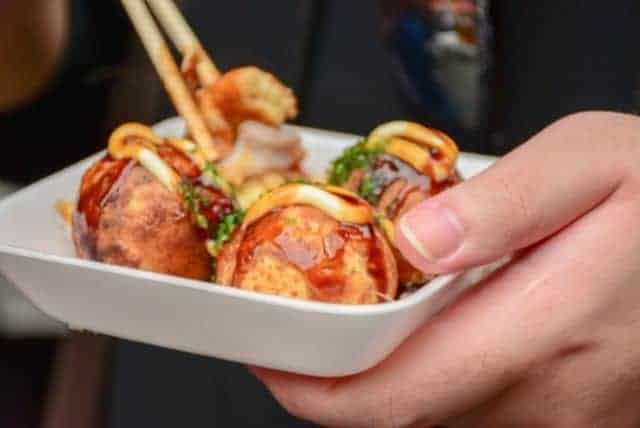 Aizuya
Recognized by Michelin from 2016 to 2018, this restaurant is the origin of Osaka's famous gourmet Takoyaki. The head of the family and founder of Takoyaki, Tomekichi Endo was born in Aizu, Fukushima Prefecture. The name Aizuya is said to have been taken from his hometown. They have rajoyaki first instead of it which has beef fillings. Two years after rajoyaki, Takoyaki was born. Nowadays, they serve one of the best one in the Kansai region. The only ingredient for the original takoyaki was an octopus. It has become a gourmet food that represents Osaka.
Hanadako
"Hanadako" is another top restaurant that serves Takoyaki. The location of this restaurant is in the Shin Umeda Shokudo district of Umeda, Osaka. At first glance, the atmosphere seems to be mistaken for a standing bar, but there's a delicious Kansai gourmet inside! Especially popular green onion mayo has plenty of green onions and you can't see the it. In addition, it looks impactful, but it's not greasy, so you can eat it easily. This restaurant is not just only famous for the locals but also for the foreigners who are visiting the Kansai.
Takoyaki Doraku Wanaka Osaka Castle
Wanaka is a sushi and confectionery store before. But now it is a Takoyaki store near Osaka Castle. They serve fresh and delicious one with a generous amount of toppings and fillings with lots of varieties. Since this is near to a concert venue which is Osaka-jo Hall, you can actually go and attend the concert without getting hungry!
Takoriki
If you want to enjoy the night in Osaka, this restaurant is indeed a perfect place to stay. In Takoriki, you can have both Takoyaki and wine together.
Otako
This restaurant is a famous Takoyaki store in Dotonburi for locals and tourists. Otako which means Big Octopus, so the octopus filling inside is indeed big and has a satisfying taste! Additionally, many people come from outside the prefecture to visit this shop.
FINAL THOUGHTS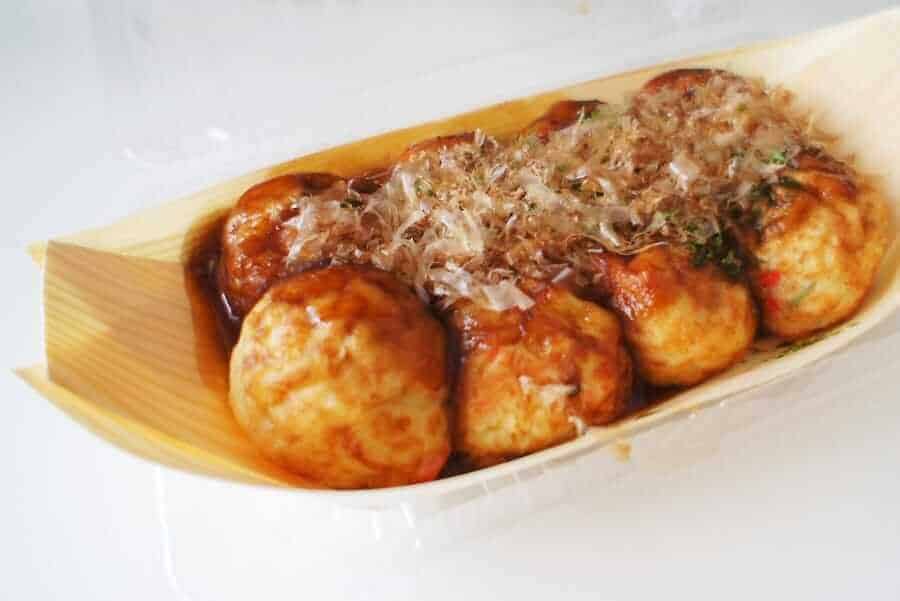 In conclusion, Takoyaki is usually present in summer festivals. However, you buy it almost everywhere. Even outside Japan, it is very famous to the point that lots of foreigners selling this in their countries. Aside from having a delicious taste, the ingredients are quite affordable and you can almost find it everywhere. In addition, they're also super easy to make and you can tweak them to your preferences. If you don't like octopus, you can substitute it with your favorite proteins or something sweet! You can actually be creative by making your own Takoyaki! If you don't have the special pan, you can make a giant takoyaki pancake on a regular frying pan! Also, putting a generous amount of toppings would definitely taste good especially bonito flakes. People find it interesting when the Bonito Flakes starting to move. It actually reacts with the heat as it begins to absorb moisture.
So, if you happen to visit the Kansai region anytime soon, don't forget to taste the authentic Takoyaki as it gives you a special feeling of Japanese culture that you won't forget.