Today, we are going to introduce the local gourmet "Himeji Oden" in Himeji City, Hyogo Prefecture. Then what is Himeji Oden? It is oden that is eaten with ginger soy sauce, and whether it is slowly simmered Kanto or thin dashi oden, if eaten with ginger soy sauce, it is Himeji oden. The ingredients are no different from regular oden, such as daikon, eggs, and konjac. Until about 15 years ago, there was no name for Himeji Oden, but in recent years, the name has become popular in the "B-1 Grand Prix", which competes for local gourmets. Let's find out what is so unique about this kind of oden!
ORIGIN / HISTORICAL BACKGROUND
The time of origin of Himeji Oden is uncertain. It was said to be around 80 years since it was discovered. There is a theory that the ginger soy sauce was accidentally sprinkled on the oden, a type of nabemono (Japanese hot-pot dish), that had been boiled too much during the war and post-war food shortages. It is said that it has already been served, or in the early Showa period, it was already eaten with ginger soy sauce, and the beginning is uncertain. Oden is a type of nabemono that consists of several ingredients such as boiled eggs, daikon, konjac, and processed fishcakes stewed in a light, soy-flavored dashi broth. It is common to partner the oden with kneaded Japanese mustard but in Himeji City, Hyogo Prefecture and its surrounding areas (around Kakogawa-Aioi), ginger soy sauce is added, and eaten with the whole oden.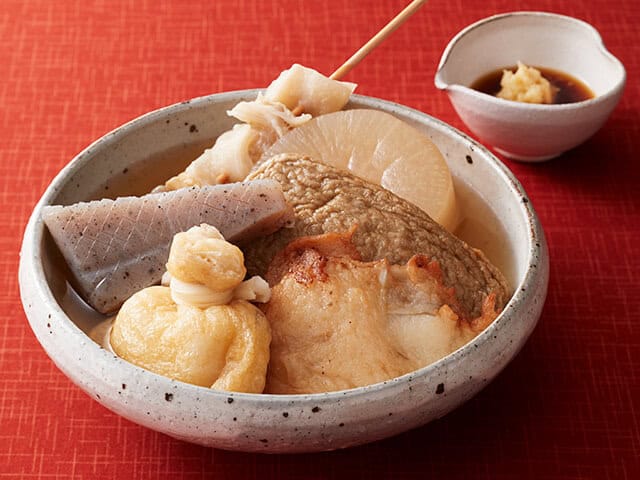 In addition, Tatsunoichi (next to Himeji City) and Himeji are soy sauce production areas, and Shirahama (Himeji City) was the production area for ginger until the early Showa era, so a unique way to eat using local ingredients was born. In this area, the method of eating ginger soy sauce on oden has been around for a long time, but it has only recently been called "Himeji Oden." It didn't get much attention because it was so common in Himeji and the surrounding areas. It is said that the "Himeji Oden Expedition" named it "Himeji Oden" in 2006. At present, it is attracting attention as a local gourmet in Himeji.
HOW IS HIMEJI ODEN MADE?
The Process
The ingredients are the same as normal oden such as Japanese radish, eggs, burdock heaven, and konjac. We also add Kamaboko, a specialty of Himeji, and octopus that is landed in Himeji. There is a case in the Himeji neighborhood, in the early Showa era when eating oden with a strong flavor of soy sauce called Kantodaki, the broth was cut off and ginger soy sauce was sprinkled on. After that, Kansai-style light-flavored oden appeared, and it seems that instead of putting it on top, a style of eating with ginger soy sauce in a small plate was created. Ginger soy sauce is thick soy sauce with grated ginger added in an appropriate amount according to your preference. 
In addition, mirin and sake are added and boiled to the boil, and some restaurants make their own ginger soy sauce. The oden itself is the same as the usual one, both types are mixed with the light Kansai style depending on the home or restaurant, and the Kanto style that is strongly seasoned with soy sauce and mirin. Anyway, if you eat it with ginger and soy sauce, you have Himeji Oden. 
What is so unique about himeji oden?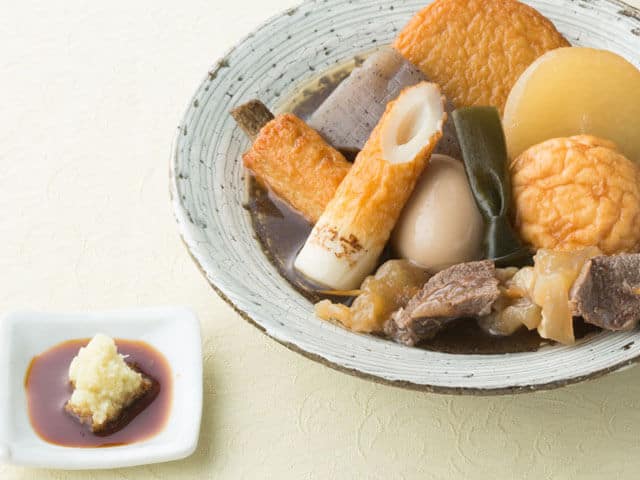 The most unique in Himeji Oden is the ginger soy sauce itself. The way the ginger soy sauce is being poured in the oden is one way of uniqueness that is only common practice in Hyogo prefecture with Himeji at the center and was said to have begun in the early Showa era (mid-1920's). It also depends on the way restaurants served their Himeji Oden. Some have it with ginger soy sauce and some topped with brewery's sake lees. While upon trying the Himeji Oden, you will find it not too strong, and on the contrary, oden not soaked in soy sauce is actually very lightly seasoned.
RECOMMENDED HIMEJI ODEN RESTAURANTS
If you want to be charmed by Himeji Oden and you want to go to the restaurants that can clearly convey its charm, here are some recommended Himeji Oden restaurants.
Noko Restaurant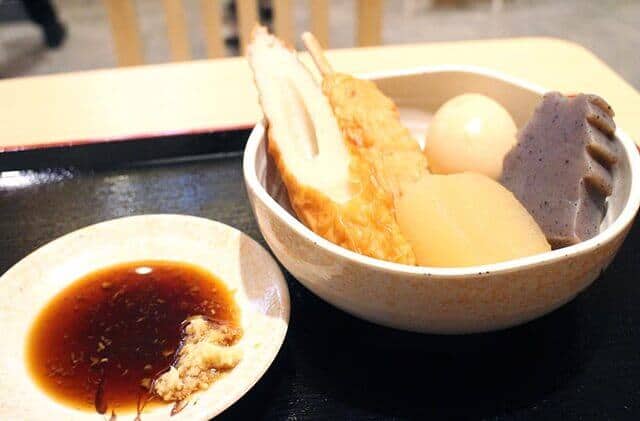 If you want to taste the Himeji Oden in a calm space with counter seats where you can easily look out for your food, Noko restaurant is one of those great restaurants that served Himeji Oden with a thin soup stock of kelp and ginger soy sauce on a separate plate. The proud broth that shines in a golden color has a gentle taste that has not changed since its establishment. The Kansai-style dashi stock made from bonito and kelp is so light that you can drink it after eating all the ingredients. This is a store specializing in oden that is very popular locally. The origin of the naming is that people used to play on Noko Island a long time ago.
Nadagiku Kappa Tei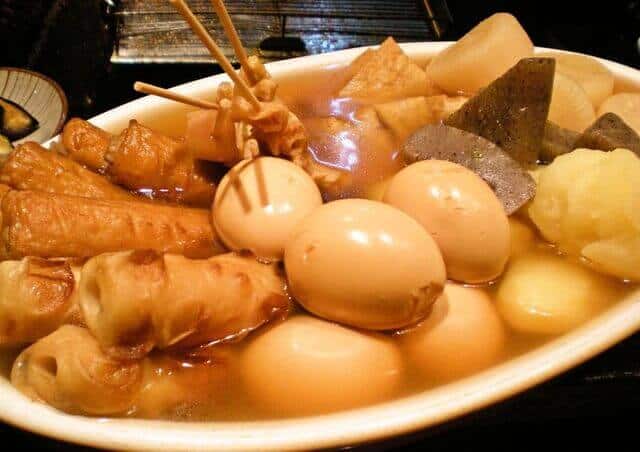 Saketatei Nadagiku is a restaurant directly operated by Nadagiku Sake Brewery, where you can enjoy the taste of your food, such as a single dish and the taste of sake, centered around Himeji Oden. It is a popular store that is often featured in local Kansai media. This shop has a black oden and white oden. The black oden is sprinkled with ginger soy sauce that uses Kushima soy sauce. When you eat a bite, the flavor of ginger soy sauce spreads in your mouth. The white oden is based on sake lees. You can add Shichimi to your liking. It goes well with sake. The contents of the skewers change depending on the day, but the contents are the same in black and white.
Stopper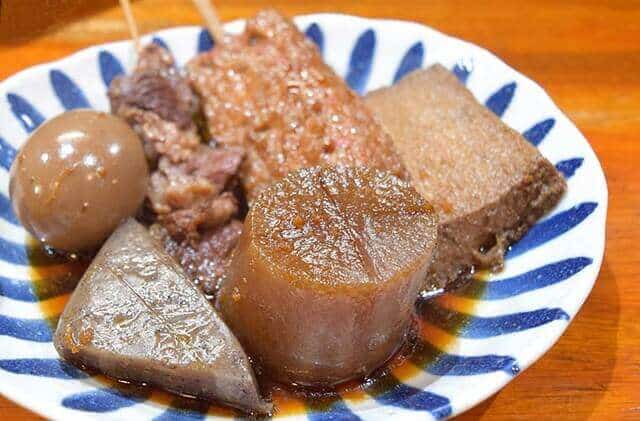 The "stopper" is well-known not only to the locals but also to tourists, and there are many famous people like entertainers and athletes who come and go easily. It is a famous store that requires reservations. Although the local charcoal grill is listed on the signboard, it has a good reputation not only for birds but also for oden, and it is said to be the origin of Himeji Oden. It's been 57 years since the shop was open at the current location, the world heritage site, Himeji Castle, a national treasure. It is a long-established store that has been making Oden for more than 60 years, for generations.
The Oden stewed in sweet, thick soup stock for about 3 days has a very savory taste. This is the type that is served after sprinkling with ginger soy sauce. The taste of thick soup stock and the harmony of ginger and soy sauce will give you a habit.
Himeji local sake and Himeji Oden Honpo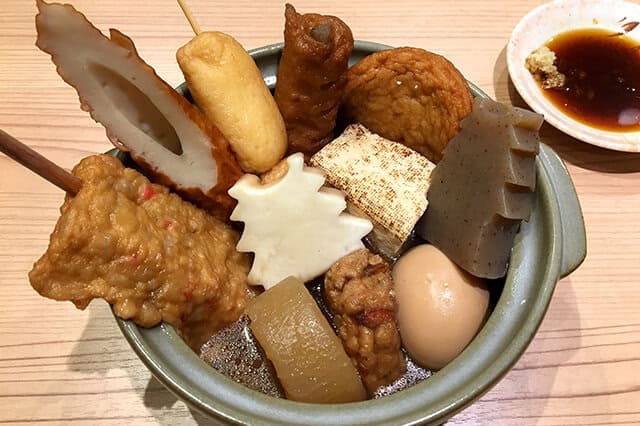 There is a food court about 120 seats and the space is spacious. Even if you have a lot of luggage or a stroller, you can easily stop by. "Himeji Oden Honpo 5 dishes" 500 yen is a menu where you can choose 5 kinds of favorite seeds. Popular items are "Kanbe lotus root sticks" and "Castle konjac" which is a model of Himeji Castle, where the local ingredients, Himeji lotus roots are crunchy. It seems that the sea bream part of konnyaku wasn't there from the beginning, but was improved to the current shape. The ginger in ginger soy sauce to be added is from Shirai Farm in Ichikawa Town. The taste is solid, and it leaves a savory taste in your mouth without losing to the Japanese style of oden.