Tofu plays an important role in Japanese traditional cuisine and is loved by most of Japanese. There are so many types of tofu that are on sales in supermarkets in Japan. However, firm tofu (or momen tofu) and silken tofu (or kinugoshi tofu) are among the most common tofu in Japan. Today, let's find out what is kinugoshi tofu and how Japanese people turn it into such amazing dishes!
What is Kinugoshi Tofu?
Kinugoshi Tofu (絹ごし豆腐) is silken tofu with soft and smooth texture. In contrast to momen tofu (firm tofu), kinugoshi tofu has a smooth texture like silk so it is named kinugoshi (in Japanese, kinu 絹 literally means silk). Because of its name, some people often misunderstand that this tofu is made from silk; however, this is not true.
While momen tofu is used in boil and stir-fry dishes, silken tofu is mostly eaten straight and used as ingredient for salad, hiyayakko, etc.
History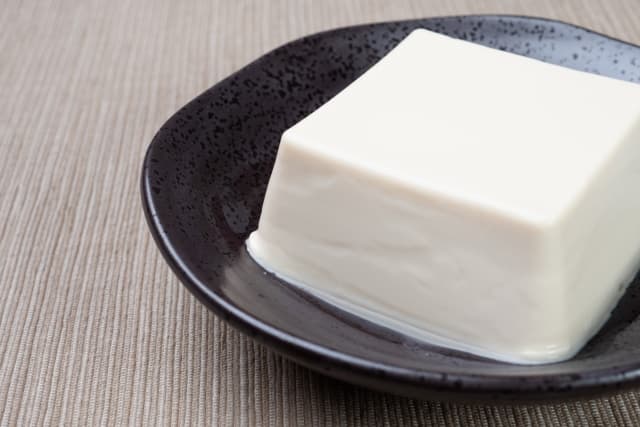 The origin of Tofu
Tofu is a processed soybean food that has been eaten in wide areas of East and South-East Asia since ancient time. There are various theories about the origin of it.
One theory bases on a record in the 16thth-century Chinese book called "Honzo Koumoku" saying that "Tofu was first invented by Liu An, who was a Han dynasty Chinese prince and ruled the Huainan Kingdom. However, this theory is not believed by many people because there is no historical record of tofu until the Tang Dynasty.
The most strong theory on the origin of tofu holds that it originated in the Tang Dynasty between the 8th and 9th century. The word "tofu" is believed to first appear in the book called "Shinroku" in 10th century.
Introduction to Japan
The Japanese missions to the Tang China during the Nara period (710-784) impacted Japanese lifestyle a lot, including its food culture. After those missions, Japanese envoys returned to Japan and brought back "tofu". However, during this time, tofu was considered as vegetarian food for monks, and then spread to samurai and aristocrats.
It was not until the Edo period that tofu began to become popular among the common people. During that time, the type of tofu that was eaten was momen tofu. Then, how about the silken tofu? Let's find out in the next section!
First appearance of silken tofu
Kinugoshi tofu (or silken tofu) first appeared in the middle of the Edo period. In 1691, Tamaya Chubei invented silken tofu. In the 4th year of the Genroku era (about 315 years ago), he, accompanied by Ueno prince (Imperial Prince of the 111th Emperor Gosai), moved from Kyoto to Edo (former name of Tokyo) and opened a teahouse.
Imperial prince Ueno really liked the silken tofu and praised it as "beautiful as snow on bamboo". He also named it "Sasanoyuki" (笹乃雪) (literally "snow on bamboo"). There is also a long-established shop called "Sasanoyuki" that is still popular in Japan up until now.
Fun fact
Tofu day
Tofu can be used in a variety of dishes in everyday's meal. However, there is an anniversary called "Tofu Day" on October 2nd. The annual "Tofu Day" was established in 1993 by Japan Tofu Association with the hope that more people will eat tofu.
Events related to tofu
There are no special events on Tofu Day. Therefore, we would like to introduce events related to tofu:
Usotsuki Tofu Day
In Hakuho no Sato, Yonago City, Tottori Prefecture, there is an event called "Usotsuki Tofu Day" (literally Liar Tofu Day) held annually on the Saturday closest to December 8th.
The event is derived from the fact that a dishonest merchant ate tofu soup on December 8th under the guise of "wiping the slate clean". Apart from eating special tofu hot pot and udon noodles, if you want to "ease the lie", you can write this lie on a small piece of paper called ippitsusen and bring it to a nearby shrine and burn after a few days.
Daisen Tofu Matsuri
Every year in mid-March, the Daisen Tofu matsuri is held at Daisen, Isehara City, Kanagawa Prefecture. There are more than 30 kinds of events such as making yudofu, hand-made tofu experience and fast-eating tofu competition, etc.
Nutritional information
Energy
(kcal)
Protein
(g)
Lipid
(g)
Carbohydrates
(g)
Calcium
(mg)
Momen Tofu
(per 100g)
72
6.6
4.2
1.6
86

(per 100g)
Kinugoshi Tofu
56
4.9
3
2
57
Yaki-dofu
(per 100g)
88
7.8
5.7
1
150
In comparison with the amount of energy per 100 g, momen tofu is 72 kcal while silken tofu is 56 kcal. We can say that energy in silken tofu is lower than momen tofu.
In terms of other nutrients, such as protein and fat, momen tofu shows slightly higher values ​​than silken tofu. This is because firm tofu is squeezed with a weight to remove moisture. Due to this difference in the manufacturing process, the ratio of nutrients per weight is also different.
Kinugoshi Tofu FAQ
When did silken tofu first appear?

Silken Tofu (or Kinugoshi Tofu) first appeared in the middle of Edo period. Tamaya Chubei was the creator of it.

What is "Sasanoyuki"?

"Sasanoyuki" (笹乃雪) is a long-established tofu restaurant in Tokyo. The name of it means the beauty of snow upon bamboo leaves, first opened in 1691 and is popular among Japanese people.
How to make silken tofu?
Ingredients
| | |
| --- | --- |
| Ingredients | |
| | 500ml |
| | |
| Equipment | |
| | |
| Measuring spoon | |
| | |
| Pot | |
| | |
| Mug | |
How to make silken tofu (Kinugoshi Tofu)?
Preparation
Choosing soy milk
Check the ingredients and choose one that uses only water and soybeans. Be aware not to choose products containing pH adjusting agents.
Choosing nigari (or bittern)
You can buy powdered bittern, which is less bulky and lasts longer than liquid bittern.
Boiling
Boiling water
Boil water in a pot and bring it to a boil.
Mixing soy milk and bittern
Mix soy milk and bittern in a bowl. The amount of bittern depends on the type. For liquid bittern, follow the instructions on the label.
Boiling the mixture
Pour the mixture of soymilk and bittern into a mug. Boil over medium low heat for 30 minutes.
Turn off the heat and leave the mixture for 10 minutes with the lid on. That's how you make the silken tofu!
Remove the harshness (optional)
If you put too much amount of bittern, you can follow these following instructions to remove the harshness of tofu:
Put tofu in the container
Prepare a large bowl of cold water. Pour water little by little into the container.
Shaking
Lightly shake to float the tofu. If it collapses, just keep soaking in water.
Draining
After 30 minutes or more, drain the water.
Serving
Chill the tofu in refrigerator. You can cook with dishes such as salad, hiyayakko or eat straight with dashi soy sauce. Itadakimasu!
Restaurants/ Stores
Tofu room Dy's (豆腐room Dy's)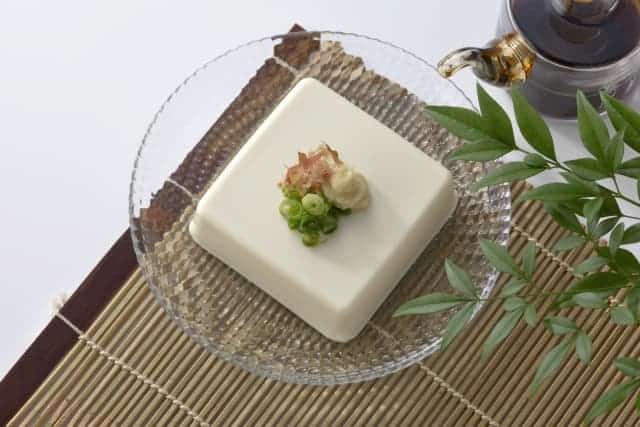 "Tofu room Dy's" offers sandwiches and desserts made from tofu. The secret to its deliciousness is the cacrefully selected spring water and domestic soybeans solidified with natural bittern from Izu Oshima.
The "Tofu Sandwich" is a signboard menu of the restaurant. Isn't it interesting to try the combination of Japanese and Western styles? There are 10 types of "Tofu Sandwich" in total. In addition, there are also 4 types of desserts and all of them are made from tofu. We recommend you try the "tofu cheese cake", which is made frorm tofu, Hokkaido cream cheese and organic eggs.
Sasanoyuki (笹乃雪)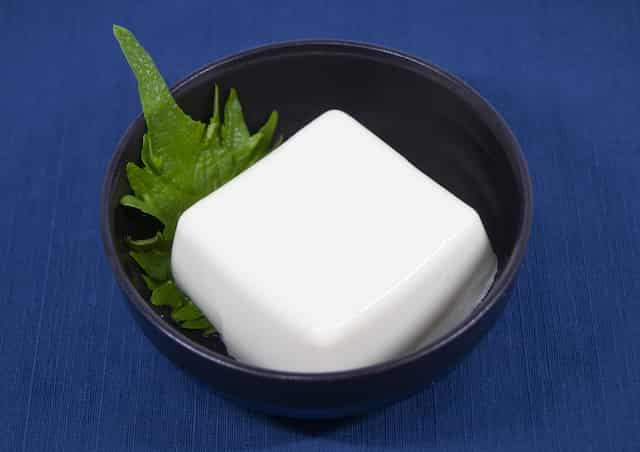 Sasanoyuki is a long-established restaurant, whose founder was believed to be inventor of silken tofu.You can enjoy the special tofu made from the groundwater from 80m below the ground, using a method that has been handed down for over 300 years.The specialty of Sasanoyuki is the Ankake Tofu, which has been sold since its open.When you order, you will always get two bowls. It is because of the fact that when imperial prince Ueno ate this dish, it was so delicious that he decided to eat two bowls.
In any course or set of lunch, you can always have four kinds of tofu: cold tofu, ankake tofu, sesame tofu, and Uzumi tofu (tofu chazuke). The store is now close but will reopen around the summer of 2023. You can follow their website written below for details on new store locations, scheduled opening dayes, etc.
Tofu Cuisine KICHIZA (とうふ料理吉座)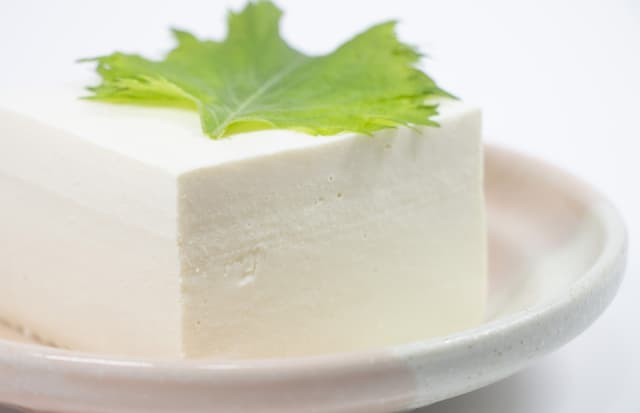 This is a special store of "Nikko Tofu" made from the famous water of Nikko. You can enjoy dishes such as sesame tofu and yudofu, as well as creative dishes such as "Miso-pickled tofu and shrimp".
It's located inside a department store, so it's such a convenient place for meeting up with friends. There are private rooms for up to 6 people, so it's a perfect place for a special meal.
Takeaway
Tofu seems to be a simple ingredient; however, with Japanese people's creativity, we can enjoy a lot of food from tofu. With a silken and smooth texture, silken tofu is suitable for dishes such as salad, hiyayakko or even miso soup, etc. Why do you follow our recipe and try to make it at home by yourself!
From silken tofu, you can use this recipe to make hiyayakko at home! Other from kinugoshi, if you are a fan of tofu, check it out here to find out more about other common type – momen tofu.