Soup curry has exploded from Sapporo in recent years. It is a smooth soup that is a blend of dozens of spices, and usually contains meat such as chicken and a lot of vegetables. There are various types of spices and ingredients, and you can enjoy various types of soup curry depending on the shop. Today, we will introduct about this dish.
What is Soup Curry?
Soup curry (スープカレー) is a traditional Japanese spicy soup with rice in a nutshell that is a famous local gourmet in Sapporo, Hokkaido. When you see it anywhere in Japan, the method of making it is completely different from the thick roux curry, and it may be more correct to call it a soup dish rather than a curry dish. Unlike Japanese curry rice, which locals serve on one plate, the Japanese generally serve soup curry with soup and serve the rice separately.
Additionally, soup curry often contains chopped vegetables and large pieces of meat. Even if the ingredients are too big to eat in one bite, they are often easy to eat because they are soft enough to be cut with a fork or spoon. The ingredients of this dish at any store are vegetables. Thus, it contains fried or stewed vegetables. And so, there are various types of soup, from about 2 kinds of vegetables to those with more than 10 kinds of vegetables.
Etymology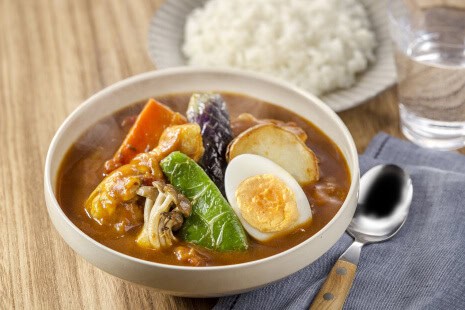 Soup curry (スープカレー) is a meal in which they cook the rice in a soup with different spices, vegetables, and meats. In Japan, a curry dish used to be only curry and rice, but the soup curry has become increasingly popular in the last 20 years. The soup curry boom came from Sapporo's Ajanta (アジャンタ) and Magic Spice (マジックスパイス), and the soup curry's origin is to be the "medicinal cooking curry (薬膳カリィ)".
Origin of Soup Curry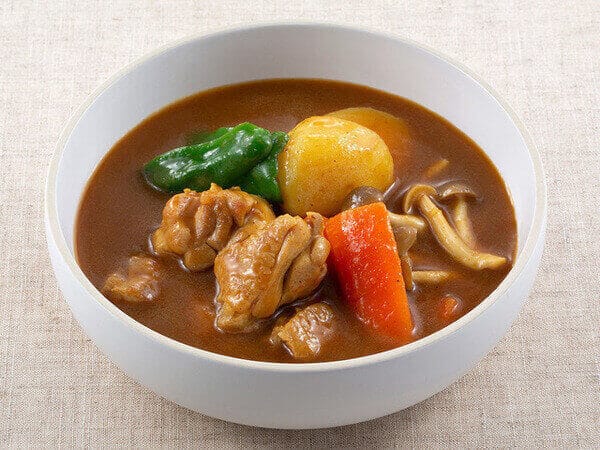 Japanese believed that soup curry have originated from medicinal curry, which developed in the 1970s in Sapporo, Hokkaido, based on Indian and Nepalese cuisine. They first served it as a staff dinner at a coffeehouse that is now Ajanta, a soup curry restaurant. The menu finally included a spicy soup with cooked bone-in chicken. Although there are other alternatives, this is the commonly recognized origin story. They have enhanced and refined it into the modern "soup curry" in the 1990s. Then, in 2000, the "soup curry boom" happened, and it became well-known across the country. They cooked it not just in the cold winter, but also as a healthful diet to help people endure the hot summer when they are more likely to become heat exhausted. 
With the introduction of a new category of curry dishes, its popularity grows, and more specialized stores will begin to serve it. Menu names such as "Medicinal food curry," "Sri Lankan curry," and "Indian curry" varied depending on the shop, and there was no standard naming system in place yet. Hence, this meal was allegedly dubbed Soup Curry by the owner of the Magic Spice Sapporo Main Store (Shiroishi Ward), which launched in 1993. And so, this naming, which has been entirely captivated by the new category of curry dishes, has taken root since then.
Soup Curry Recipe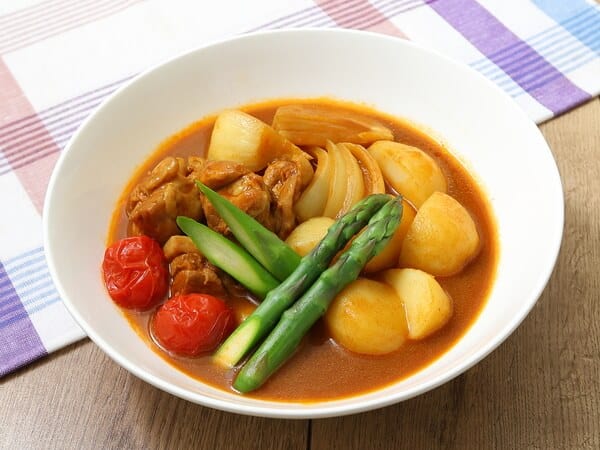 Soup Curry Ingredients
| | |
| --- | --- |
| Ingredients of Soup Curry for 4 persons | |
| Java Curry <Dry> | 185g |
| Chicken (wings) | 52g |
| Salt | 3g |
| Black Pepper <Powder> | 2g |
| Onions | 200g |
| Carrot | 200g |
| Cumin | 7g |
| Raw garlic | 4g |
| Canned cut tomatoes | 200g |
| Consommes (solid) | 11g |
| Salad oil | 28g |
| Water | 800g |
| Potatoes | 150g |
| Eggplant | 160g |
| Bell peppers | 60g |
| Bunashimeji mushrooms | 100g |
| Boiled egg (cut in half) | 40g |
| Frying oil | 30g |
How to make Soup Curry
Prepare the chicken, onion, and carrot
Cut the chicken along the bone and rub in salt and black pepper. Cut the onion vertically into 4 equal parts and slice into thin slices to cut the fibers. After, cut the carrot into 3 equal parts and then cut it vertically into 1 cm widths.
 Making the curry soup
Next, heat salad oil in a thick saucepan, add a few grains of cumin, and when it makes a squishy sound, add all the cumin. When it smells, add the chopped onions and fry it along with the cumin.
Bake on low to medium heat
Add chicken and chopped garlic and bake on low to medium heat until the surface of the chicken is brown so as not to burn the cumin.
Simmering all the ingredients
Add water, carrots, cut tomatoes, and consomme, remove the lye when it boils, and simmer over low to medium heat for 15 to 20 minutes until the ingredients are tender.
Preparing and cutting the potatoes
While boiling, wash the potatoes well, wrap them in plastic wrap with the skin on, heat in a microwave oven at 600W for about 3 minutes and cut into 4 equal pieces with the skin on.
Cutting the eggplant, peppers, and mushroom
Cut the eggplant in half vertically and cut the grid to make it easier for the fire to pass through. Cut the peppers in half vertically, and for the Bunashimeji mushrooms.
Frying the toppings
Wipe off the water from potatoes, eggplants, peppers, and shimeji mushrooms, and fry each type with frying oil (salad oil) about 1 to 2 cm high in a frying pan.
Adding the final touch
Turn off the heat in the pot, add the roux to melt it, and simmer again on low heat for about 5 minutes. Serve the curry in a bowl, top with the fried potatoes, eggplants, peppers, shimeji mushrooms, and boiled eggs cut in half, and serve with rice.
Point taken when cooking
By cutting the bone, it becomes easier for the soup to taste better from around the bone. If you use chicken thighs, cut them into bite-sized pieces here. The point of deliciousness is to bake it firmly until the surface is colored to give it a savory flavor. With deep-fried vegetables as a topping, the taste of the ingredients will enhance and it will go well with the soup.
What kind of ingredients are in the soup curry?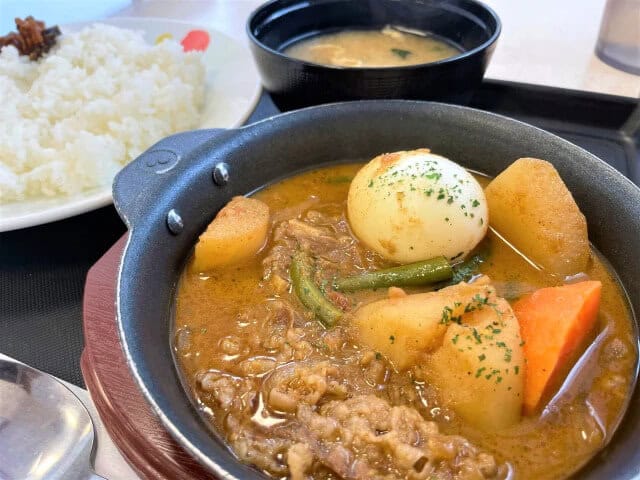 There are various ingredients in soup curry. Vegetables that the Japanese often used include carrots, peppers, potatoes, gobos, pumpkins, broccoli, eggplants, okra, lotus roots, maitake mushrooms, turnips, tomatoes, cabbage, and mizuna. Moreover, they commonly used root vegetables used than leafy vegetables. Not only vegetables but also various ingredients such as chicken legs, stewed pork, lamb chops, headed shrimp, boiled eggs, meat, and seafood are in the soup. You can also choose to add meat and seafood depending on the menu you will be making.
Health info about Soup curry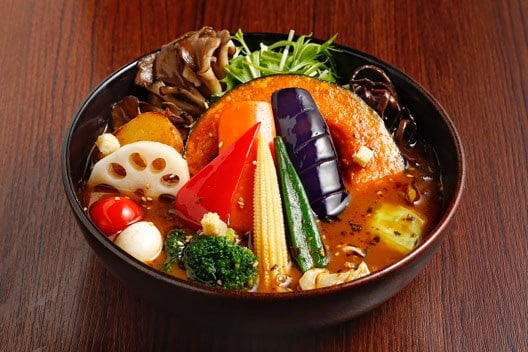 Calories in Soup curry
When you combine the main meat such as vegetables, seasonings, and chicken legs, this calorie is healthy. Curry rice has about 850 kcal, so if you compare the same curry, there is a difference of 300 kcal.
Nutritional value of Soup curry
On the other hand, Soup curry contains many kinds of spices, but this spice has the effect of maintaining good health as it is herbal medicine turmeric, which is famous for spices, prevents dementia, constipation, and cumin. Thus, it will prevent cancer. 
Soup curry also has a beautiful skin effect
Soup curry contains a lot of green and yellow vegetables such as pumpkin and carrots. This green-yellow vegetable is rich in beta-carotene (vitamin A), which creates beautiful skin. Beta-carotene has antioxidant properties and is also effective in preventing rough skin and aging.
Is Curry really a Chinese medicine?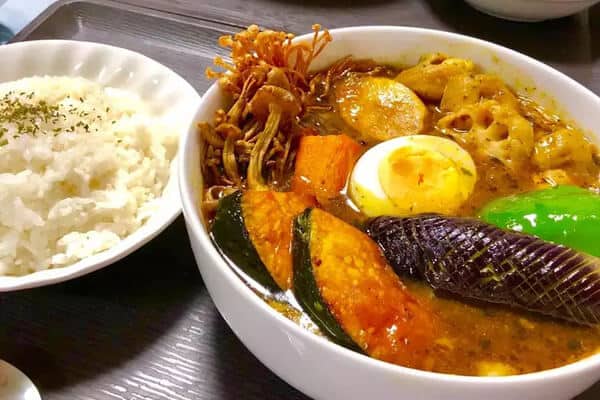 Curry is from multiple species and so many spices are Chinese herbs, and each of them does have health benefits. Recently, you can easily get spices at supermarkets, so please refer to this and arrange your spices. Also, to make it easier, you can add your favorite spice to the commercially available "curry powder" that is with multiple spices. Hence, it is healthier and recommended than using curry roux, which contains a lot of animal fats and salts.
Where to eat Soup Curry?
Sapporo Dominica (札幌ドミニカ 銀座店)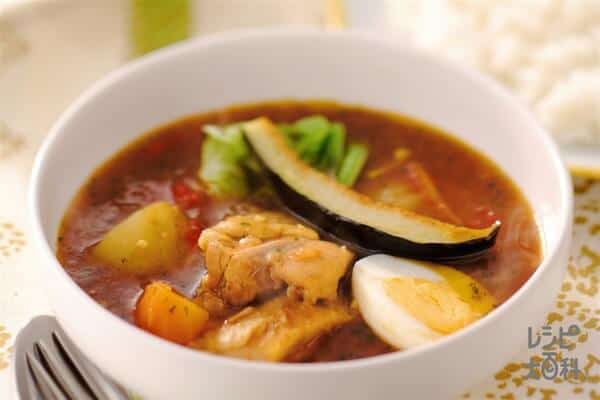 The most popular chicken curry at "Sapporo Dominica Ginza", soft-boiled eggs, and 8 kinds of vegetables are in this hearty curry. The spicy soup curry is with an exquisite half-boiled yolk. Add half-boiled egg and natto dumplings to the tomato-based soup with pork and toppings. There are 10 levels of spiciness so that you can find your favorite cup with a combination of soup x main course x topping x spiciness. 
Ganesha (ガネー舎)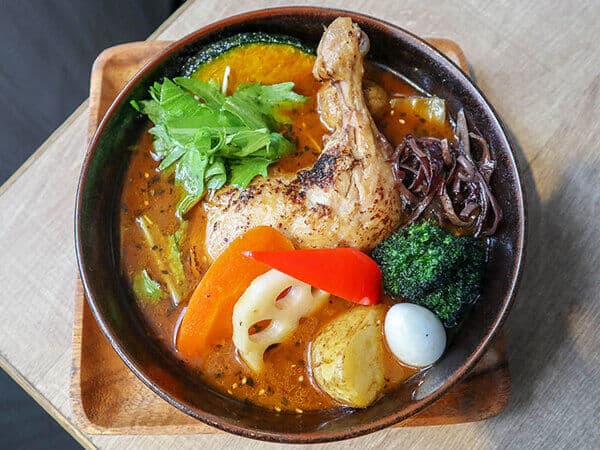 On the other hand, a smooth soup curry that uses only spices without using flour. Comes with low-scented turmeric rice with scallions on it. "Ganesha" is an authentic soup curry shop that inherits the taste of Sapporo's original soup curry "Ajanta". You can choose between counter seats and table seats in the woody interior. It is a shop that you can go to alone or as a group.
SHANTi Harajuku store (シャンティ 原宿店)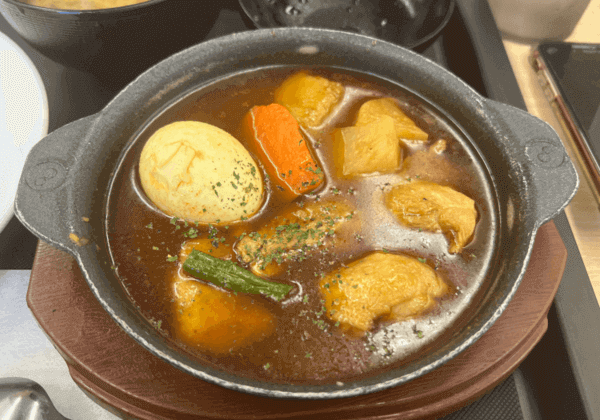 This store serves the classic "chicken and vegetable soup curry". The slowly simmered chicken is so fluffy that you can easily loosen it with a spoon. Plenty of vegetables are colorful and stimulate your appetite. "Chicken Saigon". At this shop, you can choose from two types: "Spicy original soup" that you can choose from 40 levels of spiciness, which is irresistible for spicy food lovers, and "Transparent and mellow Saigon soup" that you can choose from 5 levels of spiciness.
Yellow Company (イエローカンパニー 恵比寿本店)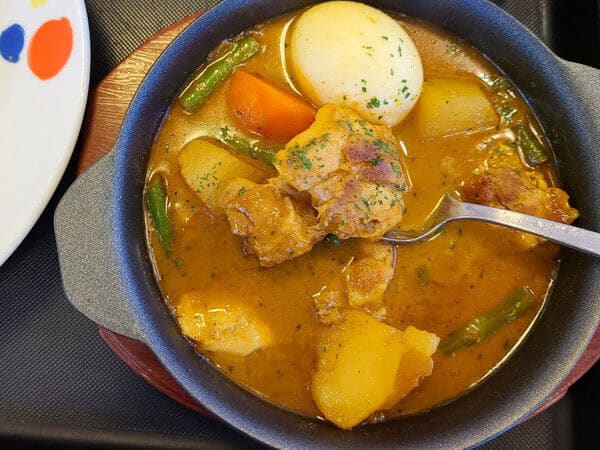 A cup of soup with the sweetness of vegetables melted in, and you can feel the taste of the ingredients and the taste of the soup. A healthy soup curry that uses plenty of vegetables, mainly from Hokkaido. With "Yekan Special Soup Curry EBISU", you can taste the luxurious curry with plenty of seafood flavor. Bouillabaisse with shrimp, scallops, oysters, and white fish with asari gives a deep finish!
Takeaway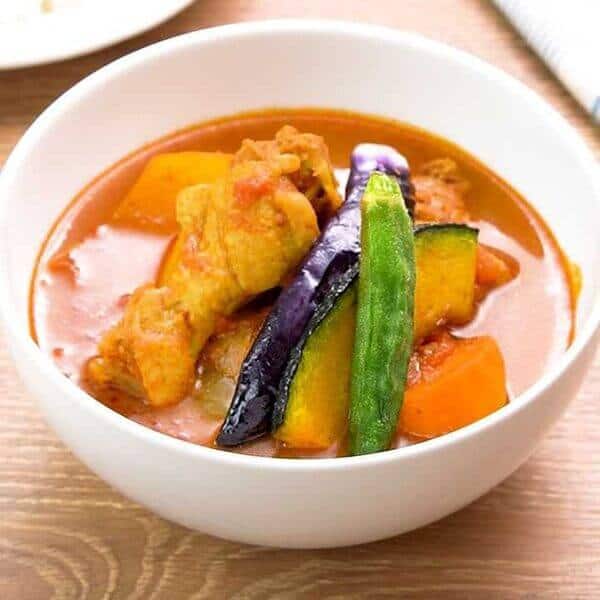 The history of Japanese Curry has no genuine ending. Every day, it starts over. It has a wonderful heartwarming impact and could definitely be classified as Japanese soul food. Moreover, it really is the type of food that brings back fond childhood memories of a home-cooked lunch. Despite this, it is consumed and found across Japan. If you've never had Sapporo Soup Curry, now is the time to try it and make your own. Additionally, if you like curry, you can have a taste of Curry bread and Curry rice from Tokyo and Yokosuka Kaigun Curry from Kanagawa prefecture.