"Iwakuni Sushi" is a local dish of Iwakuni castle town in Yamaguchi. Although it is Oshizushi, the seasoning of the ingredients has a similar nuance to Chirashizushi. The sushi rice is pressed firmly because it is embossed with a large amount of sushi at once. Today, let find out more about the characteristic of Iwakuni sushi and the recipe to make this dish!
What is Iwakuni sushi
Iwakuni sushi (岩国寿司) is a traditional Japanese type of pressed sushi popular for its luxurious ingredients and well-organized square shape from Iwakuni City, Yamaguchi Prefecture. It has colorful ingredients placed on square vinegared rice. A mixture of vinegared rice and fish paste is in a wooden frame. Then the broth eggs, shiitake mushrooms, lotus root, etc. are on top to decorate it. Japanese locals usually add rice mixed with vinegared rice and surimi on top of it and decorate the ingredients. This process is repeated in layers to finally complete huge pressed sushi. The height of a standard Iwakuni sushi is limited to 5 layers at the maximum because it will lose its shape if it is layered too much.
Iwakuni sushi History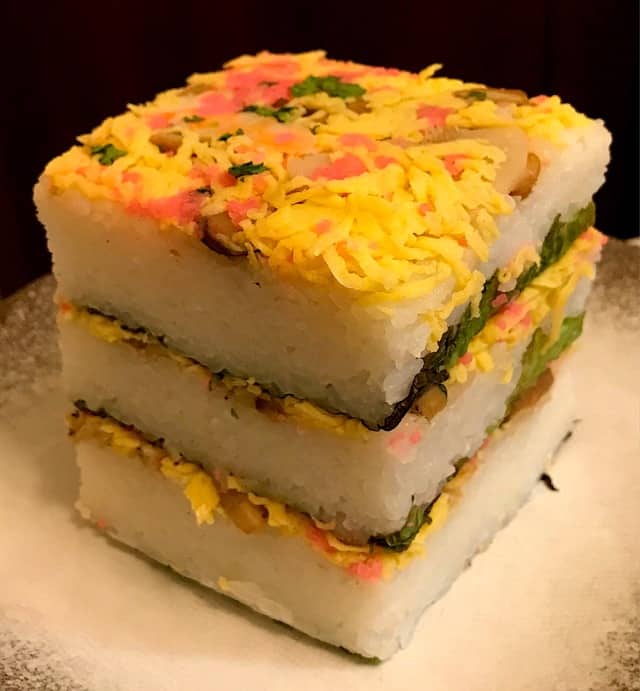 Iwakuni sushi is also called "Tonosama zushi (sushi of a feudal master)" although there are many stories about the origin – one says it was made as non-perishable food by an order of the lord of Iwakuni, and the other says that it was a tribute presented to the lord.  This is the local cuisine of Iwakuni City that is flourishing as a 17th Century castle town. 
Iwakuni Sushi is pressed sushi, famous as "Densama-zushi" because, during the Edo era, they served this to the lord of the Iwakuni domain. Made from stunning ingredients that resemble a castle town, including Denbu, pickled Iwakuni lotus root, traditional vegetable chisha, conger eel stew, and kinshi eggs. After that, during the Meiji era, anyone other than samurai could eat it, and it quickly gained popularity as an Iwakuni regional dish.
Iwakuni sushi Recipe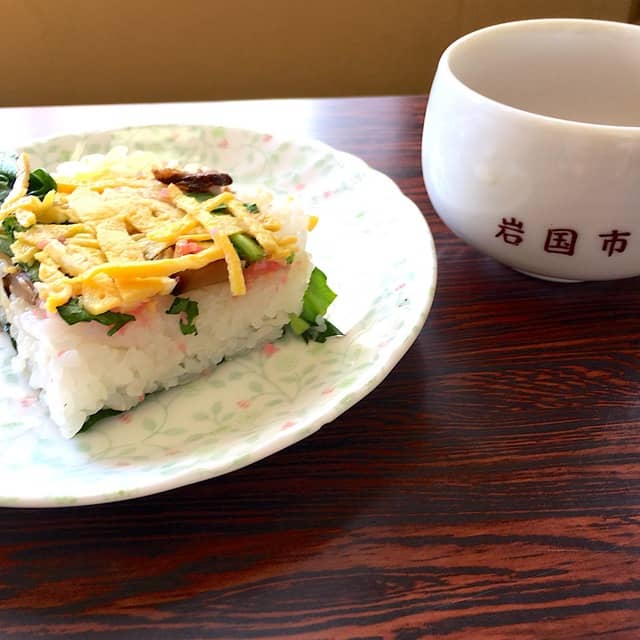 Iwakuni sushi Ingredients
| | |
| --- | --- |
| Ingredients of Iwakuni sushi for 4 persons | |
| Dashi kelp | 50g |
| Rice | 300g |
| Lotus root | 150g |
| Dried shiitake mushrooms | 60g |
| Egg | 55g |
| Chrysanthemum (if not, spinach, trefoil) | 40g |
| Denbu (If not, carrots and pickled ginger) | 15g |
| Sushi vinegar | 70g |
| Sugar | 10g |
| Salt | 5g |
How to make Iwakuni Sushi
 Make the ingredients
Cut the lotus root into thin slices and expose to water. Then, cook in boiling water for a few minutes. After boiling, take it in a colander and soak it in sweet and sour sauce (vinegar, salt, and sugar).
Seasoning the mushrooms
Take 200cc of shiitake mushroom juice in a pan and heat it. Season with powder, soy sauce, mirin, and salt, add shiitake mushrooms, and simmer until the water is almost gone. 
Make brocade eggs 
First, cut the egg whites and mix well, then add sugar and a little salt. Next, lightly oil a frying pan, add a little egg, and when the surface is dry, turn it over and lightly bake. Let it cool on a cutting board.
 Boiling the vegetables
For greens such as chrysanthemums and spinach, boil them in boiling water, cool them in water, squeeze them well, and cut them into pieces that are easy to eat.
Make vinegared rice
Rice uses a little less water. Do not cut the kelp, just place it on the rice and cook. You should lightly dip the cooked rice in the water while it is still hot and put it in a rice slice. Then, sprinkle about two-thirds of the sushi vinegar and mix to cut.
Molding the Iwakuni sushi
Spread the wrap on the mold and stuff the vinegared rice to half the height. Next, spread half of the ingredients such as shiitake mushrooms, lotus root, leafy vegetables, and brocade eggs on it. After that, put the vinegared rice on it. Then, cover with plastic wrap, put a weight on it, and let it sit for at least 30 minutes.
Iwakuni gourmet that usually serve with Iwakuni sushi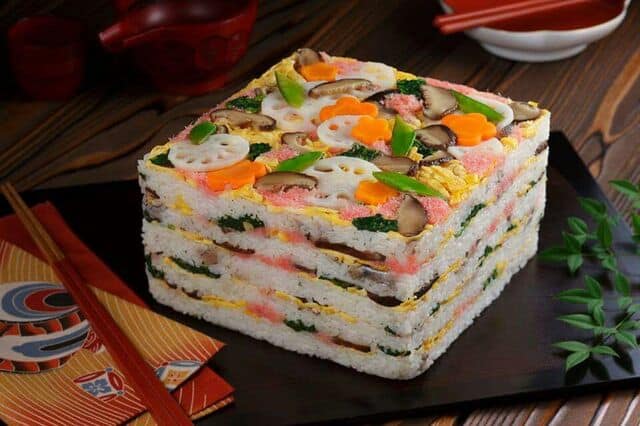 Here, I will introduce the local cuisine of Iwakuni that you want to taste with Iwakuni sushi.
Ohira
Locals from Iwakuni City frequently serve the Iwakuni sushi with the home-cooked dish ohira. They serve in a big bowl called an "Ohirawan," hence the name Ohira. The bowl is with chicken and vegetable soup stock and includes stewed chicken, satoimo, konjac, shiitake mushrooms, Koya tofu, burdock, etc.
Iwakuni lotus root
Iwakuni lotus root is an ingredient often used in local cuisines such as Iwakuni sushi and Ohira. It has more holes than normal lotus roots and locals often offered as a celebration as "good visibility = good luck". 
What are the common ingredients of Iwakuni Sushi?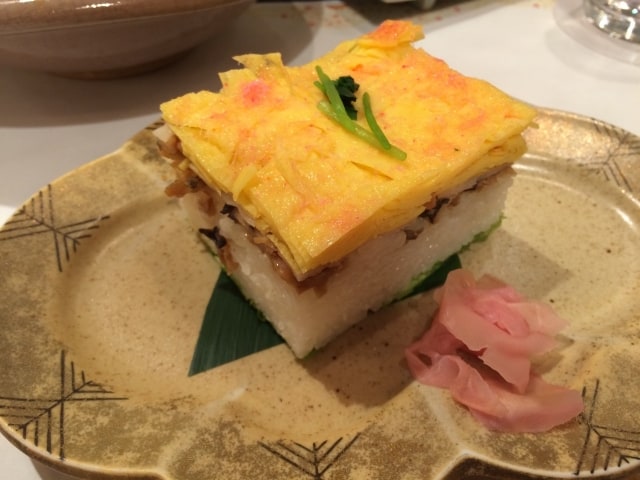 As the name suggests, Iwakunizushi is a variety of pressed sushi that hails from Iwakuni City, Yamaguchi. They made this by layering sushi rice, lotus roots, shiitake mushrooms, and thin threads of fried eggs into large, square-shaped wooden molds. Traditionally, the box is then stepped on, until all the ingredients are well pressed. Additionally, seafood is often placed on top of Iwakunizushi, most commonly pickled mackerel or shrimp.
Various types of Sushi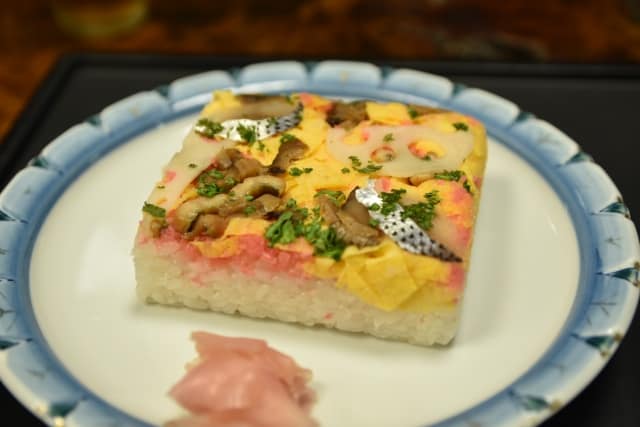 Sashimi
Sashimi is a very popular dish at sushi restaurants. It is a raw fish, served in long rectangular slices known as hira-zukuri. They commonly served this with wasabi, soy sauce, and pickled ginger as garnish.
Nigiri
Nigiri is a type of sushi made up of molded structures of vinegared rice topped with slices of raw fish. It is long and thin so that you can eat it with your hands.
Chirashi
Chirashi means 'scattered' and is similar to sashimi in many ways. They will serve you a bowl of vinegared rice topped with raw fish slices and different garnishes.
Maki
Maki is one of the more commonly known types of sushi that you might find in grocery stores and restaurants. This one is rolled sushi cut into bite-size pieces wrapped in a thin layer of nori.
Uramaki
Uramaki is similar to Maki, although the rice is on the outside of the nori rather than the inside. Japanese locals wrapped the nori around the filling.
Where to buy Iwakuni Sushi?
Sasakiya Kojiro Shoten (佐々木屋小次郎商店)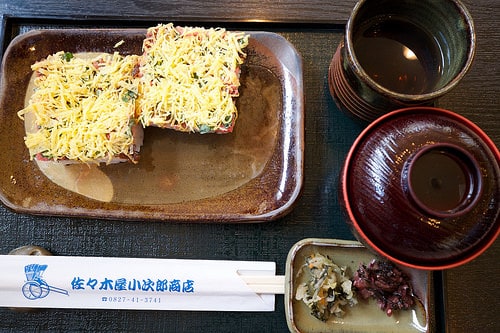 This store is famous because of its delicious soft-serve ice cream. On the 2nd floor, you can have a relaxing meal, and the main menu is a set menu of rice balls and Iwakuni sushi. After lunch, it is best to relax and enjoy desserts such as anmitsu and parfait in a seat with a nice view. The single item is 800 yen for Iwakuni sushi and 1350 yen for the Iwakuni sushi set meal, which is a reasonable price range in tourist areas. 
Hangetsuan (半月庵)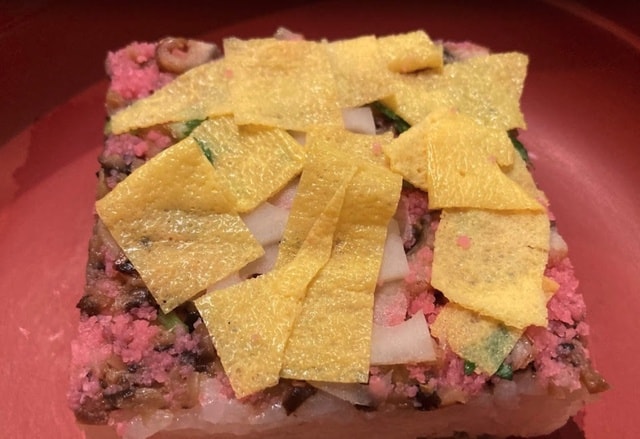 A long-established inn where you can feel the history. For lunch, many customers recommended the local cuisine "Iwakuni Sushi," which uses lotus root and conger eel, which are local specialties, and delicious tempura served with freshly fried ingredients. Not only is it big, but it is also wonderful because it is handmade by craftsmen without using chemical seasonings or ready-made products.
Yoshida (よ志多)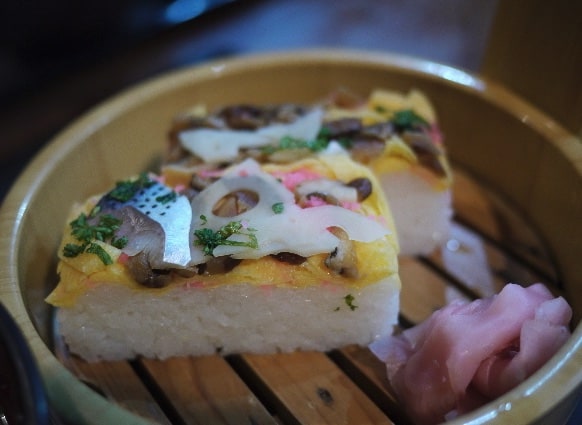 It is a set meal full of Iwakuni's famous Ohira, Iwakuni sushi, soup, and local fruits. It's kind of beautiful as if you were looking at a picture. Ohira, which makes the best use of the characteristics of ingredients such as wild plants, chicken, and vegetables, goes very well with the sweet Iwakuni sushi, and the fruits after meals are also nice. The colorful colors and the perfect balance of vinegar and sugar make the original aroma of each ingredient delicious. 
Midori No Sato (緑の里 )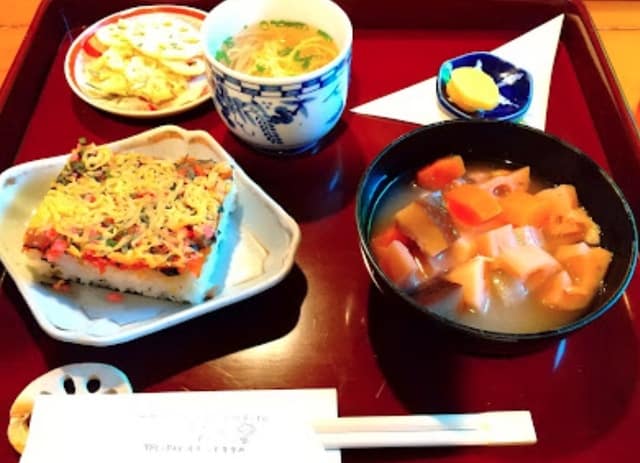 It is a famous store in Kintaikyo Bridge. Although it is a restaurant, there are other miscellaneous goods. You can enjoy warm and delicious homemade dishes at a reasonable price with the Iwakuni sushi set for 1080 yen. It's also mysterious to look at the shrine and eat. The price is reasonable and it is a set meal for the masses.
Final Thoughts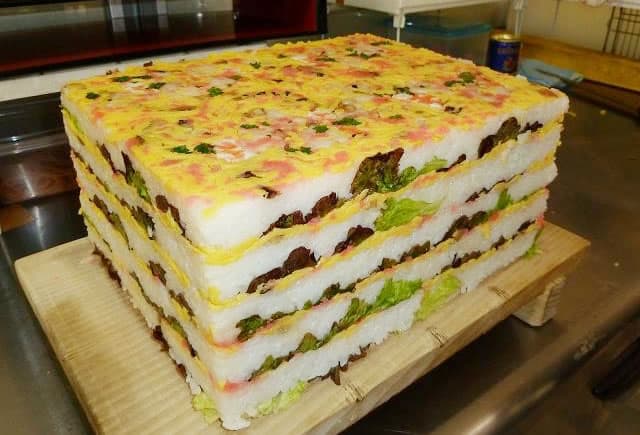 Yamaguchi is particularly well-known for its breathtaking scenery, which includes serene beaches, secluded temples, and Akiyoshido, the country's largest limestone cave. Because they often transport it to Iwakuni Castle, pressed sushi made in Iwakuni, Yamaguchi Prefecture, is also called "Tonosama Sushi." The method is unique in that it makes the ingredients—including rice—in a sizable wooden frame rather than one at a time. 
If you are into pressed sushi, you can try Chirashizushi, Masu Zushi, and Sasa Zushi. And also, there are some of Yamaguchi's specialty cuisines like Kawara soba and Fuku or Fugu.