Introduction to Hiroshima Style Okonomiyaki
Even if you are not a Hiroshima citizen, you may have heard of " Hiroshima style okonomiyaki" once. Hiroshima style Okonomiyaki is a Japanese pancake with the ingredients layered on top rather than mixed. Typically, the ingredients are batter, cabbage, pork, and optional items such as squid, octopus, and cheese. Locals usually put toppings like yakisoba or udon with a fried egg and okonomiyaki sauce.
But before that, what is Okonomiyaki? Okonomiyaki is a traditional Japanese food mainly in the Kansai and Hiroshima areas. It is a savory pancake containing a variety of ingredients in a wheat-flour-based-batter. It is widely available throughout the country. The toppings and batters tend to vary according to region.
But unlike Negiyaki from Osaka and Monjayaki from Tokyo, Hiroshima style Okonomiyaki is from Hiroshima prefecture along with Hiroshima Kaki. In this article, we will get to know the Hiroshima style Okonomiyaki.
Etymology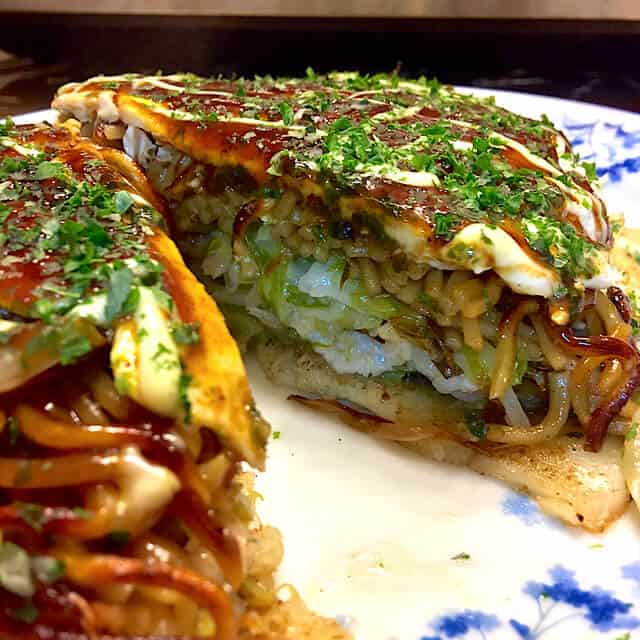 The name Okonomiyaki derived from the word "Okonomi" (お好み), meaning "how you like" or "one cup's tea", and "Yaki" (焼き) meaning "cooked" or "fried." So, on the whole, Okonomiyaki means grilling to your liking. And locals from Hiroshima just name their Okonomiyaki with the style of Hiroshima.
What is Hiroshima Style Okonomiyaki?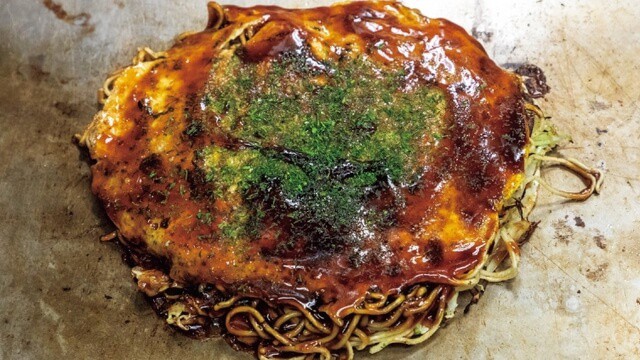 Hiroshima-style Okonomiyaki is a Japanese savory pancake from Hiroshima prefecture. It is typically a pancake where all the ingredients are on top rather than mixing it with the pancake dough itself. Locals placed lots of vegetables and meat on top of the thin dough-like-crepe. The method of cooking in Hiroshima style is what locals call, "layered-roasting."
Additionally, they also make the special dough by dissolving the wheat flour in water first, then stretching it thinly, and turning it over. The texture is completely different from "mixed roasting, " which mixes ingredients and dough made of wheat flour. Noodles such as yakisoba and udon are often locals put on top of it. During the baking stage, the top dough acts as a lid to steam the cabbage. Hence, some locals say that this is the secret of the deliciousness of the Hiroshima-style Okonomiyaki.
History of Hiroshima Style Okonomiyaki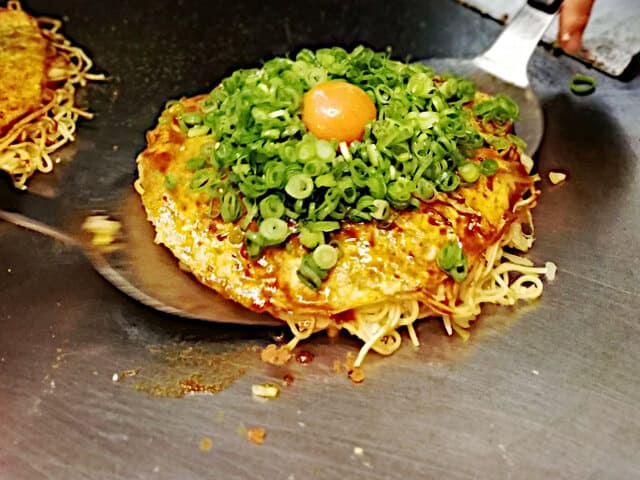 The present Okonomiyaki that the Japanese have today was not born immediately after the war. However, it was gradually completed as the economy developed after the war. Shortly after the war, simple dishes such as "Issen-yoshoku" became the mainstream. It is wheat flour melted in water and grilled with green onions. In the latter half of 1945, when supplies were scarce, the US military distributed rice flour to overcome food shortages. There is no rice or meat, but there is only rice flour, so many knew it as "one cent Western food" to bake the rice flour dissolved in water and add green onions.
As things gradually became available in the post-war reconstruction, the number of ingredients also increased to one's liking, such as adding noodles, cabbage, and meat, and finally, completing the current "okonomiyaki". The Hiroshima-style was then born in Hiroshima prefecture.
"Hiroshima-style okonomiyaki" was born as a dish that locals eat with a single iron plate, even in an era when supplies are scarce. It is because it occurs after the dropping of the bomb in Hiroshima so the postwar reconstruction progresses at that time.
Additionally, during those times, many women start an okonomiyaki restaurant using the corner part of their houses. Consequently, they name their restaurant using a person's name. This is because one wife who lost her husband in the war started an okonomiyaki restaurant for a living. Hence, she gave the restaurant a name with the name of her late husband.
Hiroshima Style Okonomiyaki Recipe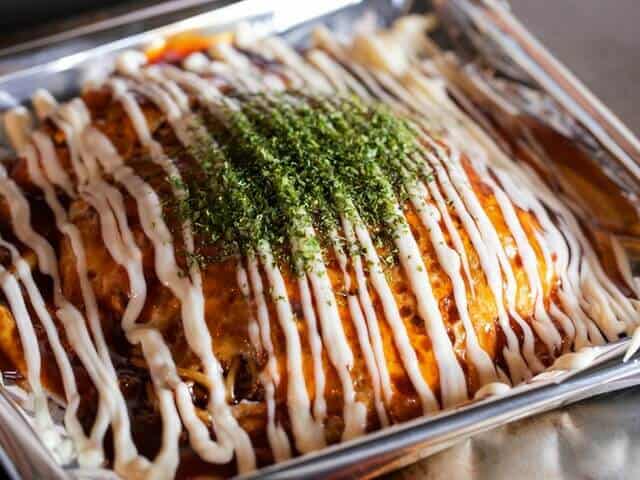 The Hiroshima style Okonomiyaki recipe typically has ingredients of batter, cabbage, pork, and optional items such as squid, octopus, and cheese. Locals usually put toppings like yakisoba or udon with a fried egg and okonomiyaki sauce.
Due to food conditions after the war, locals change the green onions, which are seasonal, to cabbage, which is cheap and easy to obtain throughout the year. In the 30s of the Showa era, the start of the introduction of soba (Chinese noodles) and udon noodles. The release of instant noodles at that time also influenced it. Hence, rice was still precious at that time. Originally, it was only a snack, but it changed into a staple food.
How to Make Hiroshima Okonomiyaki?
Making the dough
Dissolve the okonomiyaki flour in a bowl. Add oil to a hot plate and spread the mixed dough thinly and roundly.
Sprinkling Bonito Flakes
Sprinkle some bonito flakes on the dough.
Putting the first layer of ingredients
Put a heap of cabbage on it, and put bean sprouts on it. After putting the bean sprouts on it, flatten it to make it easier to put the tenkasu on it.
Placing the meat
Place the pork belly one by one so that it does not overlap. You can also add salt and pepper according to your taste.
Putting dough on top again
Sprinkle some dough on top. When the dough turns golden brown, turn it over and turn it over for about 5 minutes.
Making yakisoba or udon noodles aside
In the meantime, bake yakisoba next to it. Then, afterward, place the steamed okonomiyaki on top of the yakisoba.
Breaking the egg
Break the egg, spread it to the size of okonomiyaki with a spatula, and put the okonomiyaki on it.
Adding toppings to your likings
Turn it over and turn the egg side up. Add otafuku sauce and toppings such as mayonnaise, green laver, dried bonito flakes, and green onions to your liking.
Hiroshima-style Okonomiyaki vs. Kansai-style Okonomiyaki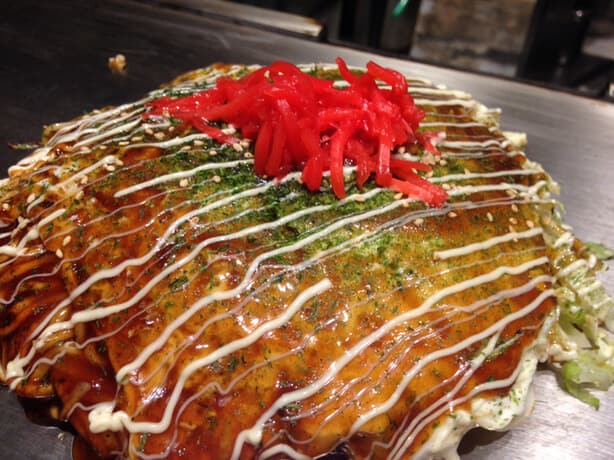 In Osaka-style okonomiyaki, the ingredients in the batter are mixed in a bowl and then poured directly onto the hot griddle like a pancake. While in Hiroshima, unlike in Osaka, the ingredients are not all mixed. Cooking Hiroshima-style okonomiyaki involves the layering of ingredients. Firstly, the batter, then the noodles, and then the toppings, which locals piled high at the beginning and then flipped frequently while cooking.
Another big difference between Hiroshima-style okonomiyaki and Kansai- style okonomiyaki is the thickness of the yakisoba noodles. Kansai- style okonomiyaki has thick noodles, while Hiroshima-style okonomiyaki has thin noodles.
(Check here for Kansai Style Okonomiyaki)
Hiroshima Style Okonomiyaki Average Calorie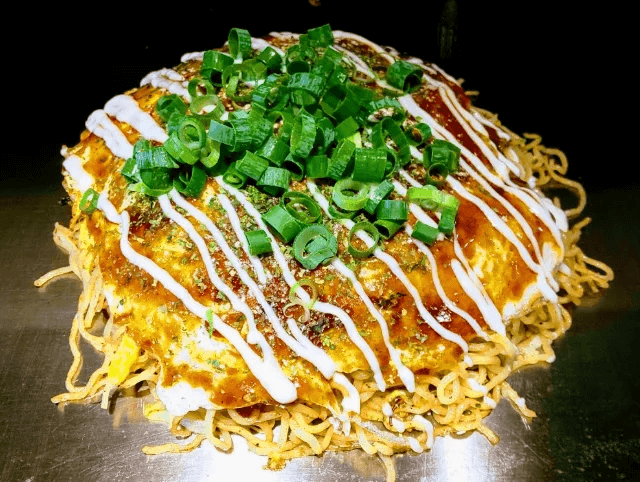 Hiroshima-style okonomiyaki, which uses a whole Chinese noodle, is a food that is high in calories. However, you can also reduce calories. Hiroshima-style okonomiyaki has the same or higher calories as Kansai-style okonomiyaki. The amount of dough is smaller than that of Kansai-style okonomiyaki, but the calories of one Chinese noodle are in it instead.
What kind of nutrition does Hiroshima-style okonomiyaki have?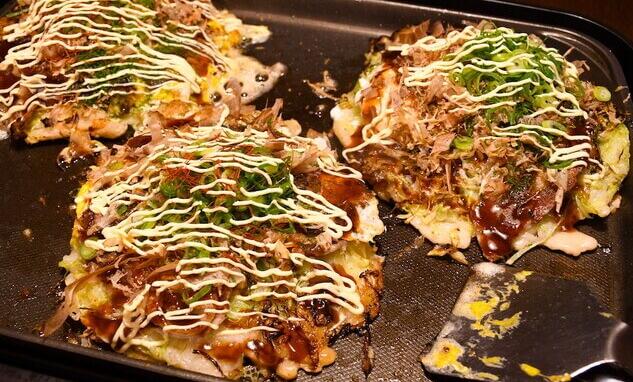 Hiroshima-style okonomiyaki is a high-calorie food with an excellent nutritional balance. You can obtain carbohydrates from wheat flour, proteins from pork and oysters, and vitamins and minerals from vegetables such as cabbage, bean sprouts, and green onions. Experts recommended using ingredients such as squid and shrimp because it has lower calories than pork and is rich in nutrition.
Correct Way of Eating Hiroshima-style Okonomiyaki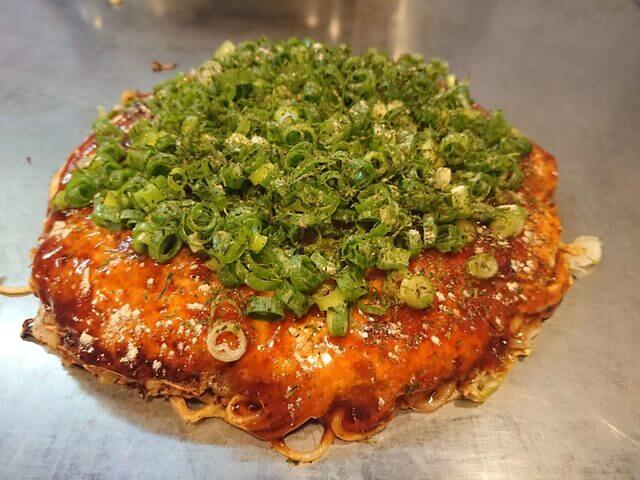 Of course, it is basic to eat freely and enjoyably, however, it is to encourage to learn the basics of how to eat Hiroshima-style okonomiyaki and taste the local gourmet. First of all, locals eat Hiroshima-style okonomiyaki with a spatula. Instead of cutting it in a radial pattern like pizza, use a spatula to cut it into bite-sized pieces and place it in front of the spatula. Additionally, the spatula gets hot quickly, so be sure to put it aside instead of leaving it in the center of the iron plate.
If you don't like spatulas, you can of course use chopsticks and plates. And if you like liquor, you can enjoy the okonomiyaki with chilled beer.
Who invented okonomiyaki?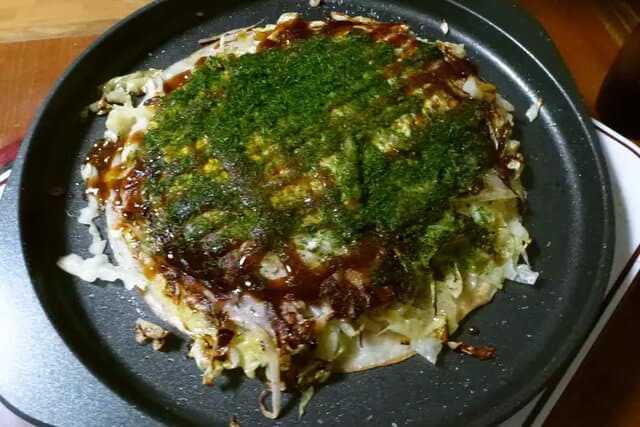 The Japanese invented Okonomiyaki in Japan before World War II and evolved and became popular during and after the war. The earliest origins of a basic crepe-like pancake date back to the Edo period (1683-1868) period where there was a special dessert served at Buddhist ceremonies called Funoyaki.
Recommended Hiroshima Okonomiyaki Restaurants
Okonomiyaki Mitchan Sohonten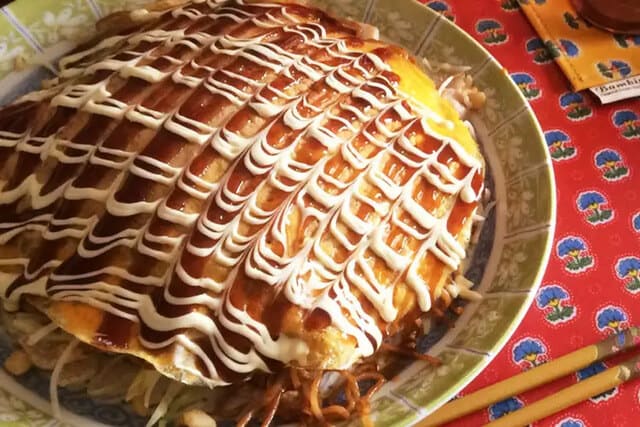 Since its establishment in 1950, it has become so popular in Hiroshima. On Saturdays and Sundays, it is famous for the rows of lines outside the store. The shop makes their store's okonomiyaki in its light taste so that many can eat it every day. It has a good reputation for its deliciousness that has not changed since ancient times. Another point is that multiple people are in charge of the roasting. The store's special sauce, which they applied generously, maximizes the deliciousness of okonomiyaki. Once you eat it, you become addicted to it.
Yagenbori Hassho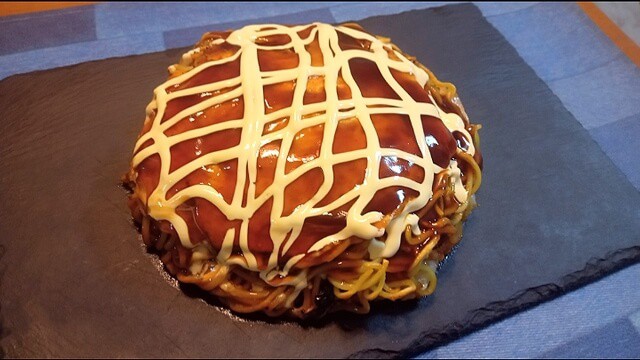 The shop is located in the back of Yakuken Dori-Dori, but you can see it at a glance because there are always lines. There are many fans outside the prefecture and many people from all over the country come to seek the taste. The store's okonomiyaki takes about 20 to 30 minutes to bake. They bake it on a neatly U-shaped iron plate. It is fun to see the splendid craftsmanship in front of you. The baked okonomiyaki has a crispy outside and a fluffy texture inside.
Rei-Chan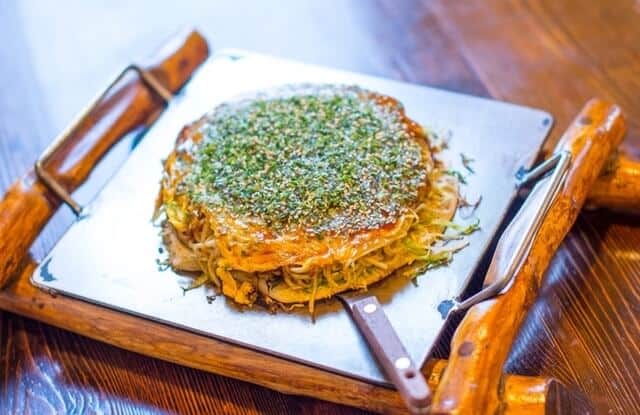 It is a shop where you can experience the nostalgic taste that has not changed over time. Many customers say that the shop's okonomiyaki is chewy in its texture, and it has plenty of sweet cabbage. They also recommended trying it with squid because it brings a surprisingly rich flavor. If you add toppings such as oysters and squid here, it will be even more delicious.
Denko Sekka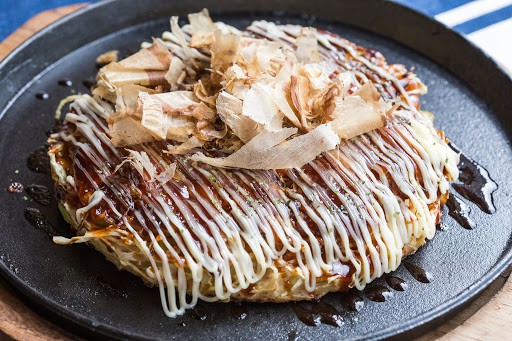 In this shop, you can choose either soba or udon. They also have the green perilla which is an accent to the overall taste of the okonomiyaki. The staff baked the okonomiyaki by steaming it softly without pressing it. Staff also recommend sprinkling it with some otafuku sauce to make it thicker and more delicious. The service is also good, such as dealing with items that are not on the menu.
Okonomiyaki Teppanyaki Hinata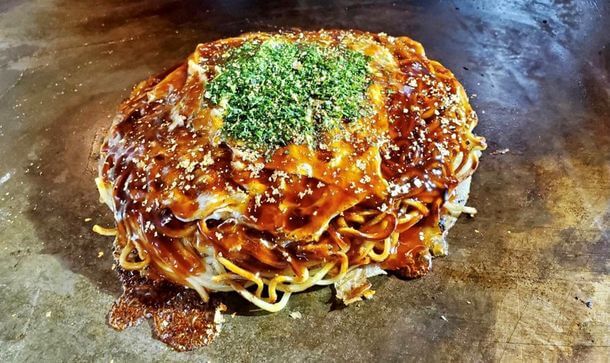 It is an Okonomiyaki restaurant along Higashi-Senda's electric stop. Since it was not that famous restaurant, many didn't have high expectations for it, but believe it or not, they serve a really delicious Okonomiyaki. Customers say that it is easy to eat the half-boiled okonomiyaki they serve, which is rare in Hiroshima. The dry sauce on the table they are serving gives addictive umami delicious and it was the best in Hiroshima. All the staff are friendly and accommodating.
Conclusion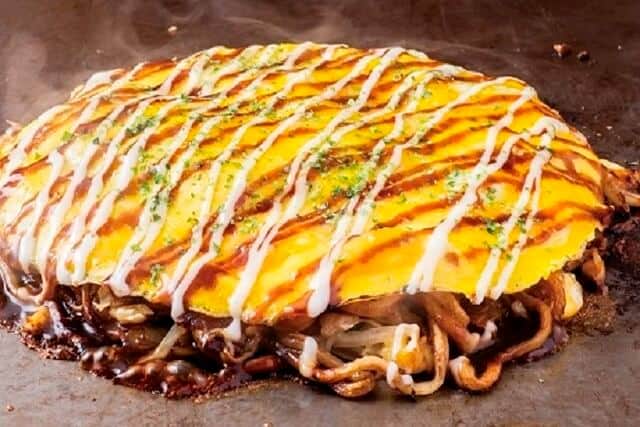 Locals can now create okonomiyaki restaurants that they can easily start even when funds and supplies are scarce. Additionally, Hiroshima Prefecture now boasts the highest number of restaurants in Japan that compete with Osaka and Hyogo prefectures.
Okonomiyaki was a staple during the 40s and 50s and made with whatever ingredients were available. Today, this humble dish is a great representative of Japan's creativity with food and makes a great dish to share with friends and family. Whether it is Osaka or Hiroshima-style, the rivalry remains good-natured since each is tasty in its way.