Introduction to Kansai Style Okonomiyaki
Kansai style okonomiyaki or also Osaka-style okonomiyaki is a Japanese traditional food in Osaka prefecture in the Kansai region. It is a predominant version of the dish, found throughout most of Japan. 
When it comes to the okonomiyaki controversy, there are two kinds of okonomiyaki that are often featured on TV. The Kansai style okonomiyaki and the Hiroshima style okonomiyaki. 
Kansai style okonomiyaki consists of ingredients like chopped cabbage, chicken eggs, and dried shrimp that locals mix into the dough and then they bake it all together.
Okonomiyaki is a Japanese savory pancake containing a variety of ingredients in a wheat flour-based batter. It is an example of konamono which refers to flour-based Japanese cuisine. Many people sometimes compare Okonomiyaki to an omelet or a pancake. It is simply refer to as "Japanese pizza" or "Osaka soul food". There are many areas where okonomiyaki has become the mainstream. Now, we will get to know more about Kansai-style okonomiyaki.
Etymology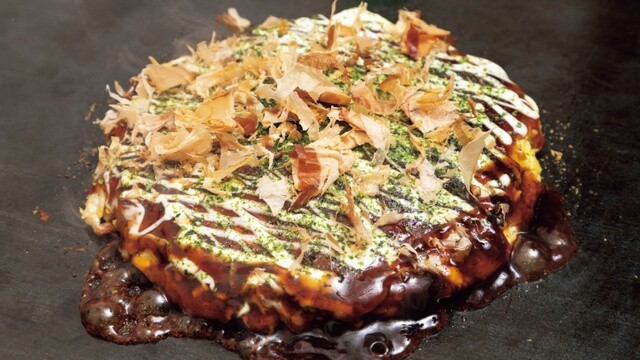 First, let us know what is the meaning behind the "Okonomiyaki" name. The name Okonomiyaki derived from the word "Okonomi" (お好み), meaning "how you like" or "one cup's tea", and "Yaki" (焼き) meaning "cooked" or "fried." So, on the whole, Okonomiyaki means grilling to your liking. And locals from Kansai just name their Okonomiyaki with the style of Kansai or Osaka (関西風).
What is Kansai Style Okonomiyaki?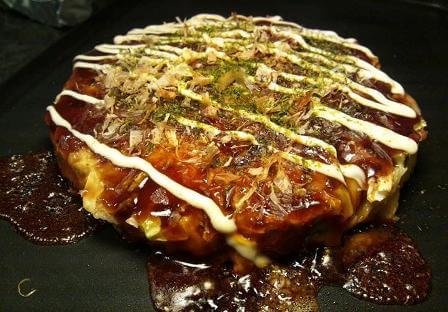 Kansai style okonomiyaki, which can be called Osaka style okonomiyaki, is a traditional Japanese food in which its ingredients follow the "mixed roasting" method. This method of baking or roasting mixes ingredients and dough made of wheat flour.
Locals make Kansai-style okonomiyaki by mixing all the ingredients with flour and then baking it. They do the "mixed roasting", in which they bake the cabbage, tenkasu, and everything in the dough. Then, they lay it on an iron plate, placing the meat on it, and turning it over until it becomes cooked.
In some restaurants in Osaka prefecture, they serve the batter and other ingredients pan-fried on both sides on either a teppan or a pan using metal spatulas. These metal spatulas are later can they use to cut the dish when it has finished cooking.
History of Kansai Style Okonomiyaki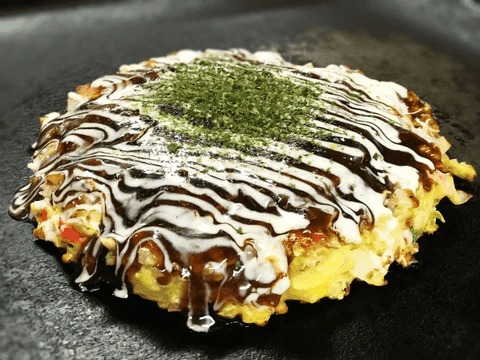 Even in the Kansai region, before the war, "Western-style grilling" was the mainstream. It is a method in which locals thinly make the dough and they layered and baked the ingredients. 
At the beginning of the Showa era, "Okonomiyaki" was born in Tokyo and passed on to Osaka. In 1945, the well-known "Itoya" opened near Kitashinchi, but it is a Tokyo-style roasting style that customers can only see in Tokyo like " Anko- maki."
After the war, mixed-grilled okonomiyaki spread throughout the Kansai region in place of the traditional Western-style grilled dishes. Immediately after the end of the war, they called it "substitute food." Subsequently,  its size and volume were inevitably larger than before the war, which was still a snack and luxury item for children. Common people in the Kansai region loved okonomiyaki. Consequently, many okonomiyaki shops are in business in the city, creating a sauce maker that competes for its taste. In addition, it has matured as a culture rooted in the region, such as enjoying custom-made iron plates at home.
It was not until the 1970s that Osaka became recognized as the home of okonomiyaki. The locals called the mixed-grilled okonomiyaki "Kansai-style okonomiyaki" after the media introduced the Hiroshima-style okonomiyaki. The mixed-grilled okonomiyaki, which had already become a national standard at that time, was renamed "Kansai-style."
Kansai Style Okonomiyaki Recipe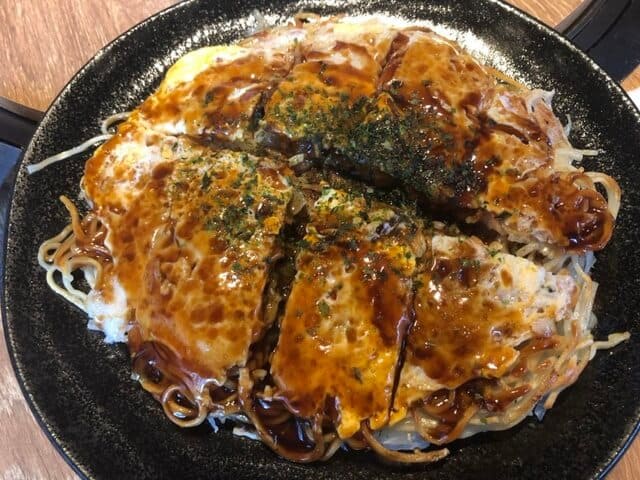 The Kansai style okonomiyaki recipe is quite intricate. Its batter consists of flour, grated nagaimo (a long type of yam), water or dashi, eggs, and shredded cabbage. Additionally, it usually contains other ingredients such as green onion, meat (usually thinly sliced pork belly), octopus, squid, shrimp, vegetables, konjac, mochi, or cheese.
How to Make Kansai Style Okonomiyaki?
Mix the dough
Mix the all-purpose flour and water until some balls of flour remain. If you mix it more than necessary, it will lose its stickiness. Soft flour gives elasticity and stickiness, but it's a matter of taste. Lightly season with salt, chemical seasonings, etc.
Make an okonomiyaki base
Put the dough, cabbage, and bean sprouts in a bowl or a small bowl so that it spreads softly. Lightly add a spoonful of red pickled ginger and a large serving of green onion. Green onions are also delicious when placed on top of a baked sauce. Add 1 or 2 eggs then, put the set of ingredients in the bowl and stir swiftly.
Bake okonomiyaki
Set the plate temperature to 220 degrees. Spread the prepared okonomiyaki base on an iron plate. Place squid or chicken if you like. Spread it evenly with pre-baked pork as if you were covering it. If you want to add soba or udon, fry the soba or udon in the meantime.
Fry buckwheat 
While baking the okonomiyaki, fry the buckwheat in the space for about 2 minutes. Lightly sprinkle water on it to make fluffy okonomiyaki. It is even more delicious if you lightly season it with okonomiyaki sauce. Please note that the sauce is easy to burn. Lastly, place buckwheat on top of the okonomiyaki.
Turn over the okonomiyaki
The okonomiyaki will start to harden so turn it over with a spatula. Turn it over a couple of times until you see that both sides turn brown. You know it is finish when the dough doesn't get rid of water by sticking the dough on both sides. Finally, turn the buckwheat or pork up. Sprinkle with your favorite sauce, some green laver, bonito, and mayonnaise as you like.
Other Types of Okonomiyaki in Kansai Region
Modan-Yaki (Modern Roasting)
In Kansai, there is the "modan-yaki (モダン焼き)" locals called. It is like Hiroshima-style okonomiyaki with soba. However, there is a big difference in how to make the dough itself between stacking and mixing from the beginning. Locals served this with a layer of fried noodles (either yakisoba or udon). Its name derived from the English word "modern". Japanese also states that it is a contraction of mori dakusan (盛りだくさん), meaning "a lot" or "piled-high" signifying the volume of food from having both noodles and okonomiyaki.
Negiyaki
Negiyaki (ねぎ焼き) is a thinner variation of okonomiyaki made with plenty of scallions, comparable to Korean pajeon and Chinese green onion pancakes. Locals baked this by mixing a large amount of finely chopped green onions instead of cabbage.
Kansai-style Okonomiyaki vs. Hiroshima-style Okonomiyaki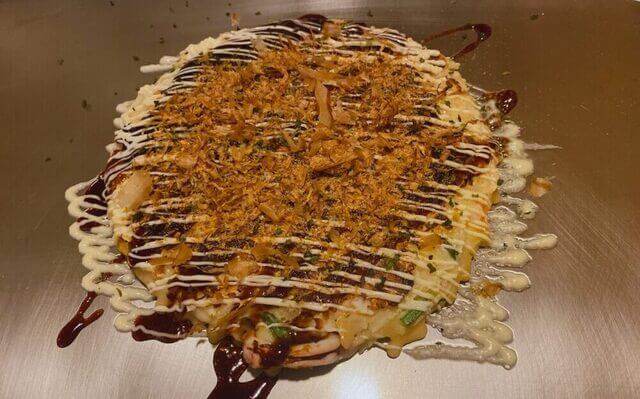 In Osaka-style okonomiyaki, the ingredients in the batter are mixed in a bowl and then poured directly onto the hot griddle like a pancake.  While in Hiroshima, unlike in Osaka, the ingredients are not all mixed. Cooking Hiroshima-style okonomiyaki involves the layering of ingredients. Firstly, the batter, then the noodles, and then the toppings, which locals piled high at the beginning and then flipped frequently while cooking.

Another big difference between Hiroshima-style okonomiyaki and Kansai- style okonomiyaki is the thickness of the yakisoba noodles. Kansai- style okonomiyaki has thick noodles, while Hiroshima-style okonomiyaki has thin noodles.
What side dishes go well with Okonomiyaki?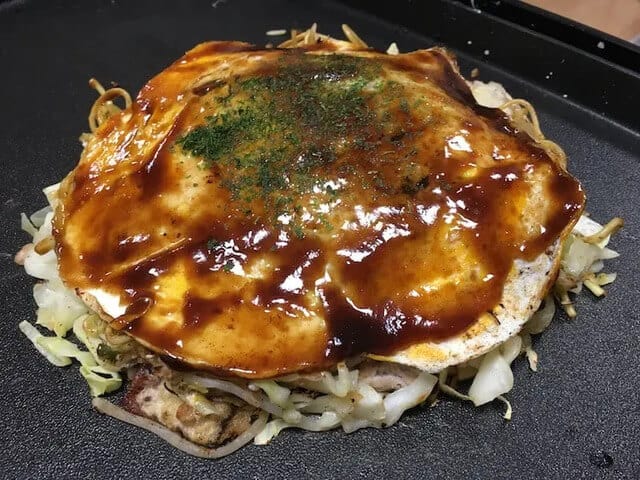 Very few okonomiyaki shops serve the side dishes you mentioned. High-end ones offer a teppanyaki menu such as steak and seafood. In Osaka, locals eat their okonomiyaki and yakisoba together, but Hiroshima okonomiyaki already has soba in it, so having yakisoba with it will be a carb overkill.
What other ingredients can be put in Okonomiyaki?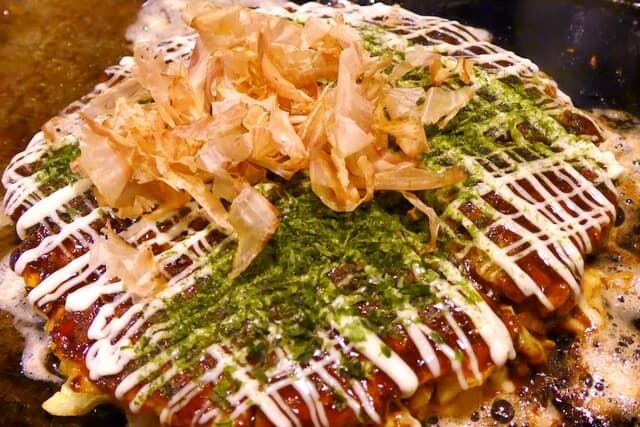 If you want to make unique okonomiyaki, there are a variety of ingredients that you can also use for okonomiyaki.
Tomato
You can make Western-style okonomiyaki with "tomato". You can use ordinary tomatoes, cherry tomatoes, or canned tomatoes. It has the same taste as applying ketchup to okonomiyaki. Topped with bacon or spinach, it also has a pizza-like taste.
Bean Sprout
Bean sprouts are easy to cook, cheap, nutritious, and delicious, so many recommend them. However, if you use it raw, it will be difficult to separate it, so the trick is to fold it by hand and heat it in the microwave before adding it.
Chikuwa
Locals also recommended using "chikuwa" instead of meat. It has a solid texture, so you can eat it without meat, and it's good for dieting. The impression of taste changes depending on how you cut it and how you baked it. 
Do you sprinkle mayonnaise or sauce on okonomiyaki?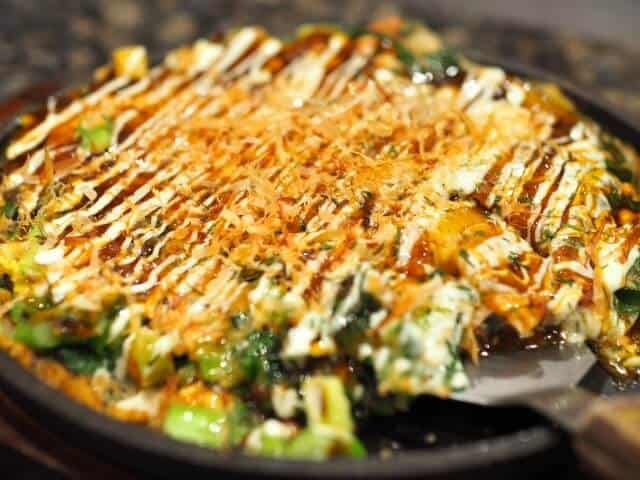 The sauce is indispensable for okonomiyaki, but mayonnaise may or may not be sprinkled depending on the person. 
There are quite a lot of people who eat "mayonnaise". According to a private survey, it is about 50% for people in their 60s and over, and the percentage increases as they get younger. Additionally, it is about 70% for people in their 30s and under. Half of the elderly and 70% of the younger generation tend to eat with mayonnaise. Mayonnaise is popular because its unique acidity suppresses the oiliness of okonomiyaki and enhances its deliciousness.
According to one theory, okonomiyaki is only sprinkled with mayonnaise in the Kansai style, not in the Hiroshima style. Depending on the restaurant, some shops do not cover the Hiroshima-style okonomiyaki with mayonnaise when they serve it. However, since it is becoming a national ward to sprinkle mayonnaise on okonomiyaki, it is natural that even Hiroshima-style shops have mayonnaise on the table or the staff of the shop will serve it.
Recommended Kansai Style Okonomiyaki Restaurants
Kyochabana Kitashinchi store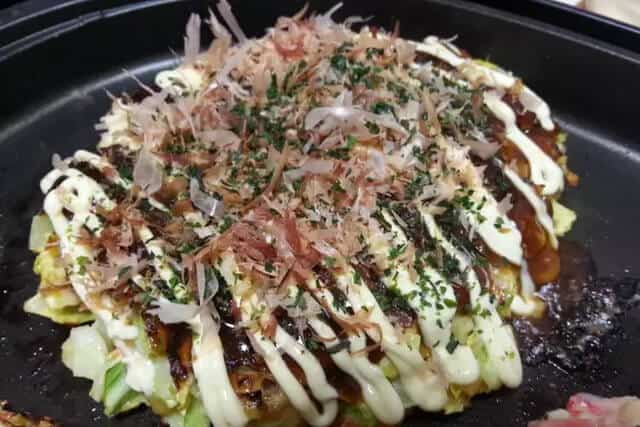 If you want to enjoy something unique to Osaka, you should go to Kitashinchi. It is always full due to a lot of customers piling up on the store itself. Additionally, it is one of the famous stores where you can get the Osaka style okonomiyaki. The inside of the store is divided into a counter, table seats, and private rooms. It's not big, but it's stylish. Their okonomiyaki is fluffy and you can taste the umami and deliciousness in every bite.
Yukari Sennichimae store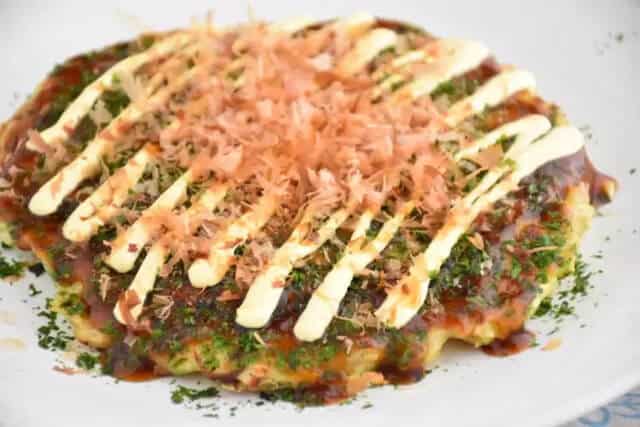 This shop makes their own homemade mayonnaise here and every customer suggested trying it.  As a Kansai local, you can include rice and miso soup on your okonomiyaki order. Many say that as a local, it is normal to eat okonomiyaki and rice together. You will know immediately that the taste of their okonomiyaki makes it popular. It was delicious. Additionally, this shop also serves the Hiroshima style.
Abeton
It is one of the 100 famous okonomiyaki restaurants. The okonomiyaki they have has pork that is crispy and fragrant. It matches the taste of the sauce. Katsuobushi and green laver go well together. You can also enjoy the taste of the base.
Hirokazuya Higashidori store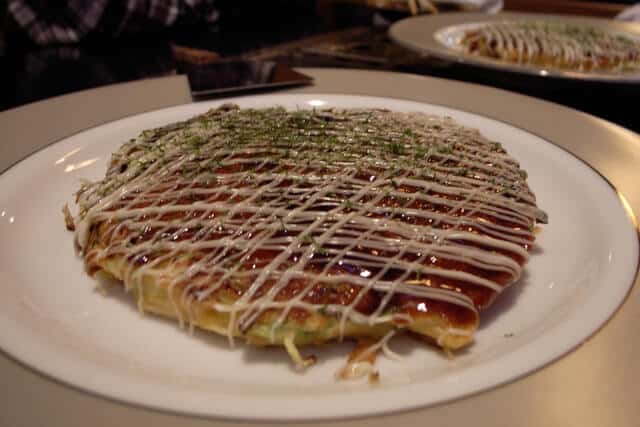 This shop still serves Okonomiyaki at 3 in the morning. Some customers say that their Negiyaki and okonomiyaki are delicious without being cheaper than usual. Its size is quite large, so you will be full. You can eat authentic Osaka Negiyaki and Okonomiyaki at a discounted price. Tourists should go here when they come to Osaka and enjoy okonomiyaki. It's delicious that you can eat as many as you like. Moreover, the exquisite punch of the sauce and the feeling of fullness make it such a perfect combination.
Conclusion
You would ask that okonomiyaki is quite similar to monjayaki however, the latter uses different liquid ingredients. The okonomiyaki (savory pancakes) of Osaka prefecture is the style that defines this dish. All okonomiyaki consist of a base mixture: wheat flour, egg, fish broth, and white cabbage. The Osaka mixture often contains seafood and nagaimo, a type of yam. Today's okonomiyaki is a Japanese specialty considered a party dish to be shared with friends, directly on the teppan (hotplate), however, this has not always been the case. Made of inexpensive ingredients, easy to prepare, it quickly became a dish in times of crisis. The Kansai style or Osaka style okonomiyaki is unique because there's nothing fancy about it. It has a cheap filling and is a flavorful meal that young people adore. This is the one Japanese dish that just about every western person enjoys.