Tokushima Ramen "徳島ラーメン", a traditional food in Japan, became a hit when it was featured in Shin-Yokohama Ramen Museum back in 1999. It was first known as "Chinese Soba" or "Chuka Soba". Obviously, the name Tokushima Ramen was soon derived due to its place of origin – Tokushima Prefecture. It is commonly believed that it originated in the streets of Tokushima. Street stalls were selling Chinese Soba at night and were passed on to generations that resulted to transition and development of the dish.
History of Tokushima Ramen
Chinese Soba stalls started opening in 1930s. White Tokushima ramen was developed in the center of Tokushima City and Komatsushima City in the mid 1940s. Around 1960s when brown style Tokushima Ramen was established and became popular. It was during this time when toppings such as pork ribs and raw eggs became famous too. The gateway to the nationwide popularity of Tokushima Ramen was when it was featured in Shin-Yokohama Ramen Museum in 1999. The brand "Inotani" exhibited this in the said museum and therefore, became one of the most popular shops that serve Tokushima Ramen.
Nowadays, Tokushima Ramen has become famous worldwide too. Thanks to the "The University of Tokyo" for bringing this kind of ramen overseas. The University of Tokyo has a brand called "Noodle King" established a store in the United States of America wherein they are offering Tokushima Ramen.
The Three Colors of Tokushima Ramen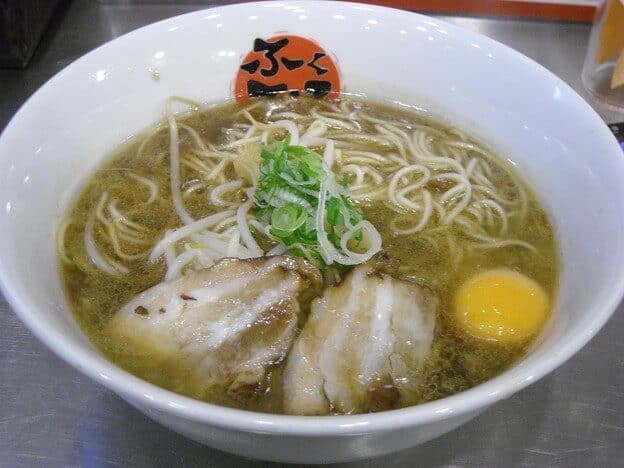 White – The reason why the soup is white is because it is made from boiled pork bones mixed with light-colored soy sauce.
Yellow – This one is made with vegetable broth or sometimes, with chicken broth. Light-colored soy sauce is also used to make this soup.
Brown – Referred as black soup sometimes, the brown soup uses dark soy sauce and pork bones broth. It also comes in two flavors: hot and sweet. Today, this is the most popular and widely-used soup for Tokushima Ramen.
All these soup colors have almost the same toppings: sliced pork or "Chashu", bean sprouts, green onions, and raw egg. Tokushima Ramen, regardless of the color of its soup, is known to be saltier and sweeter than any other ramen variant.
Toppings
Unlike another ramen variant called Okayama Ramen, Tokushima Ramen has recognizable characteristics. Aside from the three soup colors, most people would easily distinguish this ramen due to its toppings.
Raw Egg
A distinct description of Tokushima Ramen is that it always comes with raw egg. For some ramen types, egg is boiled then cut into half or into slices before placing on top. While with Tokushima Ramen, the raw egg topping gives it a different. The raw egg has a bit buttery taste that makes the soup creamier and smoother.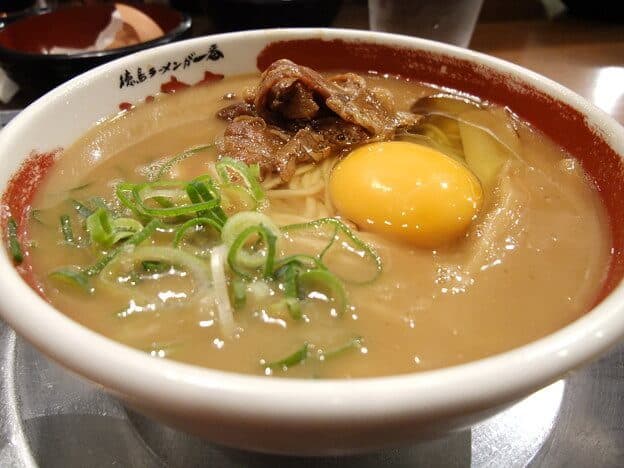 Chashu
Chashu is a very common topping in ramen. Chashu is a thinly-sliced pork meat that is usually simmered in soy sauce, mirin, sugar, and "sake" (Japanese rice wine). There are also ramen restaurants that serve Chashu that are grilled to give the ramen an extra smoky and savory flavor. Lastly, it is also said that Chashu in Tokushima Ramen is a little sweet compared to regular ones. It is believed to have a little bit of "Sukiyaki" (a hot pot dish similar to Shabu Shabu) flavor.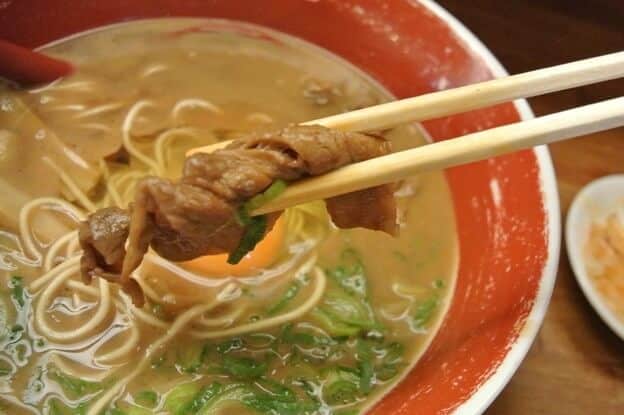 Bean Sprouts
Bean sprouts have subtle yet nutty flavor which offers an extra crunch with every bite. It gives the ramen another flavor that is now overpowering the meat.
Green Onions
Though debatable, green onions seem to be perfect for any kind of ramen. Compared to regular onions, green ones taste milder. It perfectly compliments the salty taste of soup and smokey flavor of pork slices.
How Tokushima Ramen is served?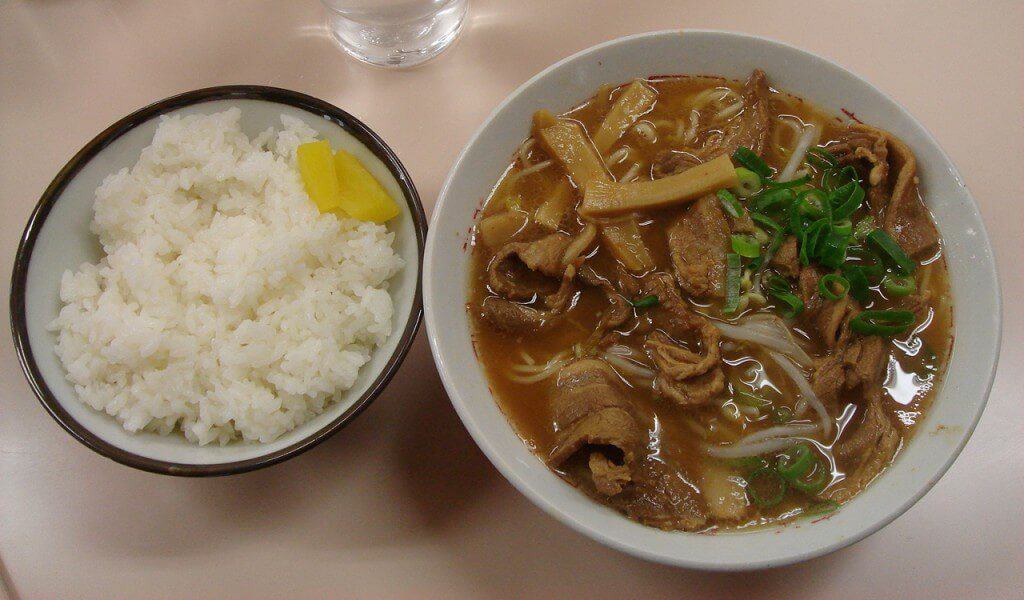 During the early days, Tokushima Ramen is served in a particular bowl. The bowl is made of porcelain and is 18cm in diameter and 6.5cm in height with a distinct design. It has three dragons and writing in color red. The outer part of the bow is painted mostly in red with black writings. It is commonly believed that the reason why locals prefer this bowl is because they love to see the ramen noodles and soup seem to be overflowing from the bowl but somehow, it's just the right size.
However, it is now extremely rare to see this kind of bowl as the manufacturing has become difficult. Another reason is that it's more convenient to use ready-made products that come in different sizes and colors. These bowls are also easier to find.
Tokushima Ramen is also commonly served with rice. Ramen itself is already a staple food in Japan and adding rice to it may seem to be quite too much for some but this type of ramen has smaller portion size compared to others. Some ramen shops even offer a free serving of rice when you order a bowl of Tokushima Ramen. The soup of Tokushima Ramen has strong saltiness and sweetness, the rice gives balance to the overall taste.
Where to Eat Tokushima Ramen?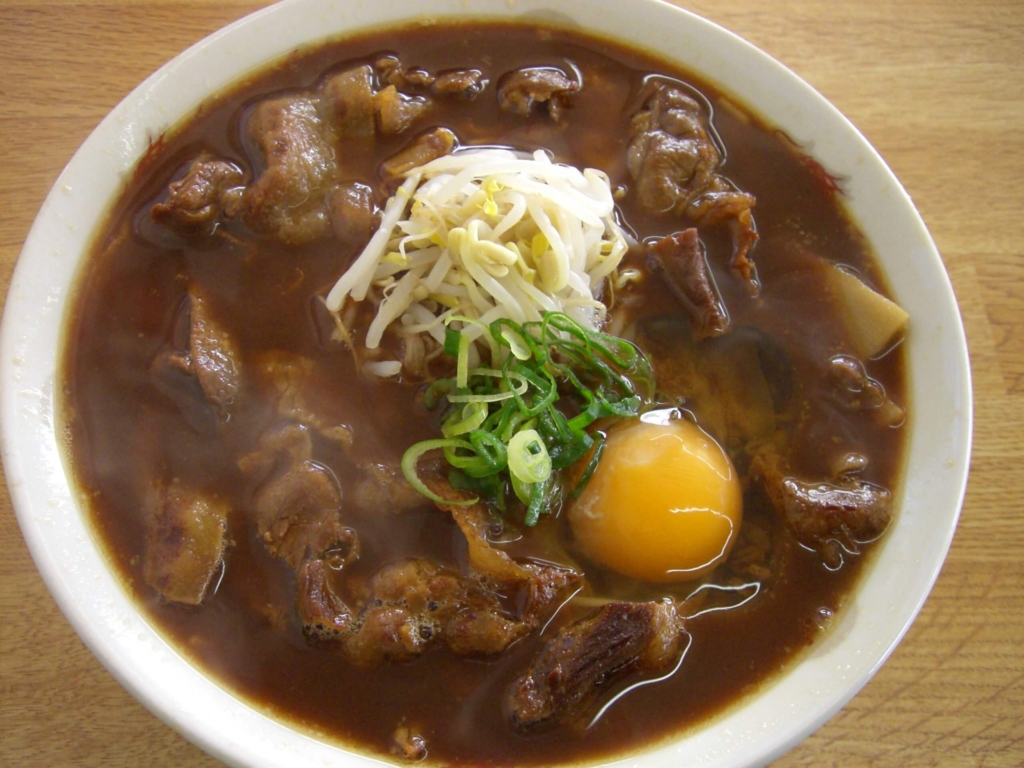 Inotani Main Store
"Chuka Soba" is the signature dish of this store. Inotani Main Store was established in the eastern coast of Shikoku. It has become famous because it is the pioneer of Tokushima Ramen by opening a branch in Shin-Yokohama Ramen Museum. Raw egg is sold separately in this shop and usually costs around 50 yen. "Chuka Soba" or "Chinese Soba" is known for its brown soup that is salty and the noodles used are homemade as well. Nowadays, most locals believed that Inotani is the originator of this regional food in Japan.
Okuya Main Store
One of the most popular ramen shops in the area is Okuya Main Store. What sets Okuya apart from other shops is its rice bowl menu. They serve Tokushima Ramen with "shirasu" (partially-dried and salted immature white fish) and "onsen tamago" (slow-cooked egg in low temperature). This shop also serves different variants of ramen such as Tantanmen, Shio, and Miso.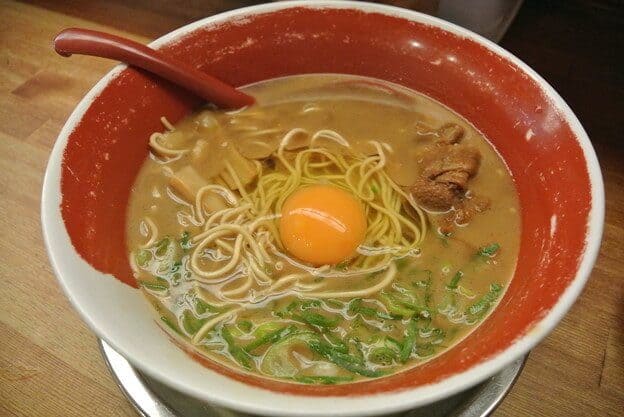 Ramen Todai Omichi Main Store
Ramen Todai Omichi is a popular ramen shop that has several branches nationwide. They serve ramen with rich and thick pork-based soup. It is often said that the ramen in this shop tastes like Sukiyaki and their signature ramen is sold at 1100 yen. Ramen Todai also serves dumplings and unlimited raw eggs which is a surefire hit to customers.
Wanwanken
Wanwanken serves a special tea-based soup made by boiling pork and chicken bones. The soup is rich and is often referred as "well-balanced". The "Chinese Soba" with meat is sold for 750 yen for large and additional 50 yen for raw egg.
Okamoto
Okamoto is a local restaurant that was established more than 60 years ago. They serve rich white soup that has a balance of sweetness and spiciness. The soup is made with boiled pork bones but it has no odor while the Chashu topping is handmade and has a soft texture. The milky white soup is famous among locals together with the tea shop ambiance of the restaurant.
You're missing a lot if you haven't tried this dish from the eastern part of Japan! Having a bowl of ramen is like getting an instant boost of energy.
The warmth and palatable soup is just too hard to resist! Tokushima Ramen is not just tasty but it's also rich in history.
What do you think? Is it a hit or a miss? Let us know by leaving a comment below.