Kiryu City, Gunma Prefecture, which is centered on the Kiryu River, is a "textile town" where textile industries such as weaving and sewing flourished. In this town, which has made many obi in kimono, there is a flat udon noodle that looks like an obi. There is a theory that the name "Himokawa udon" comes from the way the obi is washed in the river, and there is also a theory that it was transmitted from the flat udon "Imokawa udon", which was a specialty of Kariya City, Aichi Prefecture. The truth is still unknown, but in the past few years it has become known outside the prefecture, and there are lines at popular restaurants even on weekdays. Today, we are going to explore such "Himokawa Udon"!
Origin of Himokawa Udon
Himokawa udon is a type of noodle with quite a characteristic shape, traditionally made in the Kiryu area, in Gunma prefecture. This region is known for being a leading area of wheat production, so the dish itself is very common and easy to find. There are many theories and stories that explain the origin of Himokawa udon, but none of them are certainly true and proven. Anyhow, it is claimed that it originates from the Edo period(1603-1868), from Aichi prefecture.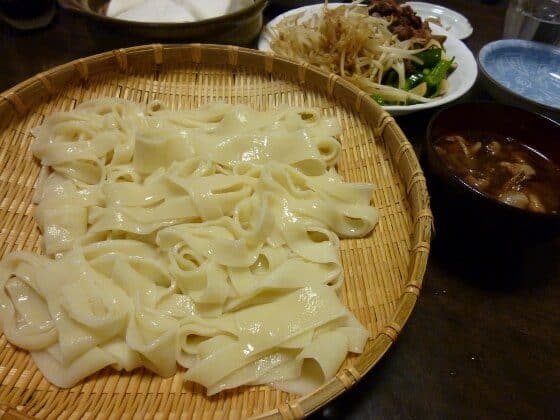 How Himokawa Udon's Made
It can be made of fresh homemade dough, but it can also be bought in the shops, so it's up to the person to choose whether he will make the dough on his own or not. The dough should be made of all-purpose flour, otherwise, there is a high chance of becoming sticky. Unrefined salt and mineral water are added to it. After mixing it all together and spreading the dough, it's cut into thin sheets. The dough should be about 1-3mm thick. After that, it's rolled, cut, and put into boiling water (but it should be kept in mind that, if the sheets are too wide, they may stick one to another, so cautiousness is required).
When the noodles are done, the broth is made, and the type of broth can be adjusted according to one's liking.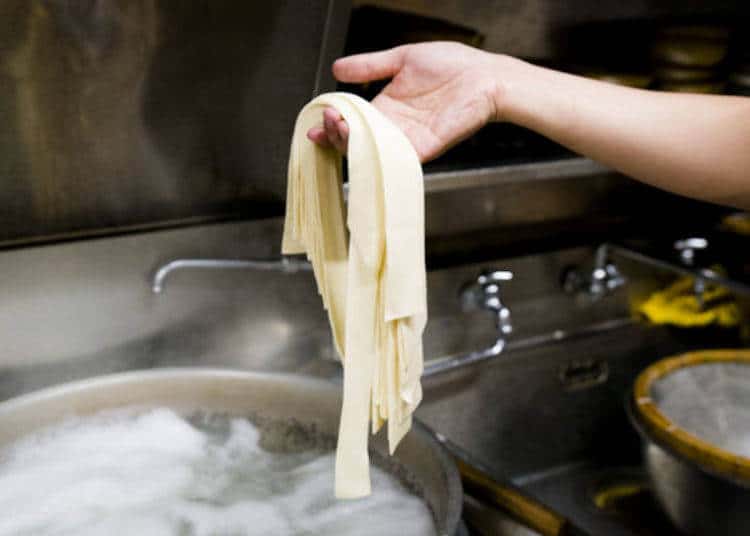 What's so unique about Himokawa Udon?
What makes himokawa udon special is its width. Regular udon is about 4cm wide, but can you even imagine a noodle that's 15cm wide? The width usually depends on the restaurant. Normally, it's served in sheets rather than cut into slices, dunked in a hot broth. In addition to that, the secret that reveals the reason for its popularity lies in its thickness and very smooth texture. Although wide, it's almost 1mm thin. It can also be served cold before dipped into a broth. When you eat it, you will feel delighted as it fills your mouth almost completely. The special noodle dish of Gunma prefecture is called Okkirokomi.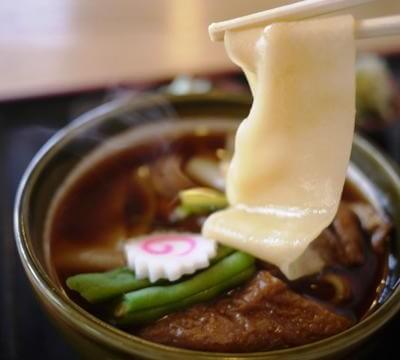 Where and when should you try Himokawa Udon?
If you are fond of pastry, then try this dish with no hesitation. As I have already mentioned before, It won't be a problem to find a suitable place for trying it. Since Himokawa udon is popularized on social media, there is much information about restaurants all around Japan. Earlier, it was the perfect dish for cold winter days, but nowadays people usually eat it in summer, so I recommend you to try it in summer if you are able to do so.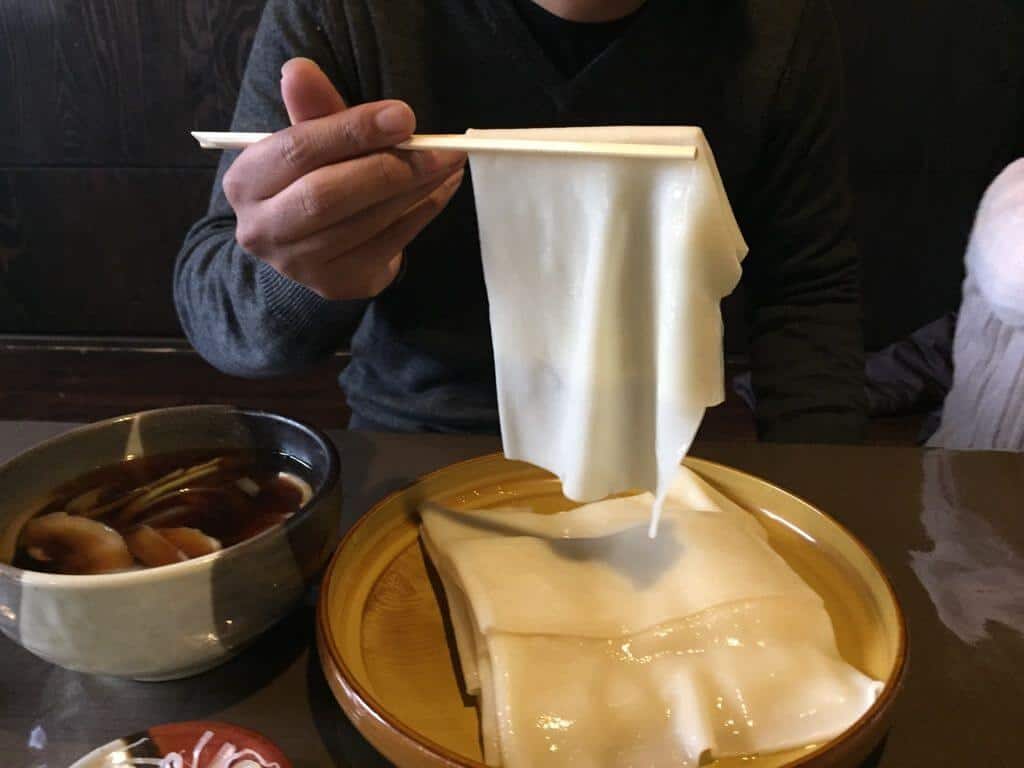 Matsumoto
This restaurant is recommended by the inhabitants of the Gunma prefecture itself, as a 14th best restaurant in Kusatsu town. It's very inviting and cozy, and the prices are fairly reasonable. Here you can eat a delicious Himokawa udon dunked in hot rich pork broth, and if you are a vegetarian, this place would be your perfect choice, since here you can order a mushroom or vegetable udon.
The address is 486-5 Kusatsu, Kusatsu-machi, Agatsuma-gun 377-1711 Gunma Prefecture, and the telephone number is +81 279-88-2678. Usually, it's not so crowded, but I advise you to make a call and check if reservations are necessary.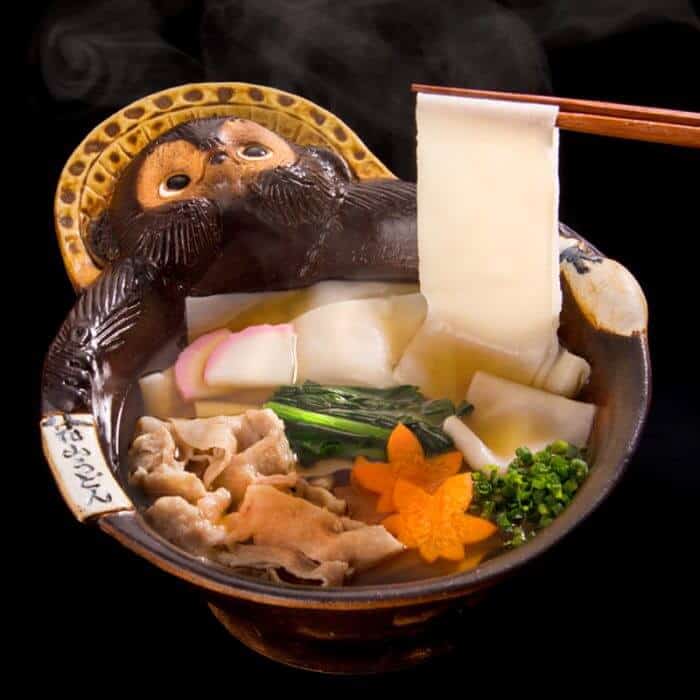 Tamaruya
Unlike many ones in Japan, this restaurant is quite spacious and very comfortable. The atmosphere is calming and if you want a place where you really can relish your meal in peace, then this restaurant would be the best. Not only is it moderately priced, but also it is vegetarian-friendly, and it's recommended both by locals and foreigners. It's located 50 meters before the stairs that lead to the Mizusawa temple. You can enter without the reservation, but during certain festivities, I advise you to call and book a table. If you are a foreigner, ordering food should not worry you at all, because there are pictures of dishes they serve on the menu. The regular price of udon here is around 1500 JPY.
If you choose to eat here, there is no chance that you won't be satisfied with food and service. The broth has a unique flavor, and udon is voluminous and whippy. The address is 206-1 Ikahomachi Mizusawa, Shibukawa 377-0103, Gunma Prefecture, and the phone number is +81 279-72-3019.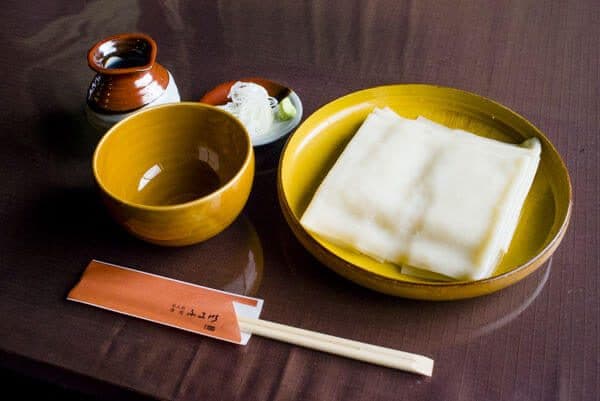 Fujiya Honten
This place has a long history, and its warm and very cozy. Here you can try fresh homemade udon, and you can even order it with curry. It takes approximately about 6-8 minutes for it to be made. Just make sure you don't drop by on Monday since it is its fixed day off, but if national holidays are in question, it's open only from 11:30 AM until 14:30 PM. It's their usual working time. If you are really fond of eating in later hours, then visit this restaurant on Friday or at the weekend, because it's open from 17:30 PM until 20:30 PM as well. You should also know that it's closed every fourth Tuesday. Udon here can be bought for the price of around 850 JPY, which is highly affordable. The address is 1 Chome-6-35 Honcho, Kiryu, Gunma 376-0031, Japan and the phone number is +81 277-44-3791, so if you want to book a table, don't hesitate to call.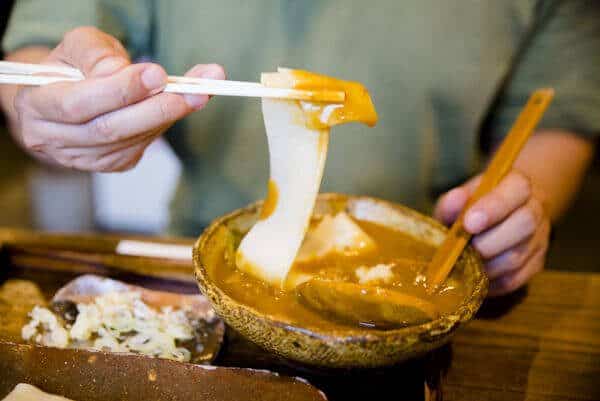 Minamiya
Gunma is not the only place where himokawa udon can be found, so it should not worry you if you are unable to travel to it. There are many restaurants throughout Japan, and one of them is this one, which is located in Hokkaido, the northernmost and the biggest island of Japan. This place is recommended by foreign travelers as well. The interior is very simple and tidy. It's not so capacious, but on the other hand, here you can enjoy a flavorsome and delicious hand-pulled Himokawa udon. One of the greatest things about this restaurant is that the prices are convenient, ranging from 650 JPY to 950 JPY.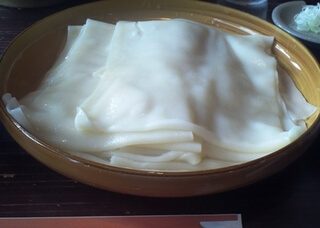 There are many type of udon in Japan. Check here to see other udon in Japan!