"Hida beef" (or Hida-gyu) is one of the most fine-grained frost breeds bred in Gifu Prefecture. A brand that is given only to beef that has been evaluated as having excellent flavor. It is a gem of deliciousness that has been carefully raised with particular attention to pedigree, breed, and safe feed. Clean water gushing from the lush mountains, clear air, etc all the conditions for raising cows are strictly controlled. In addition with the environment, the people who take care of the cows have to show the kindness and affection as well as dialogue with the cows frequently. All of these make delicious "Hida beef". The "softness" of "Hida beef" made in this way and the "umami" that melts on the tongue are truly works of beef art.
Description of Hida-Gyu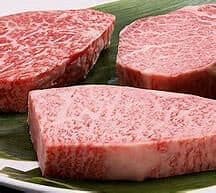 Hida-Gyu or Hida Beef is the name given to the beef that comes from the Japanese black-haired cattle breed that has been raised in Gifu Prefecture for at least 14 months. The meat requires confirmation through certification that it convenes a yield score of Grade A or B issued by the Hida Beef Brand Promotion Conference. The meat is also required to have a firmness and texture grade of 5, 4 or 3 as graded by Japan's Meat Grading Association. Other grades of Hida Beef are known as Hida Wagyu or Hida Japanese Beef.
Quality and safety of Hida-gyu
Hida-Gyu is known as being one of the finest quality varieties of beef in Japan. It must meet every standard of the highest quality, including its marbling, lustre, colour, texture and smell. The amount of marbling is the determining factor in grading the quality of the meat, this can be determined upon genetic factors as well as farming techniques. Many farmers use superior biotechnology research in addition to a passion to produce a high-quality product.
History of Hida-gyu
During the 1950s, cattle raised in Gifu Prefecture were only raised as working cattle in a bid to help cultivate the land. 1955, brought about an increase in the mechanization of farm labour. This led to a beginning of the shift towards cattle being raised for their meat and not as work animals. The period from 1965 until 1975 saw increased attention in the quality of beef production though weight gain programs and improvements in the levels of raising cattle for meat production. These changes sparked a trend across Japan. At the Wagyu Olympics, better known as the All Japan National Wagyu Cattle Expo, or Zenkyo, a competition was organised to help provide each of Japan's prefectures with a chance to improve the standards of its livestock against the other prefectures. Within Gifu Prefecture, each locality had named its own style of Wagyu cattle from 1975 through to 1985, then the momentum changed to using a common name for all qualifying breeds of cattle within the prefecture to Gifu Beef.
The origins of Hida-Gyu are quite recent. A farmer began in 1981 with a single bull named Yasufuku. This bull was said to have the ideal genetic make-up to produce calves each containing high-quality meat. This bull was reported to have produced 39,000 calves during his lifetime. This led to the creation of the Hida Beef Brand Promotion Conference, which was established in 1988, from that moment the history of Hida Beef began.
Features of Hida-gyu
Hida-Gyu has a unique quality seen through the products beautiful marbling patterned appearance. The marbling appears not only on the steaks but also on the flank, shoulder and rump. When stewed with vegetables, marbled fat coats the meat, this then prevents the meat juices and aromas from escaping and helps to maintain the meats tender quality. For the finest steaks, you can select either sirloin or fillet steak for a flavour that melts in your mouth. Other styles include thinly sliced beef used in Japanese style Sukiyaki, Shabu-shabu and Yakiniku.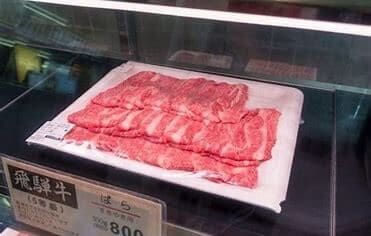 Restaurants that are Highly Recommended for their Hida-gyu
Hida Kotte Cow in Takayama
This restaurant stands in the old streets of Takayama, the recommendations include two pieces of Hida beef roasted sushi for the price of 600 yen. They have two options either bamboo charcoal salt, or ginger soy sauce. Another recommendation is the set meal of Hida Beef Warship which comes with shrimp crackers. There are often long lines of people waiting to eat here, it is worth the wait as the taste spreads as it melts in your mouth. The restaurant is located just a ten-minute walk from Takayama Station with meals costing from around 1000 yen. The restaurant is open every day from 10 am until 5 pm.
Restaurant Sakaguchiya
Diner Sakaguchiya is about a 12-minute walk from JR Takayama Station in the old town of Takayama. Two pieces of Hida Beef nigiri cost from 500 yen, here the taste of the red meat really stands out. Choose from a Japanese beef and rice bowl meal in this busy restaurant where you are served guaranteed genuine Hida-Gyu. The restaurant is open from 10.30 am until 3.30 pm every day except Tuesday, expect to pay around 1000-3000 yen for a meal.
Maruaki Hida, Takayama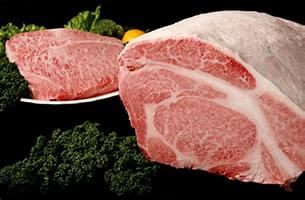 This is a famous meat restaurant that sells only officially branded meat. It is a quality restaurant with delicious branded meat at a reasonable price. It is a very popular location with several groups of people waiting patiently for their lunch even into the afternoon. You can choose from sukiyaki, shabu-shabu or yakiniku, several ways to eat Hida beef. Even the thick cuts of meat are soft enough that they melt as soon as you place it into your mouth. The meat comes with to options of sauce, one light, the other stronger tasting, choose whichever you prefer. The Hida beef yakiniku platter costs 2900 yen, meals cost from around 3000 yen up to 6000 yen. The restaurant is located just five minutes' walk from Takayama Station and opens daily from 11am until 9pm. Here is their website (http://hidagyu-maruaki.co.jp/restaurant/restaurant_hidatakayama)

Hida beef family Kanda Bakuro Ichidai
A restaurant with a calm atmosphere where you can enjoy saibibi beef just a three-minute walk from Meitetsu Gifu Station. This restaurant is known for its Hitobi Beef and of course, Hida beef. The interior offers semi- private rooms and lunches of Sukiyaki or Shabu-shabu start from 1,500 yen. To enjoy the taste of Hida beef then the Bakuro lunch, priced at 3000 yen is recommended. In addition to appetizers and home-made tofu, sushi is also available. There are also branches of this restaurant located in Tokyo and Nagoya. Expect tp pay around 5,000 yen for a full meal, the restaurant is open daily for lunch from 11.30am until 3pm, and for dinner from 3pm until 11pm.

Hida soba small boat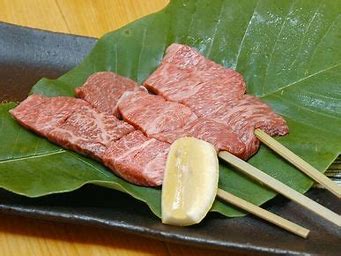 This is a famous soba restaurant that id famed for its soba noodles served together with Hida beef. On the first page of its menu, you can find dishes such as Hida Beef Curry Seiro with rice. Other dishes include Eh Shigure bowl that comes with the delicious combination containing Hida Beef. Hida Beef with buckwheat noodles has meat that melts in your mouth through its combination of a rich-tasting soup together with a sweet taste. Soba Hida Beef is served here in large quantities. The restaurant is just a three-minute walk from Takayama Station and expect to pay from 1-2000 yen for a lunch meal. The restaurant is open every day except Wednesday from 11.15 am until 3 pm for lunch and 5.30 pm until 7.30 pm for dinner.


Hida Beef Cuisine Takumi
This is a restaurant operated by JA Zenno Gifu, where you can eat reasonably priced meals of Hida beef. The restaurant is managed by an agricultural cooperative and the recommended dishes include a course containing three types of Hida beef, sake chilled Okuhida special pure rice, or spinach and Hida beef Shigure with a simple taste, or a salad containing locally smoked chicken. You can walk here from Gifu Station in just four minutes and you should expect to pay around 2-5000 yen for a meal. The restaurant opens daily from 11 am until 3 pm, then again in the evening from 5 pm until 10.30 pm, with last orders taken at 10 pm.


Takiya Yasukawa Restaurant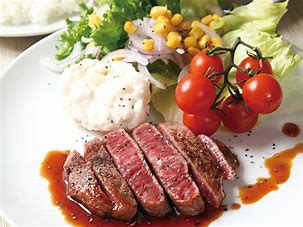 This highly recommended restaurant claims you cannot visit Takayama without including a visit here. Takuya Yasukawa Store is located about 12 minutes walking time from Takayama station on the JR Takayama mainline. The restaurant is managed by a butcher and is a well-known yakiniku restaurant offering high-quality meals at a reasonable price. The restaurant has a vibrant atmosphere and is full during the peak service times. Visitors are advised to arrive early. The top-rated dish on offer is Tobi Special Fins, a fine dish of sardine costing 3,800 yen, the steak is thick but melts as soon as it hits your mouth. The banquet meal offered, also costing 3,800 yen allows all you can drink during the 120-minute allowance for this choice, the beer on offer is draught beer. Expect to pay up to 4,000 yen for a meal. The restaurant is open daily except for Wednesday from 11 am until 3 pm and then from 5 pm until 9 pm, with last orders at 8.30 pm.

Center for Hamburgers
This restaurant as the name suggests offers western-style food using Hida beef in its ingredients. The restaurant is famed in the area, particularly among tourists. The interior has been renovated from an old folk house and is lined with a western theme showing a good match between western and Japanese. The Hida Beef Hamburger is available for 2,300 yen, although only 30 are available each day. The restaurant gets crowded at weekends so it is advisable to make a reservation in advance. Other menu choices include the Blue Cheese Burger or the Blue Cheese Burger with Clam Chowder. The clam taste is very strong. This hamburger, beer café bar is located an eleven-minute walk from Takayama Station and is open every day except Wednesday from 11 am until 2.30 pm for lunch, then again from 6 pm until 9.30 pm for dinner.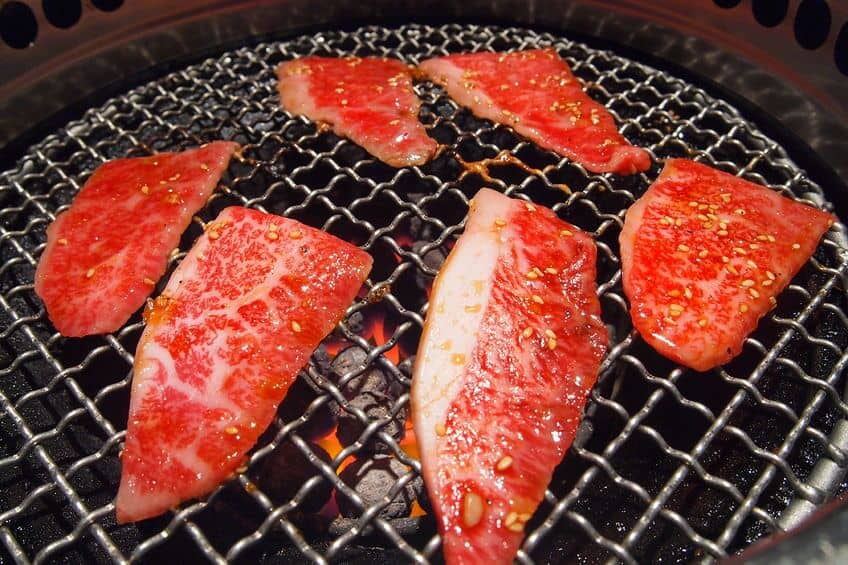 Shichirin Yakiniku Kurashikku JR Gifu Station Restaurant
This restaurant located on the second floor of JR Gifu Station serves among other dishes a famous ripe chicken with the famous Hida Beef. For lunch, you can enjoy grilled yakiniku, a stewed pork set meal for 850 yen including rice, salad and soup and a beer to help wash your meal down. Expect to pay up to 3,000 yen for a meal. The restaurant is open daily from 11 am until 2 pm for lunch, with last orders at 1.30 pm, and for dinner from 5 pm until 11 pm with last orders at 10 pm.
Another Premium Beef in Japan
There are a variety of premium beefs in Japan. Matsusaka beef is very famous, but Omi beef and Yonezawa beef are also very tasty and famous. If you have a chance, please try those meats as well!