HISTORY OF OMI BEEF
Japan has over 300 brands of beef but there are only three major brands that are popular until now; Matsusaka Beef (松阪牛), Kobe Beef (神戸牛), and Omi Beef (近江牛). Omi Beef, one of the top three beef in Japan. It dates back over 400 years from now and is the oldest among the three. Omi Beef came from the Japanese Black cattle that bred for a long time at an old province in Japan, Ōmi Province, now comprising Shiga prefecture. The Eastern Shiga is popular to have a rich natural environment good for cattle breeding.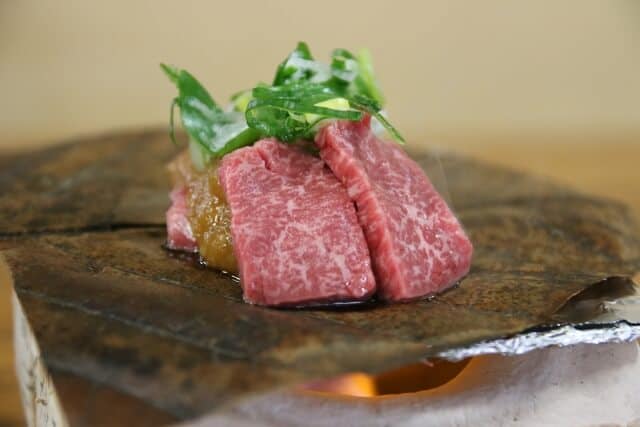 During the Tokugawa or Edo period, Hideyoshi Toyotomi, the second great unifier of Japan, attacked and ambushed the Odawara's Castle. His warlord, Ukon Takayama, had served an unknown beef to both Gamo Ujisato and Tadaoki Hosokawa. During 1687, locals used beef as a medicinal product only. But one day, one of the Hikone clan invented a dish called Honpongan or a pickled beef miso soup with beef as its main ingredients. The beef used for medicinal purposes was dried by the Hikone Clan and was only made during the coldest season.
Due for the purpose of minimizing the natural salting of the beef and having a medicinal taste on it. In the Edo period, many locals sold the Hikone beef and its dish for medicinal purposes only. In The Meiji era, there were some established businesses that butchered and shipped cows and cattle to all other cities and also to foreigners. Because of this, it became the start of the introduction of livestock markets to the public. And lastly, during the Taisho to Heisei periods, many recognized the livestock markets and encouraged more production on Japanese beef.
By all these events, Japan established Omi Beef Association which promotes branded beef in Japan. By then, the importation of Omi Beef became liberalized and had a unified definition for it. 
HOW IS OMI BEEF MADE?
The Process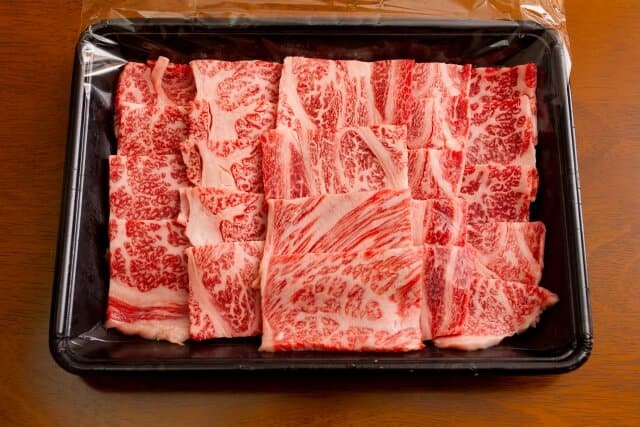 Omi Beef came from the most pampered Japanese cattles who have been living in a good and relaxing environment with everybody ensuring that the water they need should be fresh and is not contaminated. Special ponds were also built just for its drinking water. These Japanese cattles were said to have eaten good foods such as sweet corn and wheat and other special grain diets. They were fed twice a day and towards the end of their 30-month lives. They were also given occasional beer and special massage to prevent tough muscles to form. These cattles were butchered when they had already reached their 30-46 months old (exactly 3-4 years old). It was around this time that the meat of the butchered Japanese cattle would produce a high quality meat. 
According to the Japanese Meat Grading Association, they grade the meat through its yield and meat tenderness quality. The "yield grade" is determine by the proportion of edible meat obtain from one head of cattle. They used three (3) letters in yield grades; A,B, and C in which A is the best rate. The marbling system or the "meat tenderness grade" is determined by the Beef Marbling Standard (BMS) which uses five (5) numbers from one being the lowest and five being the highest. Other factors such as the meat's color & brightness, its firmness & texture, its fat color and luster quality were also given into consideration in grading the meat.
What's so unique about Omi Beef?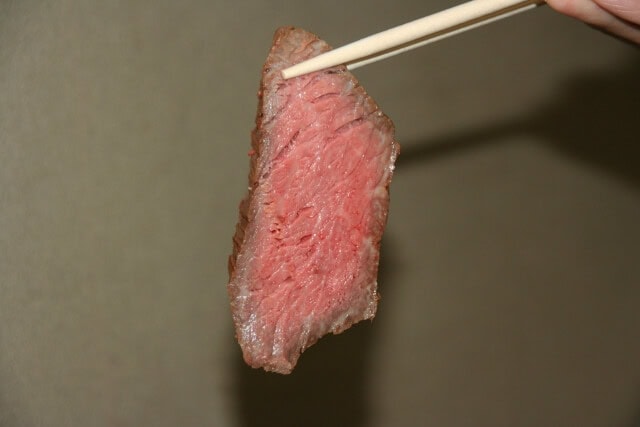 Being one of the top three beef in Japan and is  also one of the highest grade beef in Japan, the uniqueness of Omi Beef is that it has some incredible marbling. It has a white flecks or streaks of fat within the lean sections of meat on the large beef that makes it more tender and delicious and its melting point of 25 degrees Celsius (25°C) is lower than other beef brands in Japan. It is also popular for its clean aftertaste of fatty meat. Omi Beef also has a high oleic acid content which is good for a person's health.  An oleic acid is a kind of monounsaturated fat or those heart- healthy fat one usually finds in olive oil.
The Japanese beef which has been rated an A5 grade is the most expensive in Japan. But not all wagyu grade A5 gives a satisfactory taste. Most of Japanese beef tends to have a melt-in-the-mouth texture but sometimes they lacks flavor. This happens because there is more oleic acid than amino acid in beef. The more amino acid in the beef has, the stronger the beef taste. The more oleic acids the beef has, the juicier the fat will become. But if there are more oleic acids than amino acids, you will taste the beef's oiliness. This oiliness sometimes result to the lack of something in its overall taste. So in other words, the beef should have a high amino acid percentage while retaining their high oleic acid.
WHERE TO EAT OMI BEEF IN SHIGA?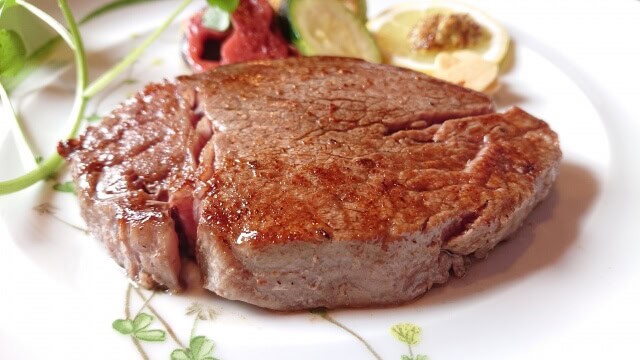 All the top three beef in Japan were very expensive and too costly to eat. But compared to other brands of Japanese beef, Omi beef is the natural choice when it comes to delicious and affordable prices. Some tourists wants a restaurant where they can taste the high-quality meat of Omi Beef at a very reasonable price. The Omi Beef price starts from 2100円 or $20 up to 10,000円 ($92). There are a lot of Wagyu restaurants in Japan and it will not be a problem to find one. Your budget will only matter.
Omi beef restaurants
Daikichi Restaurant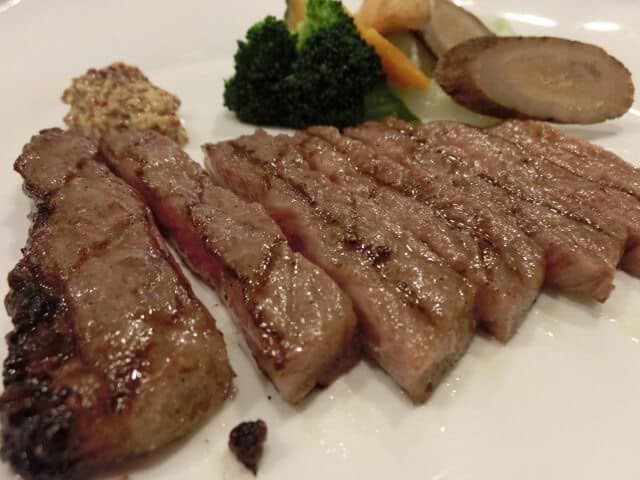 If you want to try Omi Beef in Shiga Prefecture, try Daikichi Restaurant. It is one station away from Katada and about 10 minutes walk away from the station. This restaurant specializes in beef dishes, especially the Omi beef which comes from directly on their own ranch. Their first floor is a retail shop where there is a good range of beef, from the regular wagyu to the expensive omi beef, in a refrigerated unit. And on the second floor was their main restaurant, where you can choose between the tables where you can cook your own meat with the table-top grill or you can choose the counter where their skilled chef will cook in front of you.  This restaurant serves a wide variety of dishes and they even serve you with lots of side dishes too. 
You can find many omi beef restaurants if you are traveling to Kyoto now. Remember that the omi beef price in Kyoto is by far cheaper than in Tokyo. Kyoto is located next to Shiga prefecture which is the land where Omi Beef is produce.  
STEAK & WINE Meat Bar GINJIRO (East of Kyoto Station branch store)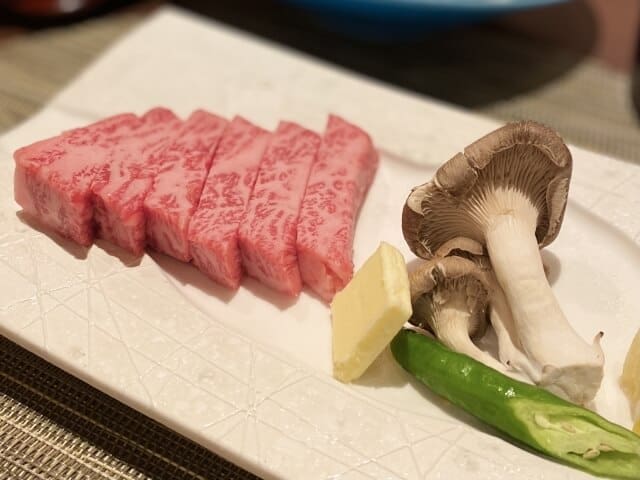 Steak & Wine Meat Bar Ginjiro is a meat-bar-style restaurant where you can enjoy both their delicious meat and aromatic wine. The main store is in Karasuma Oike. They also have two stores in front of Kyoto station and one in Pontocho. It has a stylish exterior and it's quite a small branch store with only 22 seat accommodation. It has a good reputation where you can eat delicious steak with varieties of Omi beef menu. If you enjoy having your beef with wine, this restaurant is perfect for you.
Hormon Daigoro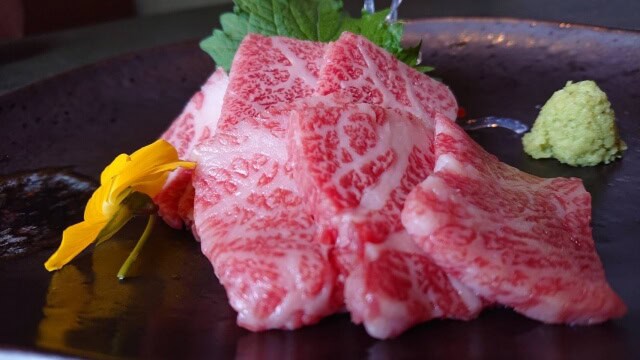 This restaurant is popular because you can enjoy a high quality of Omi Beef while feeling the taste of Kyoto. This Yakiniku restaurant is a hideaway-style restaurant that blends in the streets of Gion. They only select high-quality meat.
Teppan-Yaki Aoi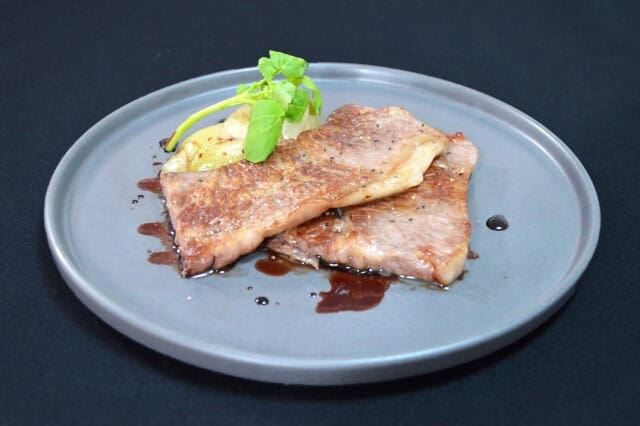 This is the first teppan-yaki restaurant that was certified to serve varieties of Omi beef dishes in Kyoto City . There are counter seats in the restaurants and an image of a traditional house in Kyoto will surely welcome you inside of the restaurant. They carefully select ingredients on every dish they make such as Omi beef and lobster. These two are dynamically and delicately grilled by the chef using the iron plate. You will fully enjoy  the performance of the chef. There are various course meals, so this restaurant is suitable for various anniversaries such as birthdays and wedding anniversaries.
Conclusion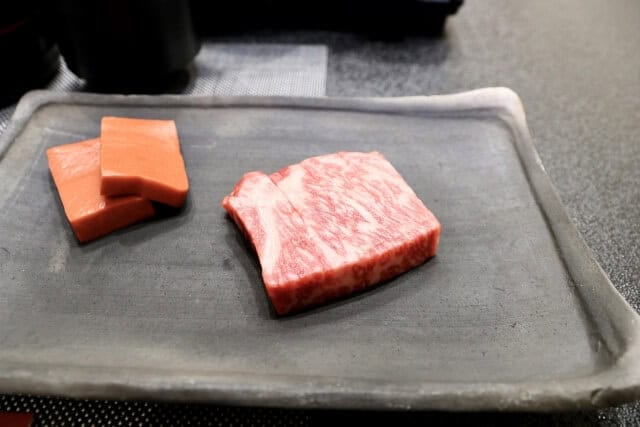 You can eat Omi Beef occasionally because the Omi beef price is costlier than expected. It also has a high oleic acid content or it has a higher healthy fat content which means that the higher the level of oleic acid it has, the higher the level of healthy fat one will get, therefore, Omi Beef can also be a regular addition to one's weekly diet. Tasting Omi Beef will surely raise your standards for other kinds of meat and will leave you longing for it a second time around.