Towada Bara-yaki is a local dish that originated in Misawa City, Aomori Prefecture about 60 years ago. It is made by grilling thin slices of beef marinated in a soy sauce-based, sweet and spicy sauce, with plenty of sliced onions on an iron pan until the onions are light brown. It later became established in Towada City, where Lake Towada is located. Towada City is located in the mountains of Aomori Prefecture. The city is surrounded by nature and has many tourist attractions such as Lake Towada, Oirase Gorge and more
Towada City's Soul Food – Towada Barayaki
In Towada City there is a famous dish that can only be described as being the soul food of this city. Towada Barayaki translates as "Rose Bake". It is a simple meal that consists of beef and onions, served on a sizzling hot plate of iron. It is a meal that can be cooked at home, however, to appreciate the full taste of this meal you really should visit Towada City and its restaurants, once there you will appreciate that Towada Barayaki is much more than just beef and onions on a burning hot iron plate.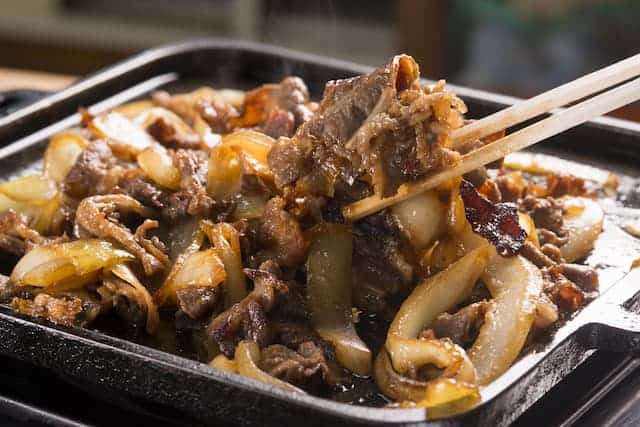 Origins of Towada Barayaki
The concept of rose baking did not originate in Towada, it began in Misawa City, also in Aomori Prefecture after WW2 had ended. Misawa was a US military base, at that time beef was expensive so a food stand outside the military base used the cheaper cuts of beef to create a meal for locals and the visitors from the USA. The dish was created from trial and error and its popularity quickly spread to Towada City. Friends and family would gather around the iron plate to chat and share a meal. There are now more than 60 stalls and restaurants selling this dish in the city. It is popular among children right up to the elderly and is regarded as soul food for the citizens of Towada.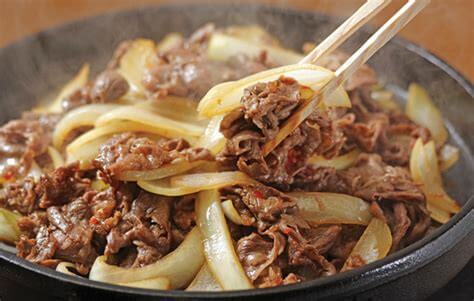 Eating Towada Barayaki with chopsticks
Eating and Enjoying Towada Barayaki
I would like to share my initial encounter with "rose bake". I had the option to choose between two sauces: sweet or spicy, and I opted for the sweet one. Shortly after, a sizzling hot iron plate filled with meat and onions was placed in front of me on a small burner embedded in the table. It was as if I had my own barbecue setup right at my table.
To ensure the meat is cooked thoroughly without overcooking, it is important to keep stirring the meat and onions. The combination of the sweet taste of the onions and the sauce infuses the meat with a perfect flavor. It is recommended to place the meat on top of the onions and prevent the sauce from remaining on the iron plate. Stirring regularly is essential as the sauce may caramelize if left in contact with the sizzling plate for too long. As the "rose bake" cooks, you will be greeted with a delightful aroma of sweetness and savoriness in the air. Now, it's time to sit back and enjoy this delectable dish. Grab your chopsticks and indulge in this delicious meal.
Meat of Towada Barayaki
It is a dish made by grilling thin slices of beef belly and a large amount of onions with a soy sauce-based sweet and spicy sauce on an iron plate. There are also pork belly and horse belly barbecues.
Where is Towada City ?
Towada City, situated in the vicinity of Lake Towada, is an excellent place to savor the delicious towada barayaki. However, it is important to note that Towada City is nestled in the mountainous region of Aomori Prefecture. As a result, reaching this city requires either a flight or a journey on the Shinkansen bullet train, as it is quite a distance from Tokyo.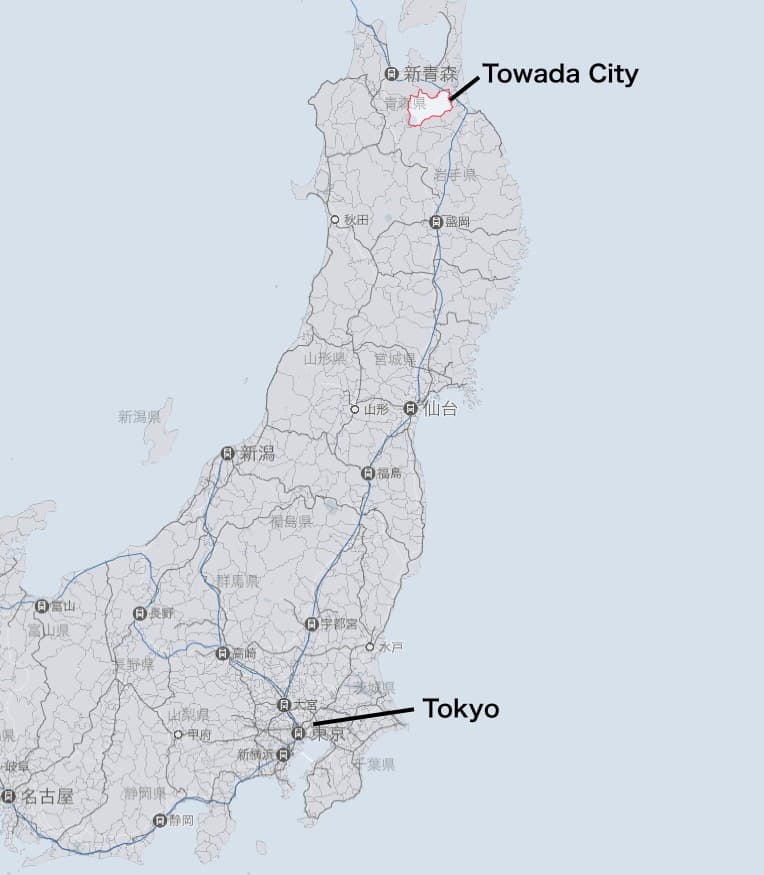 Lake Towada is a very beautiful lake and one of the best sightseeing spots, and it is nice to enjoy the beautiful lake while eating Towada barayaki.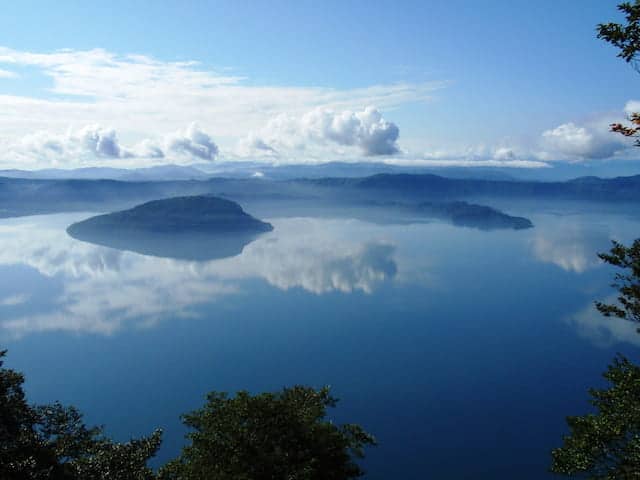 Where to eat Towada Barayaki
Towada Barayaki offers affordable and easily accessible rose grills all over the city. Discover the top spots for delicious grilled roses in Towada.
Rosie Baked Popular Cafeteria
This rose grill is located close to the Contemporary Art Museum and a dish of Towada Barayaki costs 700 yen. This includes rice, a bowl of soup and pickles. You are sure to leave here having eating a satisfying meal and with a full stomach.
Red Goodwill
In this rose grill if you ask for the "set meal" you will receive rice, miso soup and kimchi in addition to your serving of Towada Barayaki. There is a Korean feel to this grill with the kimchi. The sauce on the barayaki is sweet and spicy, it tastes delicious. It can be very busy and because of this the level of service may not be as good as at other locations, despite this Red Goodwill has a good reputation for the food it serves.
Jinlian Restaurant
The Jinlian describes itself as the city's specialty rose grill. It serves a sweeter version of barayaki and costs from 500 yen. They also serve sweet potatoes or you might want to try their dish of pigs tongue costing 500 yen.
Oosho Garden Eatery
The sweet sauce added to the beef and onions to make barayaki can be enjoyed with a beer at this rose grill. The Oosho garden dining hall can be found at:
Towadako Wagyu Beef Kagurazakan
This rose grill is ideally located after you have visited Hirosaki Castle and walked along the Oirase stream. It has a good atmosphere where you should enjoy your dining experience in the evening.
Rose Grill Shop Fuji
This rose grill specializes in lamb and not beef. It uses the same principles of the barayaki with a sweet sauce and onions, just using lamb instead of beef.
Oirase Stream Tourism Center
While visiting the Towada Hachimantai National Park and sightseeing around Towada Lake and Oirase Stream you might want to have lunch at the visitor center where they serve a rose grill set meal. If you prefer you could also try some locally caught fish, particularly rainbow trout.
Towada Drive-in
If you prefer a drive-in style meal for your Towada Barayaki then this is the place for you.
Kamikochi Shokudo
In addition to the conventional style of barayaki you might want to try the variations on offer here of sweet tasting duck and onions, it is said to taste similar to sukiyaki. They also serve a curry and rice.
Towada Shokudo
Why not enjoy a gourmet rose grill when visiting Towada Lake?
A set meal of barayaki complete with an appetizing spicy sauce is available at this location.
Towada Lake Sanso
This rose grill is located just 20 meters from where Aomori prefecture ends and Akita prefecture begins so you can enjoy food from both. In the peace and tranquil surroundings of the countryside it is not unusual to see a bear or watch salmon swimming in the lake.