Originating around six decades ago in Misawa City, located in the Aomori Prefecture, Towada Bara-yaki is a local culinary delight. The dish incorporates thinly sliced beef treated with a sweet yet tangy soy-based sauce, which is then coupled with an abundant serving of sliced onions, all gracefully grilled on an iron skillet till the onions take on a light brown hue. The dish eventually found a foothold in the highland city of Towada, renowned for its Lake Towada and other natural pleasures including the Oirase Gorge.
The Quintessential Cuisine of Towada City – Towada Barayaki
The gastronomic emblem of Towada City lies in its celebrated dish, emphatically termed Towada Barayaki, or 'Rose Bake'. Comprising a minimalist recipe of beef and onions sizzled to perfection on a hot iron plate, this meal retains its integrity even when prepared domestically. Nonetheless, the true essence of its palatable splendor is best savored within the city's eateries, reinforcing the belief that Towada Barayaki signifiesmuch more than mere beef and onions atop a fiery iron plate.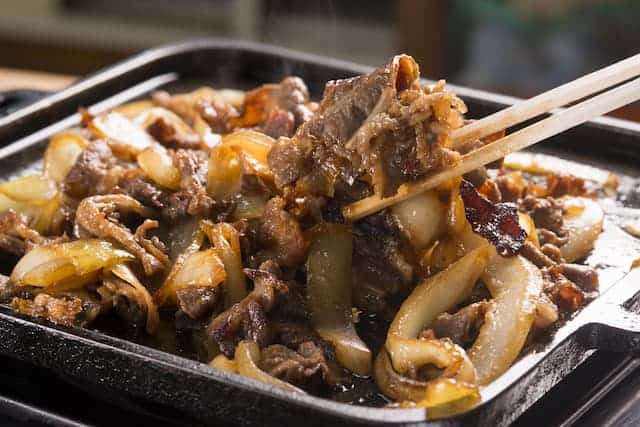 The Genesis of Towada Barayaki
The conception of the 'Rose Bake' did not originate in Towada, but rather in Misawa City, another locale in the Aomori Prefecture. Misawa was a U.S. military base post-WW2 when beef was a luxury. A local food stall found an innovative solution to use the less expensive cuts of beef to devise a dish for locals and visiting Americans. After multiple iterations, they achieved the present-day form of the dish, which rapidly gained popularity and consequently spread to Towada City. As more than 60 vendors now cater to this dish, its communal charm encourages gatherings of friends and families. Being popular across all ages, it holds the title of 'Soul Food' for its people.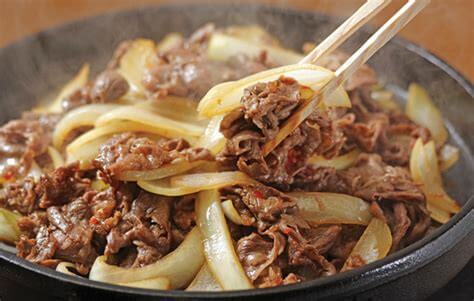 Eating Towada Barayaki with chopsticks
Relishing the Essence of Towada Barayaki
I would like to share with you my first experience of eating "rose bake", I had the choice of two sauces, sweet or spicy, I chose the sweet option. Before very long I had a hot sizzling iron plate in front of me which was full of meat and onions. It had been placed on a small burner set into the table. I guess the best way of describing this is if you imagine you have your own barbeque set up at your table.
Constantly stirring the meat and onions on the iron plate is pivotal to reaching a desirable level of cooking that eludes overcooking. The sweet undertones of the onions dance harmoniously with the sauce, elevating the flavor profile of the meat to a sublime level. One must aim to perch the meat atop the onions and not permit the sauce to linger excessively on the iron plate lest it caramelizes. As the 'Rose Bake' bubbles away, the surrounding air slowly starts to carry a mouth-watering sweet and savory aroma. So, rest back, enjoy the tease of the tantalizing smells and make way for this delectable feast with your chopsticks at the ready.
Meat of Towada Barayaki
This enticing dish is crafted by grilling lean slivers of beef belly along with a hearty serving of onions, all doused with a sweet yet spicy soy-infused sauce, upon an iron plate. Variations of this classic include versions made with succulent pork belly and even horse belly.
Where is Towada City ?
Craving some authentic Towada Barayaki? Head to its place of origin - Towada City. Nestled amidst the mountainous terrain of Aomori Prefecture, home to the scenic Lake Towada, it is a bit distant from Tokyo, making air travel or hopping aboard the Shinkansen bullet train the most efficient modes of arrival.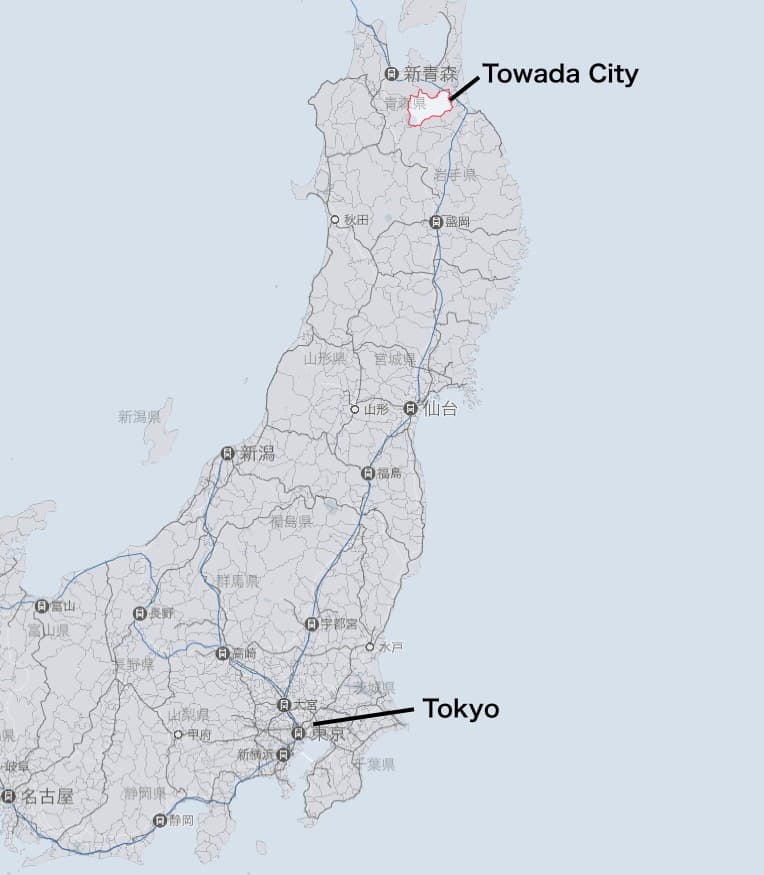 Lake Towada is a very beautiful lake and one of the best sightseeing spots, and it is nice to enjoy the beautiful lake while eating Towada barayaki.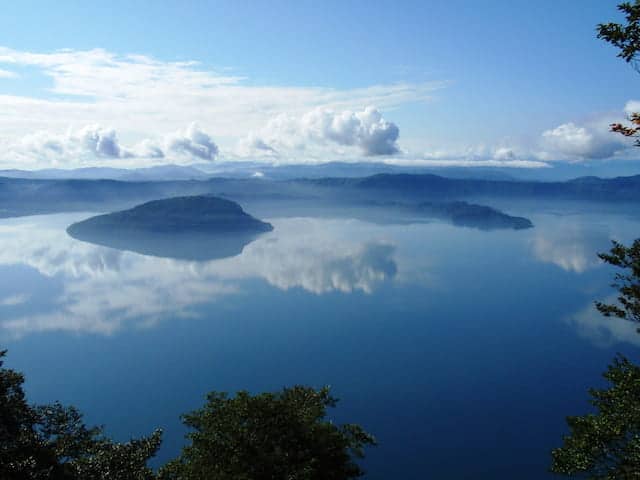 Locating the Best Towada Barayaki
Akin to a local staple, Towada Barayaki is easy on the wallet and ubiquitous throughout the cityscape of Towada. Listed below are some of the city's top eateries known for their exquisitely grilled 'Rose Bake'.
Rosie Baked Popular Cafeteria
This rose grill is located close to the Contemporary Art Museum and a dish of Towada Barayaki costs 700 yen. This includes rice, a bowl of soup and pickles. You are sure to leave here having eating a satisfying meal and with a full stomach.
Red Goodwill
In this rose grill if you ask for the "set meal" you will receive rice, miso soup and kimchi in addition to your serving of Towada Barayaki. There is a Korean feel to this grill with the kimchi. The sauce on the barayaki is sweet and spicy, it tastes delicious. It can be very busy and because of this the level of service may not be as good as at other locations, despite this Red Goodwill has a good reputation for the food it serves.
Jinlian Restaurant
The Jinlian describes itself as the city's specialty rose grill. It serves a sweeter version of barayaki and costs from 500 yen. They also serve sweet potatoes or you might want to try their dish of pigs tongue costing 500 yen.
Oosho Garden Eatery
The sweet sauce added to the beef and onions to make barayaki can be enjoyed with a beer at this rose grill. The Oosho garden dining hall can be found at:
Towadako Wagyu Beef Kagurazakan
This rose grill is ideally located after you have visited Hirosaki Castle and walked along the Oirase stream. It has a good atmosphere where you should enjoy your dining experience in the evening.
Rose Grill Shop Fuji
This rose grill specializes in lamb and not beef. It uses the same principles of the barayaki with a sweet sauce and onions, just using lamb instead of beef.
Oirase Stream Tourism Center
While visiting the Towada Hachimantai National Park and sightseeing around Towada Lake and Oirase Stream you might want to have lunch at the visitor center where they serve a rose grill set meal. If you prefer you could also try some locally caught fish, particularly rainbow trout.
Towada Drive-in
If you prefer a drive-in style meal for your Towada Barayaki then this is the place for you.
Kamikochi Shokudo
In addition to the conventional style of barayaki you might want to try the variations on offer here of sweet tasting duck and onions, it is said to taste similar to sukiyaki. They also serve a curry and rice.
Towada Shokudo
Why not enjoy a gourmet rose grill when visiting Towada Lake?
A set meal of barayaki complete with an appetizing spicy sauce is available at this location.
Towada Lake Sanso
This rose grill is located just 20 meters from where Aomori prefecture ends and Akita prefecture begins so you can enjoy food from both. In the peace and tranquil surroundings of the countryside it is not unusual to see a bear or watch salmon swimming in the lake.