Facing the Genkai Sea with rough waves, Yobuko is a port town blessed with seafood. The freshly fried squid that has just been fried from the cage and cooked quickly is Yobuko's specialty. The sight of the fresh and transparent squid meat moving on the plate and its deliciousness is shocking! While enjoying your meal, check out the morning market for squid souvenirs and spots related to squid. Today, let's talk about Yobuko Ika.
WHAT IS YOBUKO IKA?
Yobuko Ika, also known as Yobuko squid, is a traditional food of Saga prefecture. Among the various squid, Yobuko is particularly delicious and has a thick and strong sweetness with a crispy texture. The freshness of Yobuko ika is of utmost importance because it becomes whiter over time and its crunchy texture fades. To maximize the deliciousness of squid, it is better to eat and cook it as fresh as possible. The region of Yobuko has its specialty with the quick-cooked squid, which is freshly fried from a cage and has outstanding freshness.
ORIGIN OF YOBUKO IKA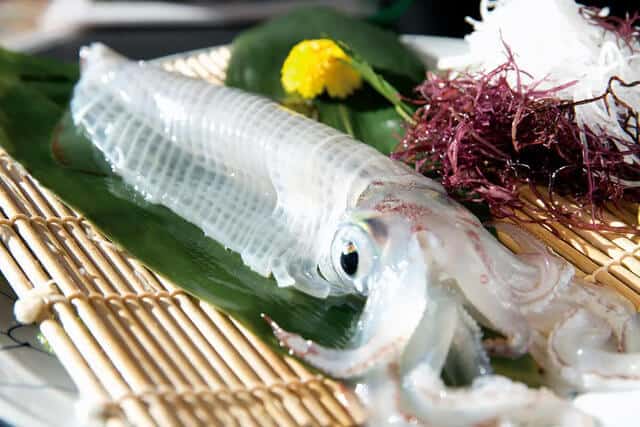 Yobuko ika originated in Yobuko, Saga prefecture. It is located in the northernmost part of the Higashimatsuura Peninsula, northwest of Saga Prefecture, where high-quality squid can be found. Yobuko once prospered as a whaling town and seafood such as sea bream and turban shells also thrived that time, and the squid was not their special specialty yet. 
Until 1973, when the first squid ikizukuri or live squid sashimi specialty store called "Kawataro" opened in Yobuko. Mr. Ikeda, the founder of "Kawataro", focused on the squid from the abundant marine products of Yobuko. He created his uniqueness by making squid that is lively and fresh. He tried to transport the squid alive but he found that it was impossible to do so without any equipment. So, he invented a way to make the squid alive when being transported by preparing a cage with seawater drawn in Yobuko. At that time, "squid ikizukuri" was very rare. Therefore, the store prospered, and Yobuko gradually increased the number of squid ikizukuri shops. Yobuko's squid has become a national brand in Japan because of how squid ikizukuri started.
HOW IS YOBUKO IKA MADE?
Process of Making Yobuko Ika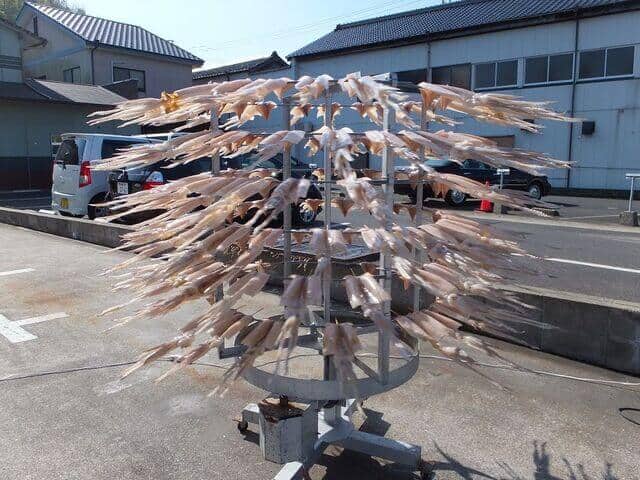 Many rocky shores are developed in Yobuko Bay, and the seawater is known for being rich in nutrients. Squids that normally live in cold waters are burned and die at human body temperature when touched. The seawater is pumped into a cage and then returned to the sea for reflux. This is possible because the seawater in Yobuko Bay is clean.  Also, the water temperature of the cage that was put in was about 20 degrees. There is a cage dedicated to every restaurant that circulates natural seawater 24 hours a day. This is the biggest secret that creates Yobuko's specialty.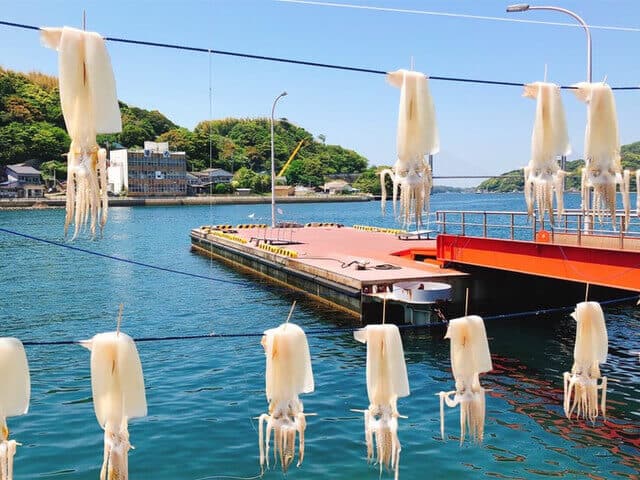 All of these are done to make the squid not feel stressed by creating an environment close to its nature by constantly taking in fresh seawater. Because when squid feels stressed, it releases ammonia from its body. The ammonia decomposes the original sweetness (sugar content) of squid. Yobuko ika's season reaches its peak from late March to December. The season for catching these squids is long enough. In winter, you can catch winter squid from late November to around April called Aori squid. Both are called Yobuko ika. Yobuko ika has a unique crispy texture and has a moderate sweetness with it. The body of Yobuko ika is colorless and transparent and one can easily see the pattern of the squid on the plate.
The Uniqueness of Yobuko Ika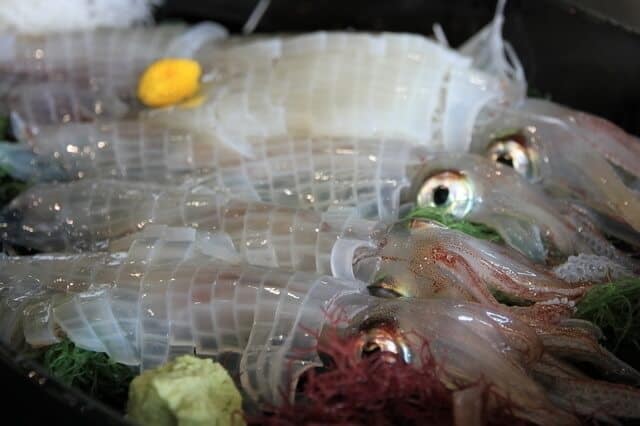 Yobuko Ika is not only known for its taste and its satisfying texture but it is also known to contain taurine which is a well-known nutritional drink as a fatigue recovery effect. It promotes recovery from muscle fatigue and plays an important role in various fields such as suppressing alcohol poisoning and suppressing nerve excitement. Also, the squid's ink is known to have the mucopolysaccharide/ peptide complex that has the function of enhancing the body's natural immunity and suppressing the growth of cancer.
Another special characteristic of Yobuko ika is that its sweetness is strongest in the area between the pigmented skin and the body. It is deeply related to the fact that Yobuko's squid is said to be sweet and delicious so that is the reason why the Yobuko squid brand is being enhanced.
Recommended Yobuko Ika Restaurants
Here are some of those recommended Yobuko ika restaurants.
Kawataro Yobuko store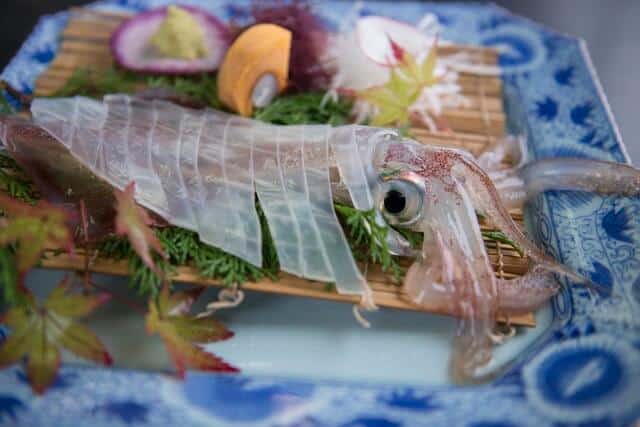 "Kawataro" was founded in 1973 and is the first restaurant in Yobuko to serve live squid as a set meal. It is a well-known store that has been loved by locals for a long time as a store specializing in squid ikizukuri. Customers can enjoy fresh squid in various forms such as sashimi and tempura. There is a cage where squid is swimming in the store and it will only take 20 seconds to scoop the squid from the cage and make it into sashimi. The divine kitchen knife handling makes it possible to have a state close to that of live fish.
Manbo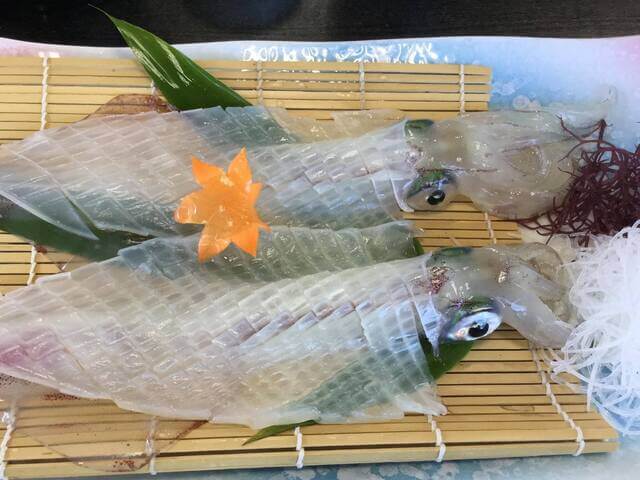 A store in Nagoya Castle near Yobiko Bridge. It is popular as an "underwater restaurant floating in the sea of ​​callers". There are underwater seats and a tatami room where you can eat while watching the fish swimming in the big cage inside the store that is connected to the sea. It is known as a squid dumpling shop. The squid is exquisitely fresh and sweet.  In addition to squid dishes, you can also enjoy blowfish dishes
Seafood Gate Ikataro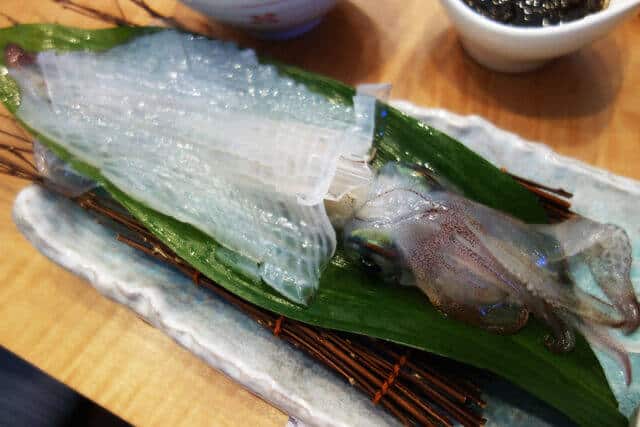 The squid sashimi set of this restaurant is satisfying and worthy that includes squid sashimi, squid dumplings, two types of daily small bowls, and dessert using squid ink. Menus may change during consecutive holidays.  This restaurant is quite famous for serving a coffee jelly dessert flavored with squid ink at the end of a meal. There are digging seats and tatami mats, and it features wide windows where you can eat while looking out at the sea.
Squid Honke Isohama Annex
Live squid geso eating is unique at this restaurant.  A standard menu with a total of 8 items such as squid dumplings, squid dumplings, and small bowls. Customers, by themselves, can cut the base of the geso which is the exciting part where you can prove how fresh the squid by how its legs move when you cut it. The shops like other restaurants where you can Yobuko ika is built by the sea overlooking Yobiko Bridge.
Fish shop Genkai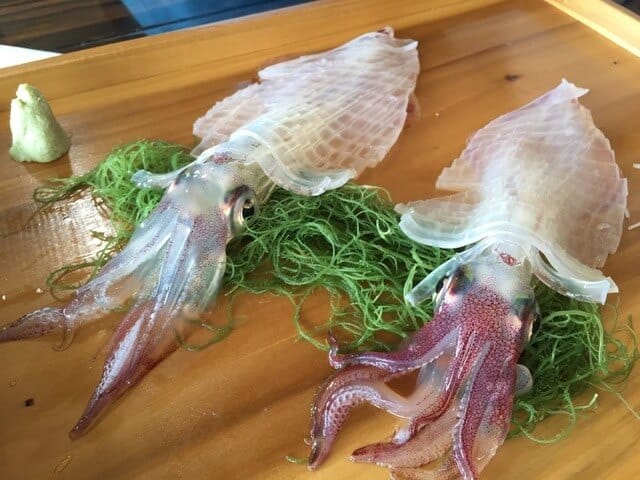 This restaurant has been in business for over 50 years and was known for serving live squid. The liveliness of seafood is outstanding because the store owner has his main business the wholesale of live fish. In addition to their live squid menu, live fish from the Genkai Sea such as "Gin-saba" and "Gin-Aji", sea bream, sea urchin, and abalone are also listed. In Genkai, customers can choose the appearance of their plating and can either choose to cook or not the squid's lower legs. Besides the standard tempura, there are also four types that the shop offers: grilled with salt, simmered, and sashimi.